From sweet cherries to immune-boosting bell peppers, in this seasonal produce guide, you will find a list of all the fruits and vegetables that are now in season as well as recipe ideas that will inspire you to eat fresh and seasonal throughout the month of MAY.
Fruits and vegetables always taste better when they are in season, harvested at the peak of freshness. Eating seasonal means not only eating fresh foods that are packed with nutrients but also savings in the family budget. To make it easier for you to plan your meals and make a grocery list, I created this seasonal produce guide to inspire you to eat healthily throughout the whole month.
Spring is now in full swing. Stores and markets are swamped with beautiful fresh produce. Vivid colors have overtaken the shelves. Tomatoes, broccoli, strawberries, cantaloupes, and yellow lemons. Everything looks so tasty and bursting with freshness and flavors. Isn't May beautiful?
Here is a list of all the fruits and veggies that are in season in MAY. Looking for recipe ideas? Just click on the links below and grab all the inspiration you need to cook healthy this month.
Vegetables
Artichokes, arugula, avocado, asparagus, beets, bell peppers, broccoli, cabbage, carrots, cauliflower, celeriac, celery, collard greens, cucumber, endive, fave beans, funnel, kale, leeks, parsnips, onions, peas, potatoes, radicchio, spinach, tomatoes, zucchini.
Fruits
Apples, apricots, blackberries, blueberries, cantaloupe, cherries, grapefruit, lemon, lime, mango, oranges, nectarines, peaches, plums, raspberries, strawberries. 
Recipes to try in May
Breakfast recipes
Smoothies
Salads
Soups & Stews
Main dishes
Side dishes
Desserts
Snacks
Drinks
More recipes
∗ PRINT / PIN this for later! ∗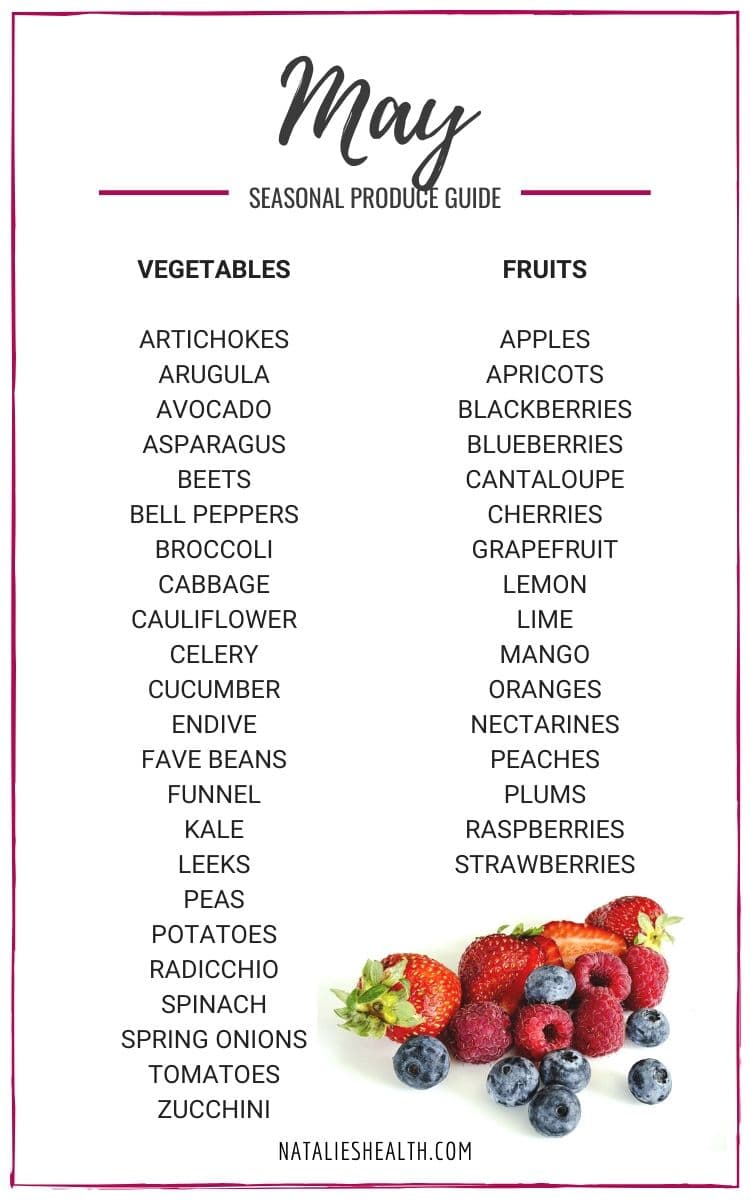 This post was originally published in May 2018. It has been updated with more information on May 2021.