These bright and refreshing Lemon Coconut Energy Balls will surely delight you. Packed with nutrients and SUPERFOODS, these lemon bites are perfect guilt-free treat. Best of all, they're delicious, healthy and easy to make. Stash some in the fridge or freezer for a quick afternoon snack!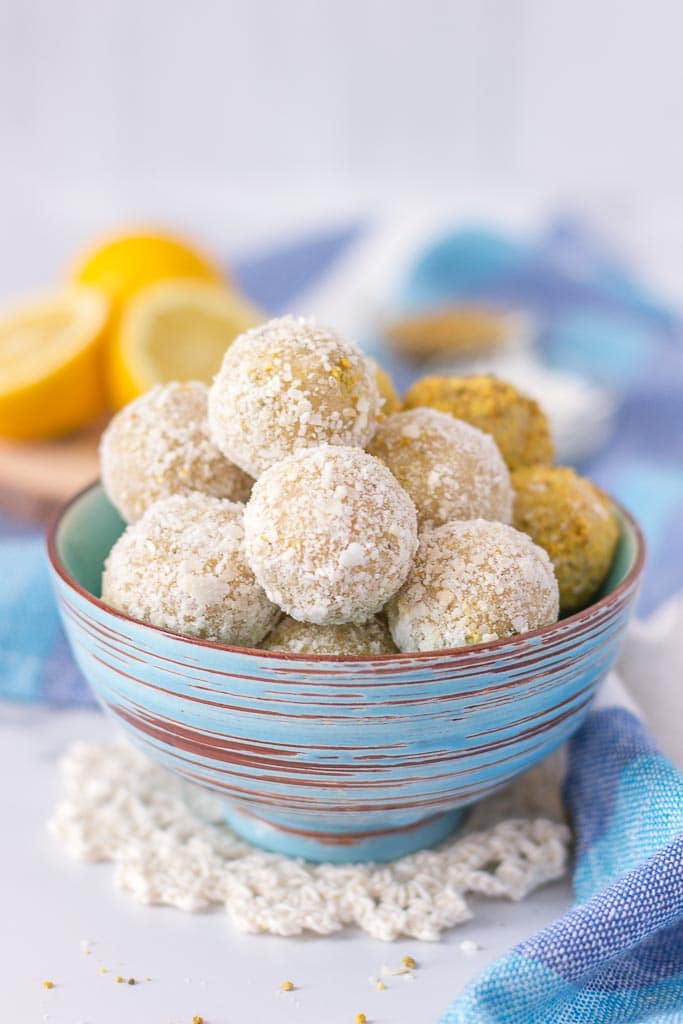 The last couple of weeks I definitely work too much. My eating routine slipped off the track. I don't eat crap but I definitely eat too little. I often skip lunch simply because I don't have time nor inspiration to make one. And since we dine very late there's this huge gap between breakfast and dinner when I usually just crave something sweet.
That's why having energy balls in my freezer saves me. It's good to have some healthy option to nibble when hunger strikes but you don't want to completely ruin your dinner. Plus, energy balls are perfect for boosting low energy. They give me a nice push on afternoons just when I need it.
When it comes to making energy balls, I love being creative. I love combining different flavors with nuts and adding all sorts of superfoods. Since I had a load of fresh organic lemons from the market, the idea for these Lemon Coconut Energy Balls struck me like instantly. I took inspiration from delicious Lemon Turmeric Energy Balls that are very popular on my blog. These Coconut Bits are a blast too and served me as an inspiration.
With those two recipes on my mind, making these bright, citrusy and delightful little lemon balls was just a natural course of action. Lemon Coconut Energy Balls are beautifully flavored and simply delicious. They are super easy to throw together - less than 10 minutes with a few simple ingredients. Also, they are super nutritious and healthy. My kinda snack!
These little cuties are bursting with wonderful lemony flavor but they are loaded with nutrients too - healthy fats, proteins, fibers, many essential vitamins, especially vitamin C. Which makes Lemon Coconut Energy Balls perfect HEALTHY snack: post-workout and on-to-go.
The one thing that these lemon balls don't have are extra calories. They are made without refined sugars, with only natural wholesome ingredients. They are truly one delicious no-bake guilt-free treat that is pretty enough to be served as delightful afternoon dessert too.
What you'll need to make lemon coconut energy balls
To make these lemon bites you will only need a few simple ingredients:
Cashews: Cashew nuts are just wonderful. I like them because they have a neutral taste with hints of sweetness and always give this soft, melting texture when making energy balls. Also, cashews are loaded with nutrients - plant-based proteins, dietary fibers, minerals like copper, zinc, and magnesium, plus antioxidants that keep our health healthy. (1) I used raw unsalted cashews here. They are the best for making energy balls.
Coconut: Coconut is not only loaded with wonderful tropical flavor that instantly refreshes you, but also with many nutrients - especially energy boosting fats and dietary fibers. (2)
I also tossed in some SUPERFOODS, to make it more interesting and nutritious:
Hemp seeds are loaded with healthy fats. They are exceptionally rich in two essential fatty acids, omega-6 and omega-3 but also a great source of high-quality proteins (1).
Baobab powder boosted these lemon bites with fibers and a whole lot of vitamin C – a powerful antioxidant and immune booster (2).
I like to think that LEMONS are most responsible for total irresistibleness of these lemon energy balls. And I'm quite right. Lemons are now in season and bursting with refreshing flavor. Lemon brought unbelievably freshness into every single bite and balanced nicely overall sweetness of these little cuties. I used both lemon juice and lemon zest. But fresh lemon zest is the kick that makes these lemon energy balls really shine.
NOTE: If you're planning on using fresh lemon zest, just make sure you use the zest of organic unwaxed lemons. If there are no such lemons available to you, you can use packaged lemon zest and, if you don't find mixture lemony enough, add some lemon extract too.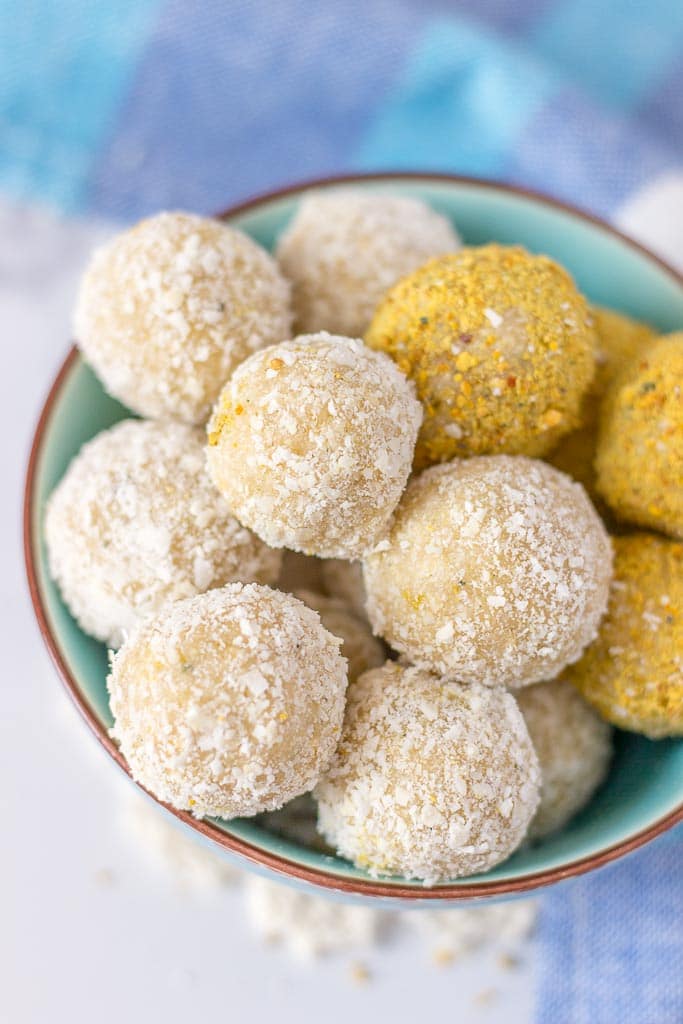 These Lemon Coconut Energy Balls are soft and melting little delights that are hard to say no to. Bright and refreshing, loaded with amazing citrus flavor and super sweet, these are just amazing.
Definitely worth stacking a bunch of these in the freezer for a quick healthy afternoon snack!
If you're into ENERGY BALLS, check these out:
Enjoy!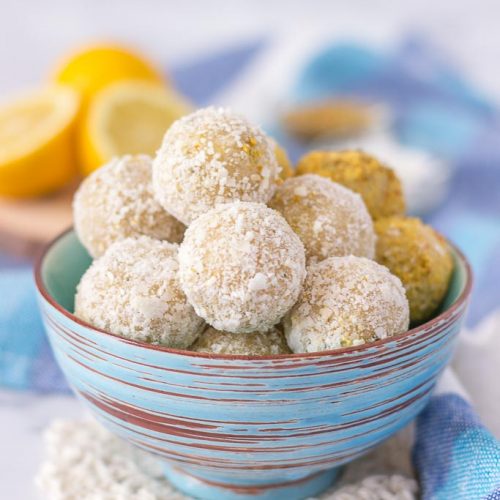 Lemon Coconut Energy Balls
Bright and citrusy, Lemon Coconut Energy Balls are one delightful bite-sized snack. Wholesome and easy to make, these lemon balls are perfect guilt-free afternoon treat! Vegan. Refined sugar-free. Kid-friendly.

Ingredients
1

cup

cashew

raw unsalted

1/2

cup

shredded coconut

2

tablespoon

hemp seeds

1

teaspoon

baobab powder

1

tablespoon

lemon zest

zest from 2 lemons

2

tablespoon

lemon juice

juice from 2 lemons

2

tablespoon

marple syrup

or honey

1

teaspoon

vanilla extract

Pinch of salt
Instructions
Add all ingridients in the food processor and process for few minutes until dough is formed.

Check texture by pinching the dough between your fingers. It should be sticky and able to keep its shape. If the mixture is too dry, add more lemon juice. If the mixture is to wet, add more shredded coconut.

Using a tablespoon, scoop out dough and roll between your palms to form your balls.

Roll them into shredded coconut or bee pollen powder and shake off excess. Refrigerate to harden.
Notes
Store in an airtight container in the refrigerator until serving.
Keep the energy balls frozen up to 3 months in the freezer.
As a measure, I used a US cup (240ml).
FOR VEGAN: Omit bee pollen and use maple syrup.
Nutrition
Calories:
77
kcal
|
Carbohydrates:
5
g
|
Protein:
2
g
|
Fat:
5
g
|
Saturated Fat:
1
g
|
Sodium:
8
mg
|
Potassium:
68
mg
|
Sugar:
3
g
|
Vitamin A:
10
IU
|
Vitamin C:
1.2
mg
|
Calcium:
8
mg
|
Iron:
0.8
mg
Tried this recipe?
Pease take a moment and leave a comment letting me know how you liked it. I love hearing from you!
Disclaimer
The nutritional information provided is approximate and is calculated using online tools. Information can vary depending on various factors, but I have endeavored to be as accurate as possible.
Xoxo, Natalie
Let's connect! Find me on – Facebook | Instagram | Pinterest | Twitter