Fragrant and sweet with a touch of tangy fruity freshness makes this Raspberry Lemon Cake irresistible summer dessert. The cake is made with all HEALTHY ingredients and moderate in calories, so you can enjoy worry-free in few extra bites of this delicious cake.
Last few days I feel enormous desire to bake something. I have a desire to bake the cake, to be more precisely. Even my husband started to nag. He also wanted some baked dessert, a dessert that isn't an ice cream. Since I'm not the type who likes to make complicated cakes – with five layers, cream, glaze and stuff, I had in my mind a simple fruitcake. But fruit idea puzzled me, because I didn't have a clear vision what fruit to use.
And while I was struggling with what fruit to choose, I received a phone call from my dear friend Marina inviting me to come to her house. She had for me freshly picked raspberries from her garden. I jumped out of my apartment straight to her without question asked. And when she handed me a box full of raspberries, I couldn't wait to come home and start baking.
That evening, I took all ingredients on the kitchen counter and mixed up this beautiful Raspberry Lemon Cake.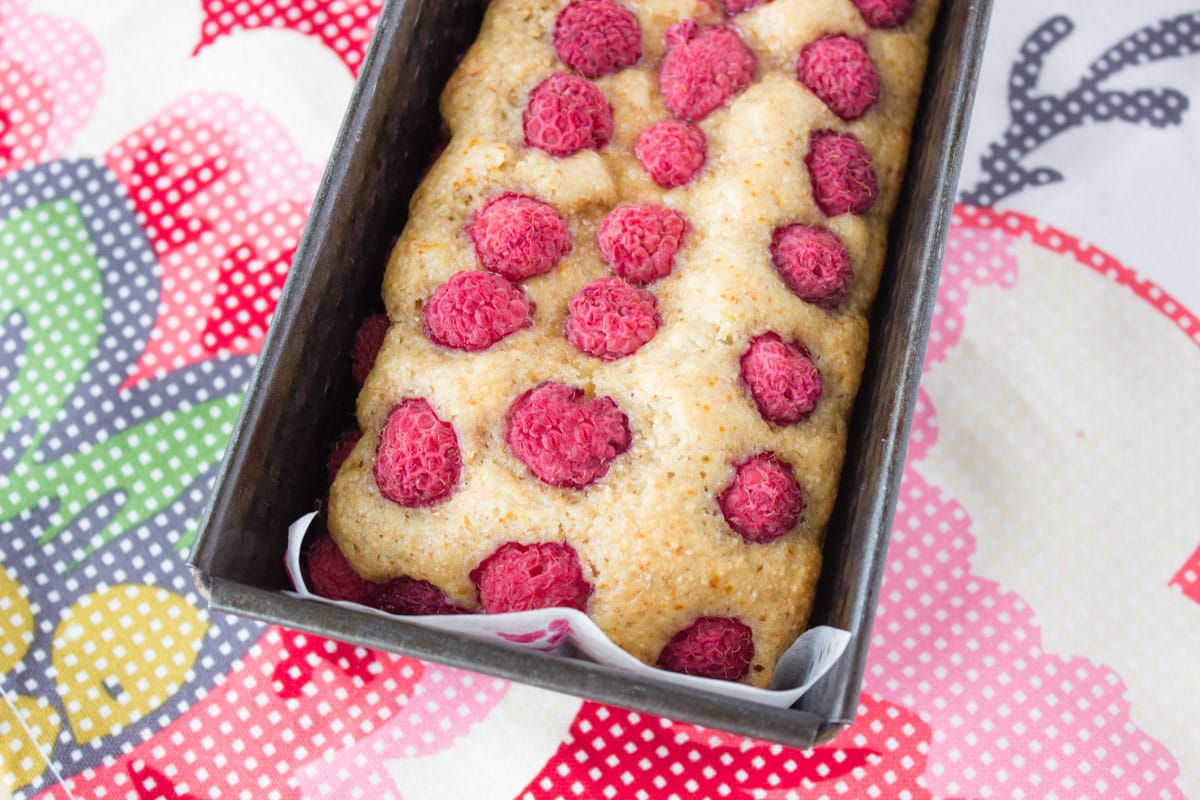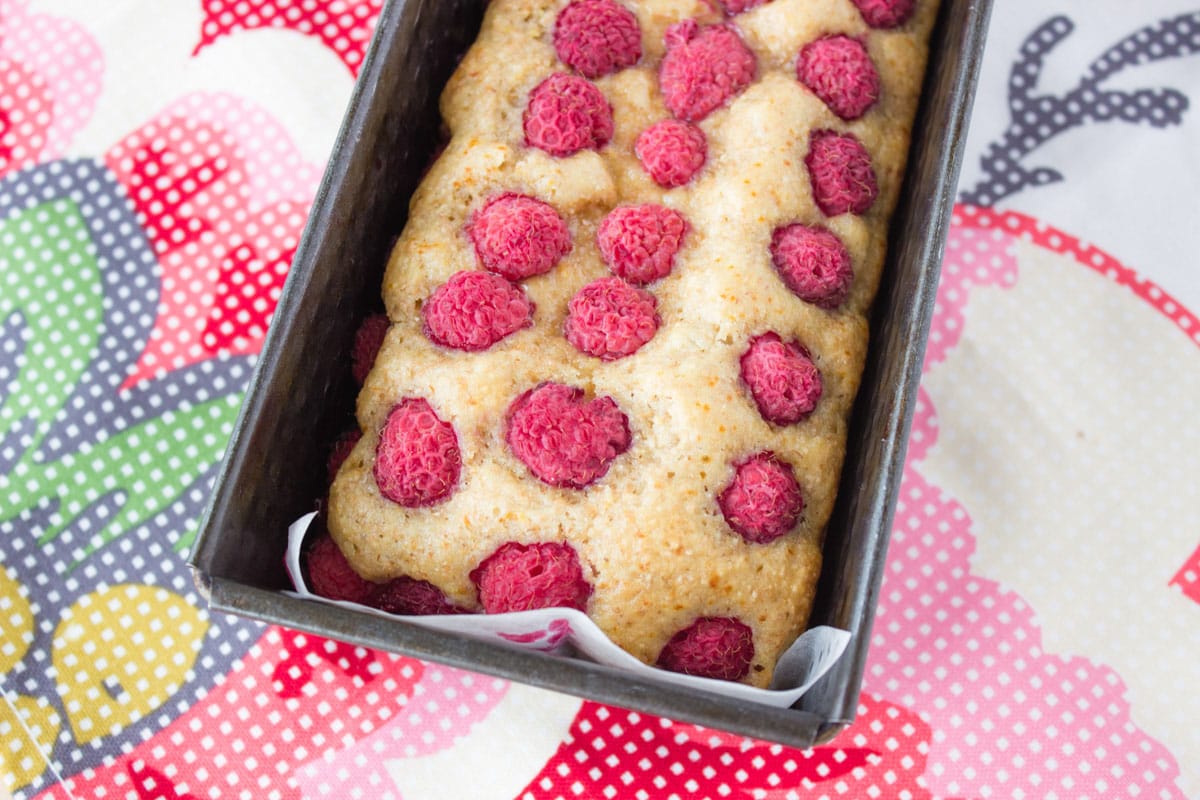 While the cake was still in oven, pleasant aroma started to spread throughout the apartment that drove husband and me mad. I kept peeping in the oven, and the view on the cake was pure perfection. When the cake was done, we could hardly wait for it to cool properly. Actually, we didn't. We sliced it while was still warm 😀 Guilty!
And when we tried this perfection we both rolled our eyes and fell into a complete trance. The cake was soft, sweet and fragrant with a touch of lovely citrus taste. Tangy raspberries on top of the cake gave every bite a bit of freshness. What else could we do but eat half a pan. 😉
To make this cake, I used all HEALTHY ingredients – whole-wheat flour, honey, and coconut oil. Lemon zest, freshly squizzed lemon juice and vanilla gave the cake lovely fragrant and warm aroma. Of course, the main star of this cake are raspberries. Not only that raspberries gave the cake very attractive look, but also they gave the tangy flavor that nicely balanced the sweet dough taste.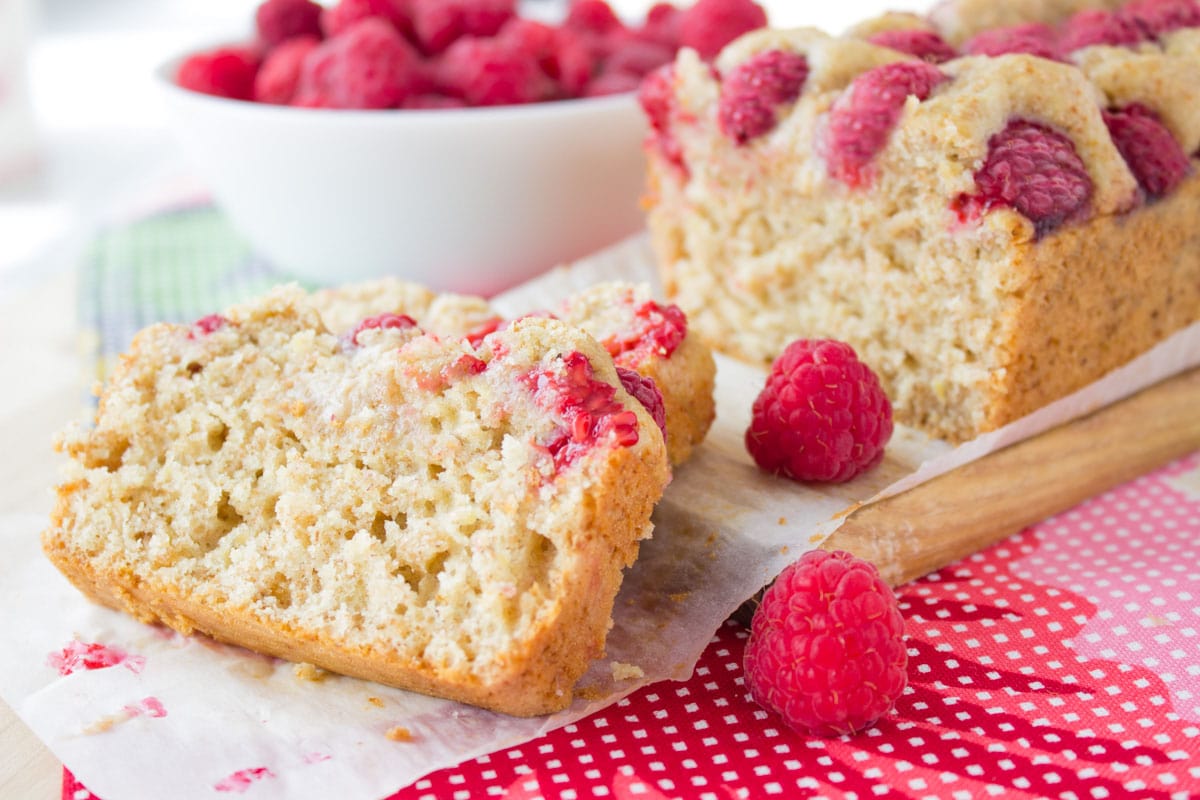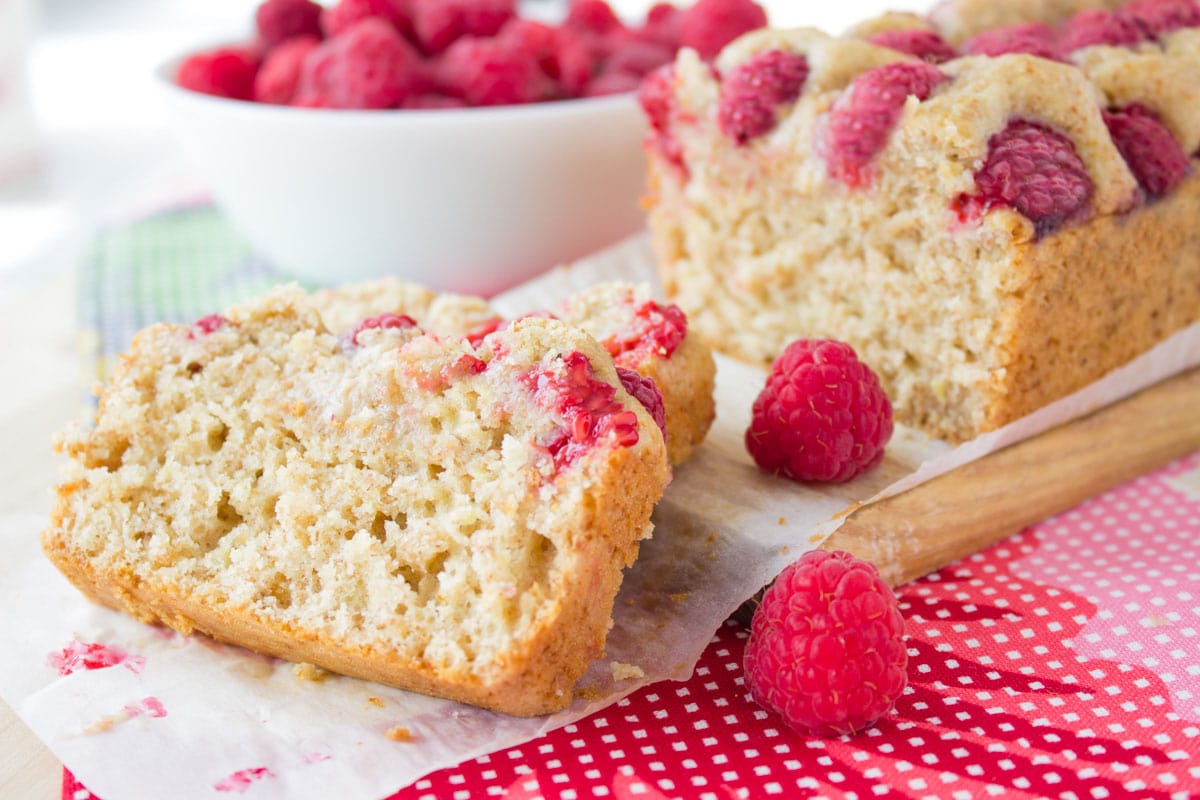 This cake is really easy to make, and it's moderate in calories containing only healthy fats and lots of fibers. Isn't that just amazing? Raspberry Lemon Cake is an absolute summertime favorite in my house. I hope it will be in yours too 😉
Raspberry Lemon Cake
Low-calorie wholegrain Raspberry Lemon Cake made with all HEALTHY ingredients. It's fragrant and sweet with a touch of tangy fruity freshness.
Ingredients
2

cups

whole wheat flour

1

teaspoon

baking powder

½

teaspoon

baking soda

½

teaspoon

salt

1 ½

tablespoon

lemon zest

about 1 very large

3

tablespoon

coconut oil

melted and cooled slightly

2

large egg

2

teaspoon

vanilla extract

½

cup

honey or syrup

4

tablespoon

lemon juice

about 1 very large

5-6

tablespoon

plant based milk or cow's low-fat

2

cups

fresh raspberries
Instructions
Preheat the oven to 356F. Coat 9x5'' loaf pan with coconut oil or nonstick cooking spray.

In a medium bowl, whisk together dry ingredients, flour, baking powder, baking soda, salt, and lemon zest.

In a separate bowl, whisk eggs. Add coconut oil, vanilla extract, honey or syrup, and lemon juice.

Add half of dry ingredients in the mixture and stir well. Add milk and continue stirring just until incorporated.

Pour mixture in baking pan. Place raspberries on top, gently pressing them in the mixture, but not too much.

Bake for 30-35 minutes (until a toothpick can be inserted and removed clean).

Remove from the oven and allow the cake to cool completely before serving.

Slice and enjoy!

Keep in container on cool place up to 3 days.
Xoxo,
∗ PIN this for later! ∗