Moist, tender and full of sweet corn flavor, Sour Cherry Chia Jam Cornbread is perfect summer dessert. This cornbread is made with all HEALTH ingredients, refined sugar-free, wholesome but moderate in calories. It's rustic, beautiful and just amazingly delicious!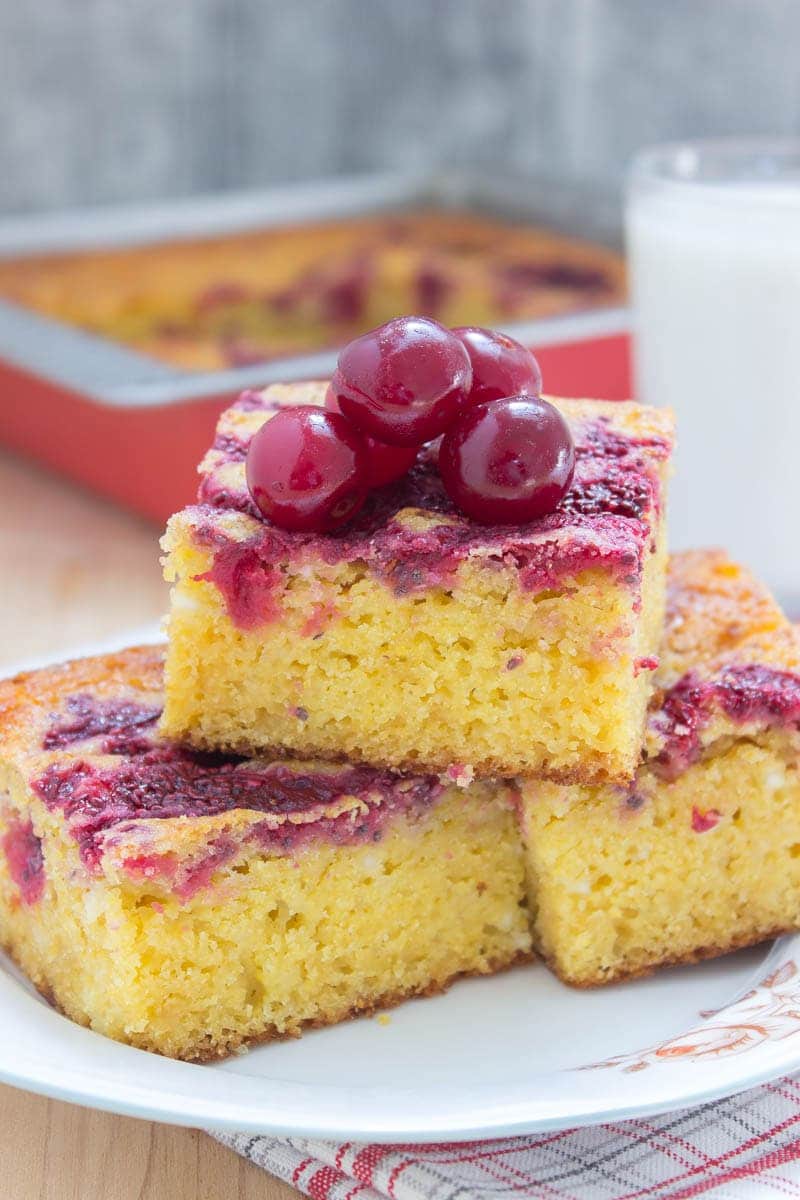 I'm a HUGE fan of cornbread. Of all the quick breads, and I mean ALL, I like cornbread the most. I love it more than banana bread. There. I've said it. Cornbread is one of those simple desserts, rustic, yet so deliciously sweet, and above all flavorful.
I know cornbread is very popular in America, but it's actually very popular in Croatia too. Especially here in northern parts of Croatia - Zagorje county where I live. We call it here Zagorska zlevka, or Zlevanka. Ever since I recreated my grandma's old cornbread recipe and made healthier version, cottage cheese cornbread, my whole family kinda fell in love with this old but now new recipe. So I bake cornbread quite a lot. Even my mother-in-law, who is like "the queen" of ALL traditional bakes, even she asks ME to bake this cornbread for our family gatherings. What to say... I'm flattered. I love the fact that my healthy cornbread is so popular.
So last week my mother-in-law filled my fridge with sour cherries from her backyard. I knew I had to prepare something while sour cherries are still in season. I decided to combine the sweet taste of classic cornbread with this amazing, yet completely neglected fruit. And this is how I made this Sour Cherry Chia Jam Cornbread. It's filled with all HEALTHY wholesome stuff, and the taste is, believe my words, completely out of this world delicious. Perfect summer dessert
To make this Sour Cherry Chia Jam Cornbread I used corn flour and corn grits - polenta. I enriched the mixture with cottage cheese and Greek yogurt which gave the cornbread a wonderfully moist texture but also a huge protein boost.
My mother-in-law once told me the story how her grandma used to put plum jam on top of cornbread. That inspired me to try something similar with this cornbread. I didn't want to use any store-bought stuff so I decided to make homemade sour cherry jam from scratch.
Sour cherry jam, it's just like blackberry chia jam that my family loves so much. It's super easy to make and it's packed with all wonderful natural ingredients. It's SO delicious that you will completely forget store-bought jams. And the best thing about this sour cherry chia jam is that it doesn't contain any refined sugars nor additives. Ok, so maybe it can't last long, but if you keep it in the fridge you can enjoy its fresh taste up to one week.
I'm not much fan of piling up stack of jars in my pantry. I keep all my fruits frozen and when I want to eat the jam, I just make one. In takes less than 10 minutes to have freshly made jam that suits my current desires made. Vanilla or cinnamon flavored, or with spicy ginger... I always make something new and exciting and surprise myself and my family. That's the beauty of easy homemade jams made from fresh/frozen fruits.
I always try to boost all my food with nutrients as much as I can. So I enriched this sour cherry jam with chia seeds. Also, chia seeds did thicken the jam nicely.
Corn is naturally sweet so this Sour Cherry Chia Jam Cornbread has little added sugar. To sweeten up this cornbread I used natural sweetener - honey, but you can use maple syrup or even stevia. Sour Cherry Chia Jam Cornbread is refined sugars free and moderate in calories, but rich in proteins, healthy omega-3 fats and full of quality fibers good for our digestion. It's also packed with vitamins and many important minerals - especially iron.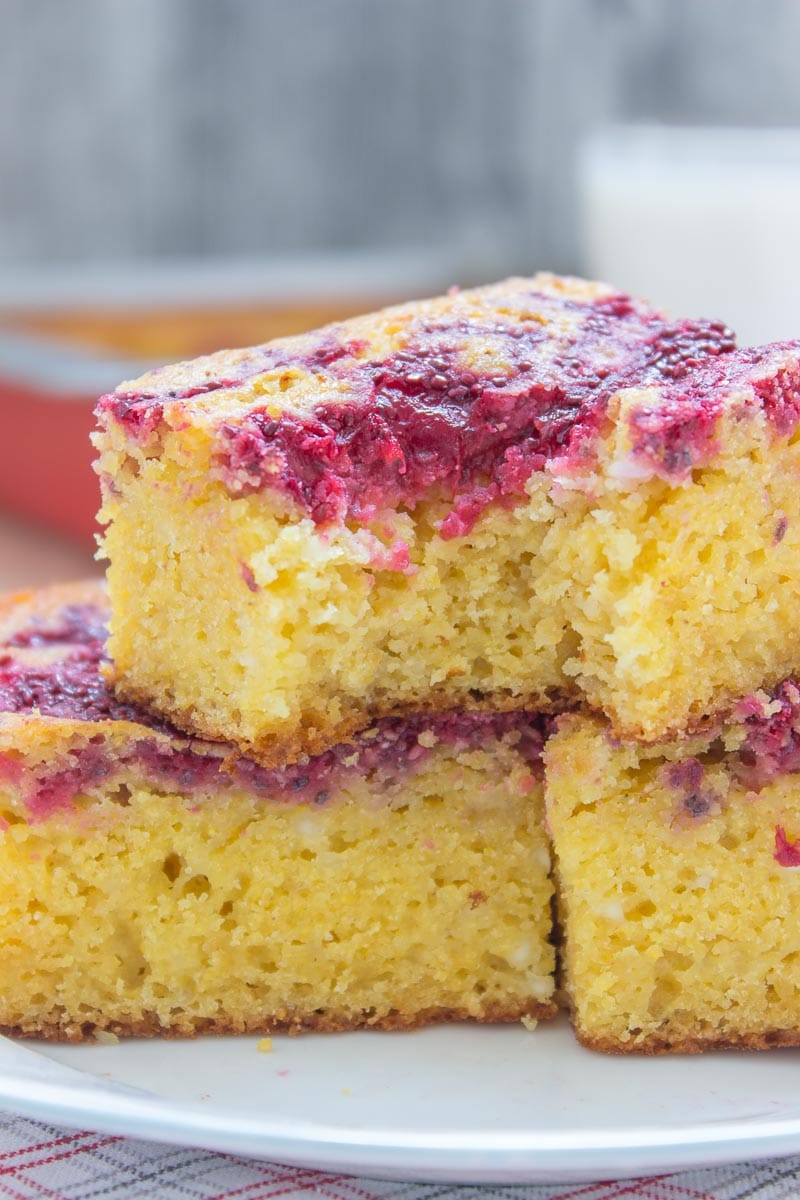 Sour Cherry Chia Jam Cornbread is ...
made with all HEALTHY wholesome ingredients,
full of high-quality dietary fibers that promote good digestion and weight loss,
refined sugar-free,
rich in nutrients - proteins, and healthy fats and low in calories,
gluten free and kids friendly.
I'm not quite sure whether to call this Sour Cherry Chia Jam Cornbread a dessert or real meal because it's so well balanced and so nutritious. However, I'm sure you'll gonna enjoy this one, either for breakfast or with your tea or coffee. My husband was so delighted with its taste that he already ordered a new bunch for next weekend. And he doesn't even like cherries nor sour cherries. :)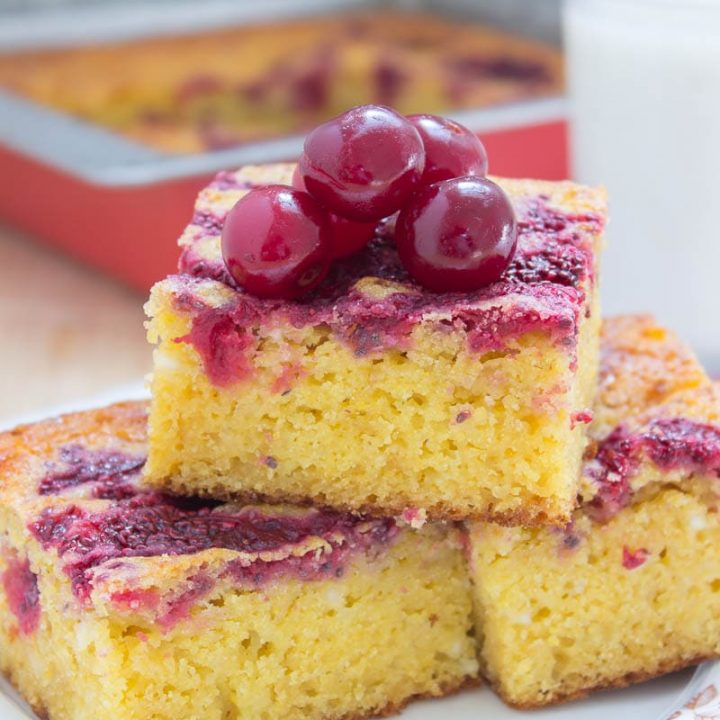 Sour Cherry Chia Jam Cornbread
Moist, tender and full of corn flavor Sour Cherry Chia Jam Cornbread is perfect summer dessert. This cornbread is made with all HEALTH ingredients, refined sugar-free, wholesome but it's moderate in calories.
Ingredients
1

cup

corn flour*

½

cup

cornmeal polenta

1

teaspoon

baking powder*

½

teaspoon

baking soda

½

teaspoon

Himalayan salt

3

large eggs

2-3

tablespoons

syrup or honey

2

teaspoons

vanilla extract

2

tablespoons

extra virgin coconut oil

, melted and cooled

1

cup

cottage cheese

½

cup

Greek yogurt
For Sour Cherry Chia Jam:
1

cup

fresh or frozen sour cherries

, pitted

1

tablespoon

syrup or honey or stevia

(to taste)

1

teaspoon

vanilla extract

2

tablespoons

chia seeds
Instructions
Preheat the oven to 392F (200C). Line the bottom of a 9x9 inch (22x22cm) square baking pan with parchment paper. Set aside.

In a bowl, mix the dry ingredients, corn flour, cornmeal, baking powder, baking soda, and salt.

In a separate bowl beat the eggs. Add syrup or honey, vanilla extract and coconut oil.

Stir the dry ingredients into the wet. Mix well.

Add Greek yogurt and cottage cheese. Lightly whisk the mixture and pour into baking pan.

Place the jam on top of the cornbread. Gently mix to the mixture with the fork.

Bake 30-35 minutes until the cornbread is nicely browned (do the toothpick test).

Remove pan from the oven. Allow cornbread to cool completely at room temperature.

Slice and enjoy!
For Sour Cherry Chia Jam:
In a saucepan, bring sour cherries to a low boil, stirring frequently. Reduce heat to low and simmer until the cherries soften, about 5 minutes. Lightly mash the cherries with a potato masher or fork.

Remove from heat and stir in syrup or honey or stevia and chia seeds. Stir for few minutes, and leave until mixture thickens for about 5 minutes.

Use the jam for making a cornbread. Store jam leftovers in a glass jar and refrigerate. The jam will keep in the fridge for up to 1 week.
Notes
* For gluten-free version make sure you use certified gluten-free products. Keep in an airtight container at room temperature for up to 1 week. As a measure, I used UScup (240ml).
Nutrition
Calories:
208
kcal
|
Carbohydrates:
28
g
|
Protein:
8
g
|
Fat:
8
g
|
Saturated Fat:
4
g
|
Polyunsaturated Fat:
1
g
|
Monounsaturated Fat:
1
g
|
Cholesterol:
82
mg
|
Sodium:
231
mg
|
Potassium:
153
mg
|
Fiber:
3
g
|
Sugar:
11
g
|
Vitamin A:
350
IU
|
Vitamin C:
2.5
mg
|
Calcium:
70
mg
|
Iron:
1.3
mg
Tried this recipe?
Don't forget to rate it and leave the comment. I would love to hear what you think.
Disclaimer
The nutritional information provided is approximate and is calculated using online tools. Information can vary depending on various factors, but I have endeavored to be as accurate as possible.
These are my picks for this recipe:
[amazon_link asins='B001PKUXN8,B008FWD4HQ,B01MR507HZ' template='MyPicks' store='natalieshealt-20' marketplace='US' link_id='6d719d23-55a0-11e7-bbe0-67b889c5c476']
Xoxo,
- Natalie
∗ PIN this for later! ∗