Strawberry Chia Seed Jam is the perfect healthy alternative to conventional jam. It's made with WHOLE FOOD ingredients, loaded with delightful fruity flavor and many nutrients. Enriched with lime and cinnamon, refined sugar-free, this jam is a delicious way to enjoy healthy breakfast every day.
Strawberry season has begun, and I'm celebrating this fact by devouring strawberries literally every day. I mean, how can you resist such sweet, delicate fruit? + They are now popping out from every market stand. The fruity smell of fresh strawberries occupies my senses whenever I go to the farmers market or in the store. My fridge is packed with strawberries. And by packed I mean PACKED. I simply can't resist them.
I love them fresh, straight from fridge cooled. A handful of strawberries is my favorite snack these days. But also I like to treat myself with creamy Strawberry Ginger Smoothie Bowl in the morning. Yum, I know! And my family, they LOVE my sweet Strawberry Banana Muffins.
There's a plenty of ways in which you can enjoy this delightful fruit. And this Strawberry Chia Seed Jam is just another way to enjoy while strawberries are in season.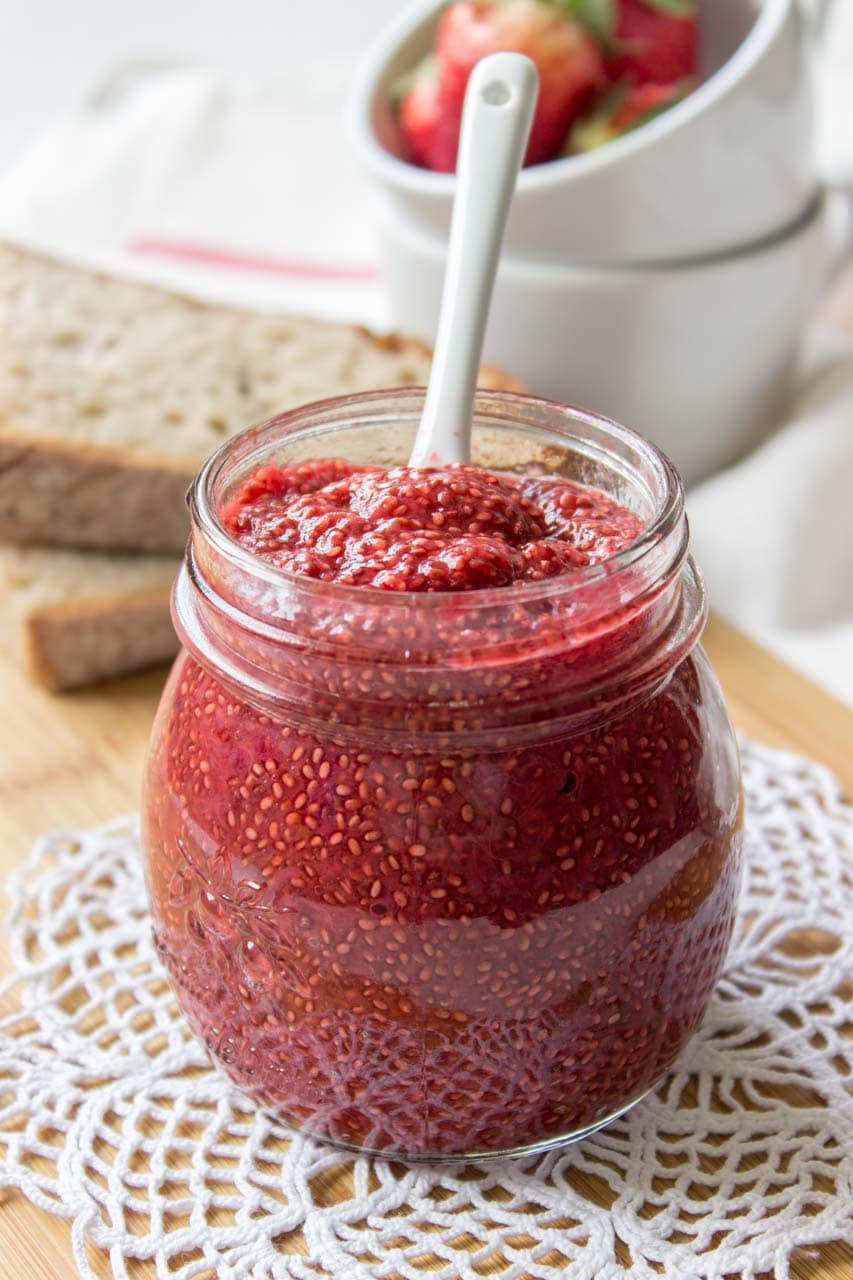 But before I dig into this recipe, let me just explain how and why I fell in love with this super easy method of making homemade jams with chia seeds.
You see, traditional homemade jams, like our grandmothers used to make, are just old school. They require a lot of work – cooking, canning, and not to mention added SUGARS! In the end, what you end up consuming when you eat grandma's jam are just that – sugars – empty calories. Not much other nutrients.
Well, I consider myself a busy modern woman who likes to eat fresh and seasonal and HEALTHY. I like to enrich my meals with as many nutrients as I can. I don't like consuming empathy sugary calories. NO way! + I don't want to stock my pantry with jars of jams no-one ever remembers to open and eat during the year.
When I crave jam – to fill my pancakes or Berry Breakfast Oat Bars  , or to top my cornbread with, I make simple chia seed jam. The method is easy and requires only a few ingredients. + Chia seed jam is packed with not only fresh flavors but with many nutrients. I use chia to thicken all sorts of my dishes. Here I used chia seeds to thicken my jam…. and to load simple fruit jam with NUTRIENTS – omega-3 fats, natural plant-based proteins, and dietary fibers. I use chia to thicken all sorts of my dishes. Here I used chia seeds to thicken my jam…. and to load simple fruit jam with NUTRIENTS. You see, this jam is more than a jam – it's a complete meal.
This Strawberry Chia Seed Jam is super easy and simple to make. You only need fresh fruits – strawberries and chia seeds. The gelling power of chia seeds transforms the ripe fruit into a low-sugar, spreadable jam in just 20 minutes. And you don't need to add any pectin, nor any unhealthy additives. Nor TONS of sugar.
To sweeten this jam up a bit, I used pure maple syrup – an unrefined natural sweetener that contains higher levels of beneficial nutrients, antioxidants, and phytochemicals than white table sugar or other high fructose syrups. Waistline friendly and healthy – that's how I like it!
While strawberries are bursting with vitamin C and many antioxidants, chia seeds are packed with healthy stuff… Omega-3 fatty acids good for our heart, plant-based proteins, vitamins A, B, E and D, and minerals like calcium, phosphorus, potassium, iron, copper, zinc, magnesium, manganese, niacin, and others antioxidants. No wonder they call chia seeds a SUPERFOOD!
I enriched this chia seed jam with flavorful fresh lime that gave the jam beautiful freshness. Also, I added fragrant cinnamon into the mix. Lime and cinnamon paired so well with strawberries and gave this Strawberry Chia Seed Jam such a nice vibrant spring/summer feeling.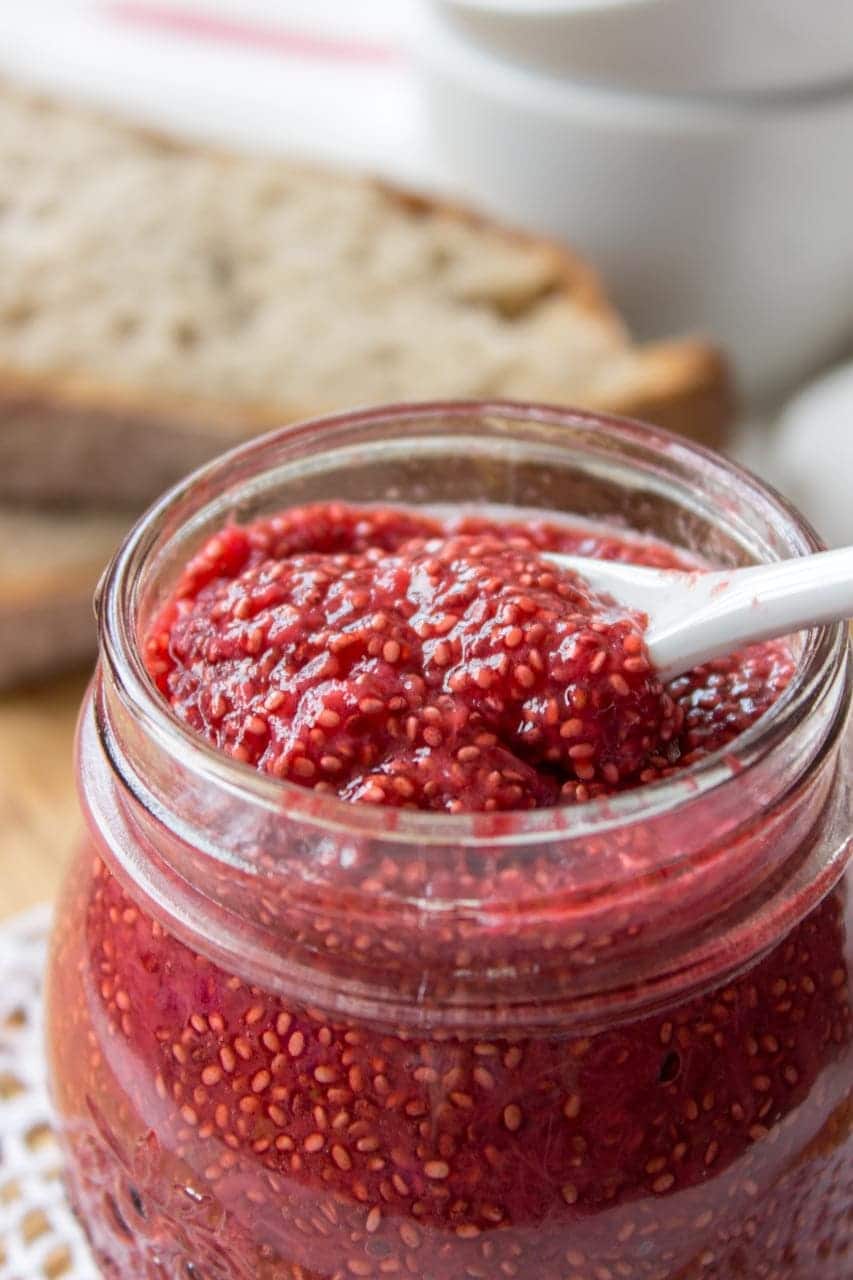 Strawberry Chia Seed Jam is:
Very nutritious and HEALTHY – loaded with dietary fibers, healthy fats, and proteins.
All natural and refined sugar-free.
Ridiculously easy to make.
Full of beautiful fragrant aromas and sooo delicious.
Vegan and gluten-free.
Perfect breakfast your family will love.
100% guilt-free and waistline-friendly.
Strawberry Chia Seed Jam is perfect for mixing into oatmeal, parfaits or spreading over the top of a slice of bread. I absolutely LOVE chia jam over the toast with peanut butter or swirled into freshly cooked grits. Oh, my… yumminess overload!
Fresh fruity flavors mixed with fragrant cinnamon packed in a spread done in less than 20 minutes from REAL FOODS – all natural and beautiful… what's there not to love!?
This jam isn't just some plain old boring grandma's jam. It's a beautifully balanced meal and perfect for breakfast. A super HEALTHY spread that your whole family will love.
Enjoy!
Easy Strawberry Chia Seed Jam
Ingredients
2

cups

fresh strawberries

washed, and sliced

3

tablespoon

maple syrup

2

tablespoon

chia seeds

1

teaspoon

fresh lime juice and zest

1

teaspoon

Ceylon cinnamon
Instructions
Place sliced strawberries and maple syrup into a medium sized sauce pan.

Bring the mixture to a simmer over medium heat and simmer for 5 minutes, stirring frequently.

Directly in the pan, mash strawberries using a fork or a potato masher.

Turn off the heat and stir in chia seeds, lime juice, lime zest and cinnamon. Mix well.

Remove from the heat and leave the mixture to rest for additional 10 minutes, stirring frequently.

Add more syrup to taste, if necessary.

Cool completely before putting into a sealable container and place in the fridge.
Nutrition Facts
Easy Strawberry Chia Seed Jam
Amount Per Serving (1 jar)
Calories 376
Calories from Fat 72
% Daily Value*
Total Fat 8g 12%
Sodium 12mg 1%
Potassium 673mg 19%
Total Carbohydrates 74g 25%
Protein 6g 12%
* Percent Daily Values are based on a 2000 calorie diet.
These are my recommendation for this recipe:
*** CHECK it out on FB ***