Warm comforting and perfect for winter mornings, this Blueberry Oatmeal Porridge will surely make your morning brighter. This lovely bowl is filled with so many nutrients and SUPERFOODS. + It's made without ADDED SUGARS. Perfect!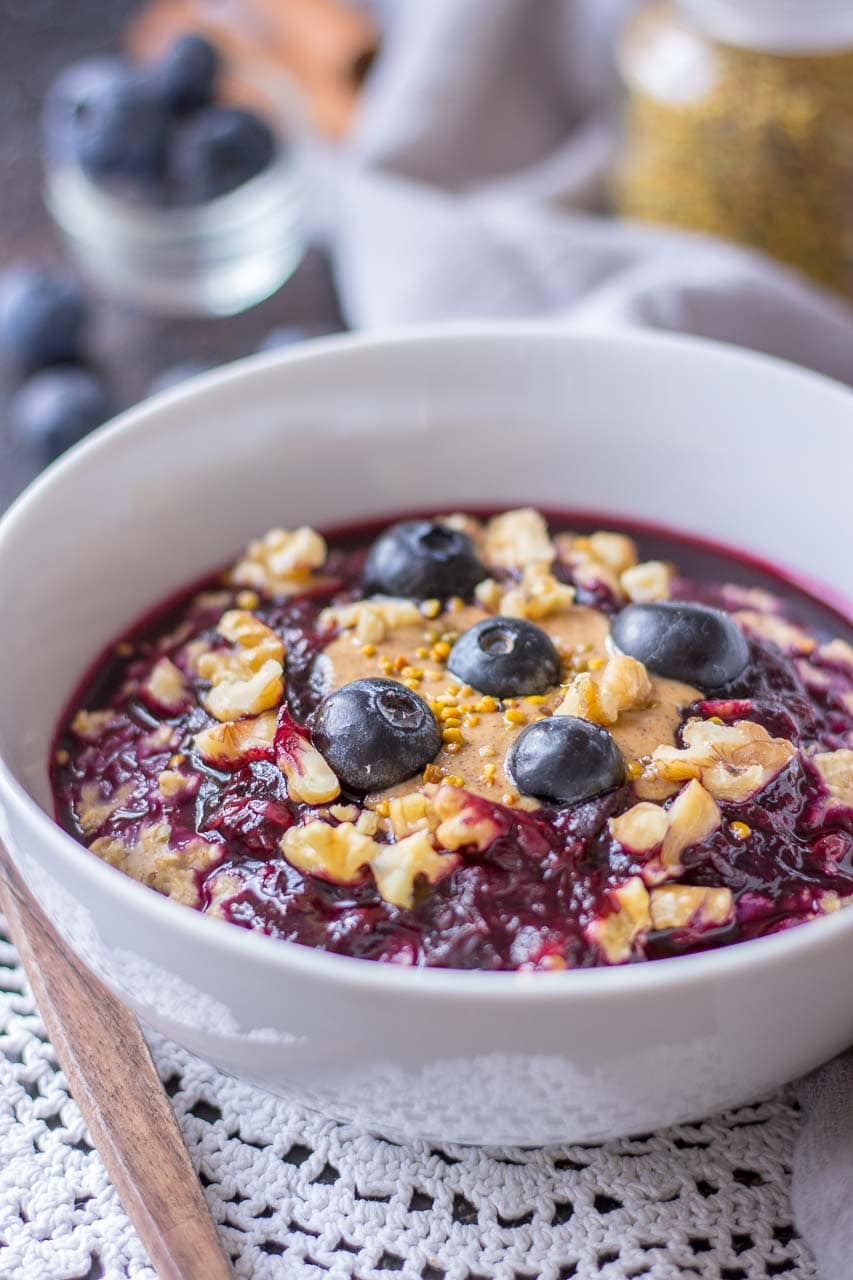 You'll know how I'm crazy about oats?! Peanut Butter Overnight Oats, Apple Cinnamon Overnight Oats, Apple Cinnamon Baked Oatmeal,... yum! All my favorite breakfast recipes. And there are so many of these delicious oatmeal recipes which I haven't even published here yet. (I will, I promise.) 'Cause for me, breakfast is THE most important meal of the day, and oats are one of my favorite things to have in the morning.
Why this plain-tasting thingy is my fav, you may ask? Well, oats are incredibly nutritious, rich in fibers and antioxidants. Oats are heart healthy, great for weight loss... oats are many things. Above all, they are HEALTHY and they go so well with so many things.
Like this super-tasty blueberry oatmeal recipe here. It will blow your mind how good it is. Oatmeal porridge is topped with homemade blueberry jam that is infused with grapefruit and fresh GINGER and then all is sprinkled with more SUPERFOODS. Oh my goodness! It's pleasing, not only for the eyes, but it tastes heavenly good too.
Anyway, the point is... There's so many options, so many things you can do with oats, and oatmeal porridge adds yet another delicious dimension to it all - a warm coziness in every mouthful. THAT'S what's my favorite in this lovely-looking bowl over here.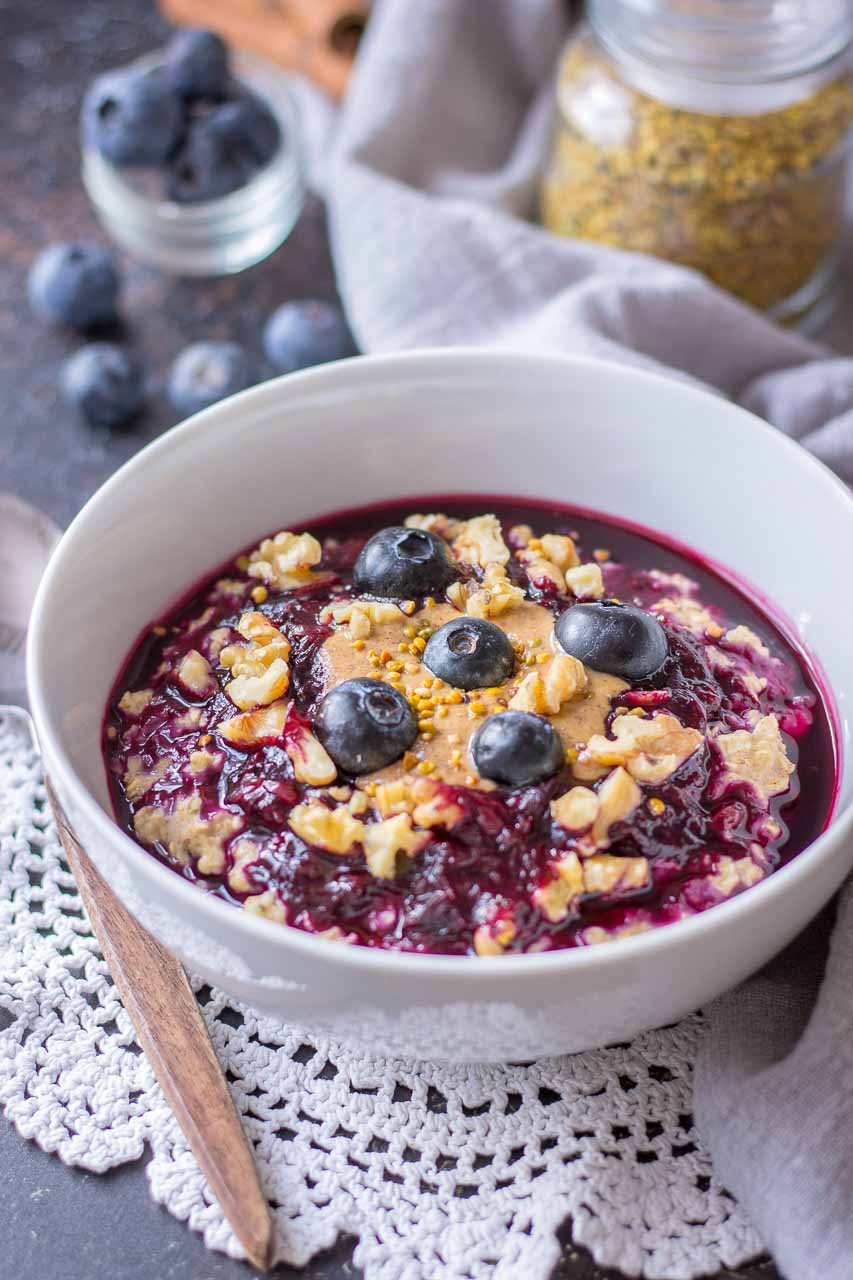 I always loved a cozy bowl of oatmeal porridge in the morning. Especially now, during winter when the mornings are cold and I need something to warm my tummy beside cup of Matcha Green Tea Latte.
Actually what I love the most about warm oatmeal porridge is that everything MELTS inside it or on top of it. Cooked oatmeal aka. oatmeal porridge is creamy and thick and tastes extremely delicious.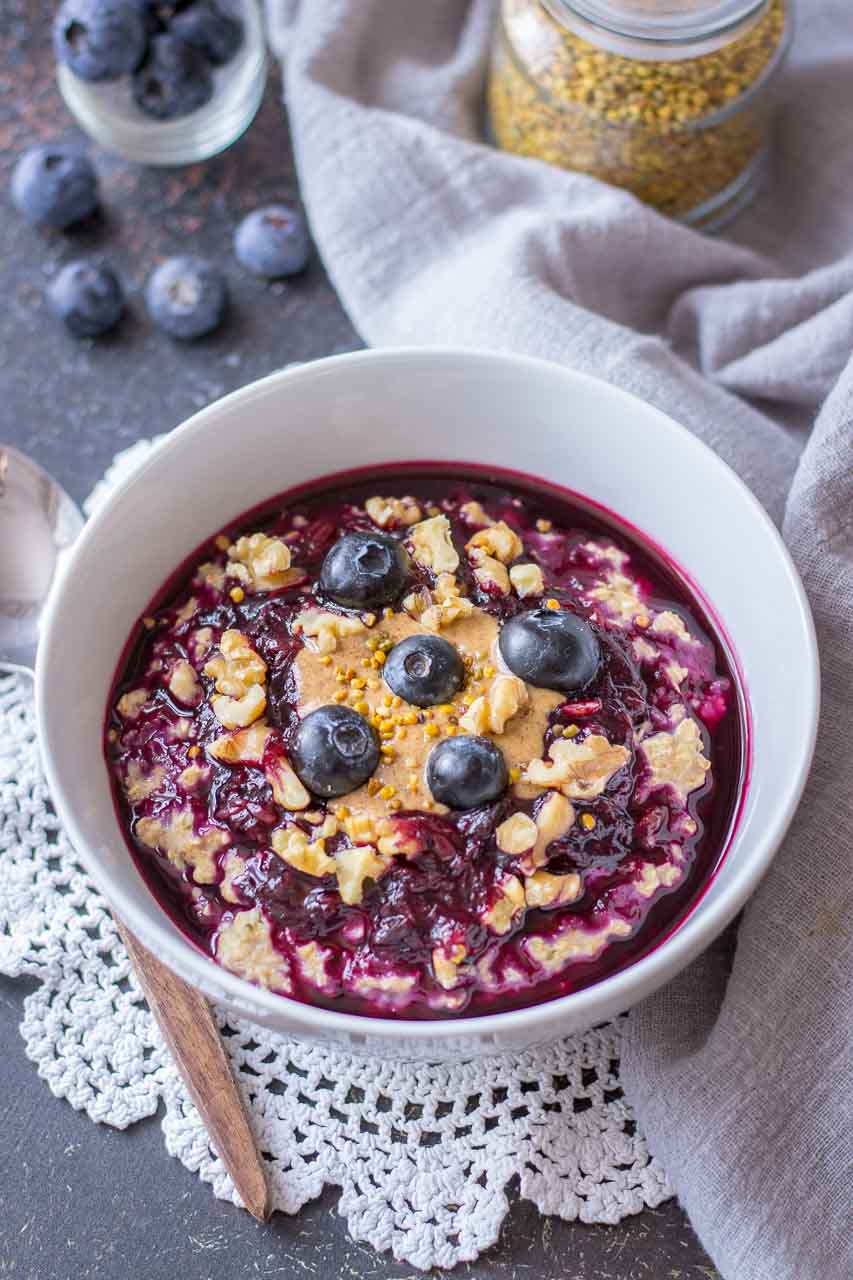 How to make Blueberry Oatmeal Porridge
To make this beautiful breakfast bowl you'll only need a few simple ingredients: 1. OATS - rolled or steel cut or quick oats, it's really your choice, which one you prefer; 2. MILK - I used organic soy milk because it's creamy, naturally sweet and loaded with plant-based proteins, vitamin B, as well as with folate, magnesium, and potassium. But again, you can use any milk you prefer; 3. FRUIT JAM preferably homemade + some superfoods TOPPINGS.
While you cook your oatmeal porridge, you can definitely add some coconut oil in - to enhance the taste but also to add NUTRIENTS too - fats in this case for the energy boost. I usually use coconut oil, but this time I wanted to make this bowl powered with PROTEINS - to keep me full longer. So I added some hemp seeds. Hemp seeds are rich in protein, but also in fiber, and healthful fatty acids - omega-3s.
I sweetened oatmeal porridge with mashed ripe banana, so I didn't have to use added sugars here. Banana gave the desired sweetness to this Blueberry Oatmeal Porridge, but also valuable nutrients too. Also, I needed to flavor this beauty up, so I added a bit of Ceylon cinnamon in the porridge while it was still cooking.
Steaming hot, creamy flavorus and just delicious... When you pour that oatmeal porridge in a bowl you will want to jump onto that loveliness right there. But hold on... let's discuss this amazing FRUIT JAM that is all over the porridge first.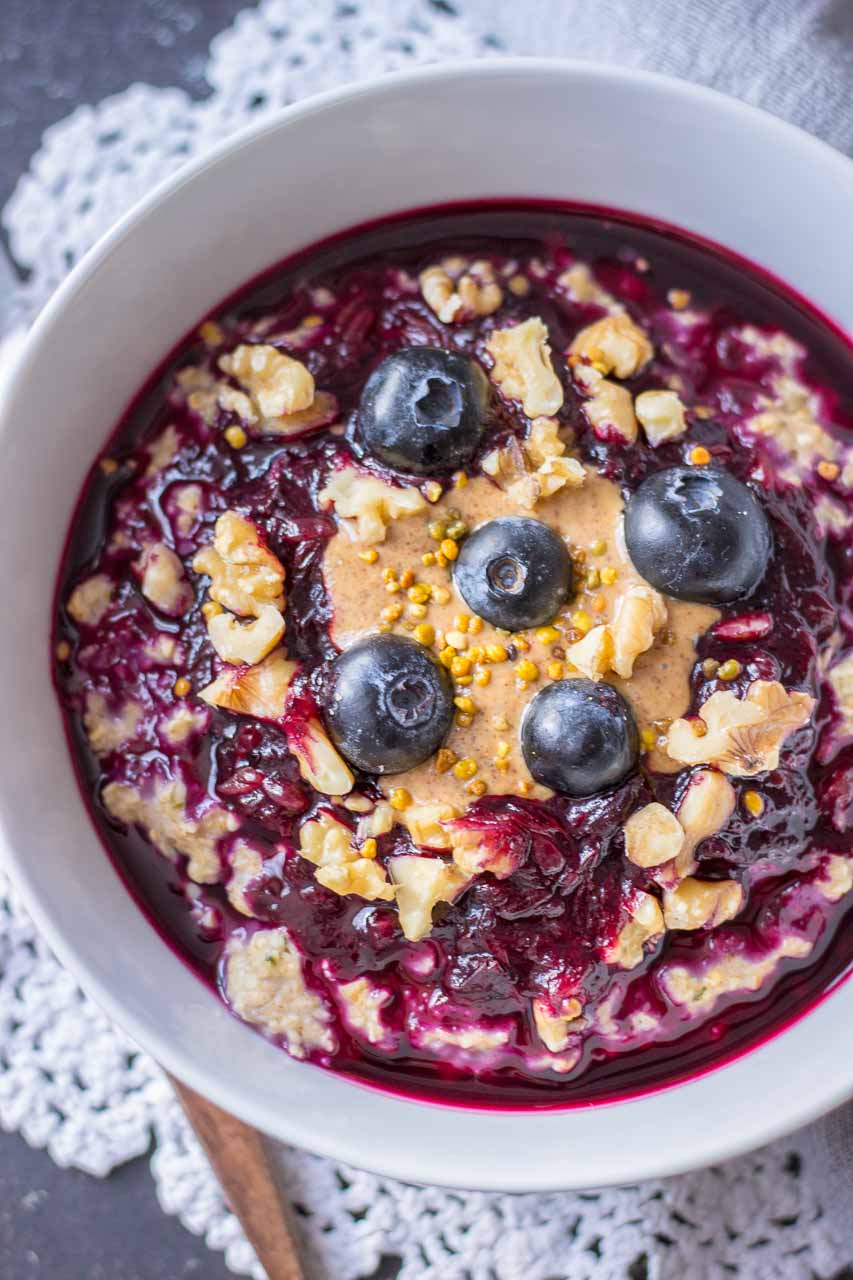 Homemade Blueberry Jam infused with grapefruit and FRESH ginger is absolutely AMAZING. It's done in no time - like 10 minutes or so - and it adds so much deliciousness in this overall amazingness of this Blueberry Oatmeal Porridge. + You can make a jar of this Blueberry Jam in advance, and keep it in the fridge for several days.
Grapefruit, especially ruby red, has such amazing flavor. It's tangy, bitter, and candy-sweet all at once. Combined with the blueberry, and fresh ginger this jam has a rich flavor that pairs so well with creamy oatmeal porridge.
This Blueberry Jam gives freshness and since is loaded with antioxidants from blueberries, immune boosting vitamins from grapefruit, and super-powers from superspice - GINGER, + made WITHOUT ADDED SUGARS, it's super healthy too.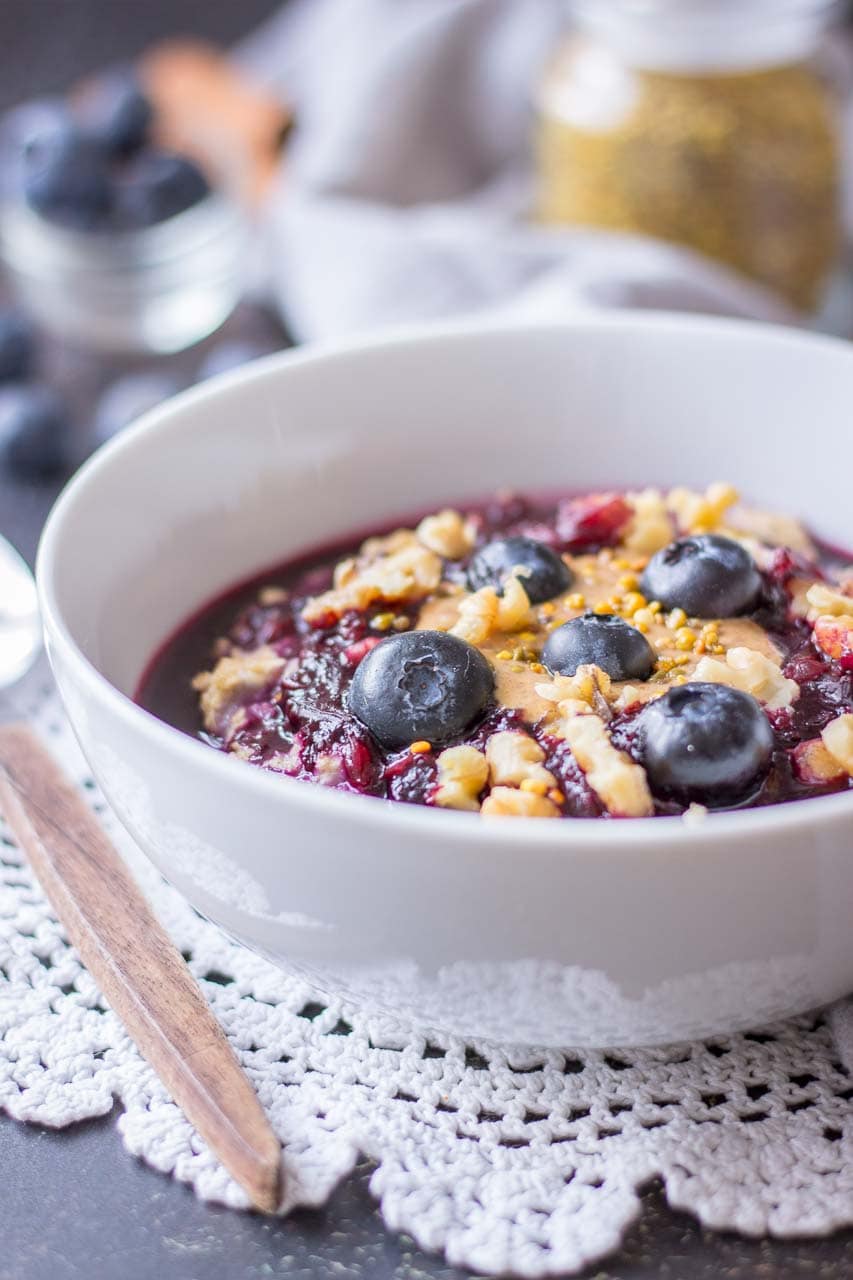 I topped everything with almond butter. Just a spoon of this spread will add extra nutrients your body needs in the morning. In the end, I sprinkled the Blueberry Oatmeal Porridge with chopped walnuts and some bee pollen. I'm always like, let's go crazy and boost our immunity to super-charged.
So you see, this meal is not only packed with nutrients - PROTEINS, healthy FATS and loaded with FIBERS, it has some serious super-powers from antioxidant-rich blueberries and ginger.
In addition to that, it's made completely without added sugars + the simplest breakfast you can make. Cooking the oatmeal doesn't take long and having a warm HEALTHY well-balanced breakfast in the morning is worth all the time.
Enjoy!
Blueberry Oatmeal Porridge
Blueberry Oatmeal Porridge is a delicious way to start your day! Cooked oatmeal is topped with homemade blueberry jam infused with grapefruit and FRESH ginger. This bowl is filled with so many nutrients and SUPERFOODS and it's made without ADDED SUGARS.
Ingredients
For Blueberry Jam:
1

cup

blueberries

½

red ruby grapefruit

peeled

½

teaspoon

grapefruit zest

½

teaspoon

freshly grated ginger

Pure marple syrup

to taste if desired
Toppings:
1

teaspoon

almond butter

1

tablespoon

walnuts

chopped

1

teaspoon

bee pollen
Instructions
For Oatmeal Porridge:
In a saucepan, bring milk to a boil. Stir in oats and salt. Cook over medium heat until thickened, about 3-5 minutes, stirring occasionally.

Remove from heat and stir in hemp seeds, mashed banana, and cinnamon.

Divide between two serving bowls.

Top with Blueberry Jam, and toppings. Serve warm.
For Blueberry Jam:
In another saucepan add berries and cook over medium heat. Add zest, grated ginger and maple syrup (if using). Cook over medium heat for 10 minutes, stirring occasionally. Use potato masher or fork to mash the berries.

When the jam releases his juices add the grapefruit flesh. Continue to cook the jam for another 5-10 minutes, stirring occasionally, until jam has reduced.

Pour the jam into the sterilized jar. Keep refrigerated.
Notes
As a measure, I used UScup (240ml).
Nutrition
Calories:
461
kcal
|
Carbohydrates:
58
g
|
Protein:
20
g
|
Fat:
18
g
|
Saturated Fat:
1
g
|
Sodium:
229
mg
|
Potassium:
688
mg
|
Fiber:
10
g
|
Sugar:
17
g
|
Vitamin A:
1265
IU
|
Vitamin C:
29
mg
|
Calcium:
328
mg
|
Iron:
5.1
mg
Tried this recipe?
Don't forget to rate it and leave the comment. I would love to hear what you think.
Disclaimer
The nutritional information provided is approximate and is calculated using online tools. Information can vary depending on various factors, but I have endeavored to be as accurate as possible.
These are my picks for this recipe:
[amazon_link asins='B06XDDXVK9,B00213JO92,B01CEBRM1W,B00004OCJK,B00004OCKU' template='MyPicks' store='natalieshealt-20' marketplace='US' link_id='c337a02b-5215-4a9a-9d6f-b24aed351d23']