Creamy, refreshing and loaded with flavor, this Strawberry Kefir Smoothie is a delicious and super HEALTHY way to start the day. This kefir drink is loaded with probiotics and SUPERFOODS, naturally sweet and made without added sugars. It's an easy breakfast that will satisfy all your morning needs.
I was really looking forward to this Easter breaks. To all the foods and decorations. To Easter egg hunt, sweet desserts and other Easter delights. And after a week of preparation, cooking, baking, and making, but mostly EATING all that Easter foods, I can only say - oh boy, am I happy that Easter is finally over. School started today and I'm in my usual routine again. But after Easter binging, it is time to fix that poor gut of mine first.
Although I didn't eat rubbish nor unhealthy, still I stuffed myself with way too much food. I was constantly nibbling on something. From Carrot Cake Balls to Lemon Blueberry Cake for breakfast, lunch, and dinner. Crazy!
All that food madness has led me to feel bloated and sick of foods. I definitely need a reset. Healing. And generally, break from any heavy foods.
Thus comes this beautiful bright and refreshing kefir drink made with fresh STRAWBERRIES and packed with many wonderful Spring flavors + SUPERFOODS. This creamy deliciousness is designed to make you happy and healthy, to heal your gut and help your body recover from binging. It will satisfy all your sweet cravings and leave you full but light as a feather. It's a perfect morning drink!
This strawberry smoothie recipe is quite simple and perfect for those busy mornings when you don't have much time to make your breakfast. It's ideal to pack and sip while driving your kids to school.
Even if you're not a fan of kefir, this beautiful kefir drink will surprise you with its taste. It has the kefir fizz and all the benefits but all is hidden under wonderful fruity strawberry flavor.
The thing I love the most about this smoothie is that is so super healthy and so super sweet, but made without any added sugars. It's ALL NATURAL low-calorie drink that is absolutely delicious.... thick and so drinkable. + It's loaded with gut healing probiotics from kefir, as well as with healthy omega-3s and fibers. A perfect well-balanced meal.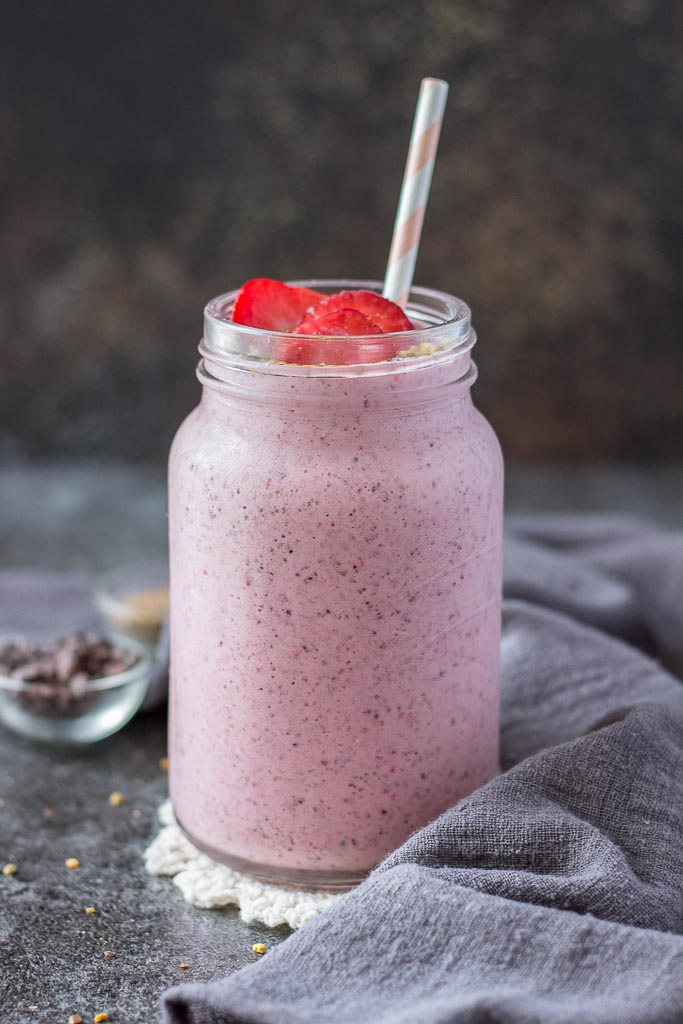 What you'll need to make Strawberry Kefir Smoothie
To make this fruity pink delight, you will only need a few simple ingredients:
Banana: Ripe banana is the best choice here. It will give the smoothie amazing rich and creamy texture but also natural sweetness so you don't need to add extra added sugars. It's best to use a frozen banana here. It will give extra creaminess.
Kefir: I used coconut milk kefir here but you can definitely use plain milk kefir if you like. Both coconut or plain milk kefir work fine in this recipe. Both are equally healthy and delicious. Kefir contains many probiotic bioactive compounds and around 30 strains of good bacteria that keep our gut healthy and lower the risk of developing many chronic diseases. (1) Coconut milk kefir is a great vegan alternative to plain milk kefir and great for those who simply avoid dairy products - like I do. Although I love both milk and coconut kefir, I like to use coconut kefir in fruity smoothies like this one, simply because it's slightly sweeter. + It adds many amazing benefits from coconuts.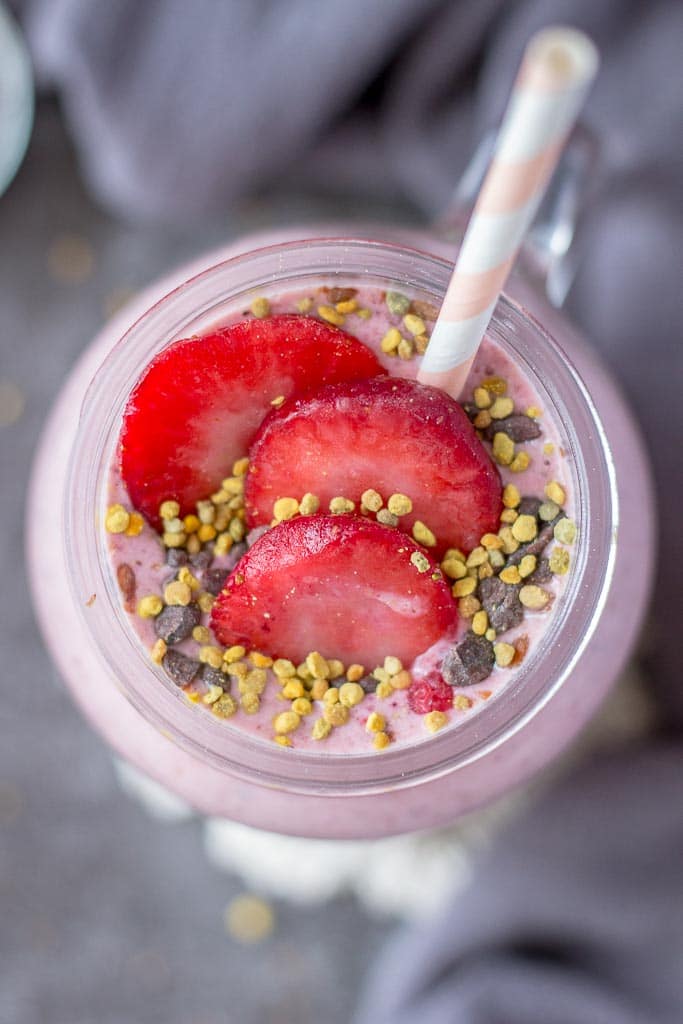 I also added some SUPERFOODS that boosted this Strawberry Kefir Smoothie with extra super-powers:
Flax seeds are loaded with healthy fats and fibers great for boosting digestion after holiday binging and for weight loss. They are exceptionally rich in essential fatty acids, omega-3, but also a great source of high-quality proteins, as well as many essential minerals - like magnesium. (2) You can easily swap flax seeds for chia seeds or hemp seeds here. Just use what you have at hand.
Baobab powder boosted this kefir drink with more healthy fibers but also added a whole lot of vitamin C – a powerful antioxidant and immune booster (3).
The main stars in this beautiful smoothie story are the STRAWBERRIES.
Strawberries are low-calorie fruit that is sweet and just delightful. But what's making strawberries so delightful is not just sweetness but the fact that this little fruit is loaded with vitamin C – powerful immune boosting and healthy skin antioxidant (3). Fresh strawberries are the best here, but frozen will work fine too.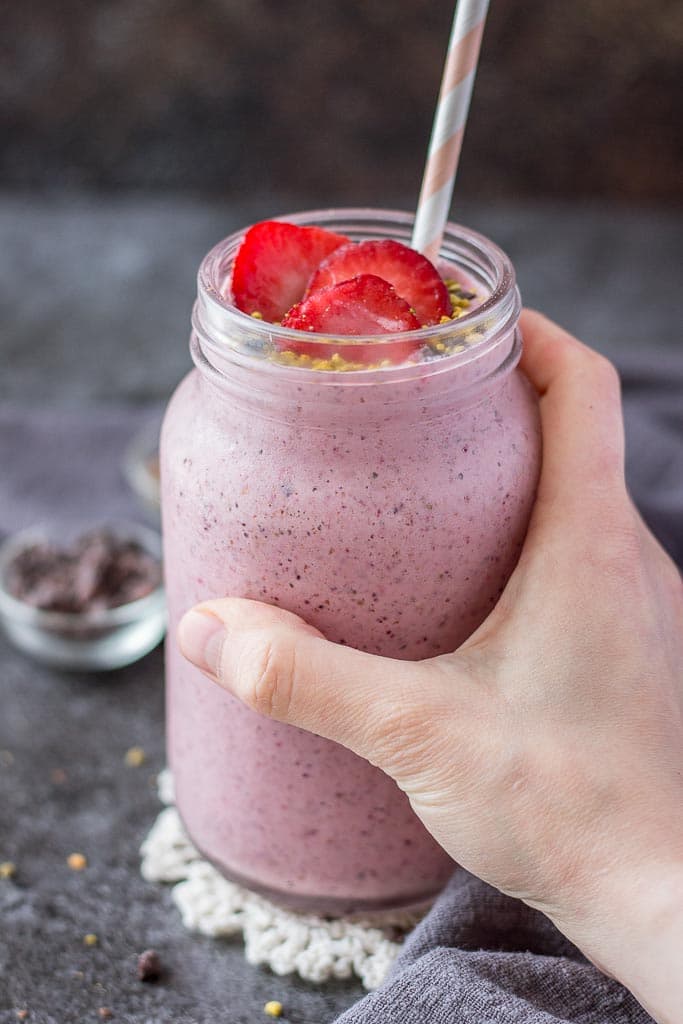 How to make Strawberry Kefir Smoothie
Simply throw all the ingredients in your blender and blend until silky smooth. If you're using frozen fruits, smoothie may turn out too thick. In that case, just add some liquid - I like to add plain water, but you can add some milk of your choice.
If you're using a plain milk kefir, smoothie may turn out a bit sour. Although I like that sourness, my kiddo, for example, likes sweeter smoothies. In that case, just add some maple syrup or honey (if not vegan). Add sweetener to your taste.
Pour the smoothie in a glass and top it with some cacao nibs, bee pollen (if not vegan) or shredded coconut for some extra kick.
Enjoy freshly made or save it in a glass bottle with good lid for later. You can keep leftovers refrigerated up to 2 days.
This is one of those kefir recipes that you'll like on the first sip. Even if you're not a big kefir fan. It's creamy, refreshing, sweet and fruity... Add to that super HEALTHY and loaded with gut-healing probiotics, SUPERFOODS, and nutrients.
It will heal your gut, help you with weight loss and boost you with energy. Flavorful and delicious, it will definitely make your morning so much brighter. What's not to like here?
If you're looking for more gut healing, metabolism boosting SMOOTHIE RECIPES, check these out:
Enjoy!
Recipe
Strawberry Kefir Smoothie
Bright and creamy, Strawberry Kefir Smoothie is a great way to start the day. Made without added sugar and boosted with superfoods, this vegan kefir smoothie is perfect HEALTHY morning drink loaded with probiotics.
Ingredients
1

cup

coconut kefir

½

cup

strawberries

½

ripe banana

1

tablespoon

flax seeds

1

teaspoon

vanilla extract

1

teaspoon

baobab powder

Optional: maple syrup or honey

to taste

Toppings: cacao nibs, bee pollen, shredded coconut
Instructions
Place all ingredients into a blender and blend until smooth.

Pour into a glass, top with cacao nibs and bee pollen if desired, and enjoy!
Notes
FOR VEGAN VERSION: Omit honey and bee pollen.
Nutrition
Serving:
1
cup
|
Calories:
274
kcal
|
Carbohydrates:
33
g
|
Protein:
10
g
|
Fat:
11
g
|
Saturated Fat:
5
g
|
Polyunsaturated Fat:
2
g
|
Cholesterol:
30
mg
|
Sodium:
128
mg
|
Potassium:
378
mg
|
Fiber:
4
g
|
Sugar:
23
g
|
Vitamin A:
490
IU
|
Vitamin C:
47.4
mg
|
Calcium:
329
mg
|
Iron:
0.7
mg
Tried this recipe?
Don't forget to rate it and leave the comment. I would love to hear what you think.
Disclaimer
The nutritional information provided is approximate and is calculated using online tools. Information can vary depending on various factors, but I have endeavored to be as accurate as possible.
If you've tried this Strawberry Kefir Smoothie or any other recipe on Natalie's Health, please take a minute to rate the recipe and leave a comment letting me know how you liked it. I love hearing from you!
You can also FOLLOW ME on Facebook | Instagram | Pinterest | Twitter