Sweet and deliciously creamy, Strawberry Peanut Butter Smoothie is perfect on-to-go breakfast for busy weekday mornings! It's loaded with nutrients and FRESH strawberry flavor. Refined sugar-free, ALL NATURAL and very filling - super HEALTHY and so tasty.
C'mon... Ask me why I love smoothies so much (especially lately)?
Well, they are creamy, dreamy, quick, nutritious meal PERFECT for busy mornings - and oh boy do I have plenty of those lately. Remember my story from the last week? Well, my life is STILL pretty hectic. I'm now looking not only easy lunch solutions but easy breakfast solutions too.
Smoothies are the easiest thing you can make in the morning. And among healthiest things you can have for breakfast too. Of course, if the smoothie is well balanced, packed with nutrients, and all the HEALTHY goodies - like this deliciousness over here. That's why I LOVE SMOOTHIES.
Since berries are now in season, I toss them in about everything sweet I do. Berry Breakfast Oatmeal Bars and Blueberry Chia Smoothie. How about Blueberry Pancake Casserole? YES! ALL these are packed with beautiful berries. ALL perfect for mornings. Same as this delightful Strawberry Peanut Butter Smoothie.
It is super simple, thick, filling and so gorgeous. And you'll be surprised how HEALTHY it is too. Just read on!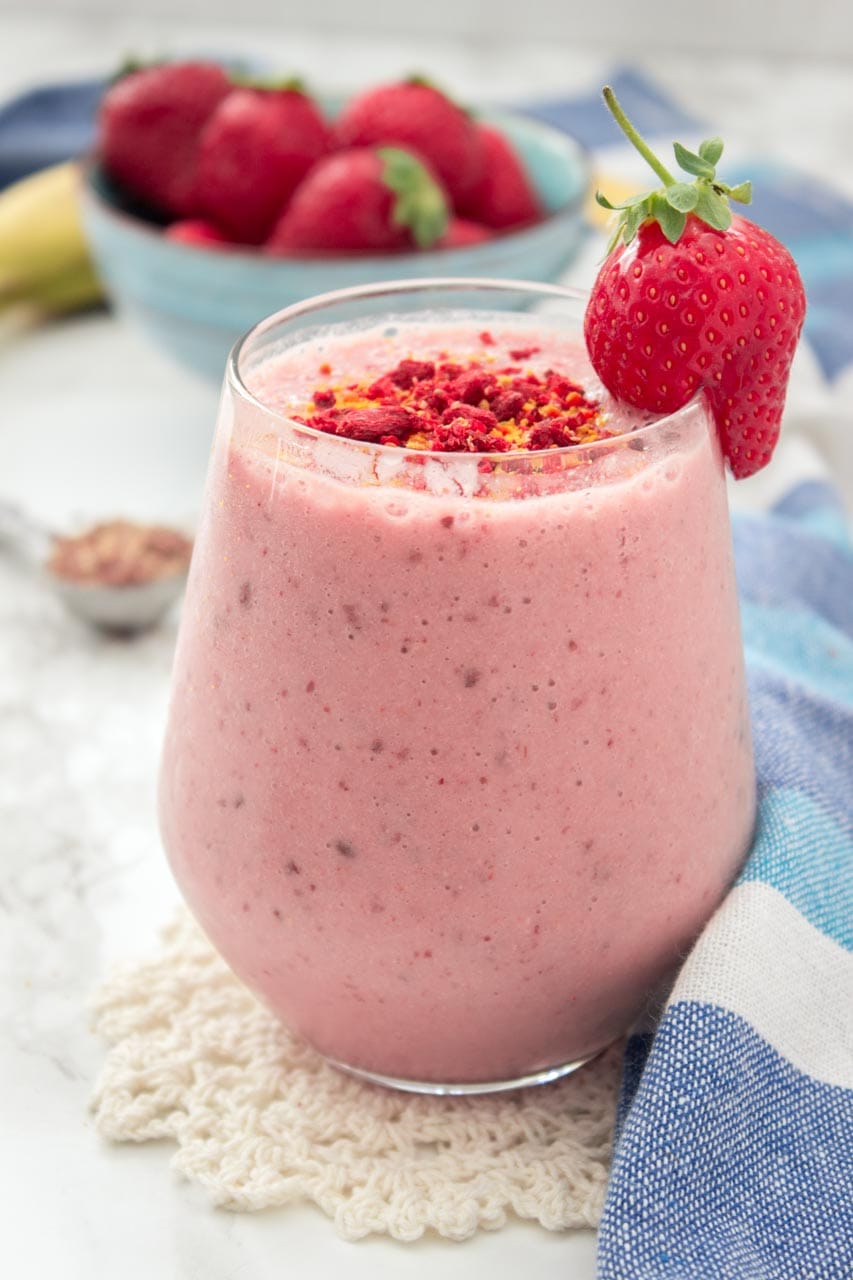 Strawberry Peanut Butter Smoothie is one of those smoothies that is extra delicious - because strawberry and peanut butter are like the greatest combo EVER!
It's like peanut butter & jelly in a cup! Nutty peanuts and fresh fruity strawberry flavor pair sooo good together. Can this smoothie be any better?! Well, yes it can. Just keep reading...
Not only this smoothie is heavenly smooth, thick and super tasty, but it's also very filling and so nutritious - packed with so many good healthy stuff - dietary fibers, ALL NATURAL plant-based proteins from peanut butter and flax seeds, rich in antioxidants from SUPERFOODS - strawberries and goji berries. Yumilicious!
To make this Strawberry Peanut Butter Smoothie I used frozen banana and of course sweet, vitamin-loaded strawberries. Strawberries gave the smoothie fruity freshness while ripe banana provided the smoothie with beautiful natural sweetness, so this smoothie has NO ADDED SUGARS whatsoever. Great right?! Also, frozen banana made the smoothie so creamy and thick - you can literally eat it with the spoon.
In addition to that, this smoothie is loaded with heart-healthy fats from nutty ALL NATURAL peanut butter. Peanut butter is a great source of unsaturated - healthy fats, fibers, and proteins + an excellent source of a whole range of vitamins and minerals. Cheers to PEANUT BUTTER!
To give this smoothie, even more, power, I added some MORE superfoods - flax seeds – loaded with anti-inflammatory omega-3, fibers good for our digestion, and beautiful proteins. Cheers to FLAX SEEDS too!
Strawberry Peanut Butter Smoothie is so AMAZING because …
It's nutrient-dense, made with ALL NATURAL and FRESH ingredients!
It's creamy and sweet flavored - kids LOVE IT!
It's ADDED SUGAR-FREE.
It's nourishing and wholesome meal.
It's rich in nutrients – fibers, plant-based proteins, heart-healthy fats.
It's rich in powerful antioxidants, and vitamin C good for immunity.
It's rich in potassium, calcium, and iron.
It's enriched with SUPERFOODS - goji berries and flaxseeds.
Vegan, gluten free and dairy free.
+ it's deliciously creamy, rich and amazing!
Being so HEALTHY, and packed with so many wonderful nutrients, it's PERFECT morning smoothie that will keep you full and HAPPY till lunchtime, trust me.
Plus, it's the easiest breakfast you can make, for you and for your family. I LOVE it... and I just know you gonna love it too!
Enjoy!
Strawberry Peanut Butter Smoothie
Thick and creamy Strawberry Peanut Butter Smoothie is perfect HEALTHY breakfast. It's loaded with nutrients and deliciously sweet fruity flavor. ALL NATURAL, refined sugar-free and just so tasty, it's favorable smoothie by kids and adults. Vegan. Gluten-free. Dairy-free.
Ingredients
1

medium ripe banana

sliced and frozen

1

cup

unsweetened almond milk

1

cup

fresh strawberries

1

tablespoon

unsalted natural peanut butter

1

tablespoon

flaxseeds

ground

1

teaspoon

vanilla extract
Instructions
Add bananas to the blender and blend until crumbly.

Add almond milk, peanut butter, and strawberries. Blend until smooth and creamy.

Add ground flaxseeds and vanilla and mix until well incorporated.

Pour into a cup and add the toppings. Enjoy!
Notes
As a measure, I used UScup (240ml). * For the vegan version, omit bee pollen.
Nutrition
Calories:
358
kcal
|
Carbohydrates:
47
g
|
Protein:
10
g
|
Fat:
16
g
|
Saturated Fat:
2
g
|
Sodium:
408
mg
|
Potassium:
827
mg
|
Fiber:
10
g
|
Sugar:
25
g
|
Vitamin A:
75
IU
|
Vitamin C:
95
mg
|
Calcium:
348
mg
|
Iron:
1.8
mg
Tried this recipe?
Pease take a moment and leave a comment letting me know how you liked it. I love hearing from you!
Disclaimer
The nutritional information provided is approximate and is calculated using online tools. Information can vary depending on various factors, but I have endeavored to be as accurate as possible.
These are my picks for this recipe:
[amazon_link asins='B00CIXQYRA,B00R6SL6E8,B06XHP7QG8,B01L1YXQEU' template='MyPicks' store='natalieshealt-20' marketplace='US' link_id='0d47f81e-5f51-11e8-8c07-6bcf9e63acce']