Soft and chewy Orange Carrot Oatmeal Cookies with cranberries, walnuts and ginger are one special sweet treat loaded with beautiful flavors. These cookies are made with all HEALTHY ingredients and packed with nutrients. Refined SUGAR-FREE, whole grain and super low-calorie, makes a perfect HEALTHY breakfast, kids lunch-box snack or afternoon treat.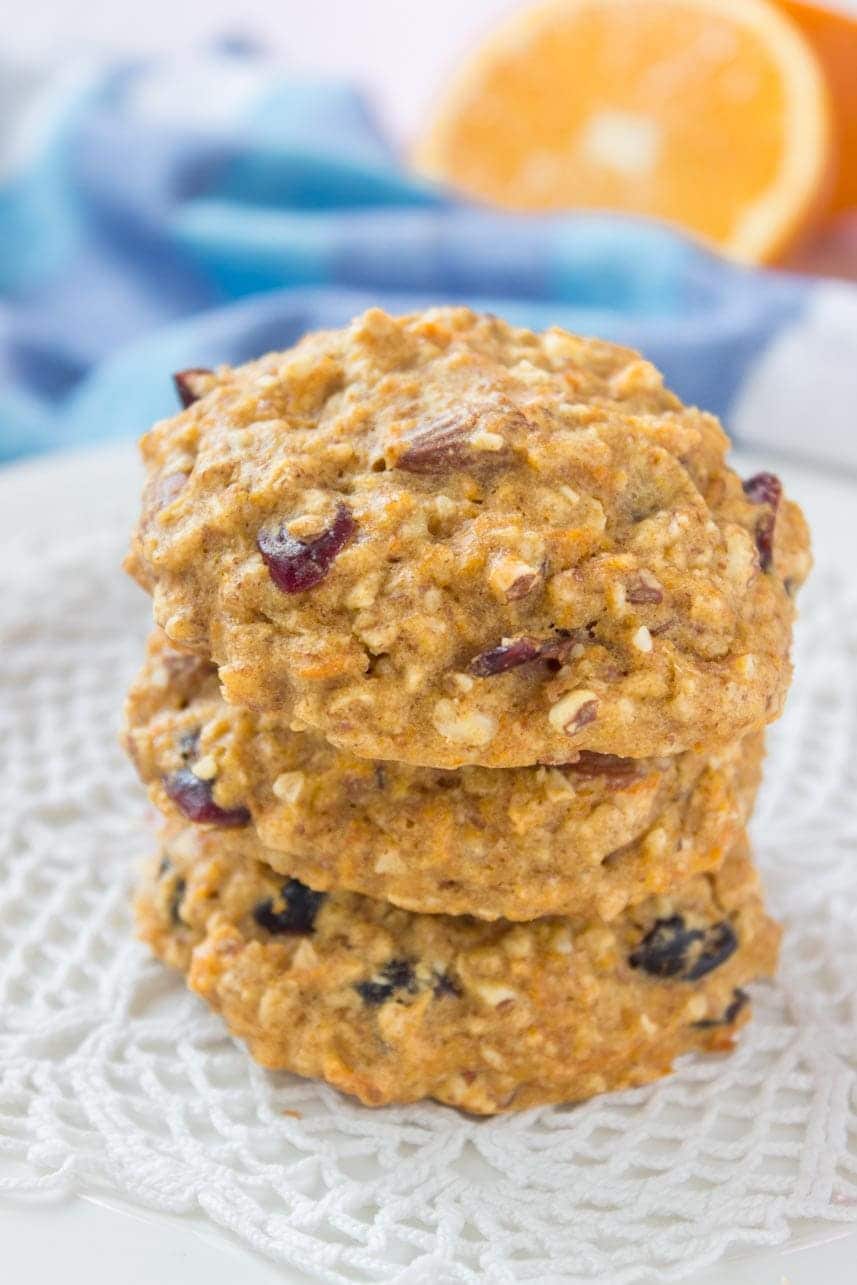 If you love cookies, you're gonna LOVE these! Actually NO - let me rephrase that. You gonna ADORE these cookies! Orange Carrot Oatmeal Cookies are the softest, nuttiest, sweetest orange-flavored cookies you'll ever taste. Melt in your mouth delicious and on top of all, super HEALTHY and nutritious - packed full of fibers good for our digestion, proteins, and antioxidants. + 100% guilt-free, totally good for breakfast and for afternoon snacking.
I'm seriously hooked on Carrot Cake Cookies ... and the Apple Cinnamon Cookies. Actually, my family enjoys all my oatmeal cookies very much, and I do make them quite often. So this time I decided to explore new flavors and give these NEW oatmeal cookies more winterish tone by adding ORANGES - since citrus fruits are now in season.
I seriously believed that my hubby would skip these since he's not into oranges and that there will be more cookies left for me to enjoy. I was actually hoping to get my hands on more than one cookie what is usually left after cookie jar ride from my boys. But oh boy how I was wrong. These new orange-flavored carrot cookies disappeared like instantly. To make sure I'm not seriously wrong with this flavor combo I gave cookies another try on next family dinner. I can say Orange Carrot Oatmeal Cookies passed with flying color and turned out to be one delightful little sweet treat that EVERYONE love.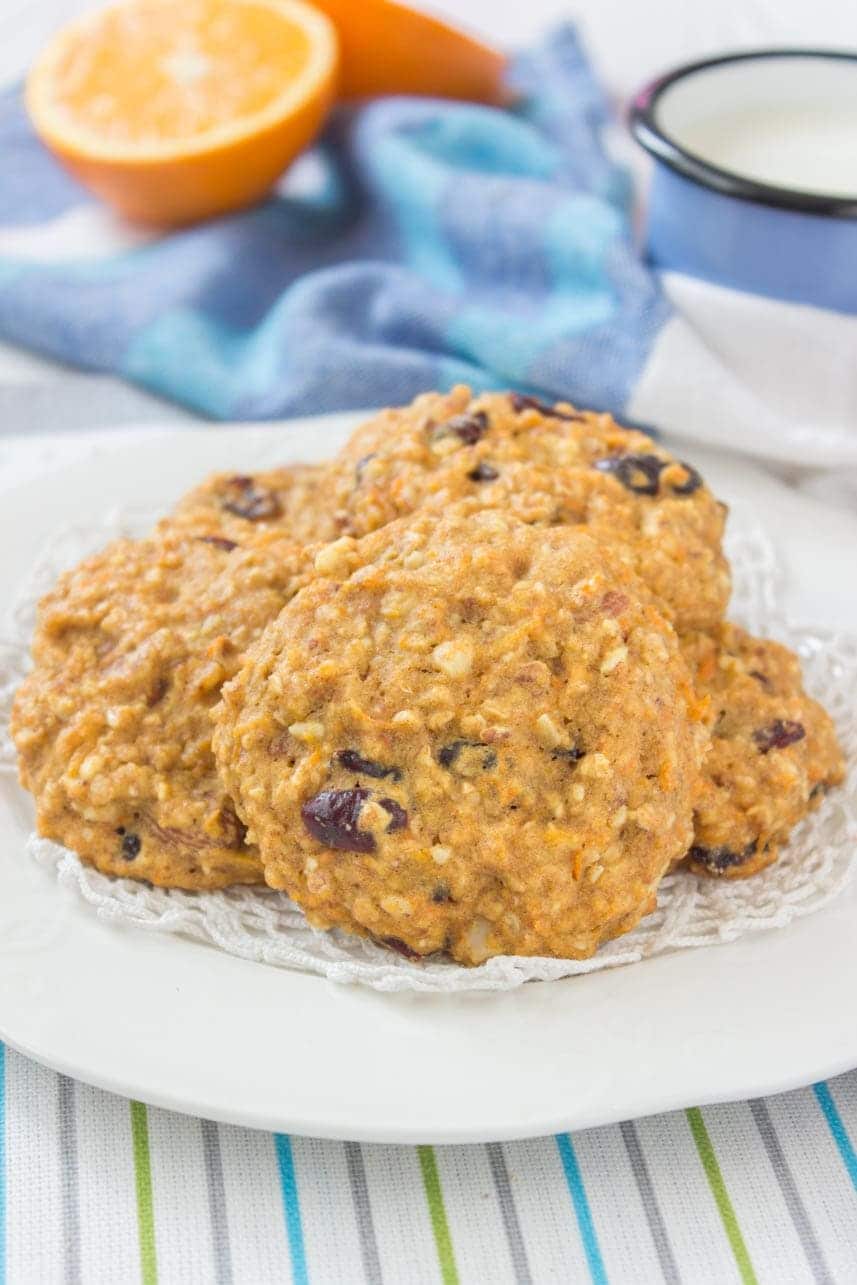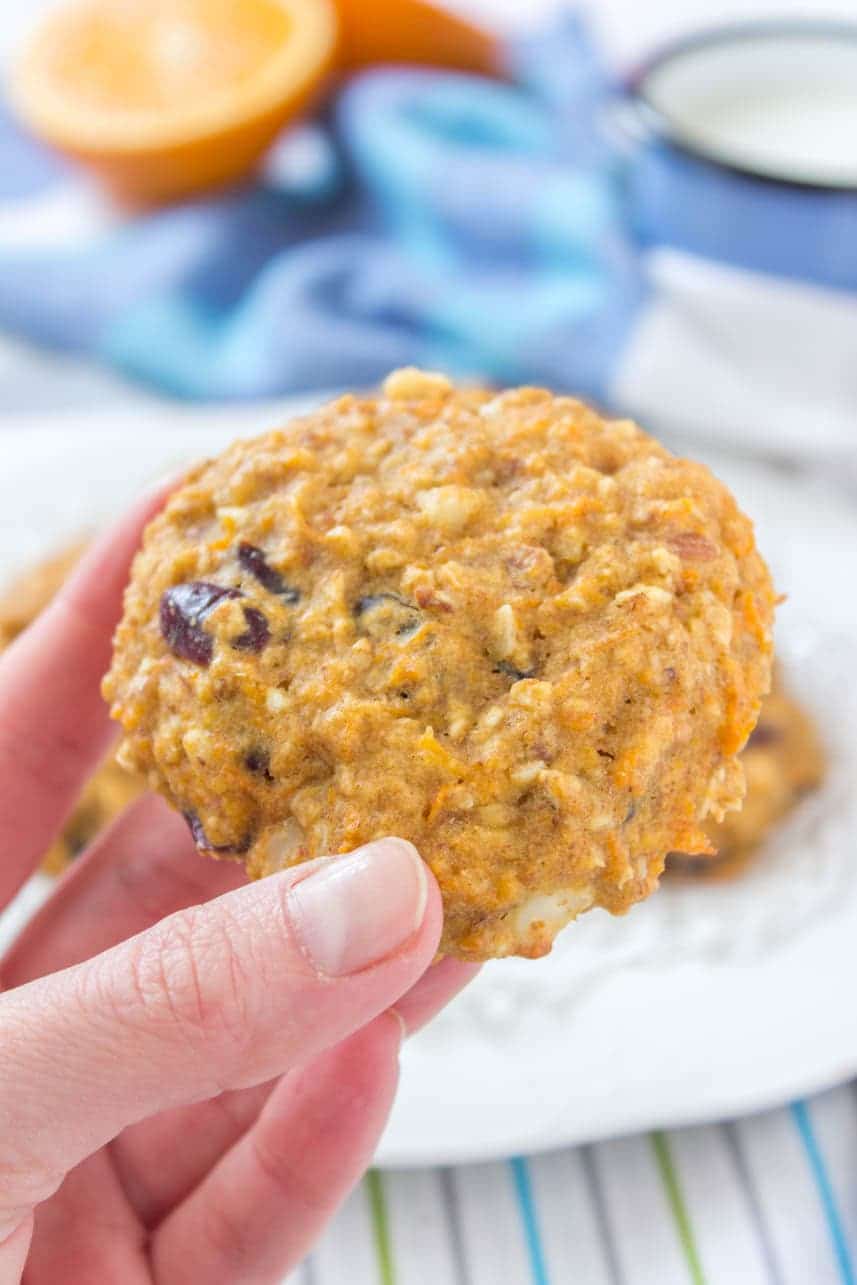 To make these cookies I used all the HEALTHY goodies - oats full of high-quality dietary fibers good for our digestion and our heart + whole wheat flour rich in nutrients. I tossed in some crunchy walnuts packed with anti-inflammatory omega-3 essential fatty acids - a good heart-healthy fat. If you are interested in Foods That Help Keep Our Heart Healthy you can read it in my post here. Walnuts are also rich in antioxidants, including being an excellent source of manganese and copper. That made cookies soooo NUTRITIOUS but also nutty and beautiful flavored.
What makes these cookies so special is the sweet fruity punch from carrots and FRESH orange juice. I boosted up this taste with fresh orange zest (I used zest from organic orange here). Also, I enhanced orange flavor with pungent, and spicy fresh ginger which gave cookies a unique taste twist. I added some dried cranberries that gave a bit sournes to every sweet cookie bite.
Also, I used healthy coconut oil and pure maple syrup to sweeten up these beauties thus making Orange Carrot Oatmeal Cookies pure REFINED sugar-free deliciousness.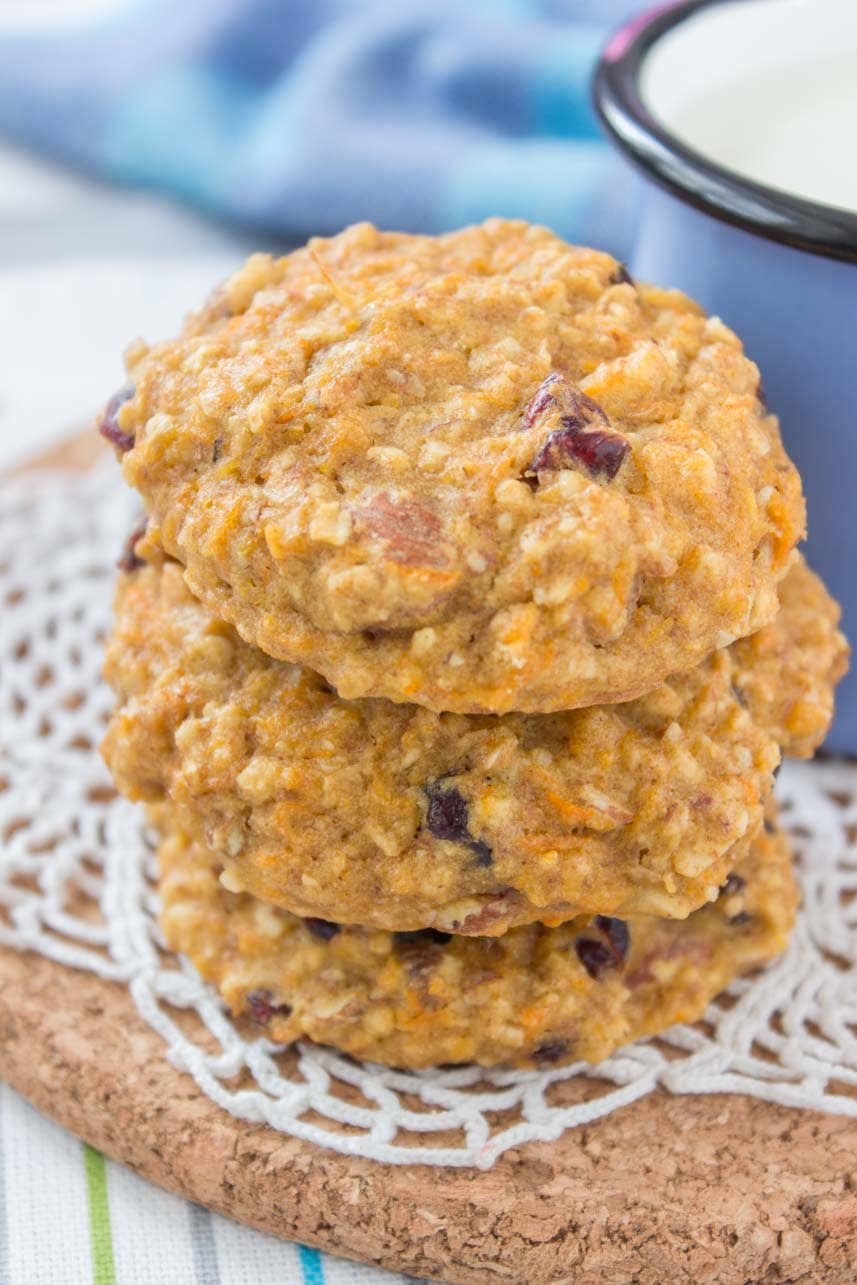 Orange Carrot Oatmeal Cookies are so easy to prepare. You basically need ONE BOWL (I always use two - for dry and wet ingredients.... but I'm an OCD a bit?! ) + 20 minutes of your time. These cookies are PERFECT for afternoons when sweet tooth attacks you. Goes quite good with any hot beverage... coffee or tea even hot milk. YES hot milk! I love dipping these beauties into milk bowl.
Since these cookies are so nutritious - fiber, protein and healthy fats full - you can have them as quick on-to-go breakfast or snack between meals. Also, these are perfect kids school lunch-box snack or for after-school's. You should see my kiddo devouring these oatmeal cookies. Makes this mommy very happy!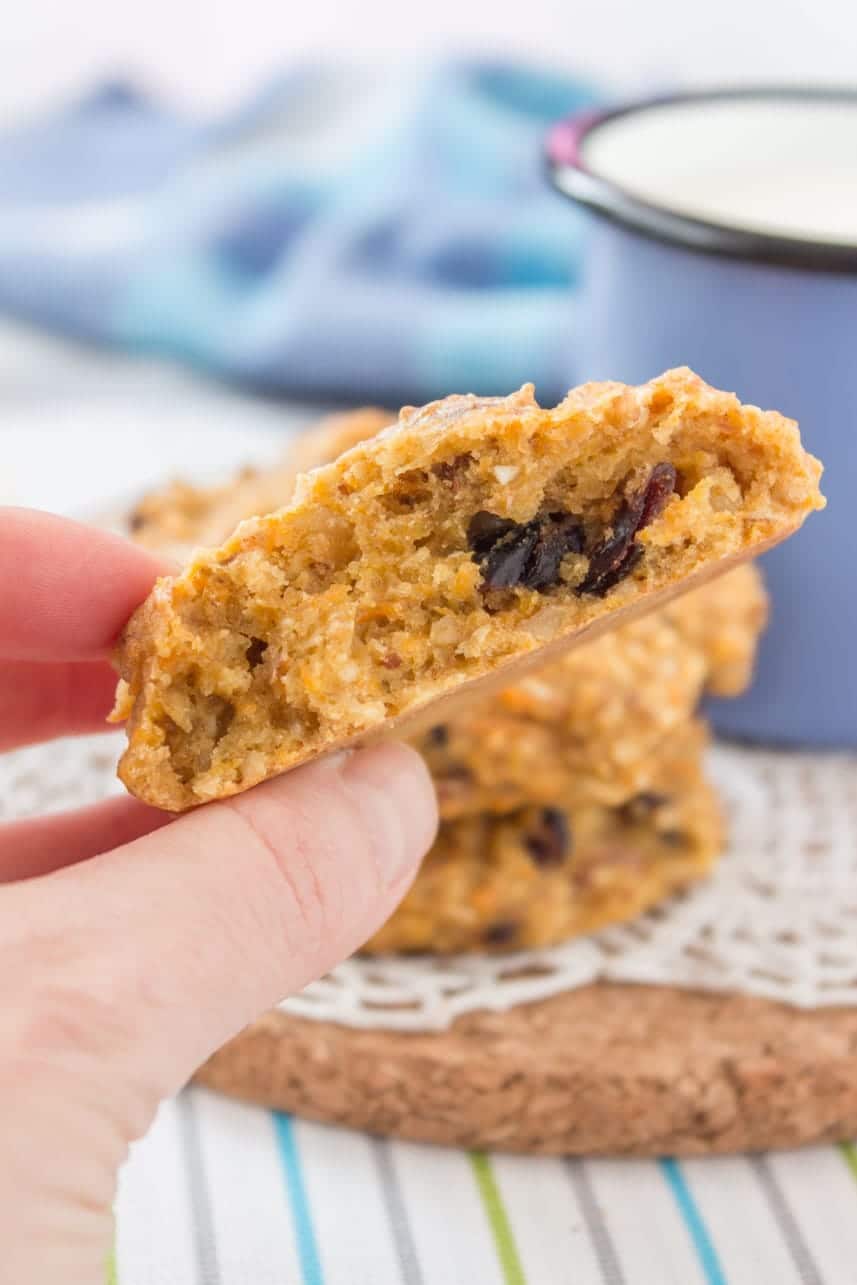 You'll love Orange Carrot Oatmeal Cookies because these are …
made with all natural, WHOLESOME and fresh ingredients,
soft and chewy, full of beautiful citrus flavors,
one bowl wonder that makes in just 20 minutes,
needs only a few simple ingredients,
sweet but REFINED sugar-free,
low-calorie and rich in nutrients – quality fibers, plant-based proteins, and minerals,
enriched with healing super-spice - GINGER,
packed with only heart-healthy fats,
perfect quick breakfast or kids school snack,
incredible delicious and highly addictive!
Orange Carrot Oatmeal Cookies are soft and chewy, very dense and not crumbly like you've may think. No way. These are the completely different type of cookies, and that's why they are such a HUGE HIT in my house (and family). These cookies can last up to a whole week stored in a container... if they last that long.
Consider yourself warned - these are highly addictive!
Enjoy!
Recipe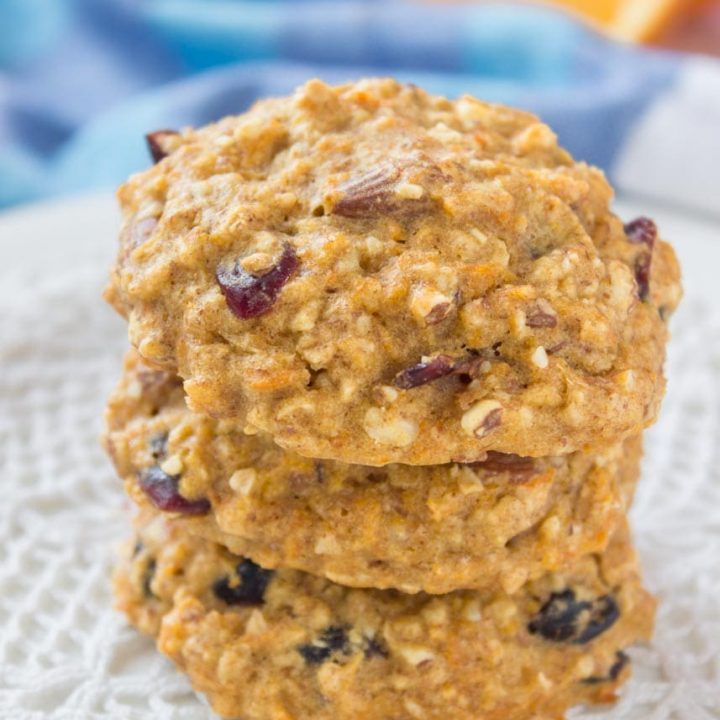 Orange Carrot Oatmeal Cookies
Orange Carrot Oatmeal Cookies made with all NATURAL healthy stuff, loaded with nutrients and packed full of beautiful GINGER and sweet carrot and orange flavor. These cookies are refined sugar-free, weight-loss friendly, and just delicious. Perfect quick breakfast or kids snack!

Ingredients
1

cup

rolled oats

¾

cup

whole wheat flour

1

teaspoon

baking powder

¼

teaspoon

Himalayan salt

1

egg

2

tablespoons

extra virgin coconut oil

melted and cooled

1

teaspoon

vanilla extract

½

cup

honey or maple syrup

¼

cup

orange juice

form fresh orange

1

teaspoon

orange zest

*

1

teaspoon

freshly grated ginger

1

carrot

peeled and grated

½

cup

dried cranberries

½

cup

coarsely ground walnuts
Instructions
In a bowl, mix the dry ingredients - flour, oats, baking powder, and salt.

In a separate bowl whisk the egg, coconut oil, vanilla, and maple syrup. Mix well with a whisk until well combined. Add orange juice, orange zest, and ginger and mix again.

Add the dry ingredients to the wet mixture and mix. Finally, stir in the grated carrots, chopped walnuts, and dried cranberries. Mix gently with a spoon. Let the mixture sit for few minutes.

Preheat oven to 356F (180C). Line a large baking sheet with parchment paper.

With a scoop or spoon, scoop the dough, and place it on the baking sheet. Arrange the cookies 2-inches apart. Slightly flatten the dough with the spoon.

Bake 12-15 minutes until the edges of the cookies begin to brown. Remove cookies from the oven, and let them cool for few minutes on a baking sheet. Then transfer cookies to a wire rack to cool completely.
Notes
As a measure, I used UScup (240ml).
* Make sure you use zest from the organic orange.
Nutrition
Calories:
175
kcal
|
Carbohydrates:
28
g
|
Protein:
3
g
|
Fat:
6
g
|
Saturated Fat:
2
g
|
Cholesterol:
13
mg
|
Sodium:
62
mg
|
Potassium:
163
mg
|
Fiber:
2
g
|
Sugar:
16
g
|
Vitamin A:
1810
IU
|
Vitamin C:
3.5
mg
|
Calcium:
32
mg
|
Iron:
0.9
mg
Tried this recipe?
Don't forget to rate it and leave the comment. I would love to hear what you think.
Disclaimer
The nutritional information provided is approximate and is calculated using online tools. Information can vary depending on various factors, but I have endeavored to be as accurate as possible.
These are my recommendation for this recipe:
[amazon_link asins='B00008W70E,B01HTYH8YA,B0002T3UUG' template='MyPicks' store='natalieshealt-20' marketplace='US' link_id='461a40fa-16fe-11e8-ab8f-0d63ced00508']