Iced Coconut Matcha Latte is the perfect antioxidant-rich drink that will boost your mood and make your mornings so much better. It's packed with amazing coconut flavor, creamy and cooling, incredibly healthy and completely ADDED SUGAR-FREE.
If you're following my blog, you've probably noticed my obsession with iced and blended stuff that's been going on lately. Yup, summer is not kidding around here so naturally, I'm looking for refreshment in everything I eat and drink. Since I'm super lazy to make breakfast with solid food, smoothies are on my menu like daily. Can you blame me for loving Chocolate Peanut Butter Smoothie?! I didn't think so. But besides a nutritious smoothie breakfast, my morning routine also includes a favorite wake-me-up drink - coffee.
I started drinking coffee some months back after I had a really long pause. Now I'm able to enjoy coffee again without any tummy problems, so Iced Coffee Protein Shake is my morning no.1 drink. That shake is cooling + loaded with caffeine that shakes me and wakes me nicely.
But lately, something changed in my routine. I discovered Matcha again and this Iced Coconut Matcha Latte quickly became my newest obsession. And I'm not alone in this total adoration. My hubby shares the same passion for this amazing green tea drink as well.
This matcha green tea is a superfood goodness that is so tasteful, so amazing, and so super HEALTHY. It wakes me up gently and keeps me sharp for hours + it has so many benefits. I really LOVE IT! Coconut flavored and cooling, so creamy and so sweet tasting... It's really hard to stop sipping on this deliciousness once you start.
[twocol_one]
[/twocol_one] [twocol_one_last]
[/twocol_one_last]
What Is Matcha Green Tea?
If you're new to Matcha, let me briefly introduce this amazing green tea to you. Matcha is a special type of powdered green tea that is grown and produced in Japan. The matcha green tea leaves are shade-grown for the last few weeks of their growth phase which makes leaves produce more chlorophyll giving the matcha this amazing recognizable green hue. Also during this phase, the plant produces more L-Theanine - a substance that has a somewhat similar effect in our body as caffeine does - minus nervous energy many experience when drinking coffee. After harvesting, leaves are carefully ground with stone grinding wheels to produce a fine powder - Matcha.
Matcha is then used to brew an antioxidant-rich frothy green tea. Unlike other types of teas, matcha is not strained out before consuming. You are consuming the entire leaf which makes matcha very potent. Matcha green tea contains a powerful arsenal of vitamins and minerals but also a unique, strong antioxidant which isn't found in other foods. That's why matcha is known to be one of the worlds powerful superfoods.
If you are doubtful about matcha taste - don't be frightened by its green almost florescent look. The taste is subtle leafy and mildly sweet. That's of course if you bought a good quality matcha powder. I always buy only the highest ceremonial grade matcha because I love my matcha strong and powerful but also sweet tasting. Recently I gave a try to this Organic Green Tea Powder from Indigo Herbs and I was delighted. It's the finest quality matcha tea, bright green and lightly sweet. It's not bitter like other matcha teas I've tried.
[twocol_one]
[/twocol_one] [twocol_one_last]
[/twocol_one_last]
To make this incredible Iced Coconut Matcha Latte I used coconut milk as a base in which I added a bit of organic virgin coconut oil - to enhance coconut flavor and to add up some nutrition. Both coconut milk and coconut oil transformed this latte into the indulgent drink.
Coconut milk is naturally sweet, sweeter than for example almond milk. That's why I didn't use any added sugar to sweeten this beauty up. Of course, you can add some maple syrup or honey, but seriously - invest in a good quality matcha and skip added sweeteners to experience a TRUE MATCHA unbelievable taste.
To make the latte even more flavorful, I added a hint of vanilla too. Both coconut and vanilla goes perfectly with the beautiful green tea taste and mild sweetness of the matcha. It's a pretty awesome drink!
This Iced Coconut Matcha Latte is loaded not only with amazing taste, but also with many nutrients - healthy fats from coconut oil and milk, as well with powerful amino-acids and antioxidants from matcha. It's a real SUPER POWER DRINK, perfect coffee alternative with so many health benefits.
Since L-Theanine in matcha promotes a state of relaxation and well-being but still has somewhat the same effect as caffeine in our body, you can enjoy your matcha green tea latte any time of the day - as a wake-me-up drink in the morning, or a pick-me-up in the afternoon... or anytime you need extra focus. Matcha promotes concentration and clarity of mind without any side effects - like caffeine does.
This Iced Coconut Matcha Latte is super easy to make. You really don't need any fancy bowls, whisks or scoops - although it's cool to have a matcha making set. So if you have a set, use it, if not, a simple shaker will do the job nicely.
Iced Coconut Matcha Latte drink is:
Loaded with amino acids and powerful ANTIOXIDANTS that promote good health.
Made with ALL NATURAL healthy real ingredients.
Completely ADDED SUGAR-FREE.
Packed with heart-healthy fats and calcium.
Full of wonderful matcha flavor.
Vegan, gluten-free, dairy-free and soooo GOOD!
Iced Coconut Matcha Latte is cooling and very satisfying frothy beverage. Its silky smooth texture and mild, naturally sweet taste make this drink highly enjoyable.
Give this iced matcha latte a try. I don't think you'll be disappointed.
Enjoy!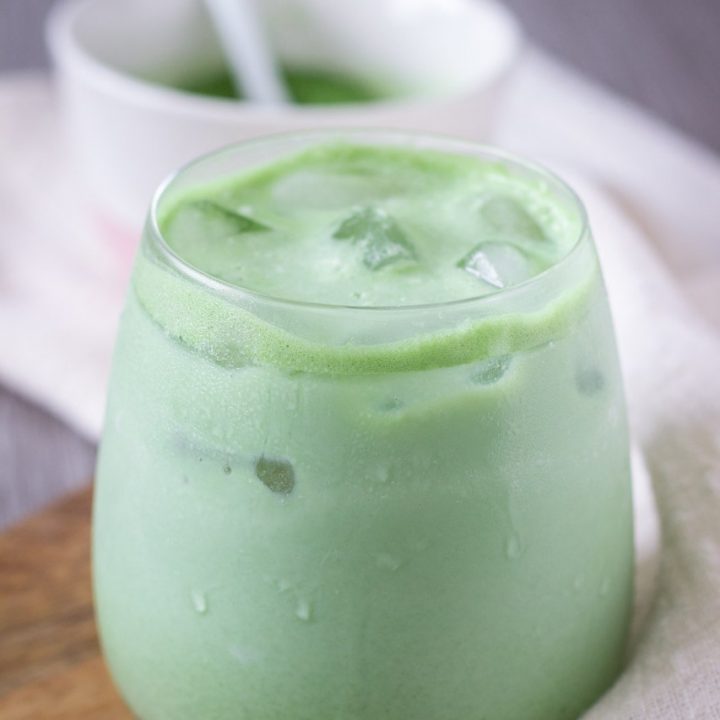 Iced Coconut Matcha Latte
Iced Coconut Matcha Latte is the perfect antioxidant-rich drink that will make your mornings so much better. It's packed with amazing coconut flavor, creamy and cooling, incredibly healthy and completely ADDED SUGAR-FREE. Vegan. Dairy free. All natural SUPER DRINK.
Ingredients
¼

cup

water

hot

2

teaspoon

matcha green tea powder

¾

cup

carton coconut milk

warmed

1

teaspoon

extra virgin coconut oil

½

teaspoon

vanilla exctract

1

teaspoon

pure maple syrup

or honey (optional and to taste)

Ice cubes
Instructions
If using a matcha set: Sift the matcha powder into the bowl using a fine mesh strainer or sifter. Add the hot water and whisk with the bamboo whisk in a "w" shape until frothy and well mixed.

If using a shaker: Place matcha powder in a shaker. Add the hot water, close the lid and shake it until frothy and well mixed.

Put warm coconut milk in a glass jar with lid. Add coconut oil, vanilla and honey or syrup if using. Shake well.

Fill the glass with ice to ⅔ full. Pour in the coconut milk. Slowly pour in the matcha green tea mixture. Stir so it all combines and gets cold.
Nutrition
Calories:
110
kcal
|
Carbohydrates:
5
g
|
Protein:
4
g
|
Fat:
7
g
|
Saturated Fat:
6
g
|
Sugar:
5
g
|
Vitamin A:
400
IU
|
Calcium:
74
mg
|
Iron:
1.4
mg
Tried this recipe?
Pease leave a comment letting me know how you liked it. I love hearing from you!
Disclaimer
The nutritional information provided is approximate and is calculated using online tools. Information can vary depending on various factors, but I have endeavored to be as accurate as possible.
These are my picks for this recipe:
[amazon_link asins='B0197APCT2,B06ZZY859Z,B011QONIBG,B01BY9RTNQ' template='MyPicks' store='natalieshealt-20' marketplace='US' link_id='30279f0c-8c2d-11e8-8b4b-e7ba17fd8d0b']
Xoxo, Natalie
Let's connect! Find me on - Facebook | Instagram | Pinterest | Twitter
---
This post is created in collaboration with Indigo Herbs. As always, all thoughts and opinions are my own. Thank you for supporting the brands that keep Natalie's Health running!