Thick and creamy, Beet Kohlrabi Soup is a unique and super delicious way to enjoy the nutritional benefits of beets. This vibrant, satisfying and just gorgeous detox soup is bursting with beautiful flavors, antioxidants, and some powerful nutrients and super-spices.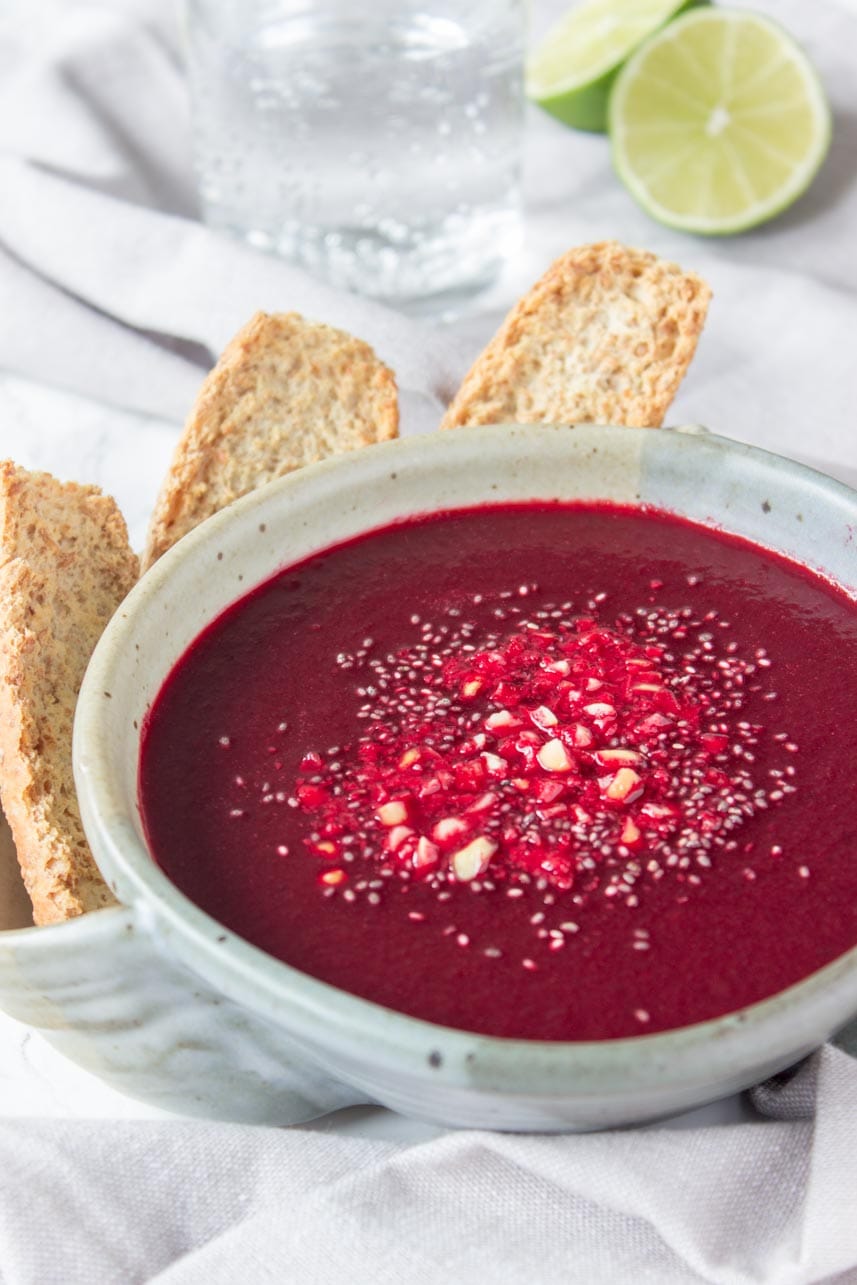 I just can't believe how many amazing and delicious HEALTHY foods I still have to discover. I'm more than three years on a healthy diet, and I'm amazed by the number of stuff I still haven't tasted. Like for instance THIS beet soup. I mean, common. Why didn't someone tell me that beet soups are soooo amazing? How come I didn't discover its fantastic taste sooner.
I guess it's the same as with Maca Powder Balls. I still have so many things I need to try and love in my life.
Well, I love beets since I was a little girl. My grandma used to cook beets for pickling, and I always stole cooked beets from her. I ate beets without any seasonings. I just enjoyed the sweet, deep earthy taste of beets as it is. I still love the beets. But making beet soup never occurred me. Well, I'm a strange little person (as my husband always tells me so).
Last week I grabbed some fresh beets from the market, and I instantly felt connected with that earthy veggie. Since I'm all in creamy soups lately - Carrot Ginger Soup and Broccoli Soup are constantly on our menu since flu season started, I knew right then that I would make some creamy soup for my family that week. I was just looking some veggie to pair my beets with. And then kohlrabi came into this dreamy velvety story.
Kohlrabi is one amazing veggie - same as cabbage, broccoli and of course BEET. Both kohlrabi and beets are highly nutritious vegetables loaded with many minerals and vitamins, as well as dietary fibers and antioxidant compounds, thus great for detoxing the body, improving digestion and great for weight loss.
Did you know that beets are an excellent source of folate - compound important for synthesizing our DNA, producing new cells, and supporting nerve and immune functions. Only one medium beet has like 50% of your total folate requirements for the day. Wohoa, right?!
Beets are like the nutrient powerhouse that fight inflammation, supports healthy liver detoxification.
Since this Beet Kohlrabi Soup is destined to be one amazingly HEALTHY soup, I decided to go wild with the spices in this one. I enhance the soup with ginger, cardamom and Ceylon cinnamon, but I also added a bit of turmeric. These all spices are known for its healing super-powers. They gave the soup such a beautiful warm aromatic flavor. Cardamom and cinnamon paired so nicely with earthy sweet tasting beet. This Beet Kohlrabi Soup turned out to be the soup you just need to try!
The great thing about this soup is that it's super LIGHT and so nutrient dense, meaning it's satisfying without excess calories. Actually, this soup promotes good gut and digestion health, and it's great for weight loss.
I decorate this gorgeous crimson-red soup with some chia seeds and toasted chopped peanuts for added lovely presentation and some crispiness, as well some protein boost / mega-3 boost.
For serving, I used this gorgeous, unique, handmade soup bowl from Uncommongoods. This soup bowl is specially designed to hold soup (or chili or dip) as well as sides - like crackers or chips. With Valentine's Day just around the corner, this soup bowl is something to consider as a gift for your favorite soup-lover. A perfect gift!
If you're looking for more personalized gifts ideas for Valentine's, make sure you check Uncommongoods website.
Now make yourself cozy up on that couch under the blanket and have a bowl (or two) of this velvety, nutrient goodness. Beet Kohlrabi Soup will warm your belly as well as your heart.
Enjoy!
Beet Kohlrabi Soup
Thick and creamy, Beet Kohlrabi Soup is the simplest soup you can imagine. This vibrant, satisfying and just gorgeous detox soup is bursting with beautiful flavors, antioxidants, and some powerful nutrients. Can be served hot or cold.
Ingredients
4

small-medium red beets

peeled and cut into ¼-inch pieces

2

medium kohlrabi

peeled cut into ¼-inch pieces

0.5

inch

fresh ginger rooth

peeled

4

cups

water

1

teaspoon

Ceylon cinnamon

1

teaspoon

turmeric powder

½

teaspoon

ground cumin

¼

teaspoon

cayenne pepper

Pinch

of ground cardamom

Himalayan salt

to taste

Dash of lime juice

to taste

2

tablespoons

extra virgin olive oil
Instructions
Put beets, kohlrabi, ginger, and water in a large pot. Bring to a boil over medium heat and then reduce heat to low. Cover and simmer for 25-30 minutes, until beets are fork tender.

Transfer soup to a blender. Add spices and lime juice. Purée on high until creamy and smooth. Return soup back to the pot. Add more water if soup is too thick.

Add olive oil and stir. Taste and adjust seasonings as needed, adding more salt to taste.

Serve hot or cold topped with some chia seeds, and chopped toasted peanuts.
Notes
Store leftover soup covered in the refrigerator for 3-4 days or in the freezer up to 1 month.
As a measure I used UScup (240ml).
Nutrition
Serving:
1
bowl
|
Calories:
122
kcal
|
Carbohydrates:
13
g
|
Protein:
2
g
|
Fat:
7
g
|
Saturated Fat:
1
g
|
Sodium:
92
mg
|
Potassium:
541
mg
|
Fiber:
5
g
|
Sugar:
7
g
|
Vitamin A:
105
IU
|
Vitamin C:
50.5
mg
|
Calcium:
44
mg
|
Iron:
1.3
mg
Tried this recipe?
Don't forget to rate it and leave the comment. I would love to hear what you think.
Disclaimer
The nutritional information provided is approximate and is calculated using online tools. Information can vary depending on various factors, but I have endeavored to be as accurate as possible.
These are my recommendation for this recipe:
[amazon_link asins='B01NCU41BD,B06XHGKB7H,B01FR59YSQ' template='MyPicks' store='natalieshealt-20' marketplace='US' link_id='cdf75c70-fae3-11e7-b0d3-1bc94e105388']
** This post is sponsored by UncommonGoods. All words, thoughts, and opinions are my own. I always support only products that I truly love and/or use.