Kick start your morning with this HEALTHY goodness. Raspberry Chia Pudding is sure to leave you feeling full and satisfied! Topped with almond butter, homemade raspberry jam, and delicious banana raspberry ice cream, this chia seed pudding is one gorgeous guilt-free treat.
Well, hello and welcome February. What took you so darn long?!
Dunno 'bout you, but I barely survived January. Honestly, it was the longest, most exhausting January in entire MY LIFE. Ok, ok... I'm exaggerating. Things weren't so bad. There were some pretty awesome moments too. Like this Blueberry Oatmeal Porridge. Yum!
Anyway, now that February is finally here - aka the month of LOVE, and Valentine's Day is just around the corner, chocolate goodies started to curl around my head more intensely. I started overly thinking about Chocolate Tahini Brownies and Chocolate Cinnamon Balls which are our favorite Valentine's Day treats. Oldies but goldies I would say.
But this year my hubby suggested that we have a bit different start of that special day - breakfast in bed. Well, now you're talking. Starting a day with amazing chia seeds wrapped in fruity deliciousness topped with some CHOCOLATE makes perfect sense to me. And thus the thought of this Raspberry Chia Pudding with nutty butter and jam formed in my head.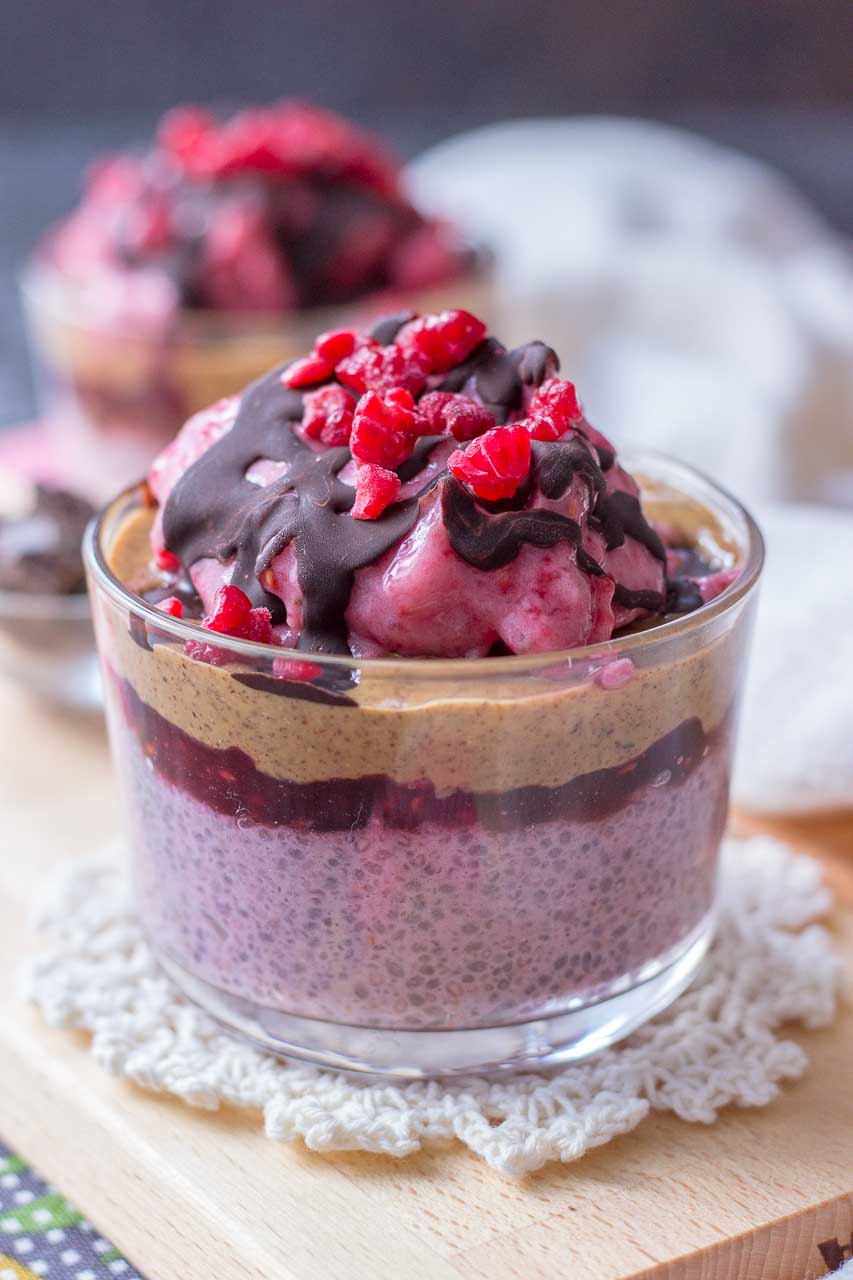 I've tested this recipe last weekend, and oh boy, did we BOTH like it. Like A LOT! This Raspberry Chia Pudding passed with flying colors even though my hubby isn't such a huge fan of berries. While he mumbled how good this chia pudding is, right there at that moment I knew I had to share this recipe with the world.
Raspberry Chia Pudding is delicious, fruity and soooo refreshing. Having a cup of this beauty in the morning feels like eating dessert for breakfast. And I dig that. Like TOTALLY!
I mean, LOOK - AT - IT! Just look at it and tell me you are not drooling already over this beautiful cup of pure awesomeness. And just wait until you take the first nip. Trust me. You will flip, like totally.
It's perfectly sweet, refreshing, with the perfect ratio of nuttiness from almond butter and sourness from raspberry jam. And that banana raspberry ice cream on top sprinkled with bittersweet dark chocolate... OMG... just soooo freaking perfect. A mouthful of deliciousness right there.
The great thing about this Raspberry Chia Pudding recipe that this beauty can be made in no time. Trust me. It doesn't take much time at all. Although it looks like some premium luxurious dessert that takes hours to make, it only takes a few simple ingredients, and literally 5 minutes. Tops!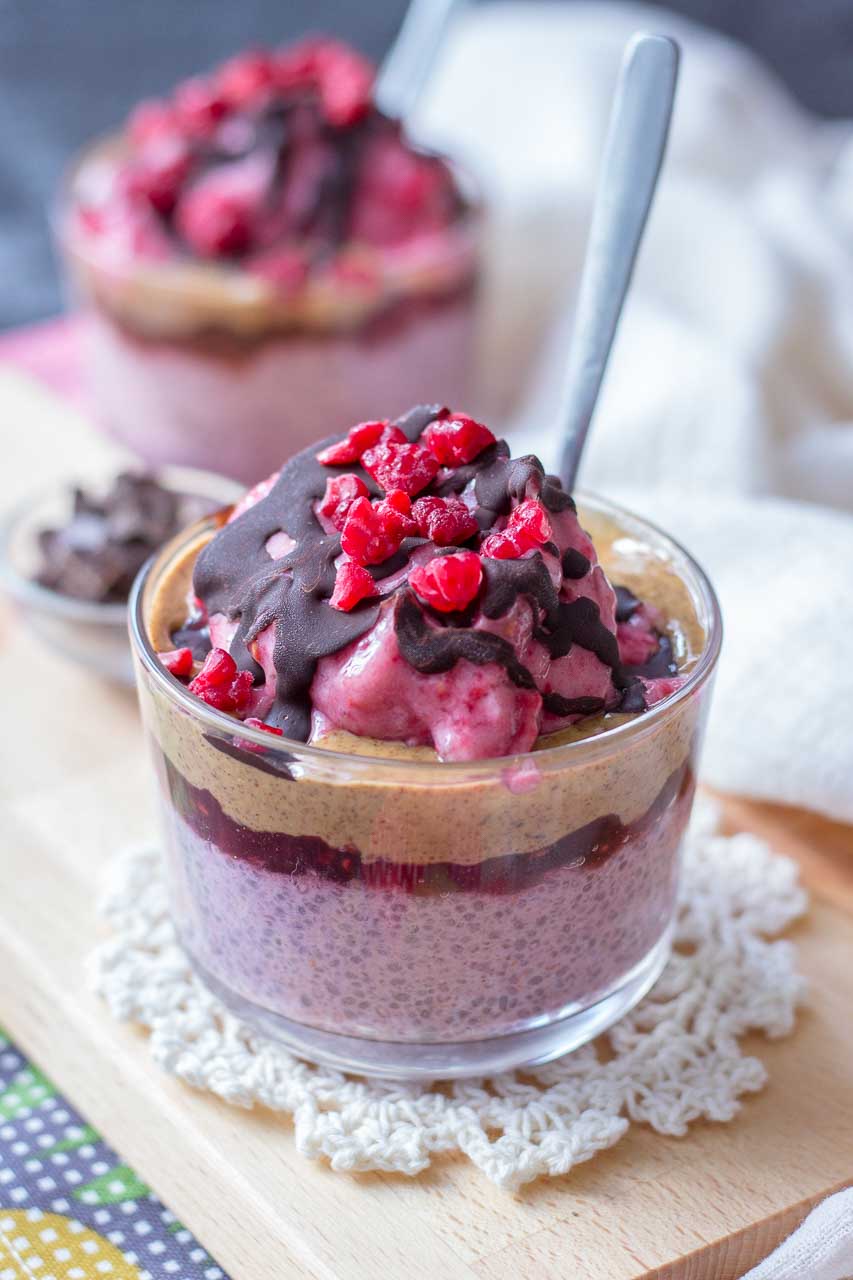 HOW TO MAKE RASPBERRY CHIA PUDDING
To make this Raspberry Chia Pudding you will only need chia seeds (that should be stapled in your house), some plant-based milk - or plain milk. I always use organic soy because it's naturally sweet, thick and creamy. You will also need raspberries - fresh or frozen both work fine. That's the base.
You will also need some creamy delicious almond butter and some raspberry jam for topping. Raspberry jam is nothing but raspberries, maple syrup, and chia seeds, to thicken things up. That simple.
See how I make easy fruit jams here:
Blackberry Chia Seed Jam
Strawberry Chia Seed Jam
There are TWO ways you can prepare Raspberry Chia Pudding - the base.
One way is to pure fresh raspberries with the fork (or crush frozen raspberries) and put it in the jar. Then add milk and chia seeds + sweeten things up with maple syrup or honey and add flavorings - vanilla. Close the jar with the lid and shake it. Leave overnight.
The other way is to blend fresh or frozen raspberries with the milk, vanilla and maple syrup or honey in the blender. You'll get so-called raspberry milk. Super yummy btw. Something like a raspberry shake. You then put raspberry milk in the jar and add chia seeds. Close the jar with the lid and shake it. Leave overnight.
I prefer blending the raspberries with the milk because I get thick even consistency and flavors mix better. But if you prefer chia pudding that has chunks of berries inside, squishing or crushing the raspberries is a great way to achieve that.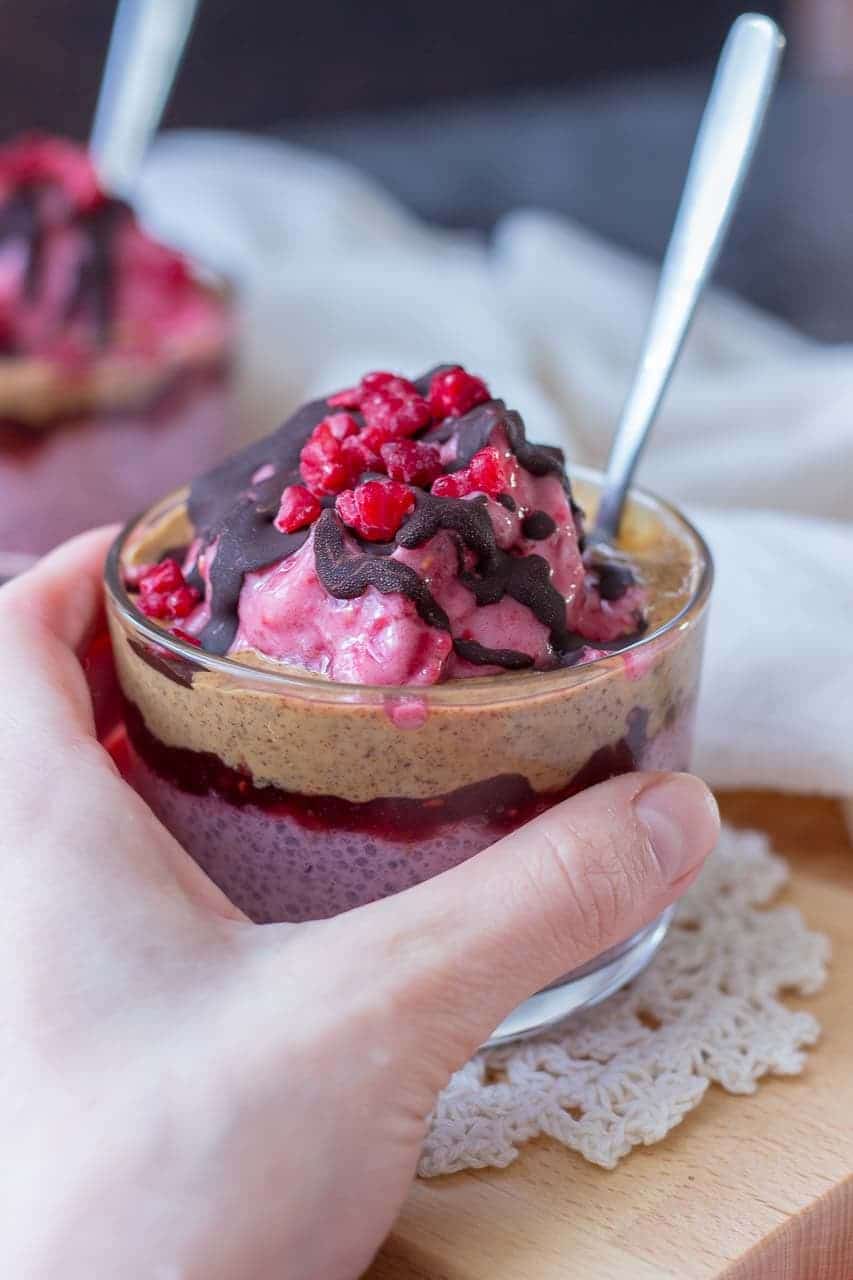 Once you make the base, adding toppings and assembling the recipe is pretty easy. Since this Raspberry Chia Pudding is meant to be somewhat special - for Valentine's Day - I added some banana raspberry ice cream on top. You can totally skip it if you don't have time for that in the morning - if you're aiming to have quick on-to-go breakfast. But if you have time I highly suggest you put that extra effort into making the ice cream. It will worth it.
Banana raspberry ice cream nicely balanced the whole chia pudding, nut butter, and sweet fruity jam giving the freshness and creaminess. Not to mention more HEALTHY nutrients.
Of course, this gorgeous Raspberry Chia Pudding wouldn't be complete without some melted dark chocolate on top. Don't skip that either if you have time.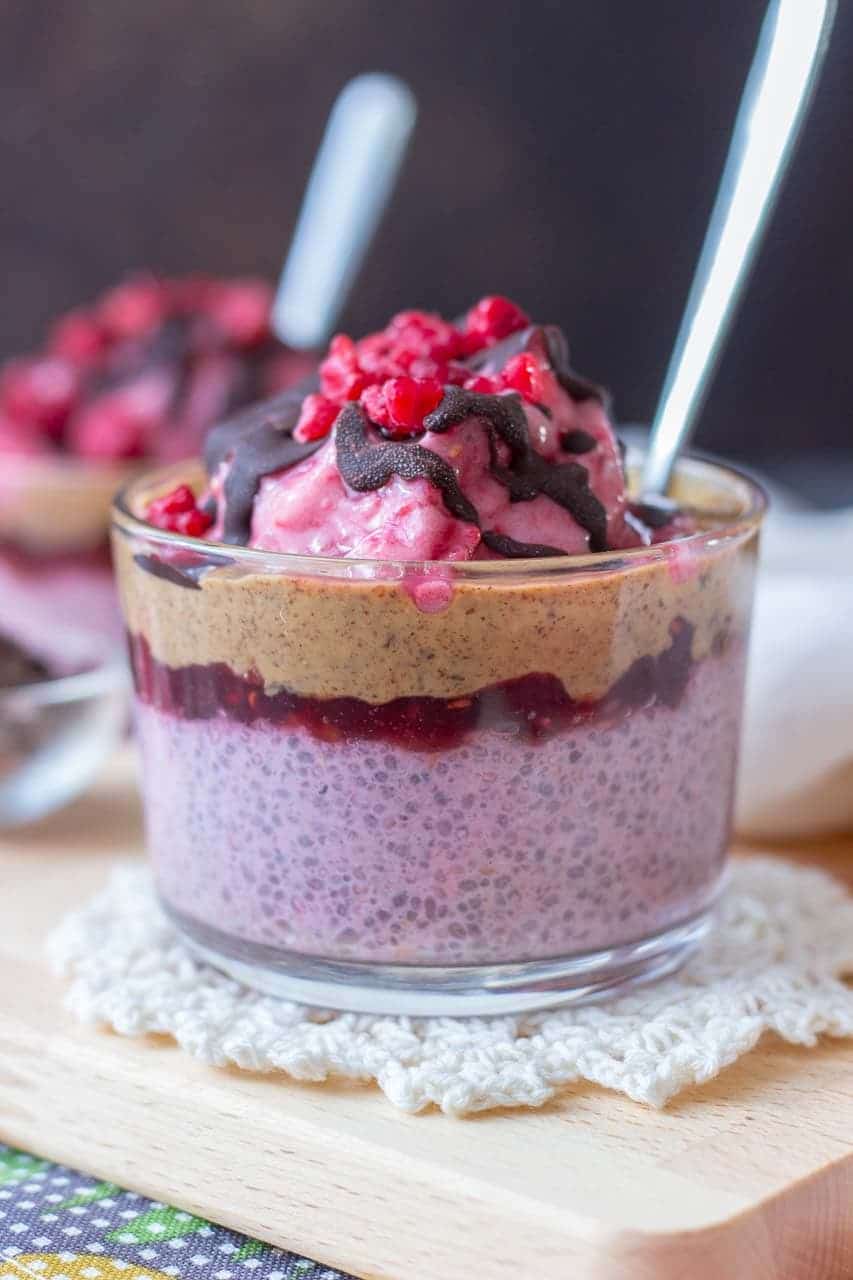 I always considered chia pudding an amazing breakfast because it's very filling, highly nutritious and soooo HEALTHY + super easy to make. I usually make it the night before and in the morning I just add toppings depending on my mood and enjoy it. Can get easier than that!
No matter if you are a more fruity type and you like some refreshing flavors in the morning or if you are looking for some chocolate flavored morning mood-booster + pick me up the type of breakfast, chia seed pudding is an absolute winner when it comes to powerful, HEALTHY and tasty breakfast.
I'm sure that this Raspberry Chia Pudding can easily fool your guests and pass as delicious luxurious afternoon dessert too.
Enjoy!
Recipe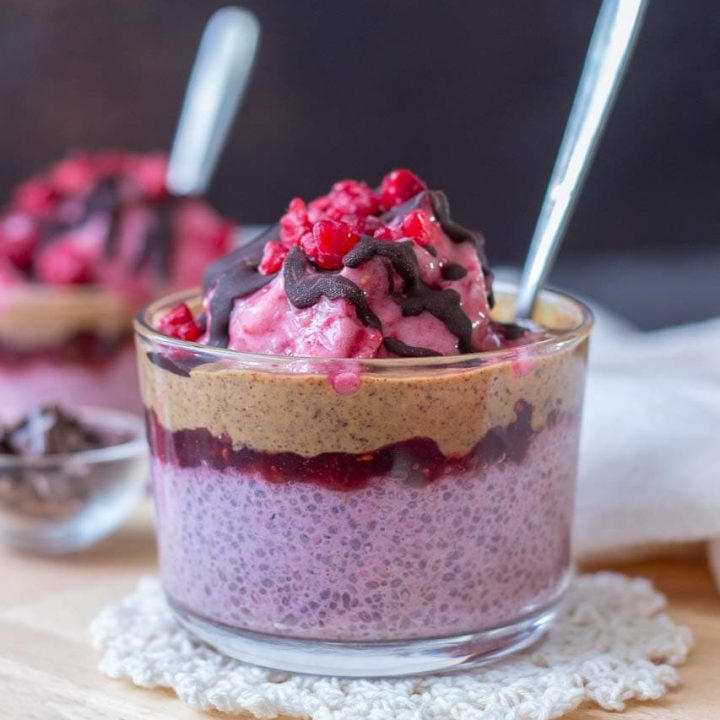 Raspberry Chia Pudding
A healthy, fruity and delicious, this Raspberry Chia Pudding is the perfect way to start your day. Topped with almond butter, homemade raspberry jam, and refreshing banana raspberry ice cream sprinkled with melted dark chocolate, it's one gorgeous, good for you and super tasty treat.
Ingredients
For Raspberry Chia Pudding:
For the raspberry jam (makes 1 jar):
For banana raspberry ice cream:
1

frozen banana

½

cup

frozen raspberries
Toppings:
4

teaspoon

almond butter

4

teaspoon

raspberry jam

1

tablespoon

banana raspberry ice cream

melted dark chocolate
Instructions
For Raspberry Chia Pudding:
In the blender, combine all the ingredients except chia seeds and process until you get smooth raspberry milk. Taste and add more sweetener if needed.

Fill the raspberry milk mixture in a jar and add the chia seeds. Give it a good mix (or close the jar with the lid and shake) and set it aside for about 15 minutes or overnight.
For the raspberry jam:
In a saucepan, bring the raspberries to a low boil, stirring frequently. Reduce heat to low and simmer until the berries soften, about 5 minutes. Lightly mash the raspberries with a potato masher or fork.

Stir in syrup, lemon juice, and chia seeds. Cook the jam on low heat stirring frequently, until mixture thickens, about 5-7 minutes.

Remove from heat and stir in vanilla and add more sweetener if needed. Let the jam set for about 5 minutes.

Transfer jam in a glass jar or air-tight container and refrigerate. The jam will keep in the fridge for up to 1 week.
For banana raspberry ice cream:
Put frozen banana and frozen raspberries in food processor and pulse until you get a smooth texture. Add a bit of milk if the mixture is too crumbly.
To assemble the recipe:
Put Raspberry Chia Pudding in a bowl. Top it with raspberry jam and almond butter. Add banana raspberry ice cream on top and sprinkle with melted dark chocolate.
Nutrition
Serving:
1
cup
|
Calories:
379
kcal
|
Carbohydrates:
49
g
|
Protein:
11
g
|
Fat:
16
g
|
Saturated Fat:
1
g
|
Sodium:
69
mg
|
Potassium:
637
mg
|
Fiber:
16
g
|
Sugar:
20
g
|
Vitamin A:
290
IU
|
Vitamin C:
22.5
mg
|
Calcium:
379
mg
|
Iron:
3.7
mg
Tried this recipe?
Don't forget to rate it and leave the comment. I would love to hear what you think.
Disclaimer
The nutritional information provided is approximate and is calculated using online tools. Information can vary depending on various factors, but I have endeavored to be as accurate as possible.
If you're a fan of CHIA PUDDING, check these recipes:
Pineapple Coconut Chia Pudding
Chocolate Peanut Butter Chia Seed Pudding
Peach Ginger Chia Seed Pudding