Refreshing and vibrant, Mango Blueberry Smoothie is perfect breakfast for busy mornings! This probiotic-rich smoothie is the packed with many nutrients and FRESH fruits. Refined sugar-free, ALL NATURAL and very filling – super HEALTHY and so delicious.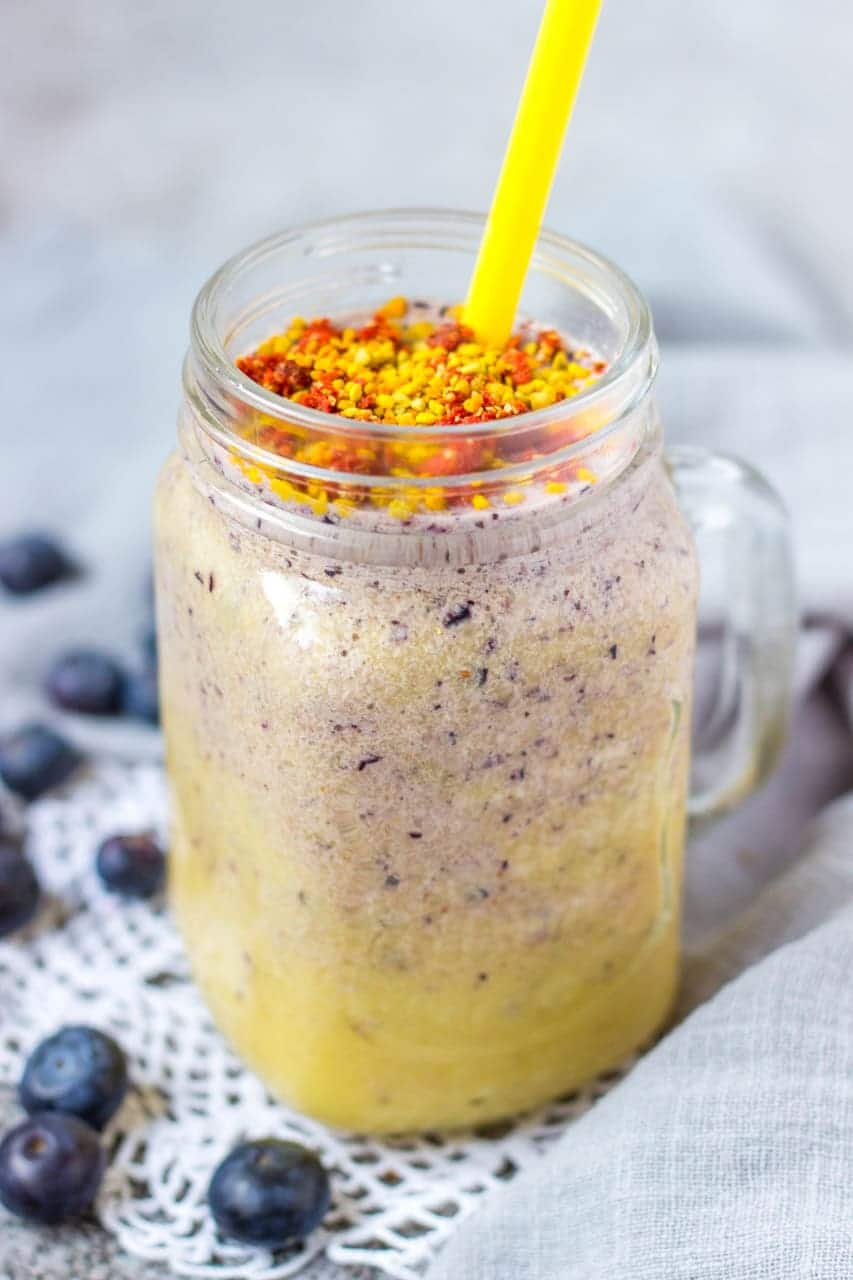 For the last couple of weeks, smoothies are on my breakfast menu like daily. I don't remember when was the last time I ate solid food for breakfast! And me posting this smoothie today implies only one thing - I'm STILL on that smoothie spree. But can you really blame me for loving smoothies so much? They're so easy to make - the easiest breakfast you can make - and they keep me full and energized all morning long. And oh boy do I need energy, especially in the morning... 'cause my life is STILL pretty hectic.
It's the last week of school. FINALLY! And we are exhausted in the full meaning of that word. In the morning we hit the snooze button for far too many times - which leads to total panic and chaos before hitting the door at 8 AM. We don't have time for normal family breakfast. My boys grab some Berry Banana Bars or Apple Oatmeal Cookies while I like to mix myself a nice smoothie. I pack my smoothie to-go in my SANS bottle and drink it in the car on my way to work after we drop kiddo at school. I enjoy my smoothie peacefully, mindfully, and relaxed.
Definitely, my favorites lately are Strawberry Peanut Butter Smoothie and irresistible Cherry Chocolate Smoothie... Because of the BERRIES! Yes, I'm obsessed with berries! They are colorful, loaded with nutrients and just delightful. It's hard to resist them. + They are now in season and popping out from everywhere.
Of course, now that temperatures are hitting sky-high numbers, I'm looking for more tropical and refreshing tastes. That's why I fell in love with THIS bright and flavorful Mango Blueberry Smoothie. Yum!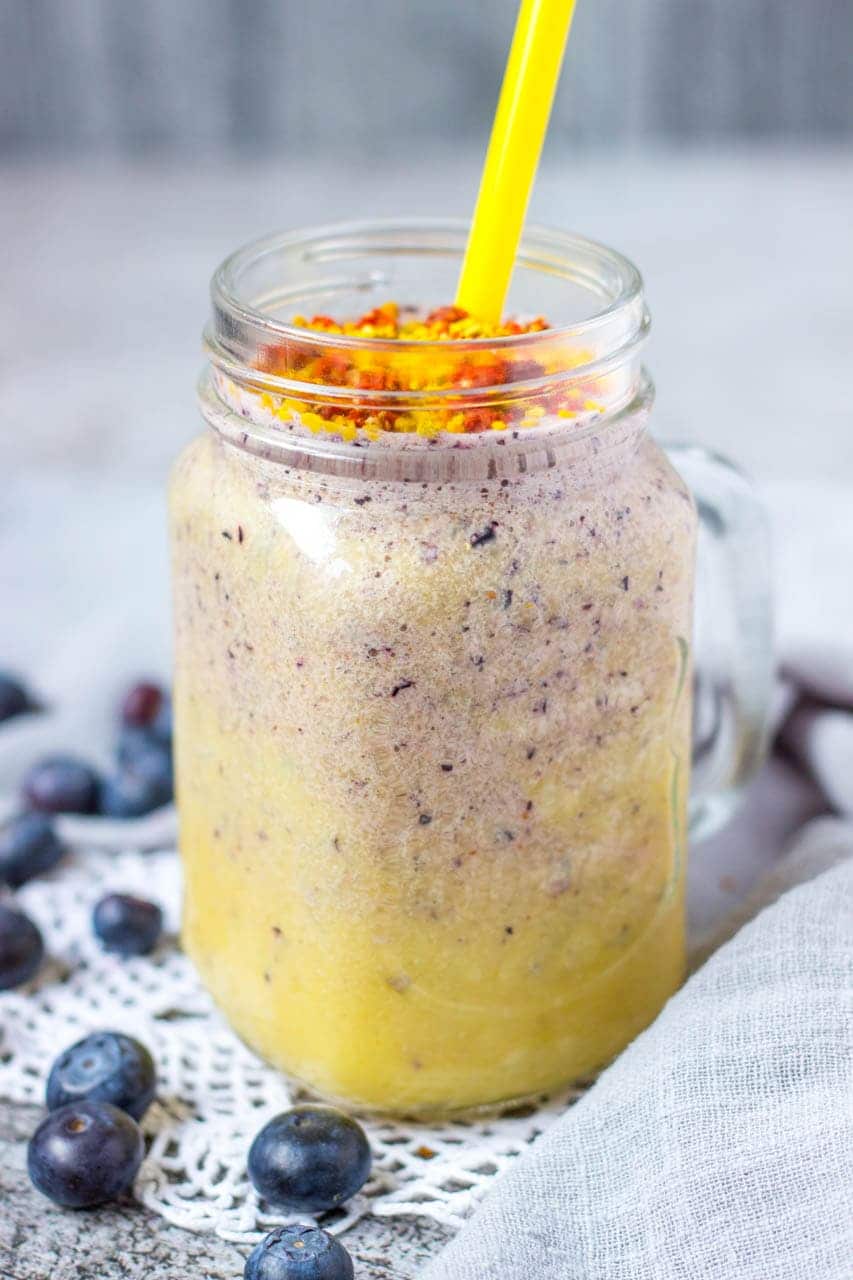 To make this deliciousness I used all the HEALTHY stuff that are good for our health - FRESH seasonal fruits and superfoods.
Blueberries are now in season so I toss them in all my meals. They are highly nutritious and among the world's most powerful sources of antioxidants. And oh how I love to boost my meals with antioxidants.
But the main star of this smoothie is delicious MANGO. Beyond its sweet, luscious taste, mango is really a super-fruit. Many people don't even know that. Mango is loaded with dietary fibers good for healthy digestion and vitamin B6 - one of the essential vitamins. Mango is also a good source of vitamin A and powerful immune-boosting vitamin C. Also mango is rich in minerals like potassium, magnesium, and copper, and it's one of the best sources beta-carotene. Say hello to glowing skin and good healthy immunity.
These two fruits are sweet enough so I didn't use ANY added sweetener in making the smoothie which makes this smoothie completely added + refined-sugar free.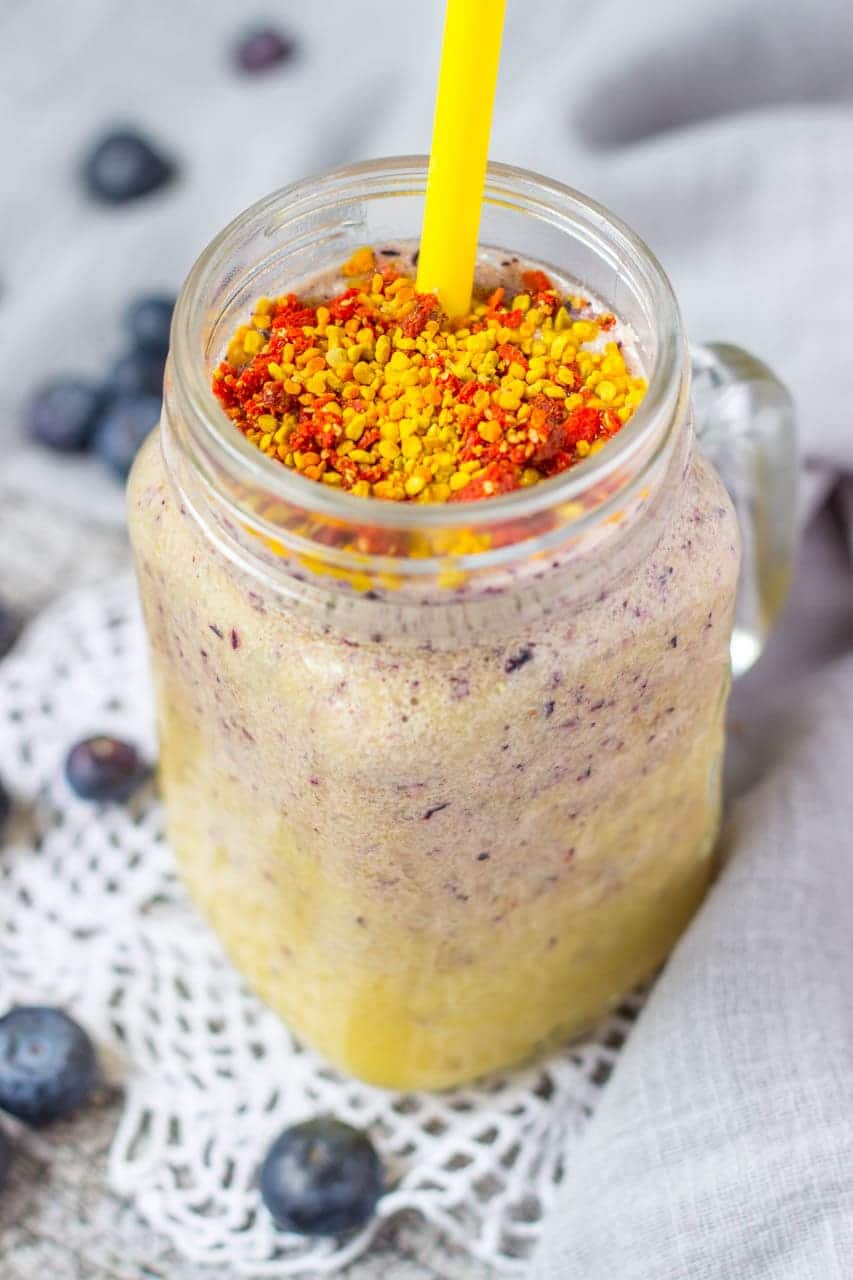 To make this Mango Blueberry Smoothie really powerful, I added some of my favorite superfoods - HEMP SEEDS. Raw hemp seeds hold so much health benefits. How would ever thought such a small seed is so powerful.
Hemp seeds are HIGH in anti-inflammatory omega-3 fatty acids - aka healthy fats great for our heart health and reducing inflammation. They are also rich in dietary fibers great for weight loss and gut health. What's really impressive about hemp seeds is the fact that they are loaded with proteins. And I mean really LOADED. + They are so sweet tasting and soft. Perfect for smoothies.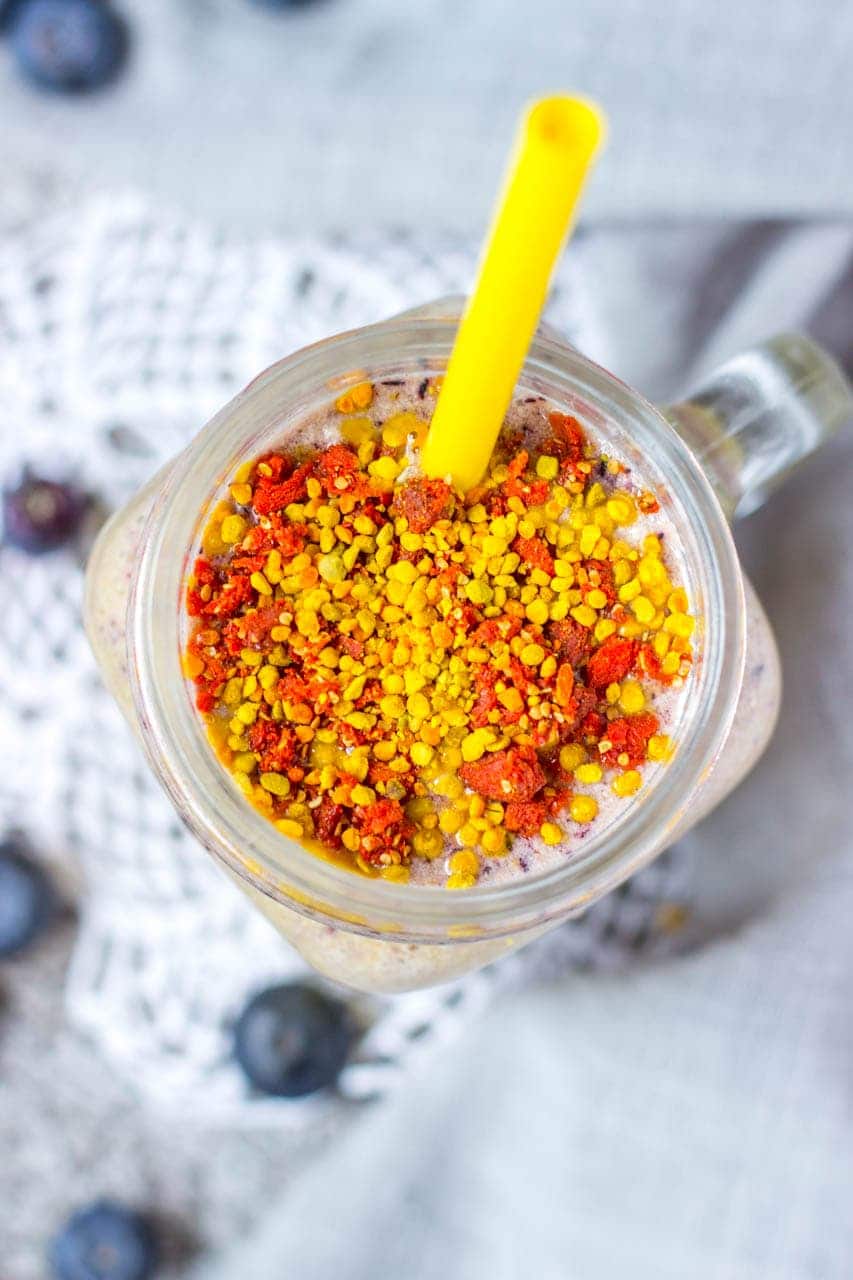 This Mango Blueberry Smoothie is not only packed with nutrients, sweet and so vibrant, but also incredibly creamy and rich in fruity summery flavors.
I usually use plant-based milk in my smoothies, but this time I used probiotic yogurt. Probiotic yogurt promotes good digestion and healthy digestive tract. Probiotics are important for keeping our gut microflora balanced and our gut happy.
Mango Blueberry Smoothie is:
Loaded with nutrients that promote good health.
Powered with superfoods – hemp seeds, bee pollen and goji berries.
Enhanced with super-spice - Ceylon cinnamon.
ADDED SUGAR-FREE.
Nourishing and wholesome meal.
Ridiculously quick and easy.
Full of fruity tropical flavors.
Packed with plant-based proteins, heart-healthy fats. and dietary fibers.
Rich in powerful antioxidants, and vitamin C good for immunity.
Vegan, gluten free, allergy-friendly and soooo GOOD!
Blueberry Mango Smoothie makes a lovely breakfast any day of the week. Not only this smoothie is super tasty, but so refreshing too. I dare to say IDEAL for hot summer mornings... or afternoons.
Enjoy!
Mango Blueberry Smoothie
Refreshing Mango Blueberry Smoothie is the perfect breakfast for busy mornings! This probiotic-rich smoothie is packed with nutrients and fresh fruits. ADDED sugar-free, ALL NATURAL and very filling – it's super HEALTHY and so delicious.
Instructions
Place mango, half of the yogurt, and vanilla in a blender. Mix well until you get a smooth mixture. Add a tablespoon or more water if the mixture is too thick.

Pour the mixture into the glass.

Place blueberries, another half of the yogurt, cinnamon and hemp seeds in a blender and mix until you get a smooth mixture. Add a tablespoon or more water if the mixture is too thick.

Pour blueberry mixture over mango mixture.

Decorate with toppings.

Serve immediately.
Notes
*For vegan, non-dairy version use coconut probiotic yogurt or kefir. 
Nutrition
Calories:
436
kcal
|
Carbohydrates:
71
g
|
Protein:
14
g
|
Fat:
11
g
|
Saturated Fat:
1
g
|
Sodium:
33
mg
|
Potassium:
391
mg
|
Fiber:
8
g
|
Sugar:
49
g
|
Vitamin A:
1945
IU
|
Vitamin C:
104.4
mg
|
Calcium:
359
mg
|
Iron:
2.8
mg
Tried this recipe?
Don't forget to rate it and leave the comment. I would love to hear what you think.
Disclaimer
The nutritional information provided is approximate and is calculated using online tools. Information can vary depending on various factors, but I have endeavored to be as accurate as possible.
These are my picks for this recipe:
[amazon_link asins='B00R6SL6D4,B01LW7K6G0,B00CIXQYRA' template='MyPicks' store='natalieshealt-20' marketplace='US' link_id='b2730305-7095-11e8-8f4a-0151065c38f7']