This Blueberry Chia Pudding is packed with wholesome ingredients and delicious fruity flavor. Sweet, thick and absolutely amazing, it's a perfect superfood breakfast loaded with nutrients, omega-3s and powerful antioxidants. + This chia pudding recipe is super easy to make and without refined sugar.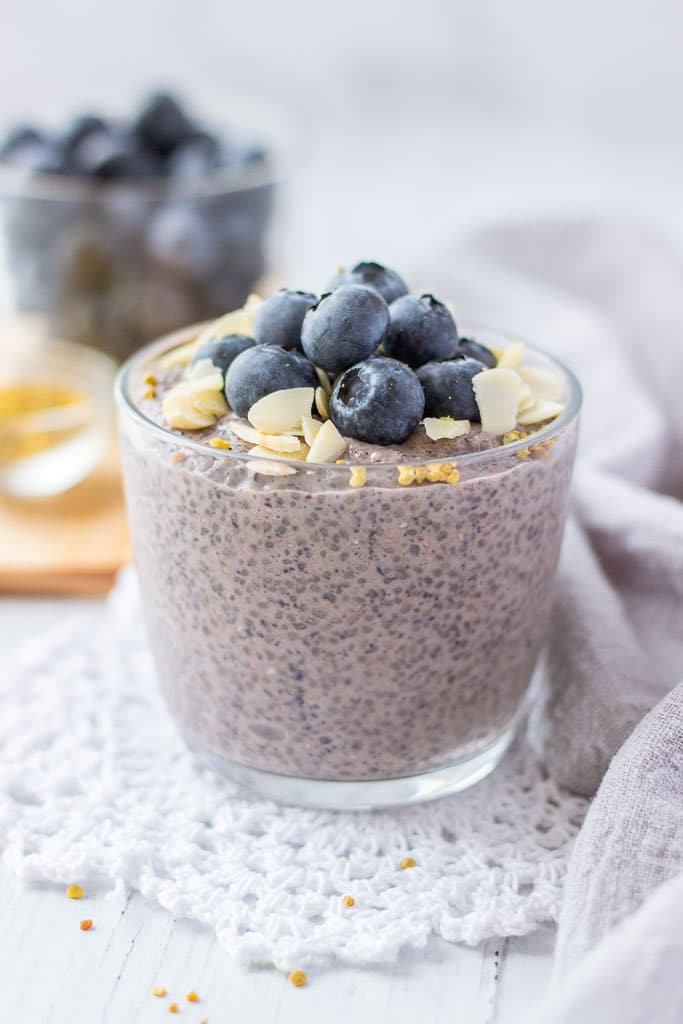 [cmtoc_table_of_contents]
When I started my healthy diet few years ago, chia seeds was a very new thing on the market. It wasn't popular among followers of healthy diet as today. Chia seeds was an unknown ingredient, hard to find in stores and very expensive. Back then I remember reading this article where chia seeds was announced as "the next big thing" on the health market. Chia was named SUPERFOOD and that got me curious. So I bought myself a bag of chia seeds and decided to give it a try.
The first recipe I tried was some dubious chia pudding recipe that used water instead of milk. Yuck! Chia pudding turned out awful, as you can imagine, but these tiny little black seeds definitely got my attention. Love was born. Luckily I'm a very creative and since then my chia seed skills improved. After a dozen of chia pudding combos and tryouts, I finally mastered the recipe. Strawberry Chia Pudding and Chocolate Chia Pudding are my current obsession. And this Blueberry Chia Pudding is yet another delicious, super healthy creation from my recipe book.
Here's how you can make this beauty at home and enjoy the benefits of chia seeds.
What are chia seeds?
Chia seeds are the tiny black seeds from the Salvia Hispanica L. plant, a member of the mint family. Chia seeds are native to areas of Mexico but they are also cultivated in North and South America. There are two varieties of the seeds: white or gray-black. But what makes chia seeds so special is the fact that these tiny seeds are low-calorie food loaded with nutrients and with many health benefits.
Health Benefits of Chia Seeds
Chia seeds are among the healthiest foods on the planet. Despite their tiny size, chia seeds are full of essential nutrients. They are an excellent source of fiber, omega-3 fatty acids, and proteins as well as a good source of iron and calcium (1).
Chia seeds are loaded with fiber, and by loaded I mean really loaded. Because of their rich fiber content, chia seeds are great for digestive health. The fiber acts as a prebiotic and provides fuel for the good bacteria in the gut (2). Plus, the fiber in chia seeds absorbs water and expands in the stomach, which keep us full longer and helps with weight loss (3, 4).
Chia seeds are especially high in omega-3 fatty acid that works to protect our heart by lowering blood pressure, bad cholesterol levels, and inflammation (5). Also, chia seeds are high in proteins. The combination of fat, protein, and fiber means the seeds are digested slowly, providing a long, slow release of energy while keeping blood-sugar levels stable (6).
Chia seeds are also a source of powerful antioxidants that fight the production of free radicals, which can damage cell molecules and contribute to aging and developing diseases like cancer (7, 8).
How to eat chia seeds
Ok, so chia seeds have tons of nutrients, but how to eat chia seeds? Unlike other seeds, chia seeds have a mild nutty flavor, and therefore can be used both in sweet and savory recipes. You can eat them raw - make a chia pudding, chia seed jam, toss them in a smoothie, porridge, sprinkle over salad, add them to yogurt or simply drink it up in Chia Fresca.
When consumed raw it's recommended to soak the seeds first. Soaking chia seeds makes them absorb the liquid and expand which makes chia seeds easier to digest. If adding chia seeds directly to foods or recipes that already contain liquid, like smoothies, or soups or drinks, it isn't necessary to soak chia seeds first.
Chia seeds are stapled in my kitchen. One of my favorite way to use them is to make chia seed pudding.
Chia pudding ratio
Chia pudding is super easy to make, like a no-brainer really. Anyone can do it. + It's a quick way to get all the essential nutrients your body needs in the morning in the form of a delicious breakfast.
The chia pudding ratio I use is 1/4 cup (around 3.5 tablespoons) chia seeds per cup of liquid. You mix it up and let it sit for 15 minutes, or overnight. If you prefer dense texture you can use 1/3 cup seeds per cup of liquid.
How to make Blueberry Chia Pudding
Blueberry Chia Pudding is like the EASIEST, super healthy breakfast recipe you can imagine. You'll only need a few simple ingredients:
Chia Seeds: I like to use organic chia seeds when possible but the non-organic type is also good. Look for chia seeds that are packaged and sold for the purpose of consumption. Chia seeds can be bought in the bulk section or supplement section at most health food stores, or online.
Milk: Non-dairy milk such as almond or organic soy milk is the best choice for making this fruity chia pudding. I prefer using unsweetened almond milk for this recipe because it's creamy but neutral, so it doesn't interfere with other flavors. I don't recommend using cows milk or coconut milk here simply because it will ruin the taste.
Sweetener: I like to use honey here. Honey is a great choice as it adds mild sweetness while it doesn't disrupt overall taste. Maple syrup is another great choice to use in this recipe. Both sweeteners are an all-natural and healthier choice than other refined sugars. You can also use stevia.
To make this chia seed pudding extra special, I also tossed in some SUPERFOODS:
Ceylon cinnamon paired so nicely with fresh blueberries and gave unbelievable scent.
Hemp seeds are loaded with two essential fatty acids, omega-6 and omega-3, aka healthy fat, but also a great source of high-quality proteins. I added hemp seeds to boost proteins in this meal.
Definitely, my favorite part in this chia story is BLUEBERRIES. Blueberries are now in season and bursting with freshness, nutrients and flavor. Blueberries are loaded with powerful antioxidants, vitamins and essential minerals.
To assemble Blueberry Chia Pudding:
Blend 1/2 cup blueberries with milk and honey. Add cinnamon, vanilla and hemp seeds and mix well until you get a nice dense fruity mixture.
Pour blueberry mixture in a bowl or jar with a lid and mix in chia seeds using the whisk.
Fresh blueberries are the best here, but frozen will work fine too. If you're using frozen blueberries, you might expect denser texture of blueberry mixture. You can add more milk if you like. But you can add more liquid after you mix in chia seeds and after they absorb some liquid. Then you can adjust the final texture to your preference.
Leave chia pudding to rest for 15 minutes until they puff and form chia pudding.
To achieve the best results, mix the chia seeds half way trough. That way chia seeds will absorb liquid equally and there will be no lumps.
Top the chia pudding with fresh blueberries, sliced almonds and bee pollen.
Serve and enjoy!
Keep leftovers sealed and refrigerated up to 2 days.
Blueberry Chia Pudding is thick, mildly sweet and bursting with flavors. Scented with vanilla and CINNAMON and loaded with fresh BLUEBERRIES, it's delicious. But this fruity chia pudding is more than just gorgeous and flavorous. It's a nutritious meal packed with fibers, proteins, omega-3s and powerful antioxidants.
It's a perfect breakfast option but decadent enough to be served as a light afternoon dessert too.
Enjoy!
Blueberry Chia Pudding
This Blueberry Chia Pudding is packed with nutrients and delicious fruity flavor. It's sweet, thick and absolutely amazing, perfect superfood breakfast. Gluten-free. Dairy-free. Can be made VEGAN. Refined sugar-free.
Instructions
In the blender, combine blueberries, milk, vanilla, cinnamon, hemp seeds, honey or maple syrup and process until you get a smooth mixture. Taste and add more sweetener if needed.

Stir in chia seeds and mix using the whisk.

Leave to rest for 15 minutes, mixing the halfway through.

Top with blueberries and sprinkle with sliced almonds and bee pollen.
Notes
For VEGAN: Use maple syrup instead of honey. Omit bee pollen.
PREP THE NIGHT BEFORE: Prep the chia pudding and put it into the jar with a lid. Place it in the fridge overnight. In the morning, top with fresh fruits and add-ons. As a measure, I used US cup (240ml).
Nutrition values are calculated without added toppings. Disclaimer: The nutritional information provided is approximate and is calculated using online tools. Information can vary depending on various factors, but I have endeavored to be as accurate as possible.
Nutrition
Serving:
1
cup
|
Calories:
255
kcal
|
Carbohydrates:
26
g
|
Protein:
8
g
|
Fat:
14
g
|
Saturated Fat:
1
g
|
Sodium:
169
mg
|
Potassium:
166
mg
|
Fiber:
12
g
|
Sugar:
10
g
|
Vitamin A:
40
IU
|
Vitamin C:
4
mg
|
Calcium:
360
mg
|
Iron:
3.3
mg
Tried this recipe?
Pease take a moment and leave a comment letting me know how you liked it. I love hearing from you!
Disclaimer
The nutritional information provided is approximate and is calculated using online tools. Information can vary depending on various factors, but I have endeavored to be as accurate as possible.
More Chia seeds recipes
If you've been struggling to find ways to use chia seeds, here are some awesome chia seed recipes that you can make over and over again.
If you've tried this Blueberry Chia Pudding recipe or any other recipe on Natalie's Health, please take a minute to rate the recipe and leave a comment letting me know how you liked it. I love hearing from you!