Iced Matcha Latte is super refreshing drink that is loaded with health benefits from matcha green tea. It's light, tasty, and easy to make with only 3 ingredients! + It's dairy-free and made without refined sugars.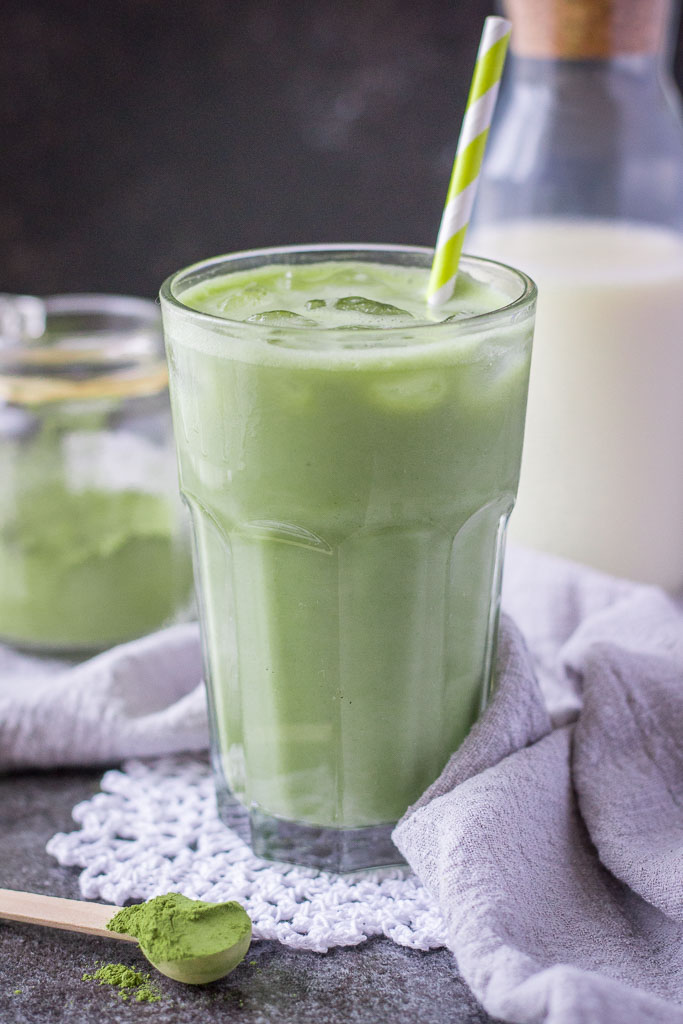 There's something so satisfying waking up in the morning knowing that soon you'll have a cup of freshly brewed latte in your hand. Honestly, sometimes that's the only thing that drives me out of the bed. Having a cup of caffeinated drink in the morning is an essential part of my routine. A necessity really. I'm not ashamed to say I NEED a brain booster before I go on with my day. Besides that, siping the perfectly frothed drink first thing in the morning gives me enormous pleasure.
For many years coffee was my number one morning drink. But then a year back I discovered matcha green tea. Soon that tasty but rather unusual green drink became my favorite. Today I can honestly say I'm slightly addicted to that super-powerful drink. Not only that, but I managed to hook my husband on this green goodness too.
And while I love having a cup of Matcha Green Tea Latte first thing in the morning, my hubs is a fan of Iced Coconut Matcha Latte, a cooled and more flavorous version of this amazing drink. With warmer days I'm more into refreshing drinks myself, so for both of us, this magnificent, refreshing and so super tasty Iced Matcha Latte is number one drink in the morning.
This iced matcha green tea is absolutely amazing. It's light, creamy, and so tasteful. But it's more than just a tasty drink. It's a real energy booster, an antioxidant-rich drink with many health benefits. Here's how you can make it at home and enjoy all Summer long.
What is Matcha Green tea?
Matcha green tea is a type of tea that is unique to Japan. It comes from the Camellia Sinensis plant, which is the same plant that green tea leaves come from. However, the harvesting and finishing process for matcha green tea powder is far different from the green tea you buy at the grocery store.
While most green teas benefit from long hours of direct sunlight until they are harvested, those tea leaves destined to become matcha are covered so that they finish their growth cycle in the shade. This increases chlorophyll production, boosts the amino acid content and gives the plant a darker green hue. The tea buds are hand-picked, and then slowly stone ground into a fine powder, known as matcha green tea powder.
Health benefits of Matcha Green Tea
Because of the process of grinding the tea leaves, there is minimal waste of the antioxidant containing components of matcha tea. (1) The powder is whipped into water, so it completely dissolves. That's why the health benefits of matcha tea powder are multiplied over traditional green tea.
Some of the most valuable benefits of matcha tea are those that we can use every day: matcha green tea powder boost memory and concentration (2), help keep you calm and reduce stress levels (3), and boost your energy level.
Matcha tea can aid you in your quest for optimal health. A cup of matcha tea every morning can help detoxify your body, and promotes weight loss (4). Plus, matcha green tea powder can give your immune system a much-needed amplification, making it something you should add to your routine during the cold and flu season!
Did you know… Matcha literally means "powdered tea."
How to make Iced Matcha Latte?
For making this incredibly healthy, delicious, brain-boosting drink you'll only need a few simple ingredients. Matcha comes in a powder form and to make a matcha tea you must whisk matcha powder with water. Pretty strait forward task. Here's what you'll need to make Iced Matcha Latte:
matcha powder
hot water
cold milk
sweetener
ice cubes
There are some equipment you can use to make this task simpler, but these are completely optional:
Steps to make Iced Matcha Latte
If using a matcha making set: Sift the matcha powder into the bowl using a fine mesh strainer or sifter. Add the hot water and whisk with the bamboo whisk in a "w" shape until frothy and well mixed. Add matcha mixture into the glass.
If using a shaker: Place matcha powder in a shaker. Add the hot water, close the lid and shake it until well mixed. Add matcha mixture into the glass.
If using milk frother: Place matcha powder directly into the glass. Add the hot water and use a milk frother to mix until frothy.
Fill the glass with ice cubes.
Add milk and sweetener (if using).
Mix well with the spoon and serve.
PRO tips:
Always use ceremonial grade Matcha Green Tea powder.
Don't use boiling water. Making matcha tea with hot boiling water will result in matcha tasting more bitter. Simply boil water, remove from heat, and let it sit for 2 minutes before brewing the tea.
Make sure matcha powder disolves compltely in the water before you pour in the milk.
Use dairy-free milk, like organic soy milk, almond milk or oat milk. Cow's milk will not taste as good as mentioned milks.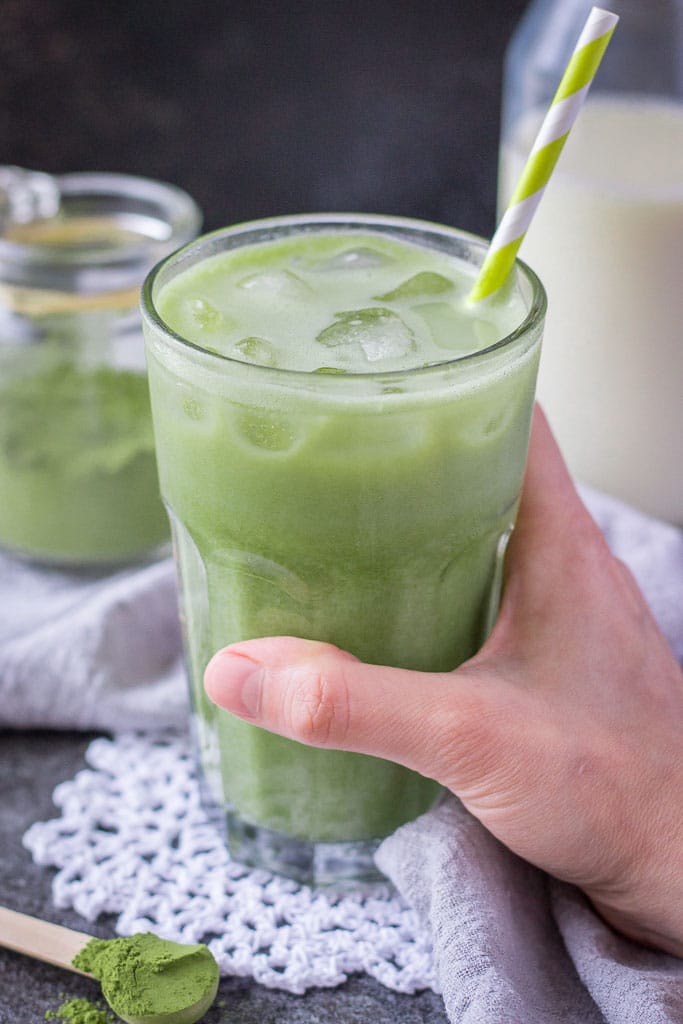 What does matcha taste like?
People ask me that question a lot. Many of people are attracted with Matcha green hue, especially with health benefits matcha provide. But many are also puzzled how does matcha taste like.
Well because it has high chlorophyll and amino acid content, matcha has a unique leafy vegetal taste. But the taste can vary depending on the type of matcha powder you select.
Culinary grade matcha may taste more bitter, while high-quality ceremonial matcha is rich, aromatic and leaves a sweetness after drinking. Plus, ceremonial hight grade matcha is more nutrient-rich. That's why I always urge people to buy quality matcha if they want to enjoy the full benefits of matcha green tea but also the taste.
How to sweeten matcha?
This is another important aspect when making this Iced Matcha Latte recipe. Sweetener may impact matcha overall taste greatly. And while it's a no brainer that adding some type of sugar will help lessen the bitter undertones of matcha green tea, there are some sweeteners that are better than others for flavoring.
HONEY is a great choice as it adds mild sweetness while it doesn't disrupt matcha taste. Also, it dissolves easily in hot water and offers an all-natural and healthier choice than other refined sugars.
MAPLE SYRUP is definitely my second choice here. Same as honey, it dissolves easily, offers plenty of sweetness without excess unhealthy calories nor it interferes with matcha taste.
AGAVE NECTAR (SYRUP) is another choice. Although agave syrup is marked as a natural, diabetic-friendly sweetener that doesn't spike blood sugar levels, the agave sweetener sold today is made by treating agave sugars with heat and enzymes, which destroys all its potentially beneficial health effects. The end product is a highly refined, unhealthy syrup. That's why I'm not much of a fan.
Granulated sugars like coconut sugar won't work well here. Same is with stevia.
This Iced Matcha Latte is a super-powerful drink with so many health benefits. A drink that is so easy to mix up so you don't need to go to Starbuck anymore. Make your own Iced Matcha Latte at home. + It's a super tasty, refreshing and absolutely addictive. It's a drink that will easily replace your usual coffee and perfect cooler for hot Summer afternoons.
Enjoy!
If you've tried this Iced Matcha Latte recipe or any other recipe on Natalie's Health, please take a minute to rate the recipe and leave a comment letting me know how you liked it. I love hearing from you!