Hazelnut Chocolate Balls are delightful little treats. These soft and sweet bliss balls are delicious hazelnut goodness that are loaded with only natural HEALTHY stuff and nutrients, completely REFINED SUGAR-FREE and waistline friendly. Perfect for Holidays or any day!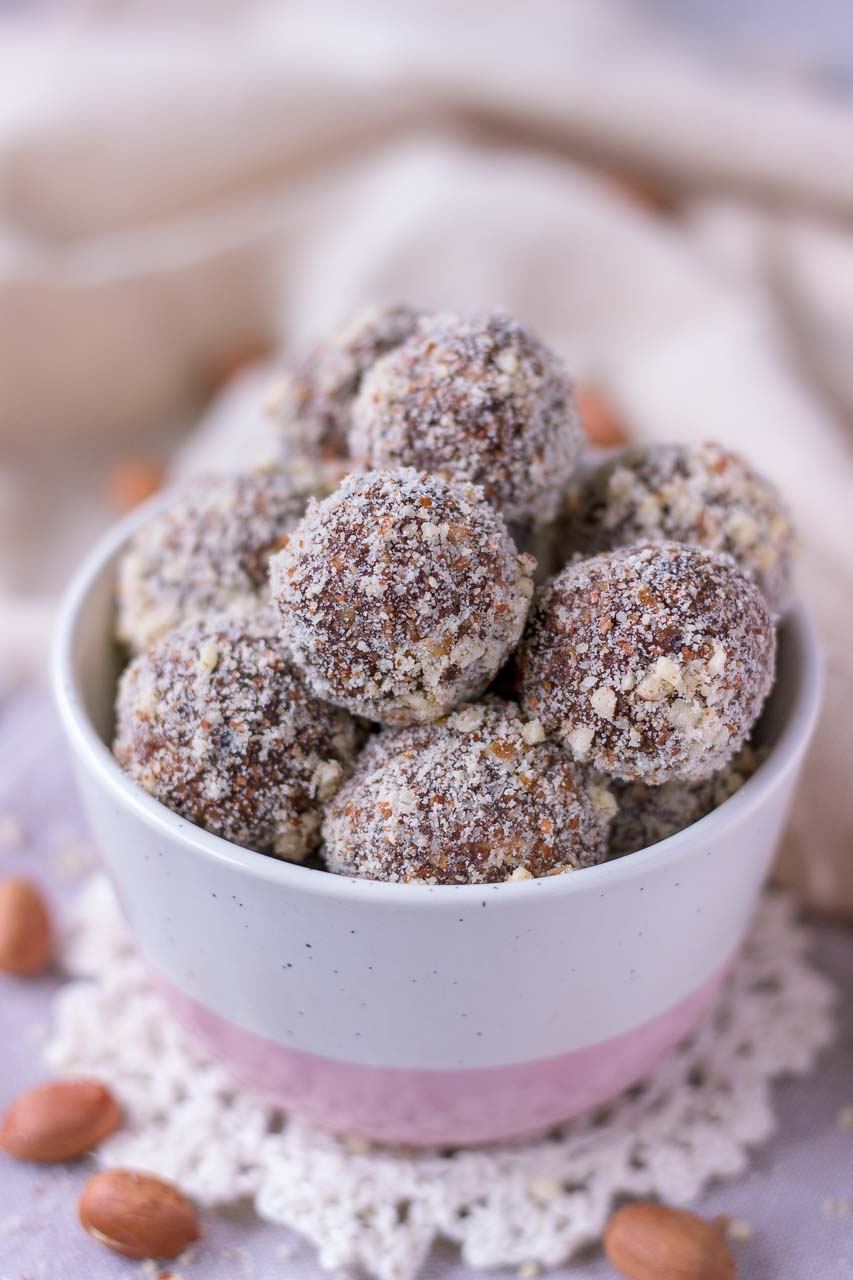 It's the last day of November. OMG, like when THAT happened!! It's ALMOST CHRISTMAS people!!!! And although the city is beautifully decorated and cheerful already - and I saw a lot of houses with Christmas trees set - I haven't put a single lamp in the house. Can you believe that? Well, I haven't had time, to be honest. BUT Christmas songs are on my playlist for a week now and I'm enjoying Gingerbread Hot Chocolate in full.
While many already started baking and making Christmas cookies, I guess I'm sliding into Christmas mood easily this year with simple treats, like Gingerbread Energy Balls. For now! Somehow I'm not quite ready to bake anything yet.
Ok, ok... I did bake Honey Cinnamon Cookies last week for a kiddo school event. But haven't enjoyed them (other's did - lucky them) so I guess that doesn't really count.
My husband said that these Hazelnut Chocolate Balls I did the last week remind him a lot of Christmas. I can agree with him on that one. We always enjoyed these on Christmas Eve. This year I made these balls a bit early. SO it was only fair from me to share this hazelnut balls recipe with you.
These soft and sweet, nutty and beautifully flavored Hazelnut Chocolate Balls are the PERFECT introduction to Christmas season. They have all - the look, the feel and the right amount of healthiness that will make your Christmas cheerful, HEALTHY and definitely guilt-free.
My hubby likes to call these balls Ferrero Rocher truffles. And actually, they are somewhat like homemade Ferrero Rocher truffles. But much healthier. I really love that this little hazelnut and chocolate candy is 100% guilt-free. You can enjoy them not thinking about calories or excess sugar and what it may do to your waistline during Christmas time.
Ok, I know, Christmas is time to relax, time to indulge in food and have jolly fun - have treats and sweets, one or two too many. But honestly, if you knew how EASY this hazelnut balls recipe is, and how TASTY these tiny balls of sweetness are, you'll probably forget about expensive, sugary, store-bought stuff in a second.
Well, by the end of this post you'll wish to make them, and you will LOVE THEM. I promise.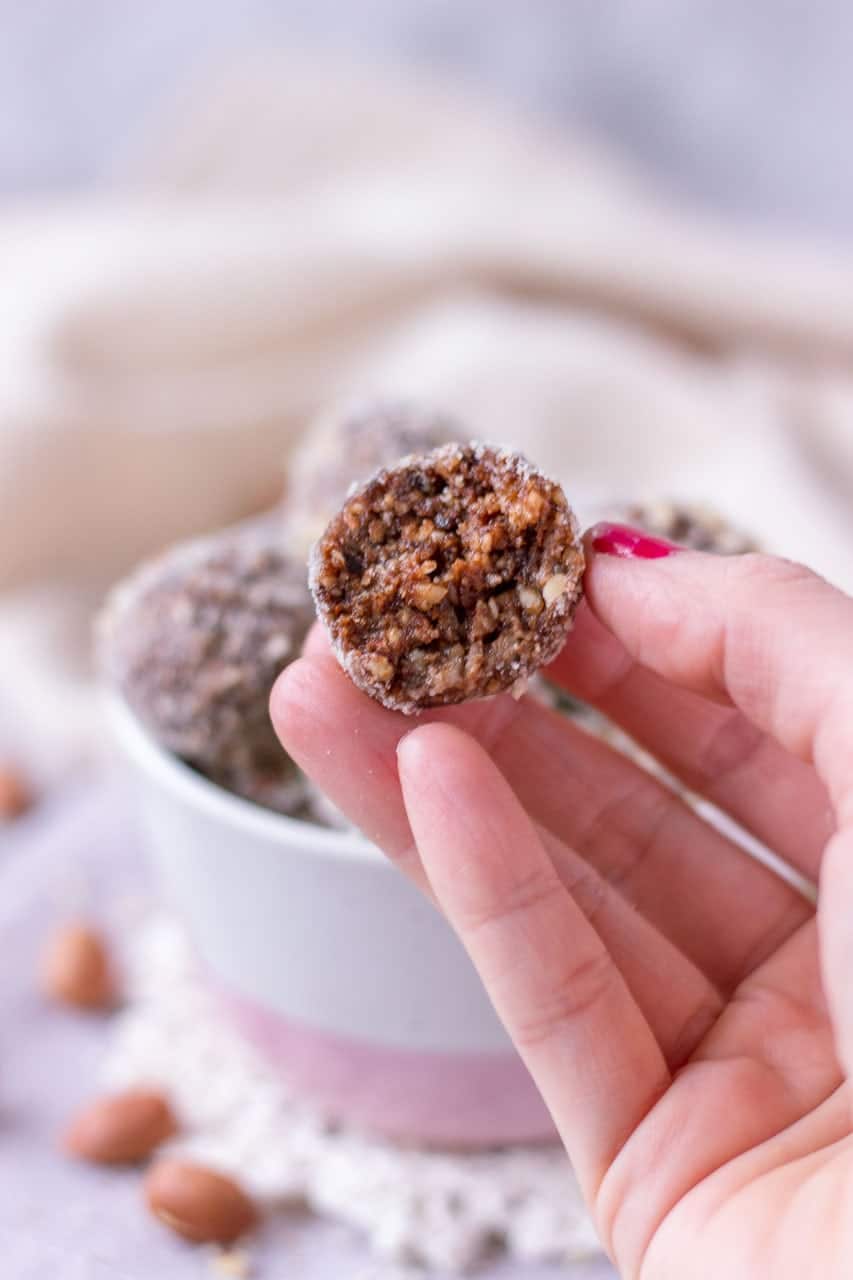 How to make Hazelnut Chocolate Balls
To make these beauties you will only need a handful of HEALTHY ingredients. HAZELNUTS for starters, but also one of my favorite ingredient - a raw cacao powder.
Raw cacao is loaded with super-powers. Not only he contains powerful antioxidants - flavanols, it also keeps our heart healthy and has a strong anti-inflammatory effect. + Cacao contains several active substances that have a positive effect on our mood. It basically makes our brain super happy!
And while you think cacao and cocoa powder are the same, there are some differences. Raw cacao powder is made by cold-pressing unroasted cocoa beans, this process retains the living enzymes and removes the fat (cacao butter).
The cocoa powder looks the same however there is a BIG difference. Cocoa powder is the raw cacao that's been roasted at high temperatures. The effect of roasting the cacao is that the molecular structure of the cocoa bean changes. It lowers the overall nutritional value and destroys the health benefits.
That's why raw CACAO POWDER is perfect for hot chocolate drinks (where is not heated in high temperatures), smoothies and raw chocolate making.
Hazelnuts are packed with nutrients - vitamins and minerals like magnesium, calcium, vitamins B and E, and antioxidants. + My favorite: the HEALTHY FATS. They also have so many health benefits, including helping decrease blood fat levels, regulating blood pressure, reducing inflammation and improving blood sugar levels.
To be completely honest - if I have to choose between almonds and hazelnuts (they are both very similar in nutrition properties) - I'll 100% would go with HAZELNUTS. They are so yummy and so flavorful!
I sweetened these Hazelnut Chocolate Balls with Medjool dates. Which means these charming little hazelnut truffles are completely REFINED SUGAR-FREE. DIdn't I say these are guilt-free?! Yes, I did!
As for flavoring, I used sweet-scented vanilla. Vanilla paired so nicely with nutty hazelnuts forming candied feeling in the mouth. The texture of these chocolate hazelnut balls is also something incredible. These are so soft, so melt-in-your-mouth delicious.
Perfect for a nibble. I dare you to stop just on one.
Well, Hazelnut Chocolate Balls would be plain and practically like homemade Ferrero Rocher truffles BUT I take up all the sugar from it, and added SUPER-FOODS raw cacao powder and hazelnuts. * I made them a bit more special by adding some hemp seeds also.
Hemps seed added nutrients - proteins, and more nuttiness to these delightful little hazelnut truffles.
These Hazelnut Chocolate Balls are great for Holiday table (or for any day). They are easy no-bake edible gifts for the holidays also. Everyone loves them!
They also freeze well, so they can be prepared now and stored in the freezer until Christmas. Which is just around a corner. Yeey!
Enjoy!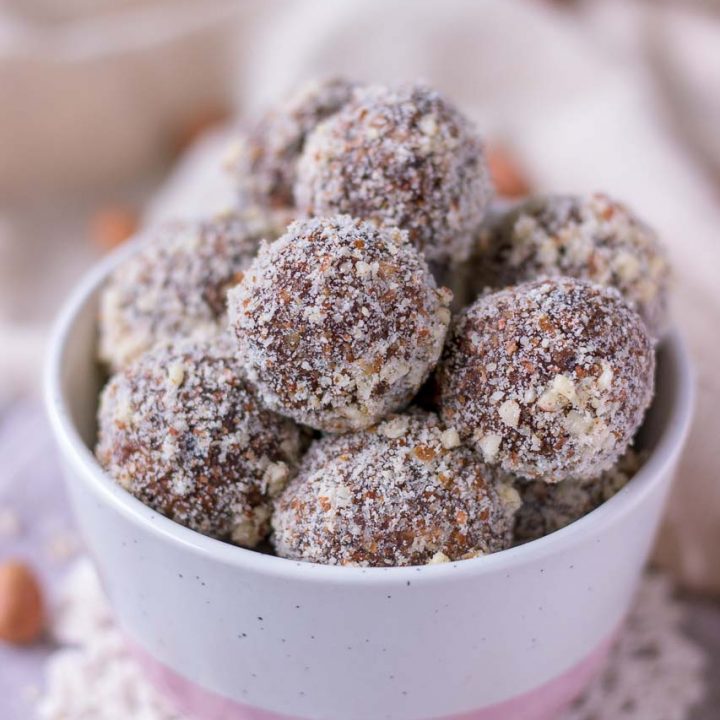 Hazelnut Chocolate Balls
Hazelnut Chocolate Balls are perfect HEALTHY homemade candy. These hazelnut truffles are luxurious, sweet and perfectly flavored, made with only four simple ingredients and completely REFINED SUGAR-FREE.
Instructions
Remove the pits from dates and soak them in warm water for several minutes. Drain but keep the water.

Combine all ingredients (except for coating ingredients) in a food processor and blend on high until it forms into a ball and is smooth throughout.

Check texture by pinching the dough between your fingers. It should be sticky and able to keep its shape. If the mixture is too dry, add more water in which you have soaked the dates.

Using a tablespoon, scoop out dough and roll between your palms to form your balls.

Roll them in the coating and shake off excess. Place on a parchment paper lined baking sheet or plate and place in the refrigerator to harden.
Notes
Store in an airtight container in the refrigerator until serving. Keep the energy balls frozen up to 3 months in the freezer. As a measure, I used a US cup (240ml).
Nutrition
Calories:
85
kcal
|
Carbohydrates:
11
g
|
Protein:
1
g
|
Fat:
4
g
|
Sodium:
16
mg
|
Potassium:
146
mg
|
Fiber:
1
g
|
Sugar:
9
g
|
Vitamin A:
25
IU
|
Vitamin C:
0.4
mg
|
Calcium:
18
mg
|
Iron:
0.6
mg
Tried this recipe?
Don't forget to rate it and leave the comment. I would love to hear what you think.
Disclaimer
The nutritional information provided is approximate and is calculated using online tools. Information can vary depending on various factors, but I have endeavored to be as accurate as possible.
Try these energy balls recipe too:
Turmeric Maca Energy Balls
Carrot Cake Energy Balls
Lemon Turmeric Energy Balls
Pumpkin Seeds Energy Balls
These are my recommendation for this recipe:
[amazon_link asins='B01AXM4SB6,B0081JYTE0,B0001MSEQ4,B0742M47V5' template='MyPicks' store='natalieshealt-20' marketplace='US' link_id='9a91fef5-f4e4-11e8-9851-f59ce555ae42']