Rich, with an intense chocolate flavor, this HEALTHY Gingerbread Hot Chocolate is the perfect Holiday drink! It's creamy and smooth, loaded with super spices - Ceylon cinnamon and ginger - and powerful ANTIOXIDANTS from raw cacao. It's Christmas in a cup. A guilt-free treat you can enjoy all winter long.
Yup, it's THAT time of year. The time for squeezing on the couch under the soft blankets while favorite Christmas movie is on TV. It's time for sweet Christmas cookies and hot drinks that warm up bellies and our hands.
I absolutely LOVE that feeling of coziness and warmness while holding a hot cup. Actually, I love that overall Christmas mood.
This year Christmas entered my house like REALLY early. I already made one bunch of Honey Cinnamon Cookies. And my hubby expressed the desire to bake him his favorite Vanilla Almond Crescent Cookies soon too. Not to mention I made (and ate) a few bunches of sweet Gingerbread Energy Balls in the last few weeks.
Yup, It's the end of November and I'm all in Christmas mood. I even have Christmas playlist on.
Hot Chocolate has always been one of my favorite drink during the colder days. Especially around the Christmas. Last year I binged on all sorts of flavored hot chocolate drinks. My personal favorite was Cacao Turmeric Maca Hot Chocolate. But I've mixed all sorts of spices and flavors.
This particular Gingerbread Hot Chocolate I whipped up for the first time just after the Christmas last year. I fell in love like instantly, but it was too late to share the recipe on my blog then.
So this year I decided to give you the recipe super early so you can start enjoying this deliciousness with me and celebrate early Holidays. I say why not!
This divinely fragrant and extremely flavorful Gingerbread Hot Chocolate is absolutely amazing. It's thick, creamy and in one word - delightful.
Although it looks really decadent and loaded with calories, it's actually made with all natural HEALTHY stuff and packed with nutrients and powerful antioxidants from SUPERFOODS. You really don't have to feel guilty if you have a cup or two of this beauty. + This hot chocolate is naturally sweetened and therefore completely guilt-free.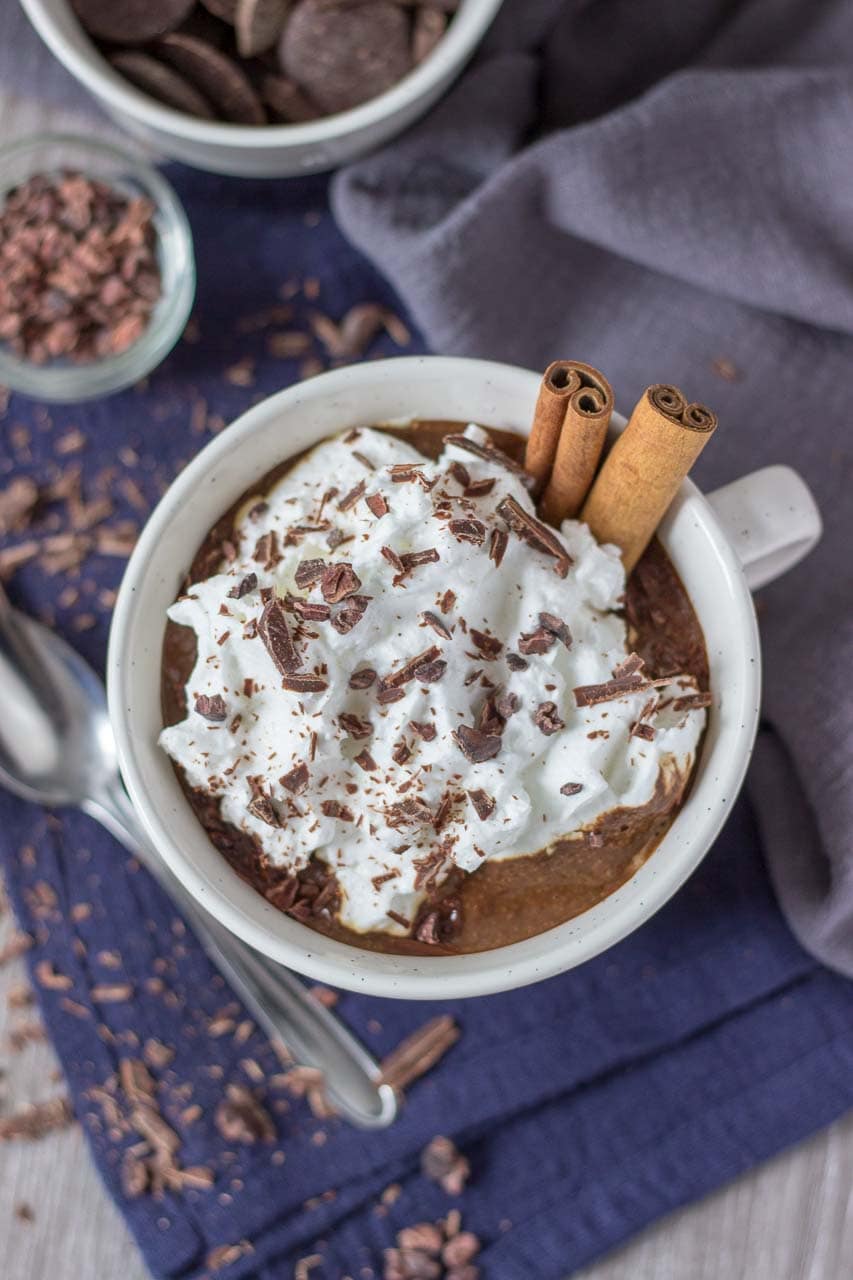 How to make Gingerbread Hot Chocolate
To make this delightful hot drink you will only need a few simple ingredients and it will take you literally a few minutes to make it.
I used cashew milk this time. Although it's good with soy milk too. Both kinds of milk are naturally sweet, creamy and mild tasting so they don't interfere with other flavorings in this drink.
The star of this hot chocolate drink is, of course, CACAO POWDER - a raw unprocessed. Pure, divine and so HEALTHY.
Raw cacao is made by cold-pressing unroasted cacao beans. The process keeps the antioxidants and enzymes in the cacao and removes the fat - the cacao butter. Raw cocoa powder has so many health benefits. It reduces the inflammation and it's super-duper for our heart health. Also, cocoa is known for its good-mood benefits.
And yes, cacao powder is used to make CHOCOLATE.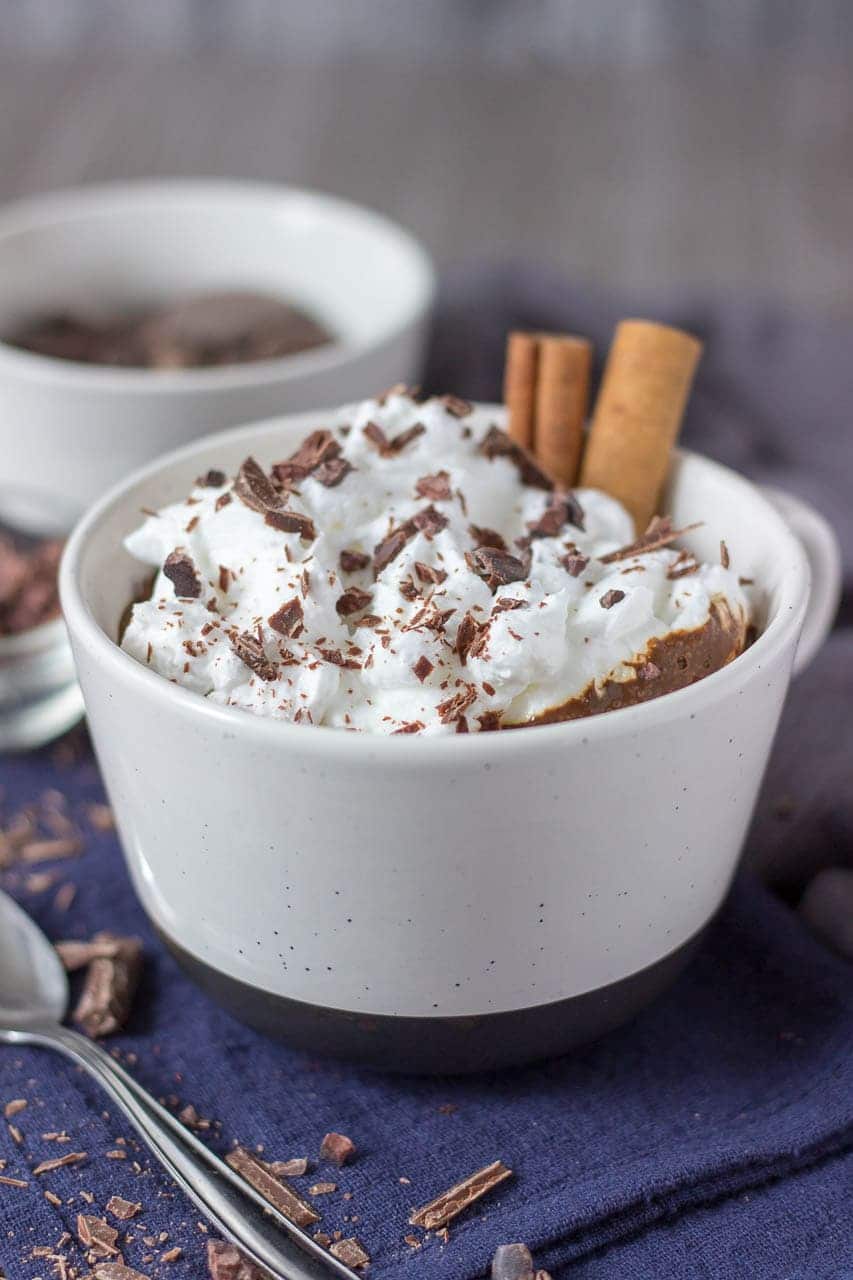 What makes this hot chocolate drink SO irresistible and soooo good is homemade gingerbread spice mix. I used a SUPERSPICES - sweet-scented Ceylon cinnamon, spicy GINGER, and flavorus nutmeg. I also added a dash of minced cloves.
This spice mix I use throughout the whole Holiday season for making gingerbread flavored smoothies, lattes, desserts - like Gingerbread Loaf Cake - and other Healthy Christmas Cookies. This spice mix is a must during holidays really.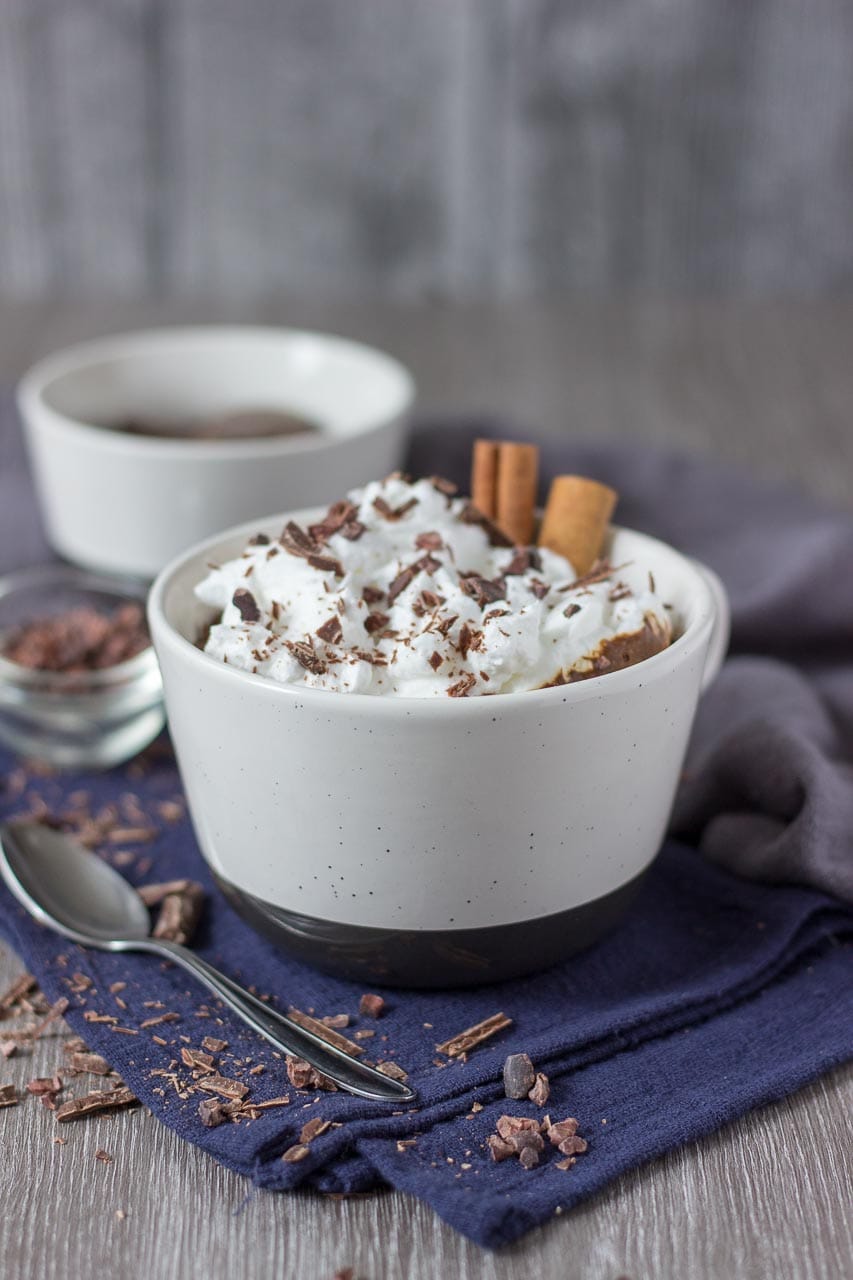 As I said, I haven't added any sweeteners in this Gingerbread Hot Chocolate drink, but you can definitely adjust the taste to your liking. If you plan to sweeten this drink up, I recommend using pure maple syrup or even better - natural HONEY. Honey is nature's immune booster and it's perfect for the upcoming cold days when we expect cold and flues attack.
I did add a teaspoon of blackstrap molasses in this super hot drink. Molasses is the dark, rich, slightly sweet byproduct of the sugar making process. It is used as a sweetener and flavoring in many goods. I used it here to enhance the ginger flavor. It did a job pretty well.
Whipped cream on top is optional, but you don't really need to skip it. I used whipped coconut cream that is fatty - but in a good and HEALTHY way fatty.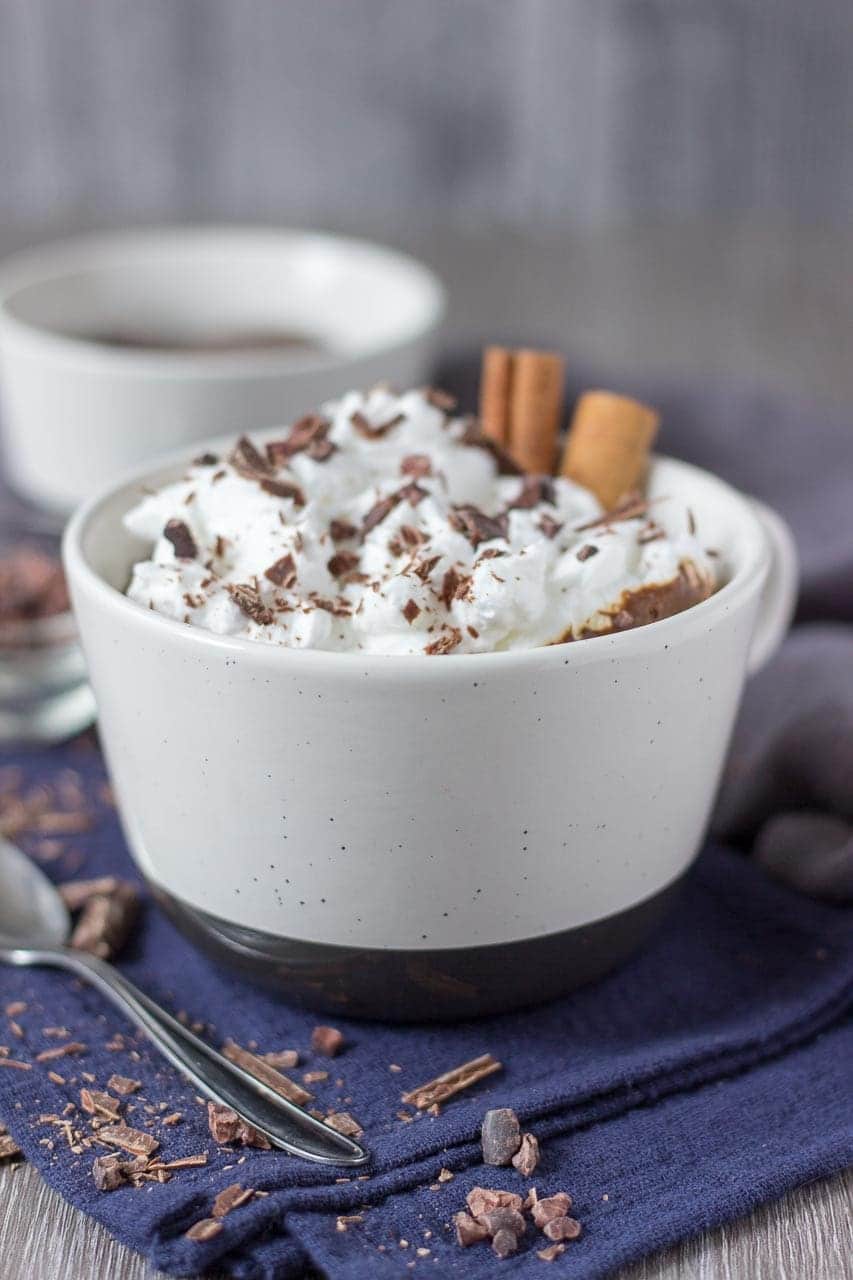 Why I love this Gingerbread Hot Chocolate drink?
It's loaded with nutrients that promote good health.
It's made with all natural REAL ingredients.
It's refined sugar-free, dairy free, vegan and gluten-free.
It's enriched with superspices – Ceylon cinnamon and ginger.
It's packed full of immune-boosting antioxidants.
It helps with balancing hormones naturally, boost energy levels and uplifts mood.
It's low-calorie drink, 100% weight loss friendly.
This delicious Gingerbread Hot Chocolate is the perfect warm drink to celebrate the holiday season. It's creamy, smooth and so sweet, with incredible gingerbread flavor!
This homemade SUPER HEALTHY drink will get you in the holiday spirit, FAST. You don't want to miss this out.
Enjoy!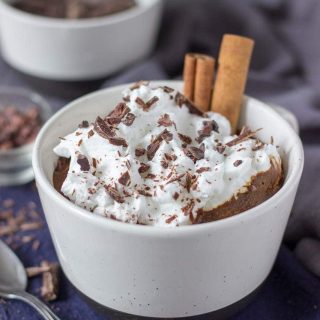 Gingerbread Hot Chocolate
Gingerbread Hot Chocolate is the perfect festive drink to enjoy on a cold day! Rich, with an intense chocolate flavor, is both decadent, HEALTHY and delicious.
Ingredients
Toppings:
Whipped coconut cream

Cacao beans

Cocoa Powder or dark chocolate

for dusting
Instructions
In a medium saucepan, heat the milk with vanilla.

Add cocoa powder, molasses, and spices. Cook over medium heat, stirring occasionally until cocoa is dissolved completely. Do not overcook and do not boil.

Cook for few minutes, just until the mixture is steaming and is warmed thoroughly. Add maple syrup or honey to taste (optional).

Remove from heat and pour into mugs.

Top with whipped coconut cream, and dust it with cocoa powder, roughly chopped dark chocolate or crushed cacao beans.
Notes
As a measure I used UScup (240ml).
Nutrition facts are calculated without toppings. 
Nutrition
Calories:
84
kcal
|
Carbohydrates:
14
g
|
Protein:
2
g
|
Fat:
3
g
|
Sodium:
165
mg
|
Potassium:
254
mg
|
Fiber:
4
g
|
Sugar:
5
g
|
Calcium:
47
mg
|
Iron:
1.9
mg
Tried this recipe?
Don't forget to rate it and leave the comment. I would love to hear what you think.
Disclaimer
The nutritional information provided is approximate and is calculated using online tools. Information can vary depending on various factors, but I have endeavored to be as accurate as possible.
Try these HEALTHY holiday treats too:
Almond Sugar Cookies
Chocolate Cinnamon Balls
Healthy Coconut Bites
Turmeric Cacao Energy Balls
These are my recommendation for this recipe:
[amazon_link asins='B00213JO92,B0727RGZF2,B00GMRJKUG,B072NF87RN,B07DW8QYR4' template='MyPicks' store='natalieshealt-20' marketplace='US' link_id='c88ed348-ee8e-11e8-8789-bf42aaf372d3']