Sweet, nutty, and full of seasonal flavors, these Gingerbread Energy Balls are an amazing treat. No-bake and packed with nuts and deep dark molasses, they make perfect energizing snack or Holiday dessert.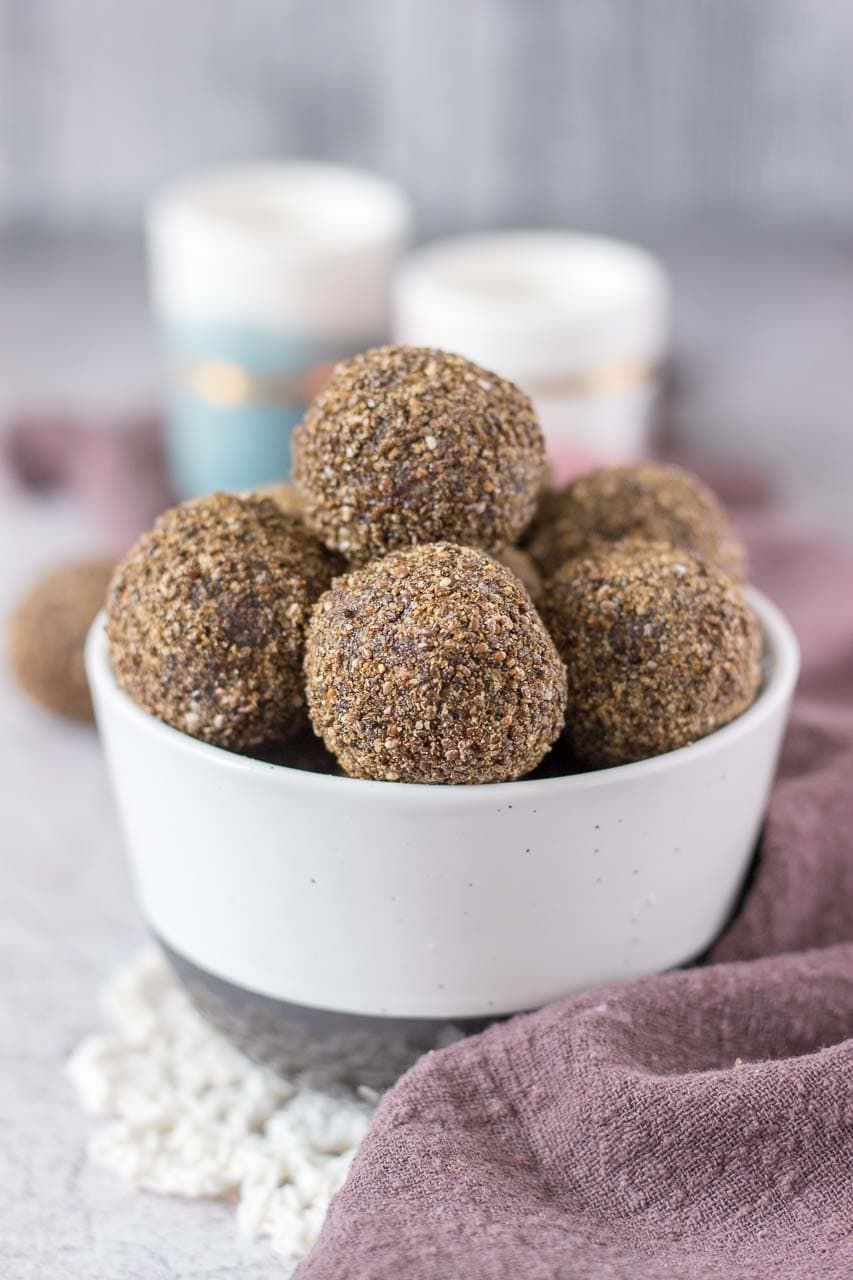 Yeah, I know. It's kinda weird to post gingerbread recipe that early in November. But listen up. I have a good story.
Ok, so since we moved to the city last year, I stopped running for exercise. Yeah, sad... I know. The plain reason is, not my laziness but the fact I never got used to city running. In the countryside, where we lived, running was really great. No people on the street, beautiful nature. It was a great experience, not just exercise. But here in the city, I just hated the noise, the crowd. I tried a few times but finally, I gave up.
During this no-running time, yoga was my ONLY exercise. But as months passed by, I started missing more and more a fast heart beating and a good old sweating. To be completely honest, I fell out of shape terribly.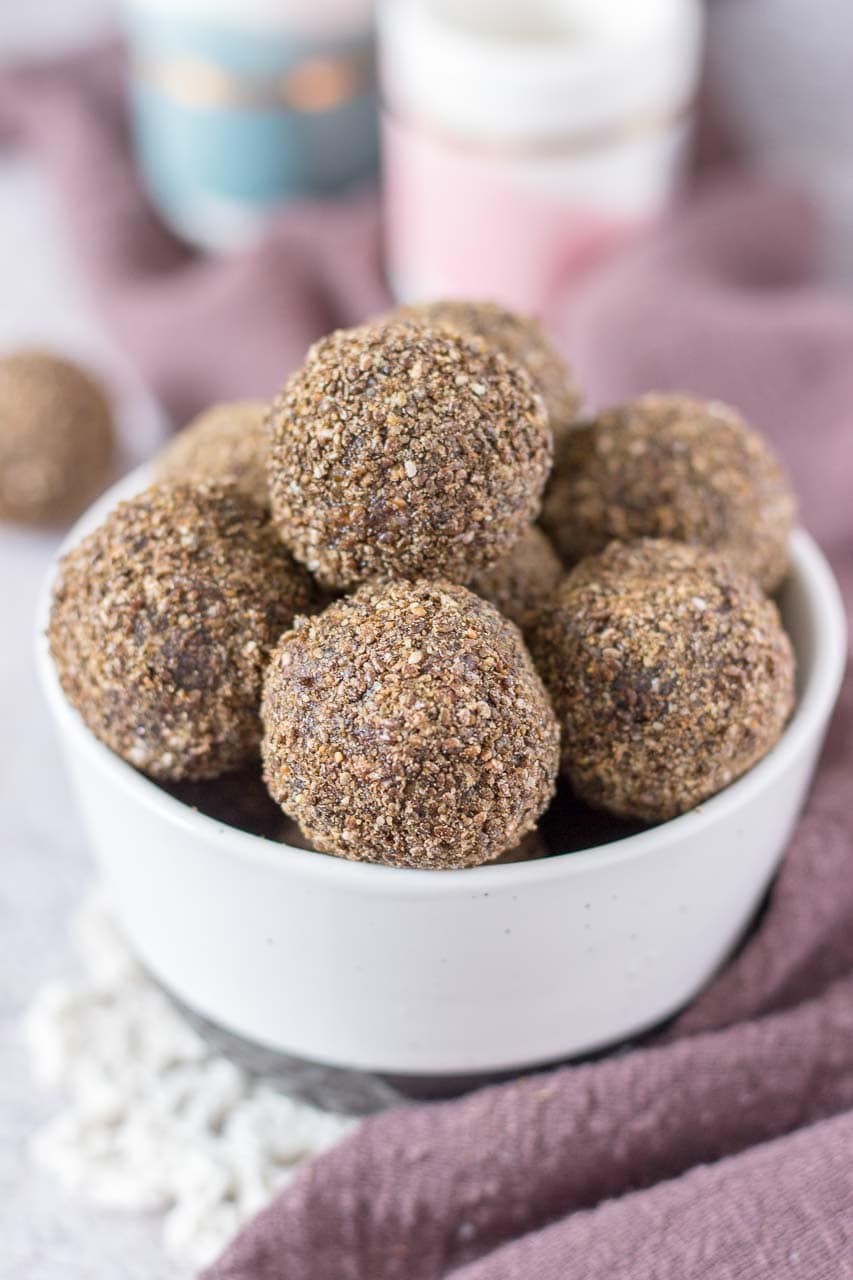 So a few weeks ago my hubby suggested we give a gym a visit. I was like what the...?! I'm NO GYM person. I feel intimidated by all that gym equipment. I can't DO gym - I hated the very thought although I never step foot in one. Silly me. BUT my lack of condition seriously started to bother me, so I said YES. Just out of curiosity. And It was the BEST decision I made. I fell in love going to the gym almost instantly. Right after the first workout. But I really fell in love in ALL the muscle activity... and the sweat and the PAIN.
Finally, those energy balls I always recommend to other working-out people started to make a lot of sense to us. After 2 hours in the gym, we both need energy - like asap. Since it's pumpkin season, I first made Pumpkin Pie Energy Balls and then our favorite Peanut Butter Energy Balls. Last week my hubby wished for this incredible Gingerbread Loaf Cake so I thought, hey why not make Gingerbread Energy Balls as a post-workout snack. It was a WIN!
These little protein balls are just delicious. Highly nutritious, sweet, flavorful and beyond amazing. They are like reminiscent of Christmas to come.
These ginger flavored powerballs are loaded with proteins and healthy fats for energy. They are perfect as pre-workout fuel or after workout recovery snack. I usually pack them in my gym bag so I have them in hand just after my workout. They are really filling and you quickly regain energy after having just one ball.
To make these healthy protein balls I used ALL NATURAL stuff - energy-dense nuts and seeds packed with natural proteins and fats, and powerful SUPER SPICES that gave not only great flavor but some immune boosting powers too.
I used a combination of nuts: almonds and walnuts. Almonds are a great source of high-quality proteins as well as vitamin E, copper and important mineral - magnesium. They also contain high levels of healthy monounsaturated fats - omega-3 along with high levels of fiber and antioxidants. Walnuts also contain impressive amounts of antioxidants and vitamin E, but are also rich in omega-3 fats too.
I also tossed in a combination of powerful seeds: flax seeds and pumpkin seeds - both loaded with FIBERS, proteins, and heart-healthy omega-3s. There's so much POWER in these little protein bites.
Gingerbread Energy Balls are naturally sweetened with Medjool dates. To make them taste just like Christmas I added some Blackstrap molasses that gave a really distinctive rich flavor but added up some nutrition and benefits too.
Blackstrap molasses contains many vital vitamins and minerals - such as iron, calcium, magnesium, vitamin B6, and selenium. + It's a diabetes-friendly sweetener meaning it helps stabilize blood sugar. Although you may think it's sweet, actually it isn't. The taste is somewhat sweet but more sour, and sharp. It gave the Gingerbread Energy Balls a tang.
If you want to make these protein balls completely REFINED SUGAR-FREE, you can skip adding Blackstrap molasses.
Gingerbread Energy Balls are chewy, soft and so addictive. These mini delights are super flavorful. You can really taste the nuts and seeds and gingerbread spice mix that is whoa amazing. If you're a gingerbread fan, you're going to go nuts for these!
I can honestly say that this energy balls recipe is one of my favorites so far. I can't wait to make these healthy gingerbread balls over and over again until Christmas.
Enjoy!
Gingerbread Energy Balls
Chewy and sweet, these Gingerbread Energy Balls are perfect little powerballs loaded with SUPERFOODS. The perfect healthy snack to fuel your day. And perfect Holiday treat!
Instructions
Remove the pits from dates and soak them in warm water for several minutes. Drain but keep the water.

Combine all ingredients (except for coating ingredients) in a food processor and blend on high until it forms into a ball and is smooth throughout.

Check texture by pinching the dough between your fingers. It should be sticky and able to keep its shape. If the mixture is too dry, add more water in which you have soaked the dates.

Using a tablespoon, scoop out dough and roll between your palms to form your balls.

Roll them in the coating and shake off excess. Place on a parchment paper lined baking sheet or plate and place in the refrigerator to harden.
Notes
Store in an airtight container in the refrigerator until serving. Keep the energy balls frozen up to 3 months in the freezer. As a measure, I used a US cup (240ml).
Nutrition
Calories:
114
kcal
|
Carbohydrates:
14
g
|
Protein:
2
g
|
Fat:
6
g
|
Sodium:
1
mg
|
Potassium:
199
mg
|
Fiber:
2
g
|
Sugar:
11
g
|
Vitamin A:
20
IU
|
Calcium:
34
mg
|
Iron:
0.7
mg
Tried this recipe?
Don't forget to rate it and leave the comment. I would love to hear what you think.
Disclaimer
The nutritional information provided is approximate and is calculated using online tools. Information can vary depending on various factors, but I have endeavored to be as accurate as possible.
Try these energy balls recipe too:
Turmeric Maca Energy Balls
Carrot Cake Energy Balls
Lemon Turmeric Energy Balls
Pumpkin Seeds Energy Balls