Thick and creamy Chocolate Peanut Butter Smoothie is perfect nutritious breakfast or afternoon treat. This protein-packed smoothie is completely ADDED SUGAR-FREE, made with all natural wholesome ingredients and loaded with powerful SUPERFOODS. It's both satisfying and decadent – sweet and absolutely delicious!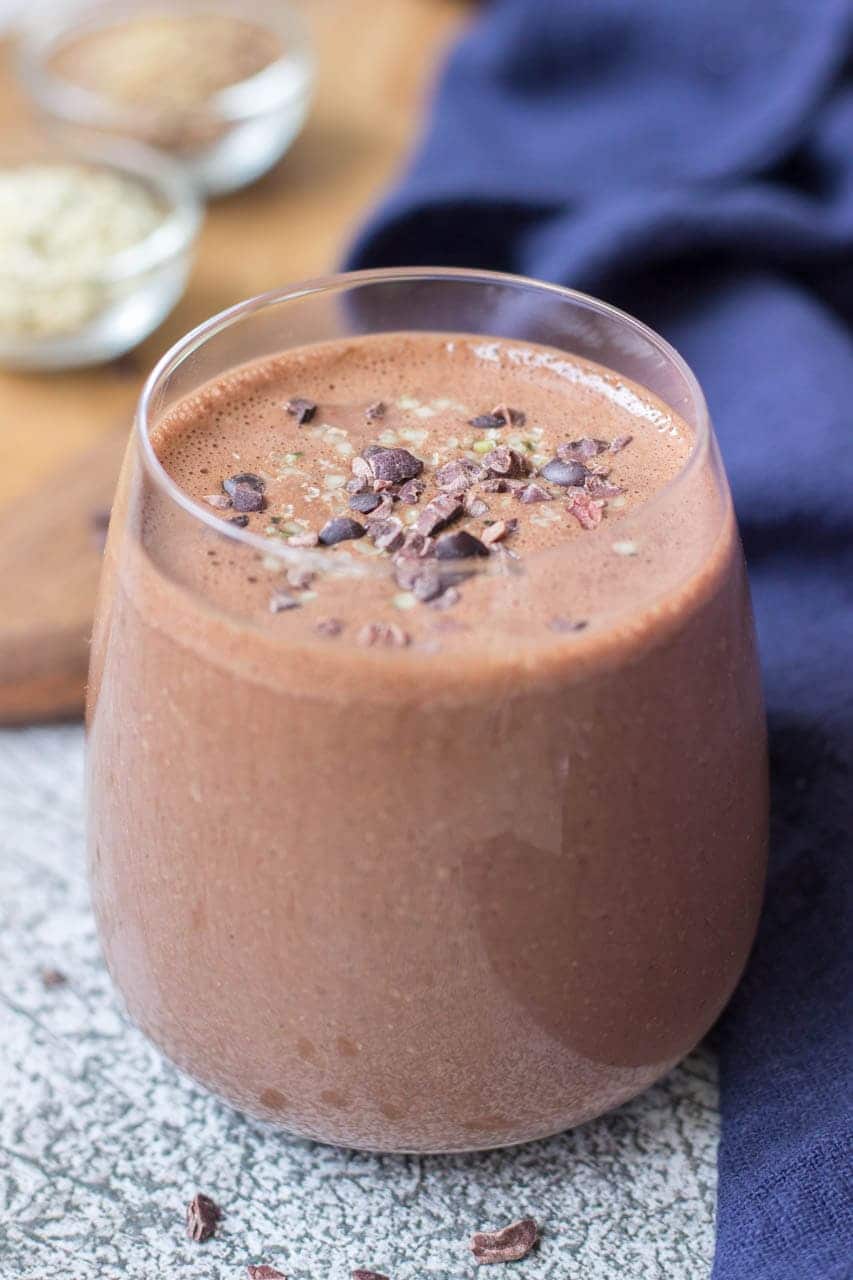 I'm happy to announce that my husband has finally acknowledged smoothies as a real breakfast meal. I consider that to be a great deal 'cause he's really a fan of solid food breakfast – like Chocolate Peanut Butter Banana Roll-Ups and Peanut Butter Overnight Oats, which are his favorites btw.
For years he's been watching me having my smoothies in the morning and I know he's been doubtful about that sweet substance being satisfying enough to replace a meal. He's been sipping on smoothies mainly as a late afternoon pick me up drink – never thought smoothie can be a satisfying real meal.
Well, to prove him wrong, few weeks ago I offered him Strawberry Peanut Butter Smoothie. And then I made him Apple Peanut Butter Smoothie the next day. Both kept him full till afternoon. That's when his perspective started to change. Then last week he desired something more chocolatey so I whipped him this Chocolate Peanut Butter Smoothie.
Chocolate Peanut Butter Smoothie turned out to be huge success. It made him change his mind like completely. And I totally understand why. It's creamy, full of this profound chocolate flavor and loaded with this incredible nuttiness. Very VERY delicious… and so addictive.
This smoothie is not only pure chocolate delight but also but also very satisfying, loaded with essential nutrients and SUPERFOODS – natural plant-based proteins, potassium from sweet banana, fibers and omega-3s from seeds. Just beyond delicious and super HEALTHY with many benefits to our health.
To make this smoothie I used all the HEALTHY nutritious real food. The best thing about this Chocolate Peanut Butter Smoothie is that it's packed with proteins. And by packed I mean LOADED. It has 25g of protein in just one serving. That's like 50% of daily recommended intake. Whoaa right?!
To make it so rich in proteins I didn't have to use any store bought protein powders. No way!!! I used natural protein-rich foods – soy milk, peanut butter, and seeds – hemp seeds and flax seeds.
As a base, I used unsweetened organic soy milk. This plant-based milk alternative is an excellent source of PROTEIN, dietary fiber, and healthy fats. Plus it's loaded with many vitamins – like vitamin A, vitamin D, vitamin B-6 and B-12, and essential minerals – like potassium, calcium, iron, and magnesium. I use soy milk when I want to boost that protein intake in my meals.
Hemp seeds are loaded with amino acids, fatty acids, proteins, and many essential minerals. These tiny powerful seeds are also high in heart-healthy, anti-inflammatory omega-3 fats and antioxidants. Flax seeds are also powerful little seeds loaded with plant-based proteins, omega-3 fats, and many essential minerals but also an excellent source of fibers important for digestion and healthy gut. Yippy!
This delightful Chocolate Peanut Butter Smoothie is completely added sugar-free. The natural sweetness comes from ripe banana, which I use in may of my sugar-free drinks and smoothies. In this smoothie I used a FROZEN banana which gave nice creamy thick texture. You can almost eat this smoothie with the spoon.
Smoothie is not only low-carb but also loaded with another powerful SUPERFOOD – raw cacao powder.
Raw, powdered cacao is full of flavonoids, which act as natural antioxidants. Antioxidants protect the body from aging and disease caused by free radicals. Cacao has the highest antioxidant value of all the natural foods in the world. Also, cacao is the highest plant-based source of iron and magnesium – the most deficient mineral in the Western world. + It's a natural mood elevator and antidepressant. Whoaaa!!!! Now you know why I LOVE my raw cacao in everything.
Chocolate Peanut Butter Smoothie is:
Loaded with nutrients that promote good health.
Made with ALL NATURAL healthy ingredients.
Powered with SUPERFOODS – raw cacao powder, hemp seeds and flax seeds.
Completely ADDED SUGAR-FREE.
Full of wonderful chocolate flavor.
Packed with plant-based proteins, heart-healthy fats. and dietary fibers.
Rich in powerful antioxidants, vitamin C, potassium, calcium and iron.
Great post workout meal.
Vegan, gluten free, and beyond delicious!
This smoothie is beyond tasty. It's super nutritious and so filling. It will keep you full for a LONG time. Plus this Chocolate Peanut Butter Smoothie is super easy to make and pack to go. No matter how busy you are in the morning, now you have NO excuse to skip breakfast.
If you're a lover of creamy peanut butter chocolatey flavors then you MUST try this smoothie. My hubby is hooked. I think you will become a fan of this delightful drink too after just one sip.
Enjoy!
Chocolate Peanut Butter Smoothie
Chocolate Peanut Butter Smoothie is perfect nutritious breakfast. This creamy protein-packed smoothie is ADDED SUGAR-FREE, all natural and powered with superfoods. Absolutely delicious! Vegan, dairy-free, gluten-free.
Ingredients
1 1/2

cup

soy milk

organic unsweetened

1

ripe banana

sliced and frozen

1

tablespoon

creamy Peanut Butter

2

tablespoon

cacao powder

1

tablespoon

hemp seeds

1

tablespoon

flax seeds

ground

1

teaspoon

vanilla extract

Ice cubes

to taste

Cacao nibs and hemp seeds

for topping
Instructions
Put all ingredients into a blender and blend on high speed until smooth and desired consistency is reached.

If the smoothie is too thick, add a little more liquid - milk or ice cubes and blend again.
Nutrition Facts
Chocolate Peanut Butter Smoothie
Amount Per Serving
Calories 526
Calories from Fat 252
% Daily Value*
Fat 28g43%
Sodium 261mg11%
Potassium 1273mg36%
Carbohydrates 52g17%
Protein 25g50%
Vitamin A 1585IU32%
Vitamin C 36.5mg44%
Calcium 570mg57%
Iron 6.4mg36%
* Percent Daily Values are based on a 2000 calorie diet.
These are my picks for this recipe:
[amazon_link asins='B076CSHCTG,B079MJ1LL3,B06WRR6ZSJ,B00R6SL6D4′ template='MyPicks' store='natalieshealt-20′ marketplace='US' link_id='f352d1d4-8109-11e8-95ff-1701bb612ad6′]