Rich, chocolaty and scrumptious, these SUPERFOODS infused Raw Chocolate Peanut Butter Crunch Bars are one amazingly HEALTHY decadent snack. Every bite is loaded with nutrients and powerful antioxidants, as well with some incredible flavors. Refined sugar-free and bursting with the crispiness these bars are the perfect guilt-free chocolate pleasure.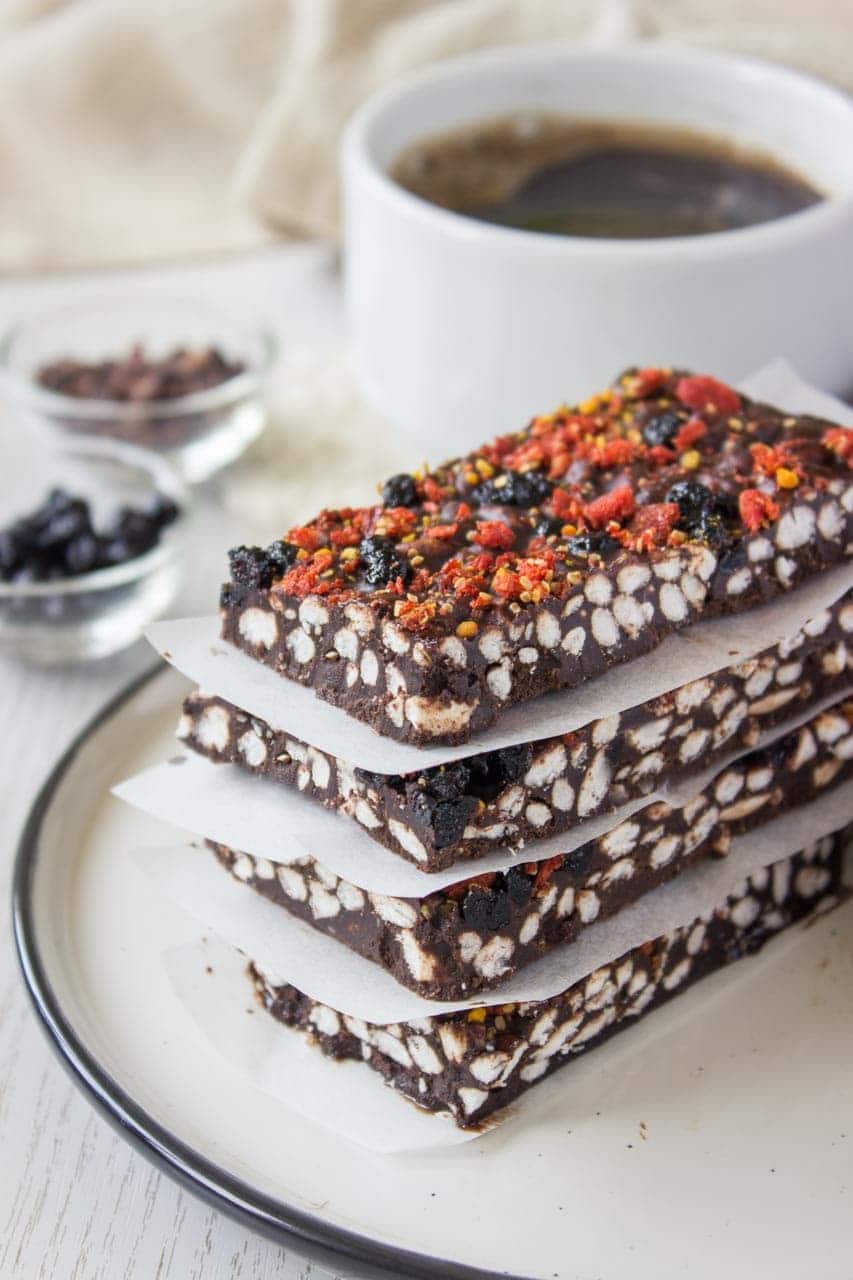 You know when someone says 'I'm addictive to chocolate' and you don't take that person even remotely serious. You're probably thinking - it's just the food, you know - everyone can give up on certain food for a certain period of time. Well, not me. I'm highly addictive to chocolate and trust me I'm super serious about that. Ther's no food on the planet that I can't give up - but chocolate - that's another story.
When I started my healthy journey - a weightloss journey - almost four years ago, I knew that my biggest challenge would be giving up on chocolate. Not the sweets in general, nor the chips, nor other unhealthy foods that I was binging on back then - but CHOCOLATE. Even before I started changing my whole diet, I already started looking for healthier alternatives and solutions for my chocolate addiction.
I found out that there's this amazing thing - raw cacao powder and that you can easily make homemade chocolate using this simple HEALTHY ingredient at home. It was A-HA moment for me, and when that was settled, I could start changing everything else.
Back then I felt bad for having one food imprisoned me in addiction. But what I learned later was that being addicted to chocolate is actually a GOOD THING. Yes! You've heard me right. Dark chocolate in its pure divine form - made from raw cacao powder - is loaded with so many healthy stuff and it benefits our health greatly.
Dark chocolate is an excellent mood booster - you've probably known that - but dark chocolate is also loaded with many antioxidants that heals our body and fight disease.
No wonder my favorite breakfast now is Chocolate Peanut Butter Chia Seed Pudding and Chocolate Peanut Butter Banana Roll-Ups. No wonder I'm completely addicted to this Chocolate Peanut Butter Crunch Bars as well.
To satisfy your chocolate sweet-tooth, store bought dark chocolate with 70% or more cacao content is an excellent choice. But I use (and recommend) only high-quality dark chocolates - the ones without refined sugar. These are hard to find in stores, and when you do find them, they are quite costly. That's why I like to make my dark chocolate at home.
Homemade raw dark chocolate is by far the best option to satisfy your chocolate cravings but also an excellent way to deliver all the beautiful healthful nutrients into your body. When you make things at home you can choose ingredients in unprocessed form - like organic raw cacao, pure maple syrup or honey, and extra virgin oils. It's also an opportunity to be creative and experiment with different flavor combos and additions.
These Chocolate Peanut Butter Crunch Bars are actually inspired by my childhood favorite chocolate rice krispies treats. But upgraded, so much healthier, and SO unbelievably delicious.
These Chocolate Peanut Butter Crunch Bars are packed with nutrients - heart-healthy anti-inflammatory fats, vitamins, and essential minerals. And by packed I mean PACKED. It's a satisfying energy blast that will boost not only your mood but also your immunity and health.
To make this chocolate bars I used raw cacao powder - a superfood. Did you know that raw organic cacao has over 40 times the antioxidants of blueberries? Yes, 40 times! Say hello to good immunity.
Cacao is also the highest plant-based source of iron, an essential mineral, and magnesium, the most deficient mineral in the Western world. Why I'm addicted to raw chocolate? Maybe because cacao is a source of four scientifically proven bliss chemicals - serotonin, tryptophan, tyrosine, and phenylethylamine. These compounds are associated with cozy feelings of well-being and happiness.
Raw chocolate is actually a natural, healthy, delicious + legal way to get your happy buzz on.
The big part of this Chocolate Peanut Butter Crunch Bars is fat content - from coconut oil and peanut butter. Coconut oil is a SUPERFOOD - containing saturated fat in the form of medium chain triglycerides (MCFAs), which are easily digested and sent right to the liver for energy production. Basically, when you have a bite of this delicious crunchy chocolate bar, it's like an instant energy boost. Coconut oil is also high in antioxidants, improves digestion, and supports healthy immune system. Yey to powerful coconut oil!
On another hand, peanut butter is chock-full of heart-healthy monounsaturated fat and many other nutrients - like antioxidant vitamin E, bone-building magnesium, muscle-friendly potassium, and immunity-boosting vitamin B6. Also, it's an excellent source of fiber and proteins that fills you up and keeps you feeling full longer.
I also used puffed rice, to add some crispiness. You can easily use puffed quinoa or amaranth instead.
These bars are so rich in dark chocolatey bittersweet flavor and beautifully scented with cinnamon and vanilla.
To make these bars even more interesting, I garnished it with more superfoods - Goji berries, bee pollen and dried blueberries. Sour berries balanced nicely bittersweet raw chocolate. It's the pure pleasure to snack on these.
Chocolate Peanut Butter Crunch Bars are…
made with all natural, WHOLESOME ingredients
full of heart-healthy, anti-inflammatory fats,
one bowl wonder, quick and easy to make,
sweet but REFINED sugar-free,
low-calorie and packed with antioxidans,
enriched with powerful superfoods – Goji berries, bee pollen, dried blueberries,
flavored with superspice - Ceylon cinnamon, 
great for balancing hormones, uplifting mood and boosting immunity,
vegan, dairy-free, and gluten-free,
decadent and incredibly delicious.
What I love the most about these Peanut Butter Crunch Bars is that they are sooo easy to make. It's a one-bowl snack that delivers so much wholesomeness and crunchiness. It may look complicated, but trust me, it's no biggy to make these at all. And once you make your first bunch, you'll never go back to store bought stuff trust me.
I know that true chocolate lovers will enjoy this Peanut Butter Crunch Bars and its flavor combo. And those who are new in the raw chocolate making - be prepared to get highly addicted to this deliciousness.
Enjoy!
Recipe
Chocolate Peanut Butter Crunch Bars
Superfoods infused Raw Chocolate Peanut Butter Crunch Bars are amazingly HEALTHY snack. These bars are loaded with nutrients and powerful antioxidants, as well with some incredible flavors. Bursting with crispiness these are the perfect guilt-free chocolate pleasure. Refined sugar-free. Vegan. Gluten-free.
Instructions
Line an 8 x 8-inch deep baking tray with parchment paper and set aside.

In a large bowl mix together with whisk melted coconut oil, raw cacao, syrup, peanut butter, cinnamon, and vanilla. Whisk until completely incorporated.

Add rice cereal to a bowl and mix until combined.

Pour into the lined baking tray and refrigerate until firm (at least 30 minutes). Remove and cut into bars.
Notes
eep bars refrigerated in an airtight container.
Nutrition
Serving:
1
bar
|
Calories:
134
kcal
|
Carbohydrates:
10
g
|
Protein:
1
g
|
Fat:
10
g
|
Saturated Fat:
8
g
|
Sodium:
18
mg
|
Potassium:
93
mg
|
Fiber:
1
g
|
Sugar:
5
g
|
Vitamin C:
0.5
mg
|
Calcium:
16
mg
|
Iron:
0.6
mg
Tried this recipe?
Don't forget to rate it and leave the comment. I would love to hear what you think.
Disclaimer
The nutritional information provided is approximate and is calculated using online tools. Information can vary depending on various factors, but I have endeavored to be as accurate as possible.
These are my recommendation for this recipe:
[amazon_link asins='B07328J6QJ,B07235CV4C,B071Z925LH,B01HTYH8YA' template='MyPicks' store='natalieshealt-20' marketplace='US' link_id='46189b2e-4a1b-11e8-904f-ed9c3db177d1']