Packed with powerful superfoods, these Turmeric Maca Powder Cacao Energy Balls are simple yet so delicious snack that is both satisfying and good for your health. Nutty and sweet, these little power balls are the perfect energizing, good mood snack.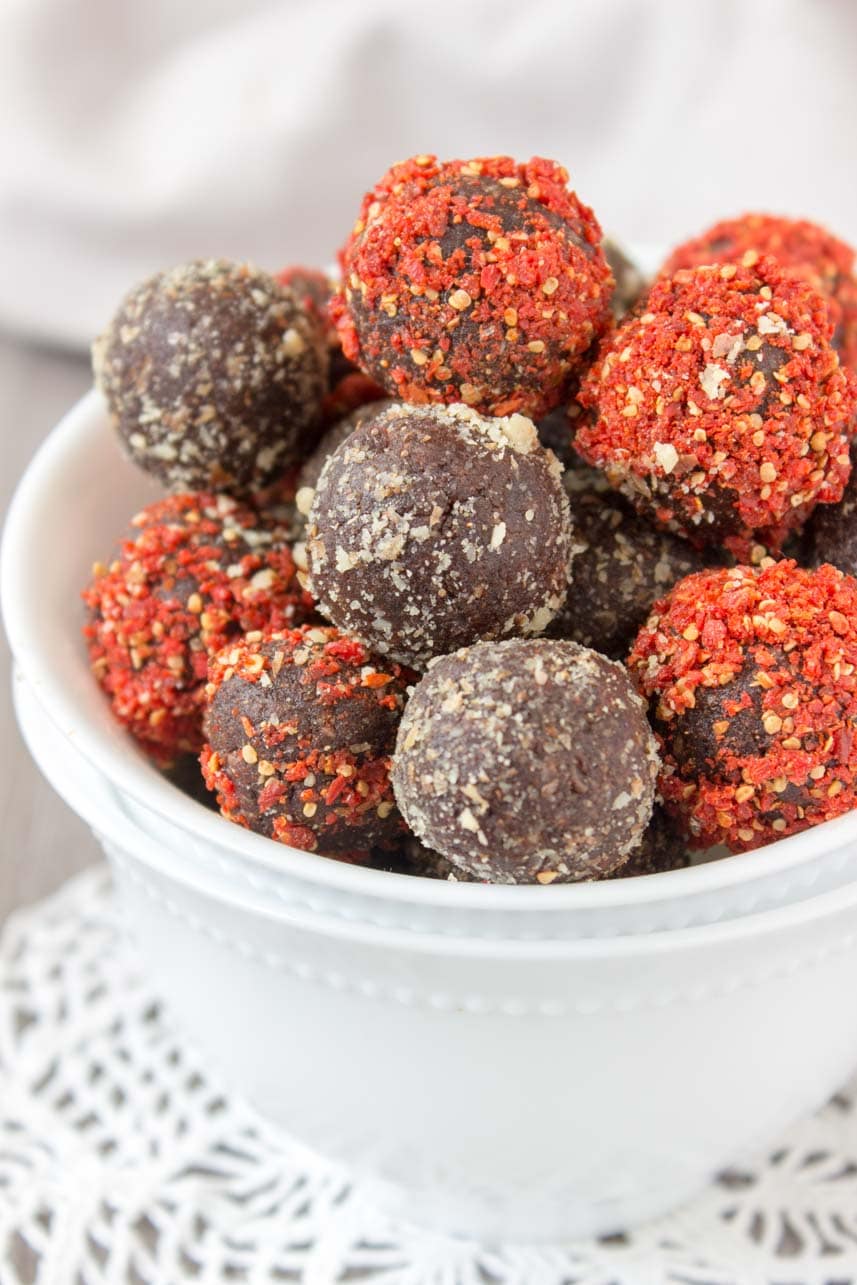 By now you probably figured out that I'm pretty obsessed with super spice TURMERIC. I use it whenever and wherever I can. In smoothies, like Orange Persimmon Smoothie, and in soups, like Carrot Ginger Soup or Tomato Apple Soup.
Oh, I looove turmeric infused soups. And you can guess what my fav snack is... Lemon Turmeric Energy Balls. Ok, ok... I love chocolate ones too. Do I need to explain why?! (hint: chocolate!)
Lately, I can add another one superpowered food to my obsession list. It's MACA POWDER. And oh boy how I'm hooked on maca powder. Like unbelievably!
I discovered maca root powder like only three months ago. Yeah, yeah, I know. I didn't realize that something so powerful even exists a few months ago. How didn't I discovered it before? Well, my only explanation is... I'm a lazy learner.
And WHO KNEW that darn thing is soooo delicious. I mean, look at it, its pale beige color. Let's be honest here - it's not a much attractive. Unlike bright yellow turmeric. Am I right?! Someone actually has to convince you to try it.
Well, I've tried it ... finally, after standing there on my kitchen shelf for a month... and I fell immediately in love. It has a taste almost like caramel with a dash of vanilla and ginger.
Also, it has a deep earthy, root-like, flavor that is truly intriguing. And later I found out it pairs beautifully with my favorite turmeric. Bingo!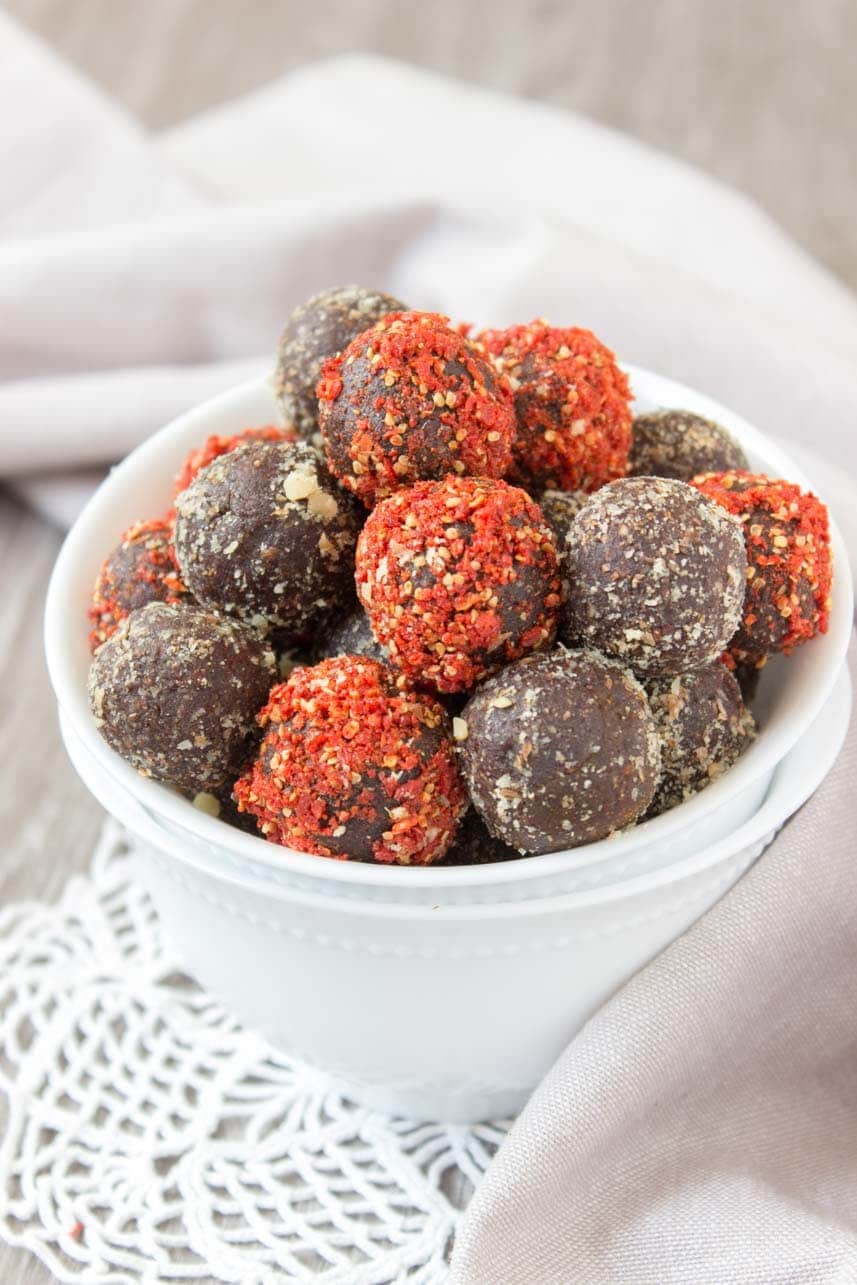 There's no doubt that maca is super powerful. It is an ancient Peruvian root, and it's loaded with nutrients - vitamins, minerals, enzymes, amino acids (like 20 different kinds — that's just about all of them!), and antioxidants. It's great for balancing hormones, physical and mental energy as well as for overall health and immunity.
I will tell you only this... I use it for a month now, almost every day and I FEEL how it affects my energy levels. I feel so much more energized. I can't wait to see how it will effect my PMS thou. If it succeeds to balance my hormones, I'll get a yearly supply of maca powder from my hubby for sure.
Since I fell in love with maca, every day I'm discovering new ways to use it. And since I loveee raw no-bake guilt-free treats, making these Turmeric Maca Powder Cacao Energy Balls was only natural thing to do.
Turmeric Maca Powder Cacao Energy Balls are a nutrient-dense blend of nuts, dried fruit, as well as four natures greatest most powerful superfoods - Maca powder, raw cacao powder, turmeric and Ceylon cinnamon. Maca is protein dense and has a wonderful caramel, vanilla flavor.
Combined with antioxidants loaded cacao (raw chocolate) makes a super delicious and energizing snack. Turmeric paired beautifully with maca powder deepening its rooty flavor while cinnamon gave the perfect scent.
I rolled balls in crushed goji berries for the extra immunity boost, but you can basically roll these cuties in anything you like - ground nuts or chia seeds - for the extra protein boost.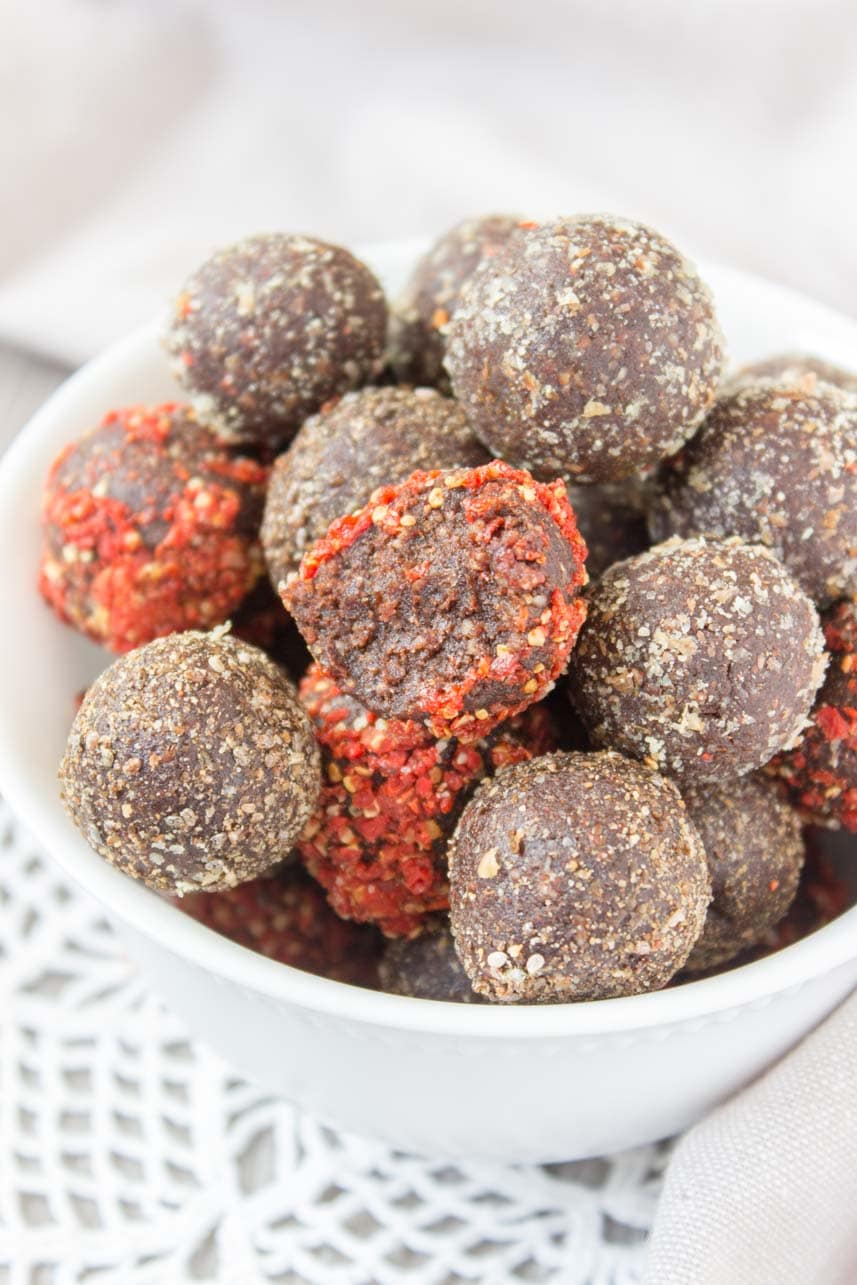 These amazing little energy bomblets are truly one scrumptious treat. Plus they're amazingly easy to make.
You simply need to give Turmeric Maca Powder Cacao Energy Balls a try. I just know you'll get hooked on its amazing taste and its soft highly addictive texture.
Balls are naturally sweetened with dates and super low-calorie so feel free to indulge yourself with more than one.
Enjoy!
Recipe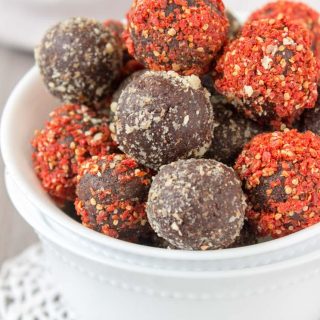 Turmeric Maca Powder Cacao Energy Balls
Turmeric Maca Powder Cacao Energy Balls packed with nutrients, healthy fats and antioxidants. Nutty and deliciously sweet, these power balls are perfect good mood snack. These are vegan, gluten-free, added sugar-free.
Instructions
Remove the pits from dates and soak them in hot water for several minutes. When the dates are softened, drain them and place in food processor. Save the water.

Add the other ingredients to a food processor and process until mixture begins to thicken and stick together.

Check texture by pinching a bit between your fingers. It should be sticky and able to keep its shape. If the mixture is too dry, add 1 Tablespoon more water in which you have soaked the dates.

With the teaspoon scoop the mixture and roll into small balls. Roll individual balls in crushed goji berries or ground almonds to coat.
Notes
Store in an airtight container in the refrigerator until serving. Keep the energy balls frozen up to 3 months in the freezer. As a measure, I used US cup (240ml).
Nutrition
Serving:
1
ball
|
Calories:
78
kcal
|
Carbohydrates:
12
g
|
Protein:
1
g
|
Fat:
3
g
|
Potassium:
159
mg
|
Fiber:
2
g
|
Sugar:
9
g
|
Vitamin A:
20
IU
|
Vitamin C:
0.4
mg
|
Calcium:
27
mg
|
Iron:
0.6
mg
Tried this recipe?
Don't forget to rate it and leave the comment. I would love to hear what you think.
Disclaimer
The nutritional information provided is approximate and is calculated using online tools. Information can vary depending on various factors, but I have endeavored to be as accurate as possible.
These are my recommendations for this recipe:
[amazon_link asins='B00W4AY9BA,B00KN6MLO4,B00LBZOYAK,B074XG89C4' template='MyPicks' store='natalieshealt-20' marketplace='US' link_id='0ccfbf11-f6e3-11e7-9f67-d12fe8d2d60e']