Smooth and incredibly creamy, this superfood Cacao Turmeric Maca Hot Chocolate is one delicious HEALTHY drink. It's packed with powerful antioxidants and immune-boosting ingredients, as well as luxurious dark chocolate flavor. Perfect energizing drink to start your morning!
Forget the store bought packaged hot chocolate mixes loaded with nothing but unhealthy added sugars and little to nothing true chocolate flavor. This right here - THIS is a real deal peeps. All natural, wholesome hot chocolate. A true deep dark chocolate flavor upgraded with some powerful superfoods and super spices that will make you feel good AND healthy.
I'm actually super excited to share this recipe with you. This Cacao Turmeric Maca Hot Chocolate is my favorite thing for a while now. Don't know why I didn't share recipe sooner. Oh, wait... I know. I was over excited when I discovered maca powder, so I shared first my favorite afternoon pick me up dessert - Maca Energy Balls followed by Peanut Butter Maca Overnight Oats, my favorite breakfast. I thought this hot chocolate was a just too plain recipe to share. But then I realize - I have to share it. It's heavenly delicious and so good for health. People need to know that!
This Cacao Turmeric Maca Hot Chocolate is made with all wholesome, natural ingredients - SUPERFOODS really. It's decadent but packed with nutrient-dense ingredients that are guaranteed to make you feel amazing all season long. It poses trues superpowers from incredible raw cacao powder and maca powder.
Cacao powder is one of the best sources of magnesium found in nature and thus great for our heart health. It's also packed with powerful antioxidants. The benefits of cacao are truly fantastic: it improves memory, reduces heart disease, boosts immunity, and create loads of energy.
Maca powder is rich in vitamins B, C and E. It also provides calcium, zinc, iron, magnesium, phosphorus, and essential amino acids. It has all types of health benefits such as increased stamina, energy, and bone health. It is usually used to fight stress, depression, and mood swings.
With cacao and maca together say hello to beautiful skin, well-balanced hormones and good mood.
This Cacao Turmeric Maca Hot Chocolate is more than just classic winter hot chocolate drink. It's a true treat really. It's deliciously sweet, creamy and silky smooth...  and full of incredible dark chocolate flavor. The dark chocolate flavor is uplifted with divinely scented Ceylon cinnamon and turmeric. The flavor of this hot chocolate is earthy and warming. There's also a hint of peppery heat. It's a symphony of deliciousness really.
If you're looking for the low-calorie, perfect afternoon pick me up drink - here it is. It's absolutely fantastic mood uplifter and energy booster, that won't hurt your weight loss goals nor your New Year's better eating resolutions.
Here's why I love Cacao Turmeric Maca Hot Chocolate deliciousness...
It's loaded with nutrients that promote good health.
It's made with all natural REAL ingredients.
It's refined sugar-free, dairy free, vegan and gluten-free.
It's enriched with superspices - Ceylon cinnamon and turmeric.
It's packed full of immune-boosting antioxidants.
It helps with balancing hormones naturally, boost energy levels and uplifts mood.
It's low-calorie drink, 100% weight loss friendly.
This hot chocolate is full of healthy and energizing ingredients, and you can make it in minutes. Super easy and HOMEMADE - that's the best part! A perfect drink to start your morning.
Enjoy!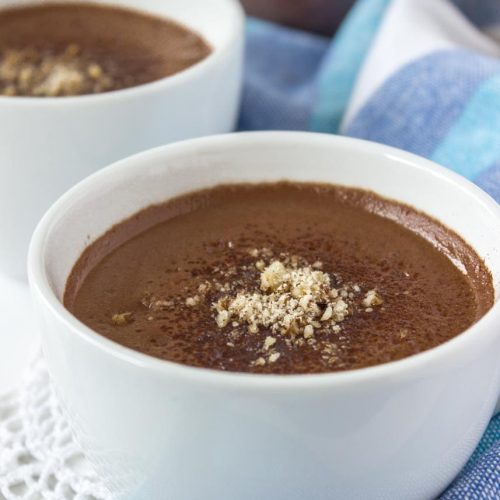 Print
Cacao Turmeric Maca Hot Chocolate
Easy homemade superfood Cacao Turmeric Maca Hot Chocolate is one delicious HEALTHY drink. It's sweet, creamy and so incredibly good. Wholesome. Refined sugar-free. Weight loss friendly. Perfect energizing drink to start your morning!
Instructions
In a small saucepan, whisk coconut oil with milk over medium heat until boiling.

Add all ingredients to blender. Blend well. Taste and adjust the sweetness if desired.

Top it with raw cacao and ground hazelnuts (optional).
Notes
As a measure I used UScup (240ml). 
Nutrition
Serving:
1
cup
|
Calories:
80
kcal
|
Carbohydrates:
10
g
|
Protein:
1
g
|
Fat:
3
g
|
Saturated Fat:
1
g
|
Sodium:
164
mg
|
Potassium:
100
mg
|
Fiber:
1
g
|
Sugar:
6
g
|
Vitamin C:
0.6
mg
|
Calcium:
171
mg
|
Iron:
0.7
mg
These are my recommendation for this recipe:
[amazon_link asins='B00GG0SMLM,B00KN6MLO4,B00F7SU64K' template='MyPicks' store='natalieshealt-20' marketplace='US' link_id='7e889348-027c-11e8-be64-8f7a7746fb0c']