Dense, chewy and flavorful, Matcha Chocolate Chip Cookies are the perfect guilt-free treat. These matcha cookies are loaded with SUPERFOODS, nutritious and made without refined sugars - so HEALTHY! Have one or two for breakfast, as a snack or as an indulgent afternoon treat with your coffee or tea.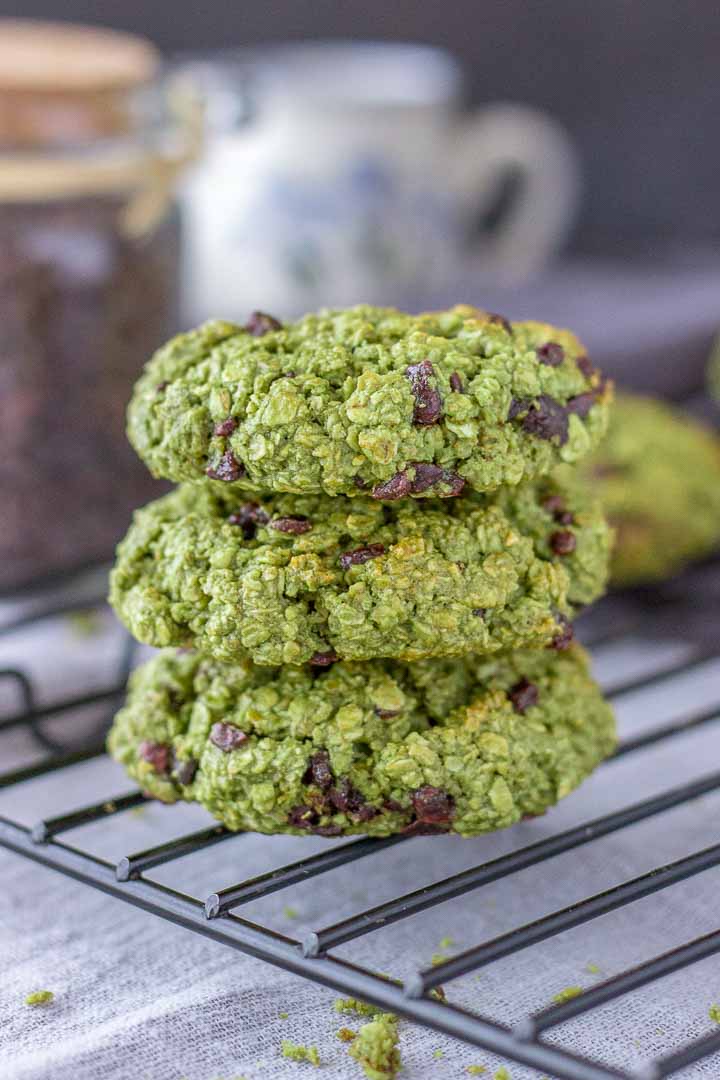 Yes, yes... your eyes don't trick you. These cookies are GREEN. Green as fresh green grass and baby tree leaves. Green as beautiful nature that just started to wake up because of the spring.
But I haven't made these cookies look green just because of the upcoming spring, nor St.Patrics Day that is next week... although you can totally serve them as a party treat. I did it because I love MATCHA. And I love chocolate. And above all, I love nibbling healthy cookies!
These healthy Matcha Green Tea Cookies are beautifully flavored, loaded with SUPERFOODS and so delicious - chewy, mildly sweet and so incredible. Perfect as breakfast on to go, or afternoon snack with a cup of coffee or tea. + There's a tiny bits of dark chocolate in every single bite which is like soooo yummy! + These matcha cookies are totally GUILT-FREE, made without refined sugars with only good-for-you stuff.
What's not to love about these cookies. Hmm, I wonder?
I'm a HUGE fan of matcha. But you already know that. Matcha Latte is definitely my favorite wake-me-up super-drink. And now with upcoming warmer days, Iced Coconut Matcha will take its place. Siping this green wonder is actually part of my daily routine.
Also, it's no secret I absolutely LOVEEE oatmeal cookies. They are my favorite quick guilt-free snack. It's forbidden to have an empty cookie jar in my house. Period. So I consider oatmeal cookies part of my daily routine too.
Carrot Cake Oatmeal Cookies or Apple Cinnamon Oatmeal Cookies ... actually, ALL are sooo good! Can't pick one as a favorite. Well, the great thing about these oatmeal cookies is that they are like ultimate HEALTHY SNACK. + You can always play with different flavors and combos, depending on the season or mood.
So just the other day it struck me... I love matcha and I love oatmeal cookies, how come I never baked matcha cookies?! I had to fix that slackness quickly! And thus how these incredible Matcha Chocolate Chip Cookies came to life.
What you need to make Matcha Chocolate Chip Cookies
To make these lovely Matcha Chocolate Chip Cookies you will need a few super simple ingredients, and if you don't have those ingredients in your home already get them NOW. Seriously! Those ingredients promote good health and should be stapled in your clean eating healthy kitchen.
As a base I used oats. Heart-healthy, nutrient-packed super healthy OATS. Oats are whole grain cereal, a complex carbohydrate, meaning full of fibers that are good for our digestion. + Fiber-rich foods keep us full longer which helps with weight loss. Also, oats have twice the protein as brown rice. Imagine that?! They are also packed with essential minerals like iron, zinc, magnesium, and selenium. Oh, those mighty oats!!! Gotta love them!
It's best to use old-fashioned oats here. They will give you a chewier texture. But you can use quick oats if you like. In that case, cookies will be slightly less chewy, with a more firmer consistency, but still the same beautiful oaty flavored and HEALTHY.
The star of the show is, of course, matcha. Flavorus, colorful, with so many health benefits. A SUPERFOOD in true meaning. Matcha contains a unique, potent class of antioxidant known as catechins, which aren't found in any other foods. Also, matcha helps increase metabolism and fat burning, both of which aid weight loss. As I said, I'm a HUGE fan of matcha and I don't use it just in my drinks and smoothies but in baking too.
Matcha gave the cookies a distinctive green color but also beautiful mild sweet flavor. Paired with almond extract and nutty flavored oats, these matcha cookies turned out unbelievably tasty.
To make these Matcha Chocolate Chip Cookies even more delightful, I tossed in some chocolate - cacao nibs to be more precise. Cacao nibs are also a very potent antioxidant-rich superfood and definitely something worth incorporating in your healthy diet.
I only recently discovered this Yacon sweetened cacao nibs and I can only say I'm hooked. They possess all the health benefits of cacao nibs and flavor of dark chocolate but they are not so bitter as regular cacao nibs, but coated in sweetness. They are the perfect replacement for regular dark chocolate chips in making energy balls like ----- and baking.
How to make healthy matcha cookies
Well, the process of making Matcha Chocolate Chip Cookies is quite simple. No brainer really. You can definitely do this in one bowl but I like to use two bowls to mix dry and wet ingredients separately.
First mix the dry ingredients. Then in another bowl mix the wet ones - melted and cooled to room temperature coconut oil and maple syrup first. Don't use a mixer here - use a whisk and mix it slowly until you get evenly thick mass. Add the egg and mix until the mass become nicely thick and sticky.
Then all you have to do is add dry ingredients and fold in cacao nibs. Use the spatula here to mix everything up. Bake the cookies for 12 minutes, and watch carefully not to overbake them. If you overbake them they will become crumbly and hard. And they actually have to be soft and chewy.
If you're a fan of pure matcha taste and fan of dark chocolate then these matcha cookies may be your next favorite treat. Matcha Chocolate Chip Cookies are super easy to make, incredibly tasty, chewy and full of flavor.
These green beauties are 100% healthy, made with ALL NATURAL good-for-your-health stuff loaded with nutrients and SUPERFOODS which makes them PERFECT breakfast on to go or healthy snack. And if you even think about feeling guilty after having a one too many, just STOP! These matcha cookies are guilt-free, made without refined sugars. A win!
There's nothing left for me to say rather than: GO and fill your cookie jars with these delightful little loveliness and enjoy!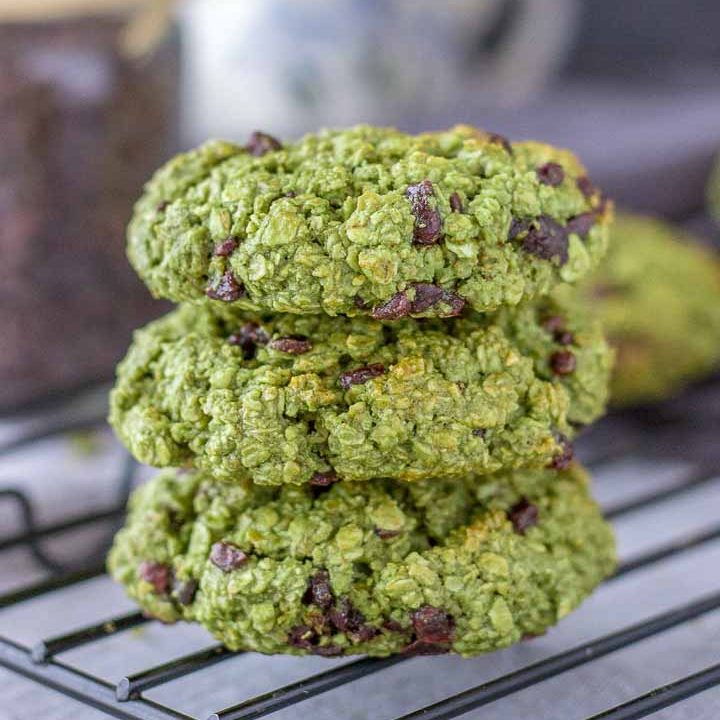 Matcha Chocolate Chip Cookies
Chewy and flavorful, Matcha Chocolate Chip Cookies are the perfect guilt-free treat. These matcha cookies are loaded with SUPERFOODS and made without refined sugars. So HEALTHY!
Instructions
Preheat oven to 356F (180C). Line a large baking sheet with parchment paper.

In one bowl, mix the dry ingredients - flour, oats, baking powder, matcha and salt. Mix all together until combined.

In a separate bowl whisk together coconut oil, almond extract, and maple syrup until well combined.

Add egg and whisk until you get the smooth texture.

Add the dry ingredients to the wet mixture and mix. Finally, stir in cacao nibs. Mix gently with a spatula. Let the mixture sit for a few minutes.

With a scoop or spoon, scoop the dough, and place it on the baking sheet. Arrange the cookies 2-inches apart. Slightly flatten the dough with the spoon.

Bake 12-15 minutes until the edges of the cookies begin to brown. Don't overbake them.

Remove cookies from the oven, and let them cool for few minutes on a baking sheet. Then transfer cookies to a wire rack to cool completely.
Notes
s a measure, I used UScup (240ml). Keep in a cookie jar or airtight container up to 2 weeks. Freeze for up to 3 months.
Nutrition
Serving:
1
cookie
|
Calories:
142
kcal
|
Carbohydrates:
21
g
|
Protein:
3
g
|
Fat:
4
g
|
Saturated Fat:
3
g
|
Cholesterol:
13
mg
|
Sodium:
55
mg
|
Potassium:
132
mg
|
Fiber:
2
g
|
Sugar:
8
g
|
Vitamin A:
55
IU
|
Calcium:
39
mg
|
Iron:
0.9
mg
Tried this recipe?
Pease take a moment and leave a comment letting me know how you liked it. I love hearing from you!
Disclaimer
The nutritional information provided is approximate and is calculated using online tools. Information can vary depending on various factors, but I have endeavored to be as accurate as possible.
Check these oatmeal cookies recipes too: