Chewy Peanut Butter Oatmeal Cookies are perfect HEALTHY treat to enjoy. These cookies are loaded with nutty peanut butter flavor and dark chocolate chunks. Easy to make, refined sugar-free and ALL NATURAL, these cookies make a perfect kids snack.
With the school year starting in just a few weeks - yeah yeah, I know... what a scary thought - I started planing stuff I need to do before the first day of school. I'm having mild panic attacks over all the things I need to buy and get, like clothes, new shoes, books and of course the NEW Minecraft school bag. God forbids to forget THE bag. Besides being completely crazy with brainstorming and pleasing little mister wishes in all that process, I also started thinking about school snacks and lunchbox meals.
My kiddos favorites school snacks last year was Chocolate Peanut Butter Oatmeal Bars and Chocolate Peanut Butter Roll-Ups. But since I AM a food blogger (and "the best cook in the whole wide world" - his words... aww I know!) I had to be innovative and think of new HEALTHY snacks for the upcoming new school year. Anything to make my boy happy. He really deserves it. He's a such a good boy.
Since we all love oatmeal cookies - Chocolate Oatmeal Cookies are basically the staple in our cookie jar - and we all LOVE peanut butter, last week I decided to test new oatmeal cookie recipe. I decided to make oatmeal cookies with two of our favorite things - peanut butter and chocolate.
Believe me, turning on the oven even thou is like super hot outside was completely worth it. Later that evening we all enjoyed these amazingly soft and chewy Peanut Butter Oatmeal Cookies filled with crunchy peanuts and dark chocolate chunks that melt in our month.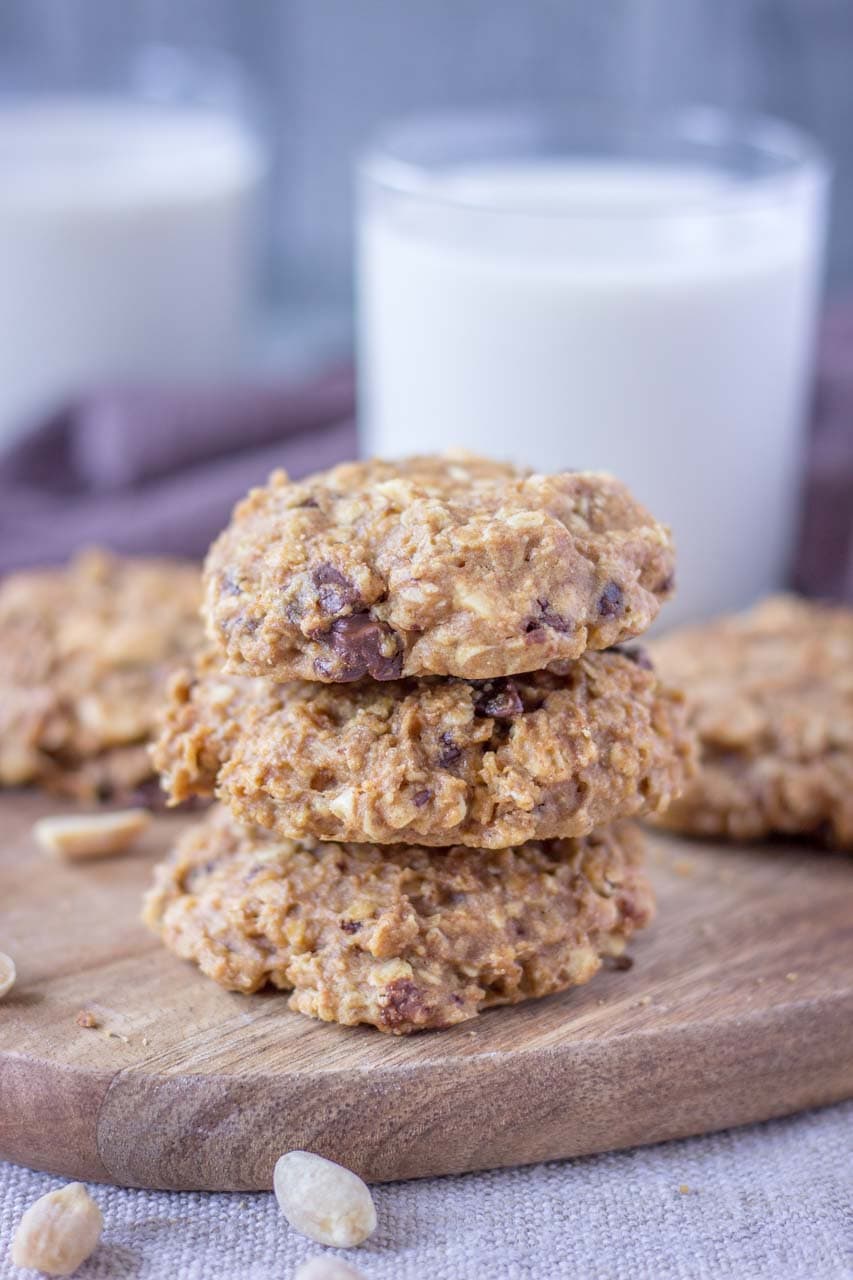 Peanut Butter Oatmeal Cookies are super easy to make, and you only need a few simple ingredients you probably have at home to mix these beauties up. To make them I used all HEALTHY goodies – oats and natural peanut butter. Dah. Like that's not obvious from the recipe title. But let me just praise a little how these goodies promote our health.
If you haven't incorporated oats in your diet, then you definitely should. Oats are among the healthiest grains on the planet. Oats and oatmeal have many health benefits. They promote weight loss, lower blood sugar levels and reduce the risk of heart disease. Yup, oats keep our heart healthy. That's why I love them the most.
Oats are especially high in the soluble fiber called beta-glucan, which has numerous benefits. It helps reduce cholesterol and blood sugar levels, promotes healthy gut bacteria and increases feelings of fullness. But oats are also a good source of plant-based proteins. They are also loaded with many powerful antioxidants, vitamins and essential minerals - like manganese, magnesium, iron and vitamin B1.
I use oats a lot in my cooking and baking, but also I use oats to make no-bake Peanut Butter Energy Balls and my fav breakfast - Peanut Butter Overnight Oats. I also throw a handful of oats in smoothies too. They are so versatile. + Satisfying and full of good-for-you nutrients.
Oats made the cookies so soft and chewable, while natural smooth peanut butter gave that distinct nutty flavor. But what really made these cookies taste so SPECIAL are toasted roughly chopped peanuts and chunks of bitter-sweet dark chocolate right inside the cookie dough. Crunchy peanuts and chocolate added a pleasant surprise into every bite.
I tell you, it's best to skip the packaged cookies and snacks this school year. That store-bought stuff is loaded with processed sugars, unhealthy fats, and who-knows-what. While these delightful Peanut Butter Oatmeal Cookies are ALL NATURAL, refined sugar-free and just sooooo HEALTHY. Satisfying and full of nutrients. Not to mention super delicious!
Peanut Butter Oatmeal Cookies are:
Made with all natural, WHOLESOME ingredients.
Soft and chewy, full of beautiful peanut and chocolate flavor.
Easy to make in just 20 minutes.
Needs only a few simple ingredients.
Deliciously sweet but REFINED sugar-free.
Low-calorie and rich in nutrients – quality fibers, plant-based proteins, and minerals.
Packed with heart-healthy fats.
Perfect quick breakfast or kids school snack.
Delicious and highly addictive!
Peanut Butter Oatmeal Cookies are more than just a snack or a simple dessert really. Pair these cookies with a glass of milk (or cup off coffee) in the morning and there you have a nice nutritious breakfast.
These cookies are filled with dietary fibers, healthy energy-boosting fats, and proteins. Just what you need to boost you up in the morning. Not just your body but also the mood.
Enjoy!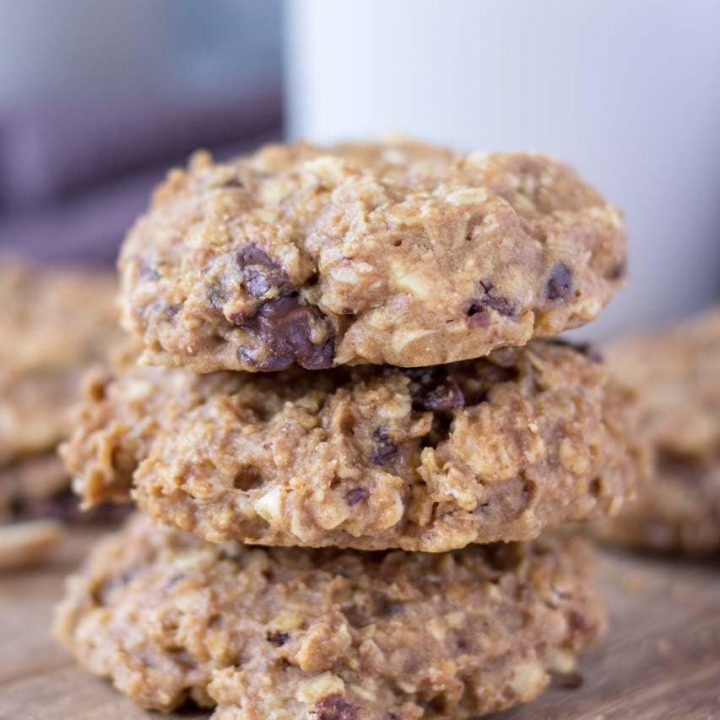 Peanut Butter Oatmeal Cookies
Chewy Peanut Butter Oatmeal Cookies are perfect HEALTHY treat to enjoy. These cookies are loaded with nutty peanut butter flavor and dark chocolate chunks. Easy to make, refined sugar-free and ALL NATURAL, these cookies make a perfect kids snack.
Instructions
Preheat oven to 356F (180C). Line a large baking sheet with parchment paper.

In one bowl, mix the dry ingredients - flour, oats, baking powder, and salt. Mix all together until combined.

In a separate bowl whisk the egg, peanut butter, vanilla, maple syrup and milk. Mix well with a whisk until well combined.

Add the dry ingredients to the wet mixture and mix. Finally, stir in the dark chocolate chunks or chocolate chips and chopped peanuts. Mix gently with a spoon. Let the mixture sit for a few minutes.

With a scoop or spoon, scoop the dough, and place it on the baking sheet. Arrange the cookies 2-inches apart. Slightly flatten the dough with the spoon.

Bake 12-15 minutes until the edges of the cookies begin to brown.

Remove cookies from the oven, and let them cool for few minutes on a baking sheet. Then transfer cookies to a wire rack to cool completely.

Keep in a cookie jar or airtight container.
Nutrition
Calories:
177
kcal
|
Carbohydrates:
21
g
|
Protein:
5
g
|
Fat:
8
g
|
Saturated Fat:
3
g
|
Cholesterol:
13
mg
|
Sodium:
93
mg
|
Potassium:
200
mg
|
Fiber:
2
g
|
Sugar:
7
g
|
Vitamin A:
20
IU
|
Calcium:
46
mg
|
Iron:
1.1
mg
Tried this recipe?
Don't forget to rate it and leave the comment. I would love to hear what you think.
Disclaimer
The nutritional information provided is approximate and is calculated using online tools. Information can vary depending on various factors, but I have endeavored to be as accurate as possible.
Check these peanut butter recipes too:
These are my picks for this recipe:
[amazon_link asins='B003W0UNM0,B00KIF5LLK,B071Z925LH,B00004OCIW,B01HTYH8YA,B07938YXML,B006HCWRLK' template='MyPicks' store='natalieshealt-20' marketplace='US' link_id='309ddc9b-9cac-11e8-ae83-4de133be3dbc']