Nutty, sweet and full of ginger flavor, these Carrot Cake Oatmeal Cookies are perfect HEALTHY cookies your family will adore.  These cookies are whole grain, refined sugar-free, low-calorie and super easy to make. Perfect on-the-go breakfast or quick snack. Healthy cookies for kids all ages.
The weather is beautiful here in Croatia. Last few days we have lots of sun and temperatures are above 20C (around 70F). Spring has arrived, that's for sure…. The days have become longer. Everything is green and in bloom. Just lovely.
Don't you just loveeee farmer's market at this time of year? It's full of green veggies and colorful fruits. It looks so vibrant. And now you probably ask yourself, why did I decide to make these cookies instead of some veggie stew or some spring salad?! …. Okay, okay … I'll share some spring stew recipe soon, I promise… BUT first… THESE cookies. WHY? Because we all LOVE cookies … + These oatmeal cookies are made with super healthy CARROTS that are totally in the season now.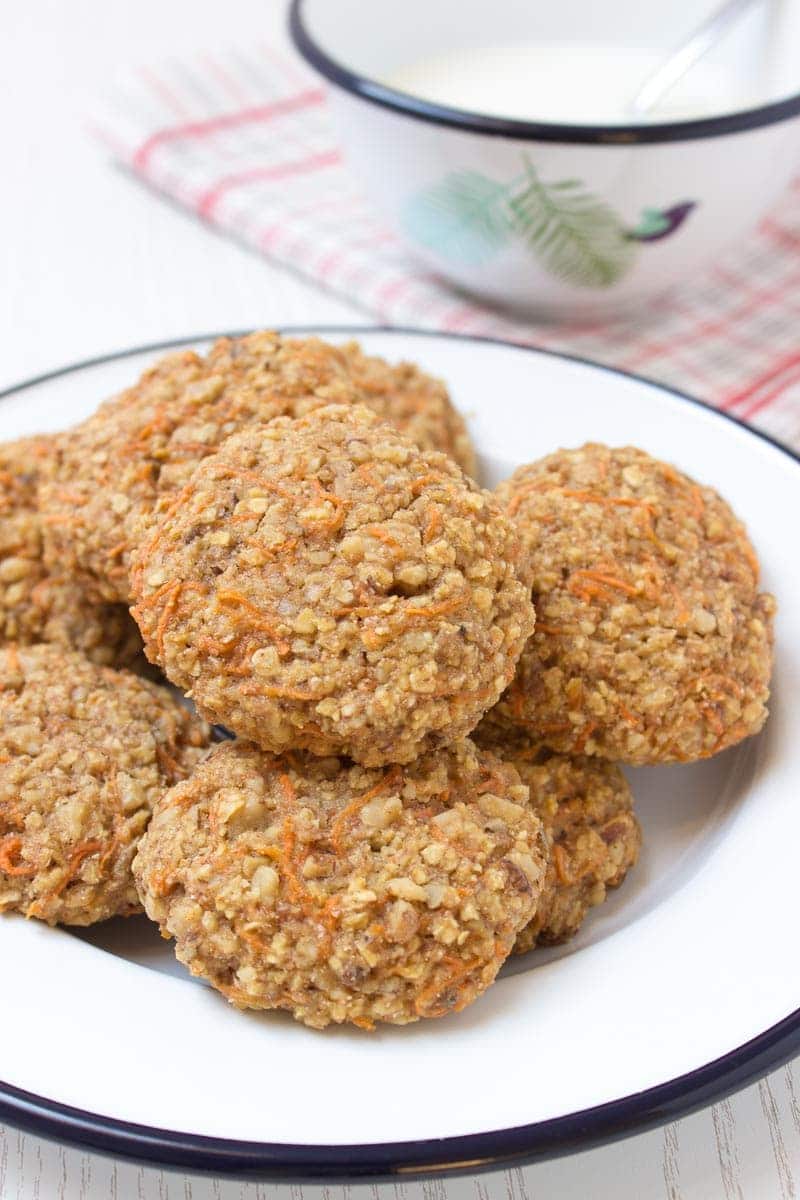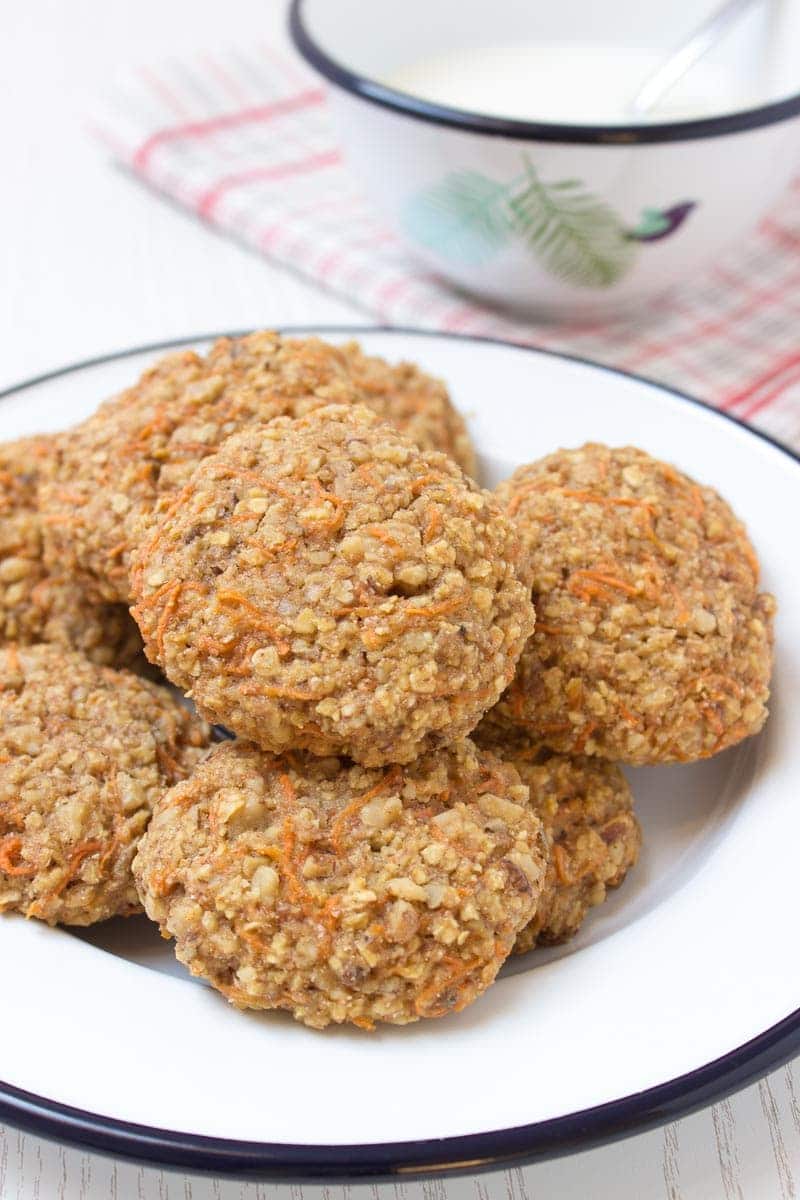 If you liked my Apple Cinnamon Oatmeal Cookies, then you'll like these Carrot Cake Oatmeal Cookies too. These cookies are super easy to make, and you only need few simple ingredients which you've probably have in the house already.
To make these Carrot Cake Oatmeal Cookies I used whole grains – rolled oats full of healthy dietary fibers and proteins, and whole wheat flour. I also added some ground walnuts in the mixture. Walnuts enriched cookies with healthy omega-3 fatty acids, vitamins, and essential minerals.
Instead of butter, I used healthy coconut oil, and to sweet up cookies I used natural sweetener – honey. I spiced these Carrot Cake Oatmeal Cookies with beautiful fragrant vanilla and super healthy ginger. Yummy!
These cookies are PERFECT for busy families and for those who want to snack something healthy on-to-go during weekdays. Carrot Cake Oatmeal Cookies are very nutritious and can be served as breakfast. Or you can pack them into kids school lunch box… GREAT idea, right?
Carrot Cake Oatmeal Cookies are so irresistibly soft, fragrant and full of ginger flavor … true spring dessert. Cookies are sweet but in every bite hides bits of crunchy walnuts that gives that omnomnom feeling… They are perfect with afternoon tea or coffee, and I found out that these cookies are AMAZING dipped into milk. Ohhh YES my friends!
Btw, have you noticed this adorable bowl and plate on my photos?  This is enameled tableware from Emalco's NEW Spring Collection.
It's absolutely gorgeous. Isn't? Personally, I'm delighted with the design and the quality of the Emalco products, but also with all experience that comes with this product – the story and the tradition. Be sure to stop by in Emalco web-shop. Emalco is offering 5% DISCOUNT on the first purchase for those who sign up.
Ok, let me sum up why I LOVE these cookies so so much.
This Carrot Cake Oatmeal Cookies are …
made with all healthy ingredients,
soft and chewy, full of warm aromatic flavors,
easy to prepare and can be made in just 20 minutes,
needs only a few simple ingredients,
refined sugar-free,
low-calorie,
rich in nutrients – quality fibers, plant-based proteins, and essential minerals,
rich in healthy omega-3 fatty acids, antioxidants, and vitamin A,
enriched with healing super spice – ginger,
contains heart-friendly fats,
perfect quick breakfast or kids school snack.
Carrot Cake Oatmeal Cookies are soft and chewy on the inside, very thick and not crumbly at all. Even after few days stored in airtight container. That is of course if they last that long.
In my house, these cookies really don't last long. Even my husband, who isn't a fan of carrots like AT ALL, devours these cookies like some maniac. Actually, everyone loves these cookies… kids, family, friends, neighbors (ohhh… especially my recipe-testing neighbors)… I just yell "cookies" and watch how cookies are disappearing from a plate.
Hope you'll like these Carrot Cake Oatmeal Cookies. Make a bunch… and enjoy!
Carrot Cake Oatmeal Cookies
Sweet and full of ginger flavor, absolutely irresistible, Carrot Cake Oatmeal Cookies made with all HEALTHY ingredients are perfect spring dessert. These cookies are refined sugar-free, low-calorie and super easy to make.
Ingredients
1

cup

rolled oats

3/4

cup

whole wheat flour

1

teaspoon

baking powder

¼

teaspoon

Himalayan salt

½

cup

coarsely ground walnuts

1

egg

2

tablespoons

coconut oil

melted and cooled

1

teaspoon

vanilla extract

1/2

cup

honey or syrup

1

cup

finely grated fresh carrots

about 2 medium carrots

2

teaspoon

freshly grated ginger
Instructions
In a bowl, mix the dry ingredients - flour, oats, baking powder, salt, and walnuts.

In a separate bowl whisk the egg. Add coconut oil, vanilla, and honey. Mix well with a whisk until well combined.

Add the dry ingredients to the wet mixture and mix. Finally, stir in the grated carrots and ginger. Mix gently with a spoon. Cover the bowl with plastic wrap and place in the refrigerator for 30 minutes (not necessary).

Preheat oven to 356F (180C). Line a large baking sheet with parchment paper

With a cookie scoop or spoon, scoop the dough, then shape into slightly flattened balls. Arrange the cookies 2-inches apart on the prepared baking sheet.

Bake 12-15 minutes until the edges of the cookies begin to brown. Turn off the oven and let the cookies sit in the oven for another minute, then transfer to a wire rack to cool completely.
Recipe Notes
Keep in airtight container.
As a measure, I used US cup (240ml).
Nutrition Facts
Carrot Cake Oatmeal Cookies
Amount Per Serving (1 cookie)
Calories 173
Calories from Fat 63
% Daily Value*
Total Fat 7g 11%
Cholesterol 16mg 5%
Sodium 67mg 3%
Potassium 15mg 0%
Total Carbohydrates 27g 9%
Protein 5g 10%
* Percent Daily Values are based on a 2000 calorie diet.
Xoxo,
– Natalie

 ∗ PIN this for later! ∗
** This post is sponsored from Emalco Enamelware in exchange for mention on the blog. All words, thoughts, and opinions are my own. I only support products that I truly love.