Creamy and full of sweet Fall flavors, this Pumpkin Oatmeal Smoothie is just beyond words delicious. It's loaded with all the HEALTHY stuff, extra nutritious and completely added sugar-free. It's perfect well balanced breakfast best for busy mornings.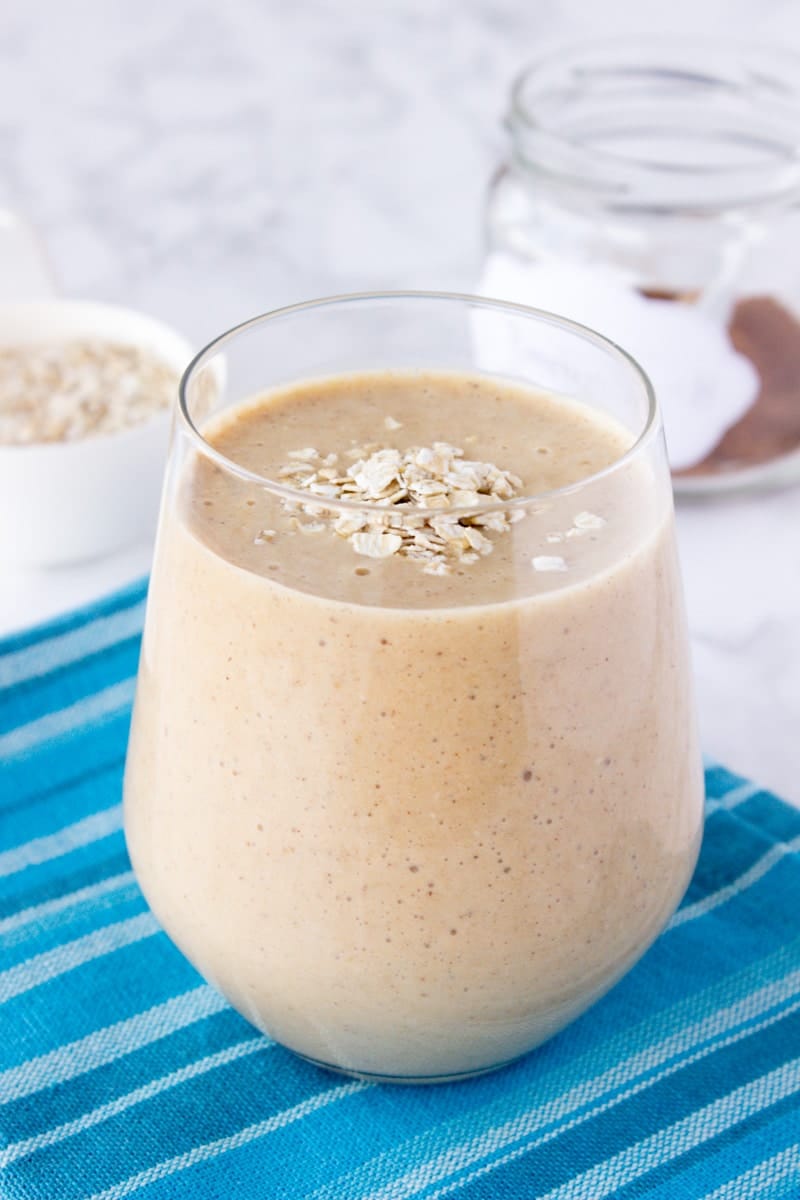 So it's official. I'm opening pumpkin season on my blog. Was about time, really. While other food bloggers are already kicking with pumpkin recipes on their blogs, I resisted for a long time the urge to start cooking with pumpkins. Cooking with pumpkins for me means definite goodbye summer. And I was not ready to let summer go. But then came the first morning fog in my neighborhood, and leafs started to fall like crazy. And suddenly out of nowhere the first pumpkin appeared in my kitchen. Puff, just like that! .... Wasn't magic. It was my mother-in-law.
Anyway, It was enough for me to make only one dish with pumpkin, and here I am, totally in the fall-ish mood. So today I share with you this super easy and super healthy pumpkin oatmeal smoothie recipe.
If you liked my Pumpkin Loaf Cake, then you will definitely love this smoothie. In fact, this smoothie is something like raw version of that pumpkin loaf cake, pumpkin pie and all pie-ish pumpkin recipes together.
For making this smoothie, I used unsweetened almond milk. Its creamy texture and wonderful nutty taste nicely blends with sweet pumpkin taste. I often use almond milk as a base for my smoothies.
Almond milk is a good source of plant-based proteins and fibers, but contains no cholesterol nor saturated fat and it's low in calories. Also, almond milk is an excellent source of calcium, iron and magnesium, and super healthy omega fatty acids.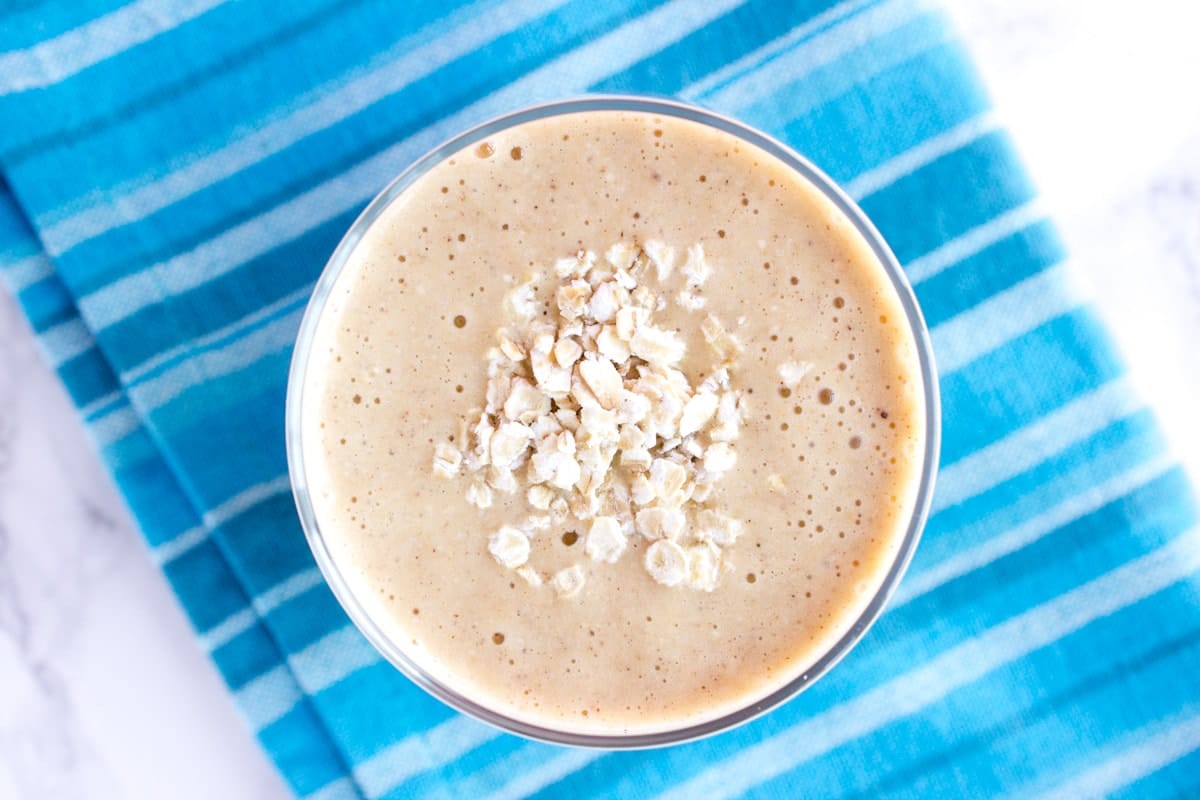 The real super star of this pumpkin oatmeal smoothie is pumpkin puree. Although you can buy canned pumpkin puree in stores, I highly suggest you avoid canned stuff and start making pumpkin puree at home. Homemade pumpkin puree contains no added sugars, additives or preservatives or other yucky stuff and it's super easy to make.
Pumpkin puree enriched this smoothie with nutrients - fibers and healthy antioxidant - beta-carotene. I upgraded this smoothie even more by adding an oats that is full of fibers, proteins, minerals, and vitamins. So this pumpkin oatmeal smoothie became a perfect nutritious and very healthy breakfast. Oh, and a bonus! This smoothie has no added sugars. I used a very ripe banana to naturally sweeten the smoothie. Perfect!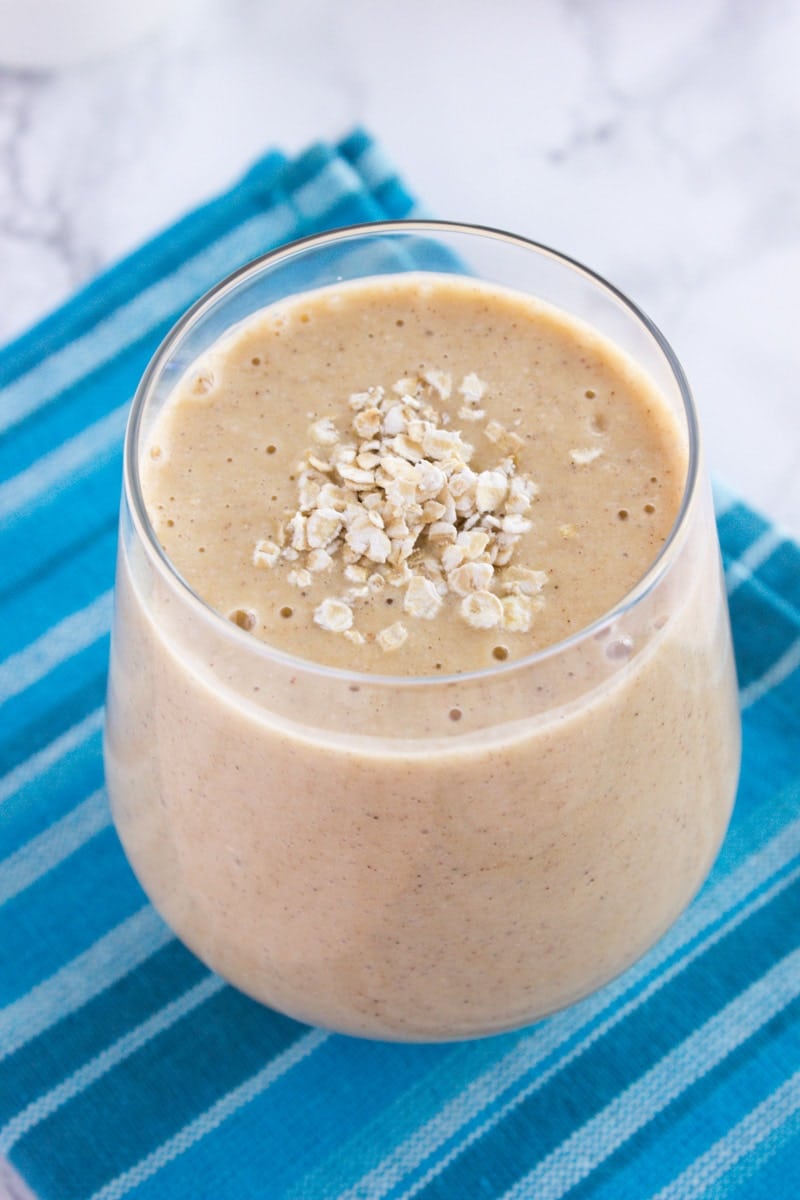 DIY PUMPKIN SPICE MIX
The thing that really elevates the whole smoothie at one unique level is pumpkin spice mix. It consists of warm autumn spices - ground Ceylon cinnamon, ginger, allspice, nutmeg and dash of cloves. Besides giving a pleasant aroma to pumpkin oatmeal smoothie, these spices also contribute to our health.
Ceylon cinnamon helps with inflammation and infection in our body, it also regulates blood sugar levels and reduces the amount of bad cholesterol. Ginger boosts metabolism and has a beneficial effect on our entire digestive system.
You can make pumpkin spice mix in advance and store it in a glass jar with a lid. That way you have this beautiful fragrant spices prepared and ready when needed.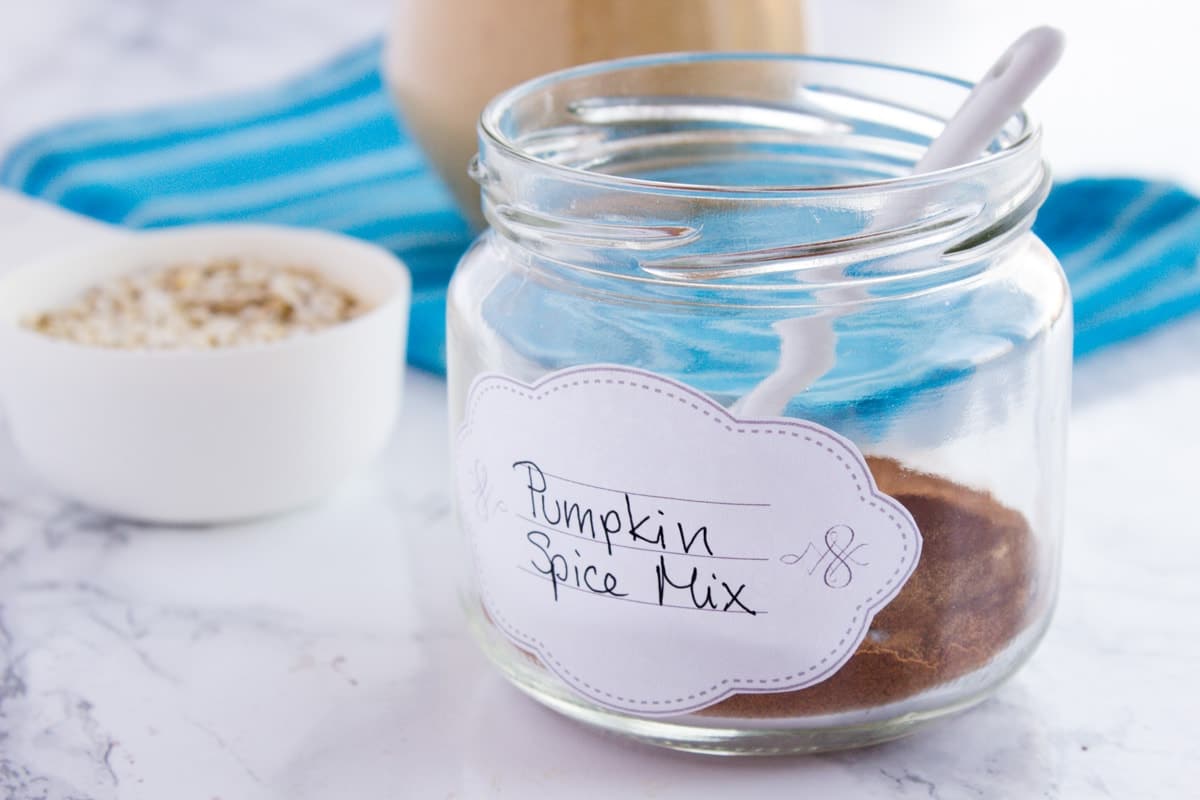 Hope you enjoy in this delicious, healthy pumpkin oatmeal smoothie.
Recipe
Pumpkin Oatmeal Smoothie
Creamy and super sweet, ADDED SUGAR-FREE, divinely fragrant and full of pumpkin flavor, this Pumpkin Oatmeal Smoothie is a true fall favorite. It's very nutritious, full of fibers and plant-based proteins. Perfect breakfast.
Ingredients
For pumpkin spice
6

teaspoon

Ceylon cinnamon

ground

1 ½

teaspoon

ginger powder

ground

1 ½

teaspoon

nutmeg

ground

1 ½

teaspoon

allspice

ground

¾

teaspoon

cloves

ground
Instructions
For smoothie
Put all the ingredients in the blender and mix until well combined. If necessary, add more milk to get a smoothie desired consistency. Add ICE to make it cold.
For pumpkin spice mix
Put all ingredients in a jar and mix well. Close the lid. Keep closed until needed.
Notes
As a measure I used UScup (240ml). Add honey or syrup, if desired and to taste. * For GLUTEN-FREE version use certified GF rolled oats.
Nutrition
Serving:
1
cup
|
Calories:
342
kcal
|
Carbohydrates:
67
g
|
Protein:
9
g
|
Fat:
5
g
|
Saturated Fat:
1
g
|
Polyunsaturated Fat:
1
g
|
Monounsaturated Fat:
2
g
|
Sodium:
166
mg
|
Potassium:
1021
mg
|
Fiber:
11
g
|
Sugar:
20
g
|
Vitamin A:
10600
IU
|
Vitamin C:
18.2
mg
|
Calcium:
500
mg
|
Iron:
5.4
mg
Tried this recipe?
Don't forget to rate it and leave the comment. I would love to hear what you think.
Disclaimer
The nutritional information provided is approximate and is calculated using online tools. Information can vary depending on various factors, but I have endeavored to be as accurate as possible.
Check out these pumpkin recipes too:
Pumpkin Oatmeal Cookies
Pumpkin Pie Energy Balls
Pumpkin Cheesecake Muffins
Pumpkin Roll Cake
These are my picks for this recipe:
[amazon_link asins='B076GX2XQM,B077QYNZRC,B079YWG291,B00R6SL6D4' template='MyPicks' store='natalieshealt-20' marketplace='US' link_id='61da7863-c7ac-11e8-a92a-85a6e4ab6f56']
Xoxo, Natalie
Let's connect! Find me on - Facebook | Instagram | Pinterest | Twitter