Soft, fragrant and deliciously sweet Pumpkin Pie Energy Balls are the perfect grab-and-go snack. These raw bites are loaded with beautiful Fall flavors and nutritious ingredients, yet made without any added sugars. The true guilt-free sweet treat.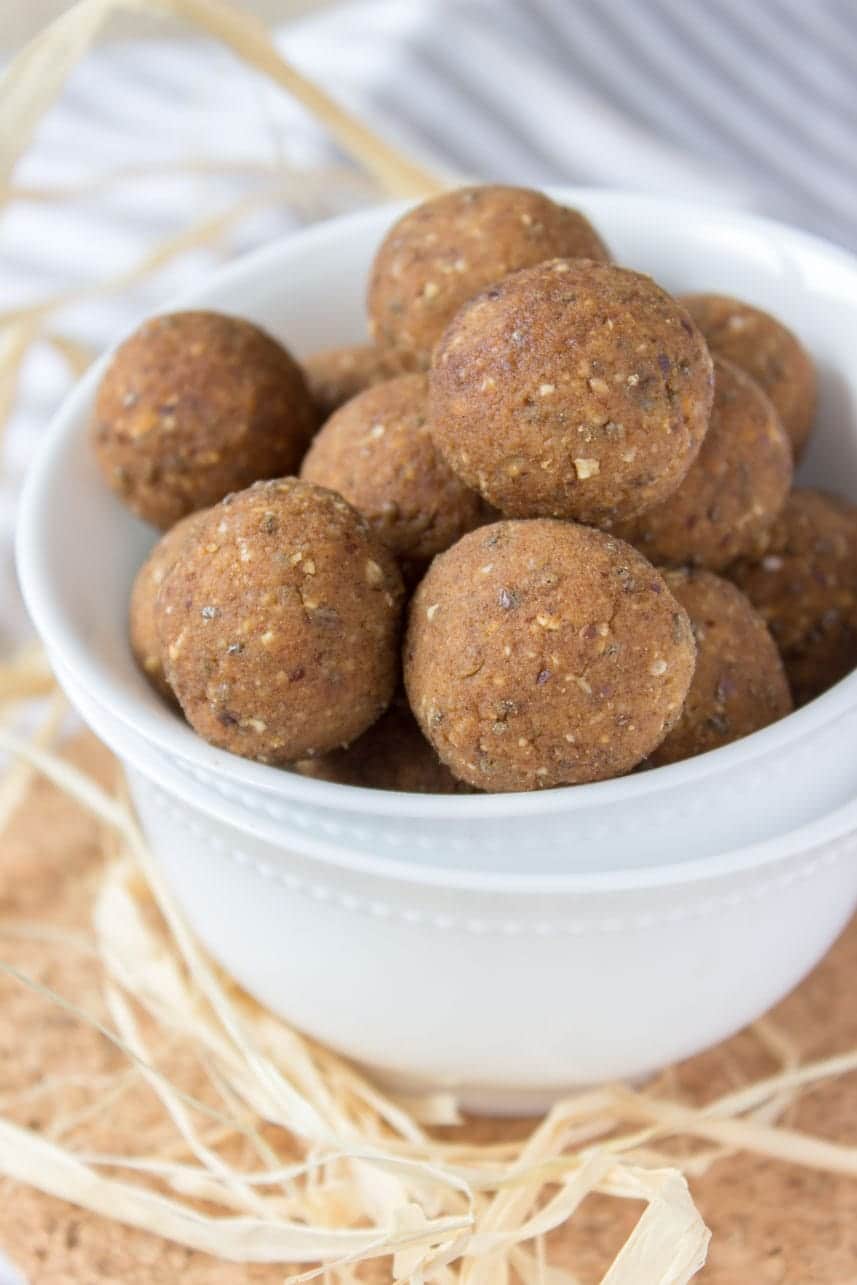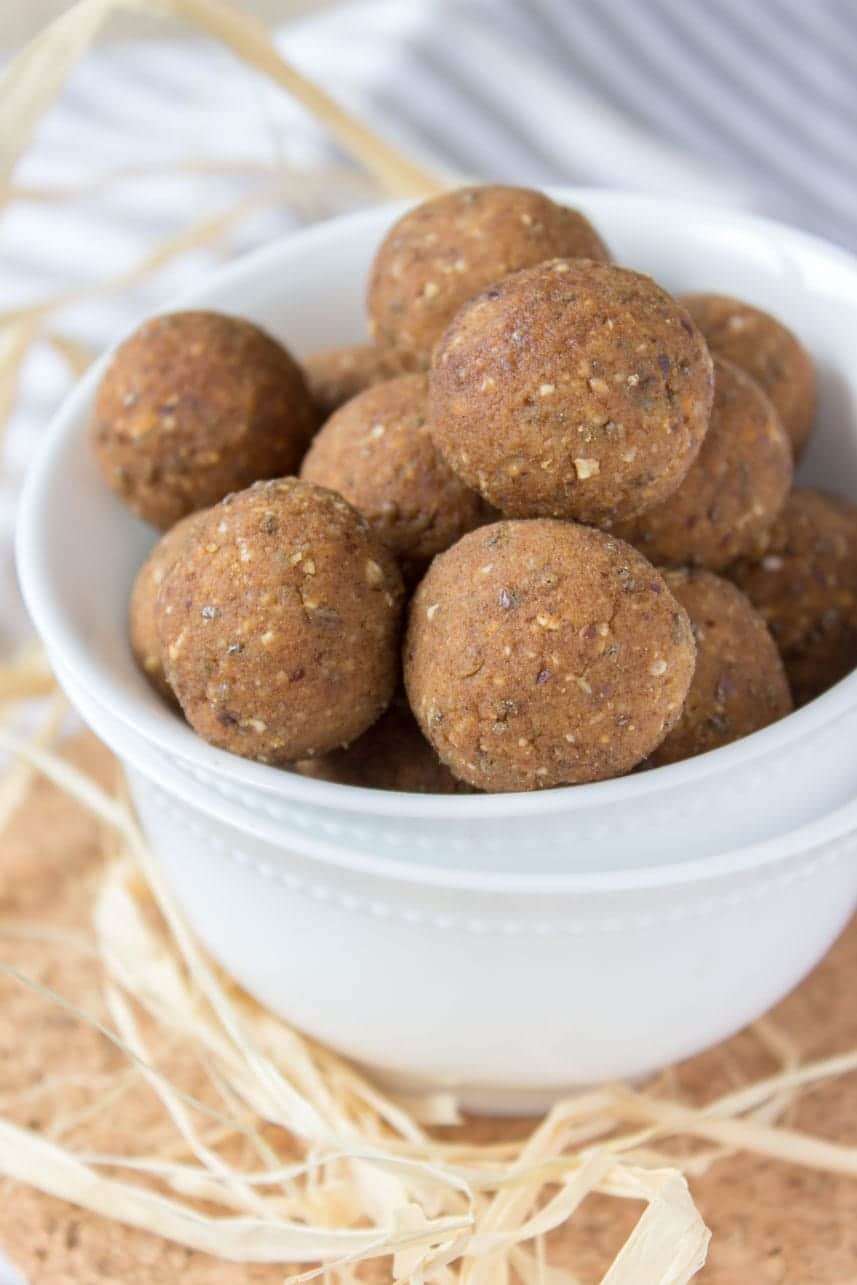 I'm obsessed with pumpkins this Fall. I cook and bake and make something with pumpkins almost on a daily basis for my family. My fingers are all yellowish from peeling and chopping pumpkins. Like for real!!! I've already shared few of my favorite pumpkin recipes: Pumpkin Cheesecake Muffins , Pumpkin Cookies, Roasted Pumpkin Salad ... That's A LOT of pumpkins on my blog in one season. But one fact struck me just last week. SHOCKING fact!
Can you believe that I haven't made not one single pumpkin pie this year? ... Not one - single - pie. Shame.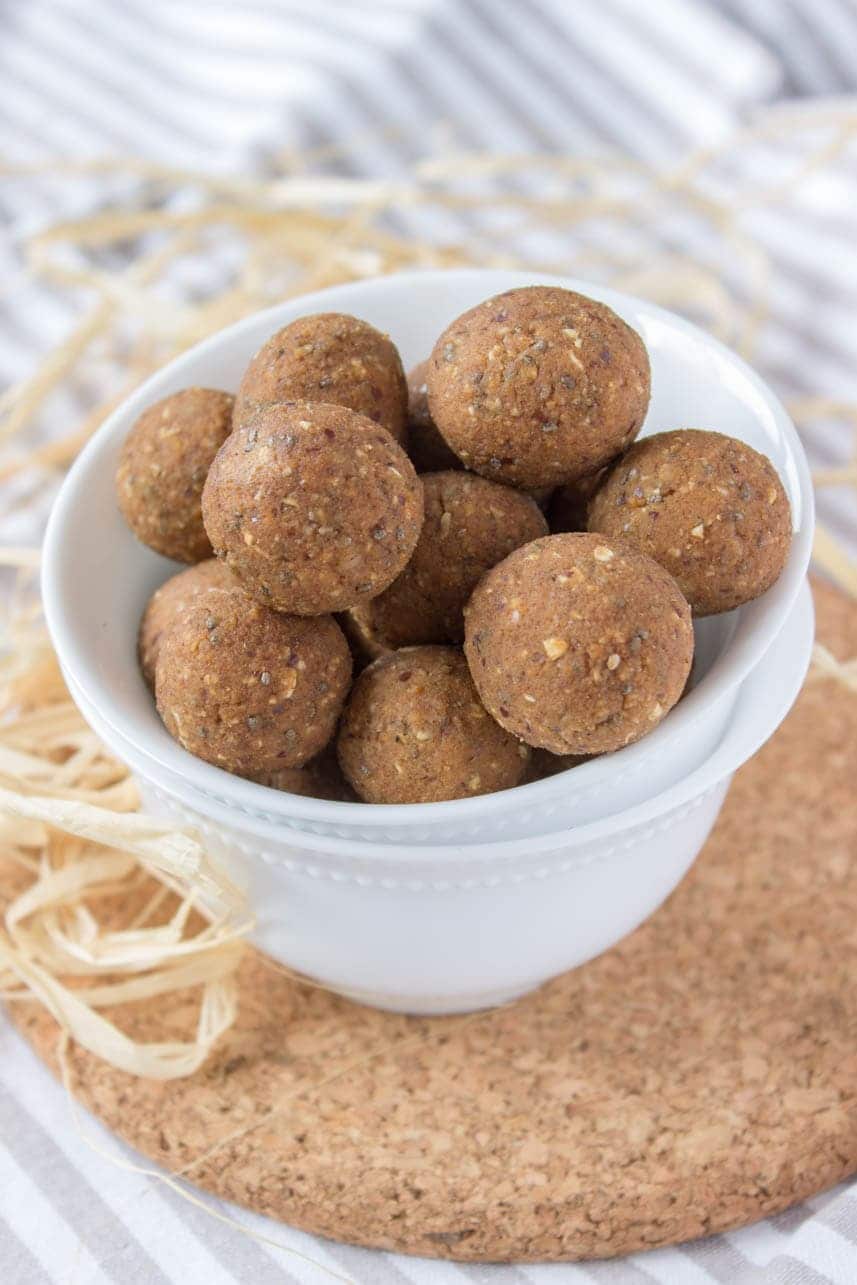 As I said, I realize that just the last week. Well, my husband reminded me in a very subtle way - Where are your famous pumpkin pies this year? He landed with that question one evening while we laid down in our bed. I was like - What the ...? It's the middle of the night and you're: FIRST thinking about PIES!!?? and SECOND are you criticizing me calling me LAZY?! (I was slightly in my PMS and edgy). But he was totally right. I LOVE pies.. and I make freaking amazing pies (he knows that... that's why he started this late night conversation). The only explanation I had is that I simply forgot about PIES this year. Yup.
So to correct that lapse, next day I had to make some-kinda pie for him (and me off course). I was in a no-bake mood, and I wanted to try something NEW, so I made this sweet little PIE BITES - Pumpkin Pie Energy Balls. To be honest, my hubby wasn't too happy about it at first - he expected a REAL PIE. But he gave these cuties a try and next thing I know ... he ate almost the entire bowl... pleasantly murmuring while eating. Happy hubby = happy wife! Succes!
Well, I share his enthusiasm on this one. These Pumpkin Pie Energy Balls turned out SOOO awesome. Soft, fragrant and deliciously sweet. Just like real pumpkin pies only in a bite-size form. And what's so special about this charming little cuties? Just read on...
[twocol_one]
[/twocol_one] [twocol_one_last]
[/twocol_one_last]
I made these Pumpkin Pie Energy Balls with all HEALTHY nutritious, wholesome ingredients. Plus, I enhanced them with superpowers - I added some powerful spices and superfoods. Did I mention that these balls are refined sugar-free? I haven't?! Well, they are delicious, healthy and completely guilt-free. You wish me to send you a box? Ocean apart, sorry... BUT I can give you a recipe. How's that sounds?
To make these Pumpkin Pie Energy Balls, you'll only need few simple ingredients you've probably have in your pantry already and some pumpkin puree. For this recipe I used homemade pumpkin puree that I made from baked pumpkin. It's super easy to make one, so if you have time, make pumpkin puree at home. Seriously. Homemade stuff is ALWAYS the best!
As I mentioned, I haven't used any added nor refined sugars to make these incredible sweet Pumpkin Pie Energy Balls. These balls are naturally sweetened with pumpkin puree AND Medjool dates. Medjool dates are natural energy booster. Did you know that? Neat, right.
These Pumpkin Pie Energy Balls may look simple, but they are far from plain and boring. They are enhanced with some pretty incredible superpowers. I used super powerful chia seeds that are known to be one of the healthiest foods on the planet. Chia seeds are loaded with nutrients - dietary fibers, plant-based proteins and healthy fats (essential omega-3). Also, chia is packed with antioxidants that fights the production of free radicals, which can damage molecules in cells and contribute to aging and diseases like cancer. For Pumpkin Pie Energy Balls beautiful fragrance and taste is all responsible incredible super-spice Ceylon cinnamon. Ceylon cinnamon and pumpkin are like DREAM flavor combo.
These easy Pumpkin Pie Energy Balls are also vegan, gluten-free, and requires absolutely no baking. Bursting with fiber, plant-based proteins, and HEALTHY fats, these are a perfect grab-and-go snack. AND great for beating holiday temptations. Right they are!
Enjoy! :)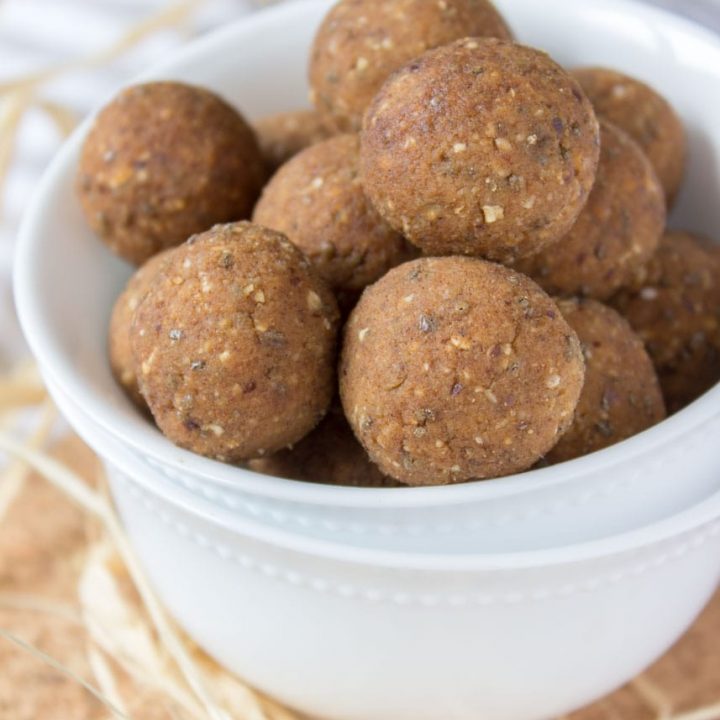 Pumpkin Pie Energy Balls
Pumpkin Pie Energy Balls are the perfect grab-and-go snack. These HEALTHY no-bake bites are nutritious, refined sugar-free, vegan, gluten-free.

Instructions
Remove the pits from dates. If dates are too dry, soak them in hot water for several minutes. When the dates are softened, drain them and place in food processor. Save the water.

In a food processor, combine dates, oats and walnuts or pecans and pulse few times so nuts are chopped finely into small pieces.

Add the rest of the ingredients until well combined. Add more pumpkin puree (or water) if the mixture looks dry.

Take about 1 heaping teaspoon of mixture and form them into a ball. Continue with rest of the mix. Roll the balls in coconut sugar (if desired).

Store energy balls in an airtight container in the refrigerator for up to one week.

You can freeze the balls for up to six months.
Notes
As a measure, I used US cup (240ml). *For gluten-free option use certified GLUTEN-FREE oats.
Tried this recipe?
Don't forget to rate it and leave the comment. I would love to hear what you think.
Disclaimer
The nutritional information provided is approximate and is calculated using online tools. Information can vary depending on various factors, but I have endeavored to be as accurate as possible.
These are my picks for this recipe:
[amazon_link asins='B0722CY615,B01CEBRM1W,B0719DS883' template='MyPicks' store='natalieshealt-20' marketplace='US' link_id='e0fb1ec2-d11d-11e7-af57-7ff68725b2d2']