These Pumpkin Bars are such a perfect treat. Sweet, flavorful, and full of seasonal spices. So delicious. Also, made without unhealthy refined sugars, these bars are guilt-free and irresistible.
Jump to: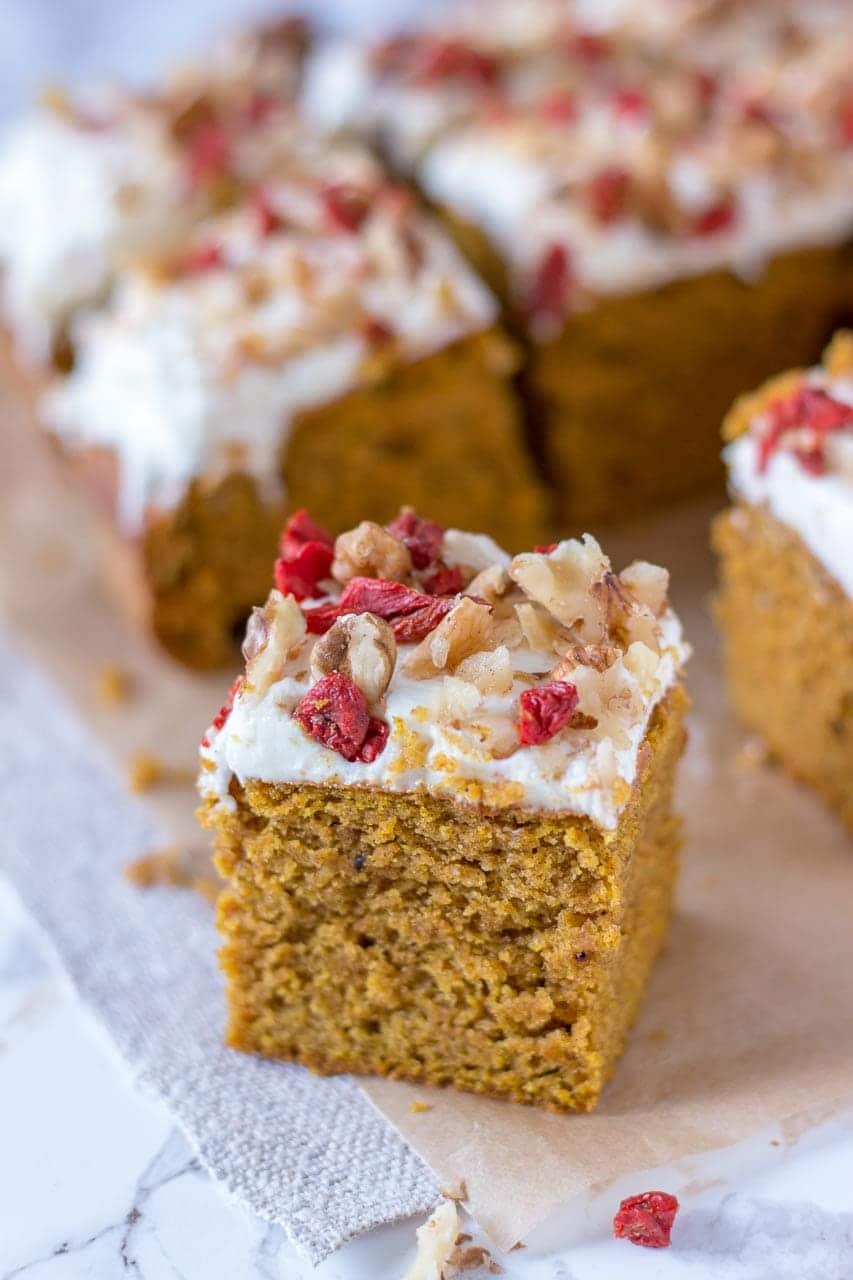 Confession time. For the last couple of weeks, I haven't baked not one single dessert for my family. Can you believe that?! Me - foodie and a huge lover of brownies and cookies and anything sweet, with a husband who is even BIGGER sweet-tooths that I am. Well, not one single sweet treat came out of my oven for weeks. It's indeed a shock.
Well, we were not completely sweets-free during this time. We kinda binged on seasonal fruits and protein-packed Gingerbread Energy Balls and Pumpkin Pie Energy Balls. I guess our new gym routine makes us immune to classic baked desserts. But with Holidays approaching (yay!), and Thanksgiving just around the corner, I needed to fire up the oven, to get my mixing bowls out and wipe the dust off that baking pans.
Since sweet pumpkins are still in season, and my fridge is loaded with Homemade Pumpkin Puree, I decided to make something pumpkinish.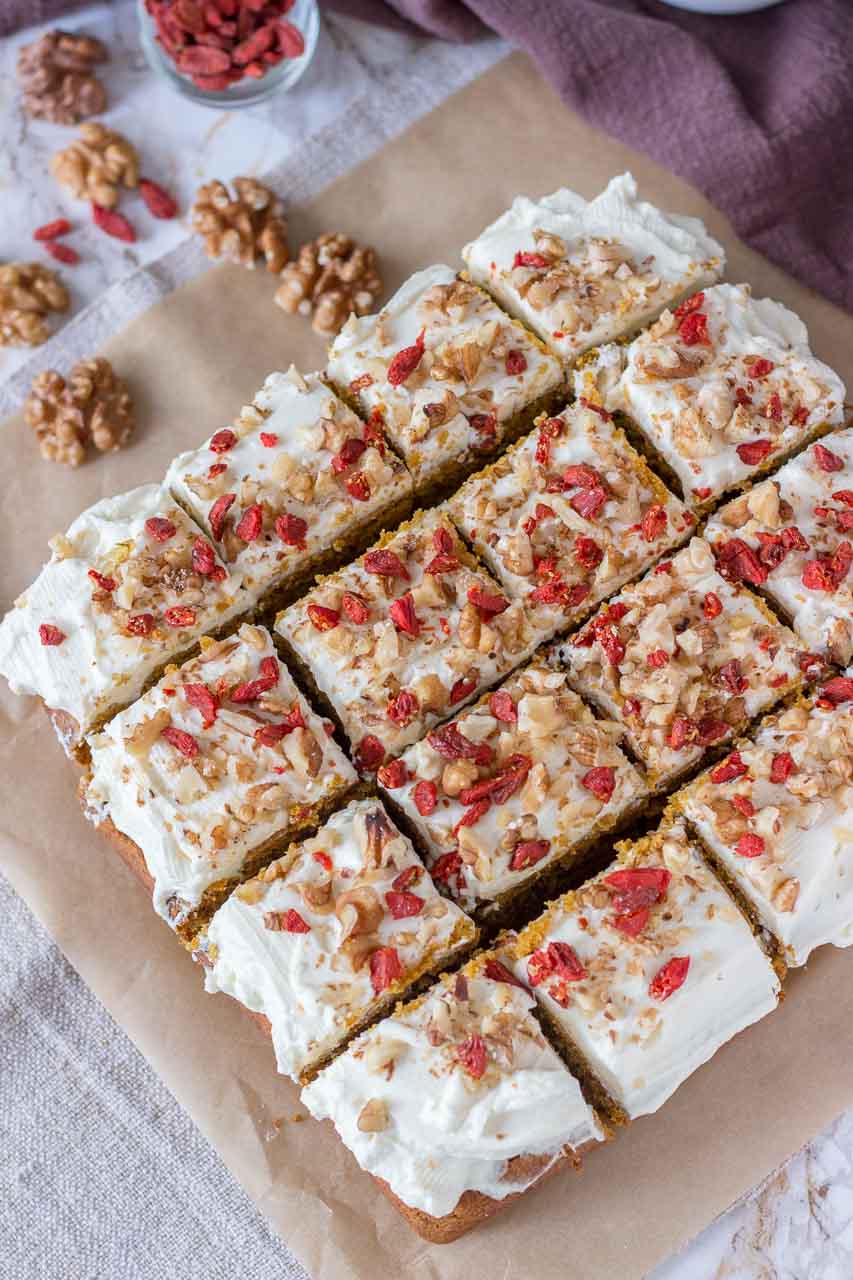 These simple jet so gorgeous Pumpkin Bars with cream cheese frosting were the perfect choice. Last year Pumpkin Roll Cake was a huge hit in my house during Holidays. It was time for some new pumpkin dessert to take over the throne.
These Pumpkin Bars with its soft cake-like texture, loaded with beautiful pumpkin flavor and topped with tangy creamy cheesy frosting, sprinkled with crunchy walnuts and sweet goji berries turned out to be the absolute winner.
Ok, now read that again and just look at the pics. Tell me you're not convinced to try these.
Ingredients used
This pumpkin bar recipe is SO simple. Like ultimate no-brainer. It requires only a few very basic ingredients. I guess you have them in your pantry already.
I used ALL NATURAL and healthy stuff - whole grain flour that has much more nutrients than plain all-purpose white flour and homemade pumpkin puree made with REAL PUMPKIN. Homemade pumpkin puree is so much sweeter, with more flavor. It has that beautiful natural pumpkin aroma. Seriously, if you're still buying canned stuff - just stop. It's easy to make pumpkin puree at home. Not only it's healthier but cheaper as well.
To sweeten this beauty up, I used pure maple syrup, which makes this Pumpkin Bars REFINED SUGAR-FREE dessert, perfect for guilt-free afternoon enjoyment and Holiday table.
What makes this Pumpkin Bars so special and so tempting is not only soft cake-like texture loaded with pumpkin flavor BUT also a delightful pumpkin spice mix that is added in the soft batter.
I have my own pumpkin pie spice mix recipe and I use it for all my pumpkin desserts. It's a combination of fragrant Ceylon cinnamon and aromatic ginger both with so many health benefits. But also nutmeg, allspice, and pungent cloves.
You can buy pumpkin spice mix in the store - easy. But store-bought stuff doesn't always use healthier Ceylon cinnamon, so I always make my own mix with high-quality organic stuff.
To make these pumpkin bars even more awesome, I cremated it with some tangy cream cheese frosting and added toppings: crunchy roughly chopped walnuts and immune boosting SUPERFOOD - goji berries. Both walnuts and goji berries turned this beauty into real festive delight. But they enhanced these bars with nutrients - healthy fats, essential vitamins, and minerals.
I tell you - these are the best pumpkin bars EVA! With soft, moist texture loaded with pumpkin flavor, creamed with tangy cream cheese frosting, these bars are so SOOO tempting.
You will have a hard time stop just at one slice.
Enjoy!
Recipe
Pumpkin Bars with cream cheese frosting
Light and flavorful, these Pumpkin Bars with tangy cream cheese frosting are beyond delicious. Healthy and REFINED SUGAR-FREE, these bars are the perfect guilt-free sweet treat.
Ingredients
For the cream cheese frosting:
2

cups

light cream cheese

¼

cup

powdered xylitol

or powdered erythritol

1

teaspoon

vanilla extract

2

tablespoons

Greek yogurt
Instructions
Preheat oven to 350F (175C). Spray a 10x10-inch baking pan with nonstick cooking spray, set aside.

In a medium bowl, mix the flour, salt, baking powder, soda, and spices.

In another larger bowl whisk the eggs with syrup and oil. Mix in pumpkin puree. Add dry ingredients in wet and mix until nicely combined.

Spread the batter into the prepared baking sheet. Bake for 25-30 minutes, or until a toothpick inserted into the center comes out clean with no crumbs on it. Remove from the oven and allow to cool completely before frosting it.
For the frosting:
In a medium bowl, beat cream cheese with powdered sugar on low speed until smooth. Add vanilla and Greek yogurt. Mix on low speed until smooth and spreadable.

Once the pumpkin bars have cooled, spread frosting on top.

Sprinkle with walnuts and goji berries. Cut into bars and enjoy!
Notes
Store in the air-tight container covered in the refrigerator.
As a measure, I used US cup (240ml).
For thinner bars use 15x10-inch jelly roll pan - yields more bars (around 30 bars).
For ticker bars use the 10x10-inch baking pan - yields less bars (16 bars).
Nutrition
Calories:
221
kcal
|
Carbohydrates:
22
g
|
Protein:
6
g
|
Fat:
12
g
|
Saturated Fat:
9
g
|
Cholesterol:
57
mg
|
Sodium:
232
mg
|
Potassium:
216
mg
|
Fiber:
2
g
|
Sugar:
8
g
|
Vitamin A:
3800
IU
|
Vitamin C:
1
mg
|
Calcium:
75
mg
|
Iron:
1.1
mg
Tried this recipe?
Don't forget to rate it and leave the comment. I would love to hear what you think.
Disclaimer
The nutritional information provided is approximate and is calculated using online tools. Information can vary depending on various factors, but I have endeavored to be as accurate as possible.
Try these healthy pumpkin desserts too:
Pumpkin Cheesecake Muffins
Pumpkin Oatmeal Cookies
Pumpkin Loaf Cake