These Peanut Butter Energy Balls are nutty, sweet and utterly delicious. They are made with healthy ingredients, loaded with powerful superfoods and have no added sugars. Perfect energising snack or quick dessert.
Table of contents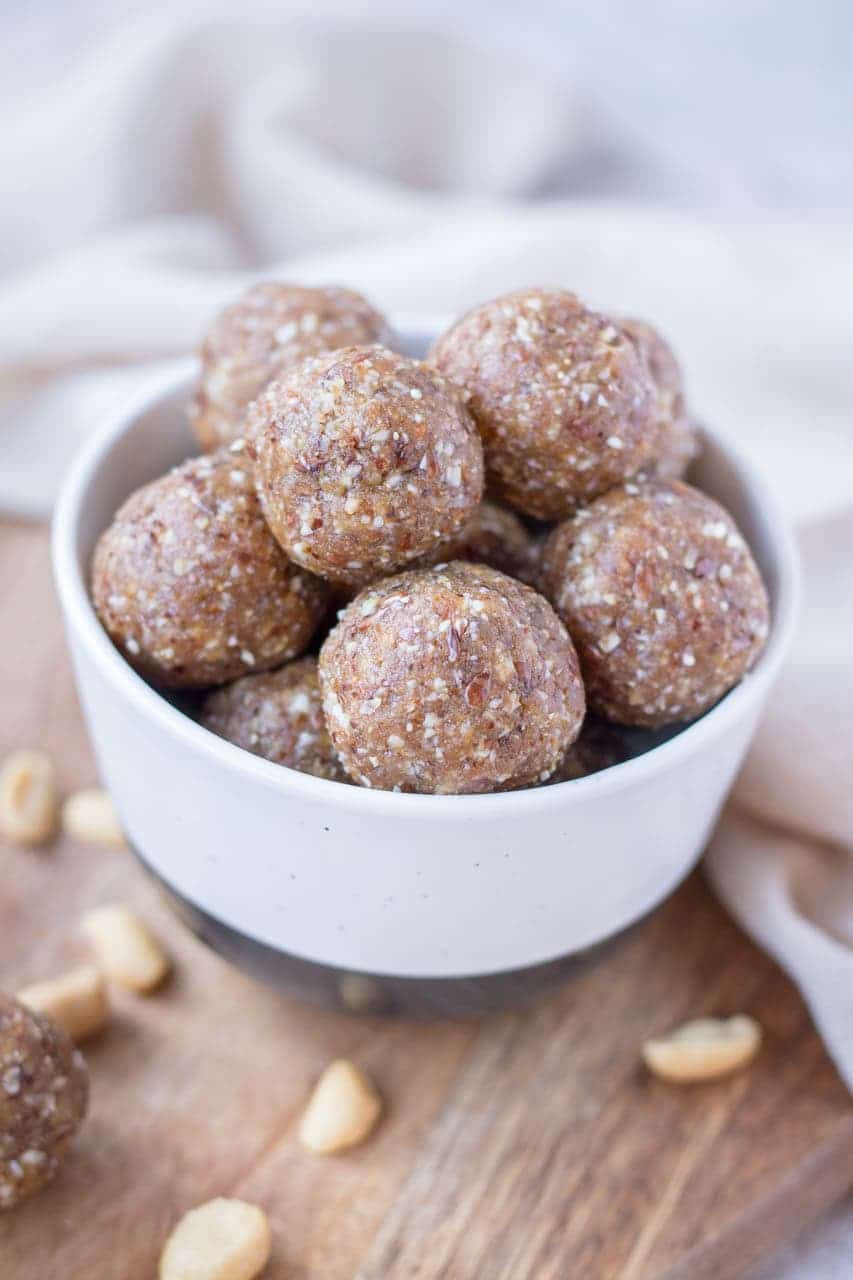 I would want to know, who in the world doesn't love peanut butter? I mean, seriously. Ok, except those who have a severe peanut allergy... but common people. Peanut butter is super tasty. It has this perfect, nutty sticky texture that is just sooo YUM. + It's such a HEALTHY and versatile spread that pairs so well with chocolate and the fruity jellies. OMG!
Ok ok, I'll be the first to admit. I wasn't always such a huge fan of peanut butter. That was mainly because I didn't try THE REAL deal peanut butter before. I got peanut butter from the store and it was loaded with sugar and it was so greasy.
I fell in love with peanut butter when I made my first homemade thing - from REAL peanuts. No added ANYTHING. It turned out creamy, super nutty and just delicious. I was instantly hooked. I think it's purely possible that now I'm a biggest peanut butter lover in town. No, I tell you... I'm no joking.
I put peanut butter in everything now. In my morning smoothies - like this Chocolate Peanut Butter Smoothie. I'm making no-bake Chocolate Peanut Butter Crunch Bars. I use it as a spread on my Chocolate Peanut Butter Banana Roll-Ups. Peanut butter is a staple in my house. I even got my husband and my kiddo to adore this deliciousness with me.
Since lately I'm not in the mood for turning on the oven, and we all love sweet treats in the house, especially ones that include peanut butter - I'm making a bunch of these Peanut Butter Energy Balls for my family. They are super easy to make and super yummy snack that is both satisfying and SO good for our health. + it's energizing and kills the sugar cravings like SUPER fast. Win!
Peanut Butter Energy Balls are nutty, sweet, and beyond words tasty. Sweet treat in the true meaning of the word. But also these little bites are very filling and nutritious, packed with so many good stuff – dietary fibers good for our digestion, ALL NATURAL plant-based proteins and energizing healthy fats. YES!
Peanut butter is a great source of unsaturated – healthy fats and fibers but also proteins + an excellent source of a whole range of vitamins and minerals - like vitamin A and E, folate, calcium, magnesium, zinc, iron, potassium, and many other amazing nutrients. It's OMG, overwhelming how healthy peanut butter is!
And although is high in fat and calories the good news is, you get a lot of nutrition from having these calories so don't feel bad for having a one too many of these Peanut Butter Energy Balls. These beauties are calorie dense, nutrient-packed little wonders.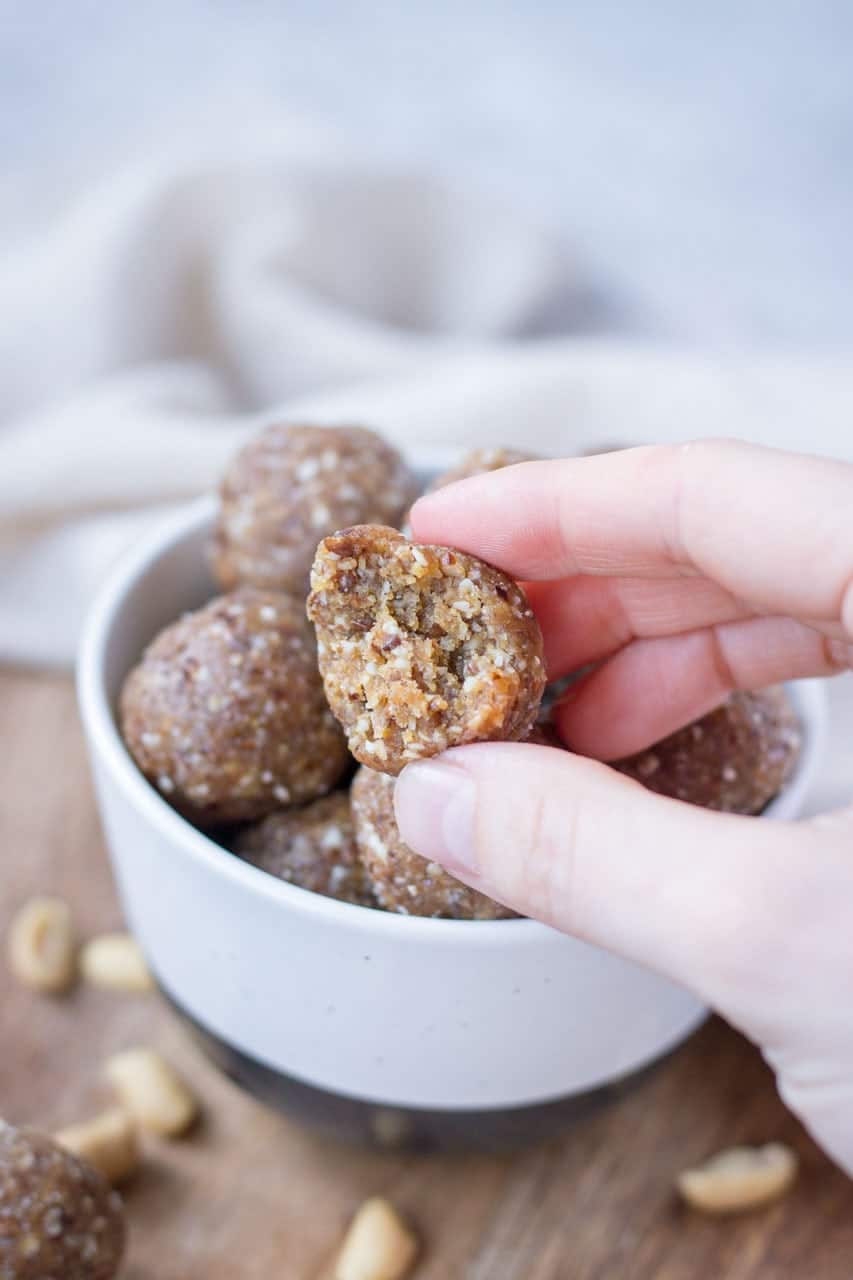 To give these Peanut Butter Energy Balls even more power, I added some MORE superfoods – flax seeds, that are loaded with anti-inflammatory omega-3 and fibers. + Flax seeds are also the good source of plant-based proteins.
Balls are naturally sweetened with dates and super low-calorie so feel free to indulge yourself with more than one. Dates have this beautiful caramel flavor that paired so well with nutty peanut butter. I tell you... these little sweet treats are omnomnom delicious!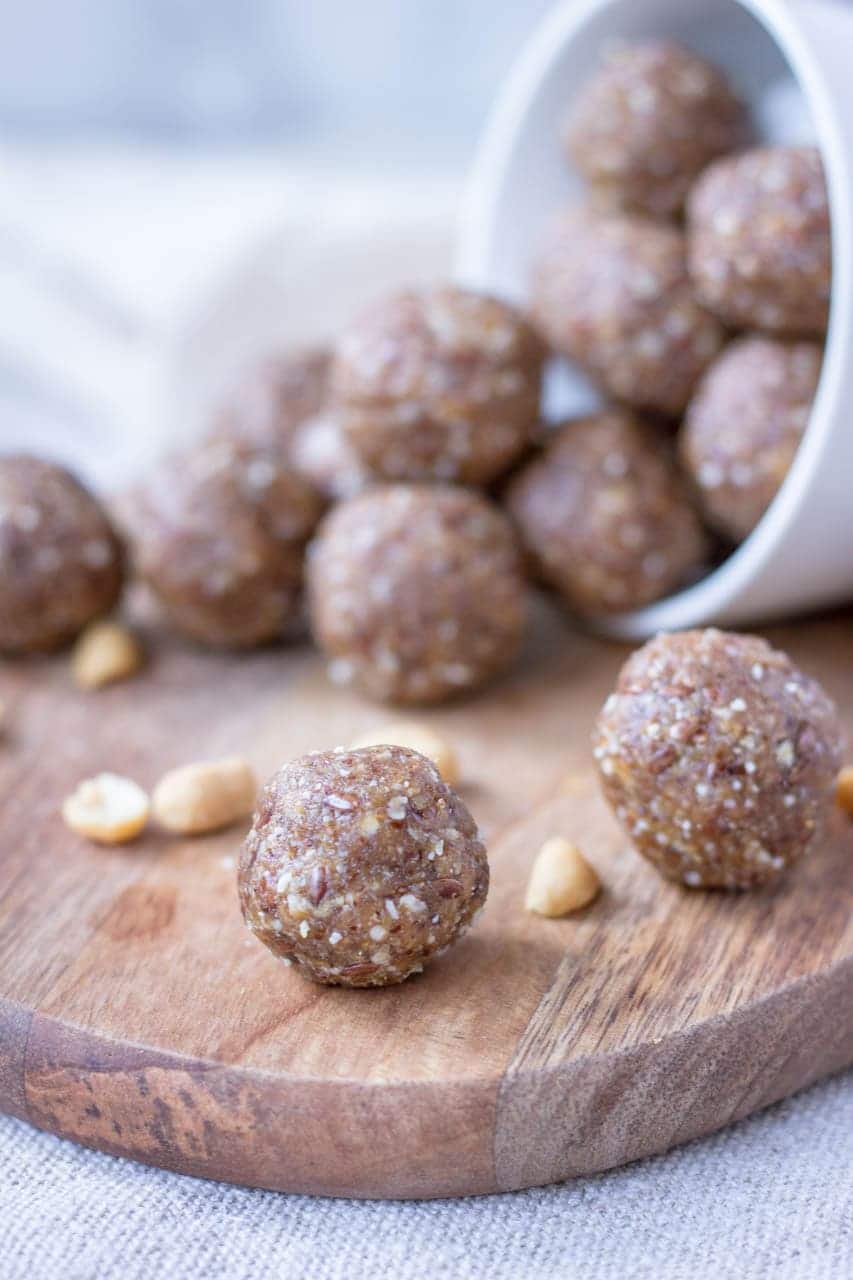 Peanut Butter Energy Balls are …
no-bake and made with only 6 ingredients,
full of high-quality dietary fibers that promote good digestion, weight loss, and a healthy digestive system,
rich in plant-based proteins,
rich in healthy omega-3 fatty acids, antioxidants, and vitamin A,
ADDED AND REFINED SUGAR-FREE,
enriched with superfoods – FLAX SEEDS,
gluten-free and vegan,
low in calories, kid-friendly and very nutritious,
an excellent post-workout snack.
The great thing about this Peanut Butter Energy Balls recipe is that it's super easy to make. You only need like 10 minutes and one bowl. Yup, this recipe is NO-BAKE. All you need is a food processor.
These amazing little energy bomblets are truly a delish treat. Give them a go. I know you'll get hooked on its amazing nutty taste and its soft texture.
Enjoy!
📖 Recipe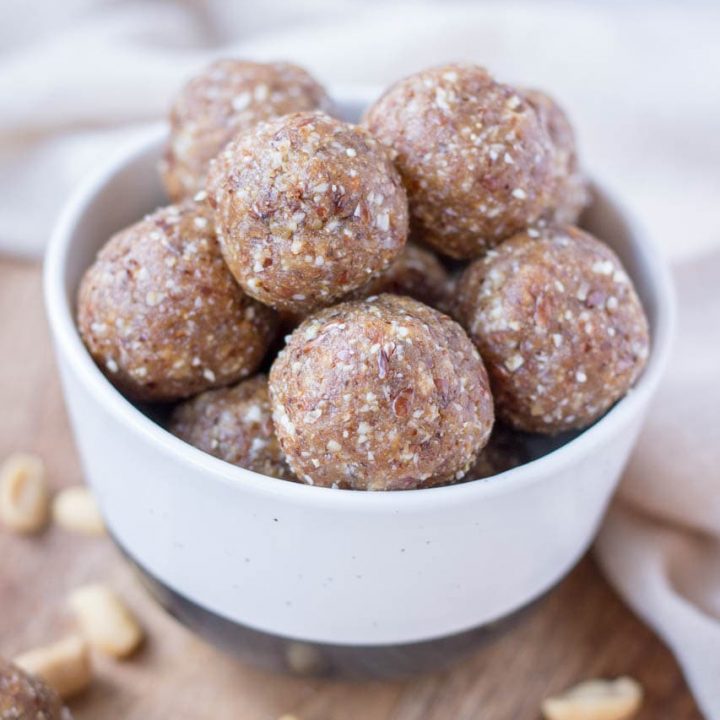 Peanut Butter Energy Balls
A protein-packed snack, No-Bake Peanut Butter Energy Balls are easy to make, ALL NATURAL healthy treat. Refined and ADDED SUGAR-FREE, these bites are perfect kids lunchbox snack or energizing post-workout meal. Vegan. Gluten-free.
Ingredients
12

Medjool dates

pitted and soaked in hot water

½

cup

rolled oats *

½

cup

almonds

½

cup

peanut butter

natural creamy without added sugars or oils

3

tablespoon

flax seeds

ground

1

teaspoon

vanilla extract

pinch

of sea salt
Instructions
Remove the pits from dates and soak them in hot water for several minutes. Drain but keep some water.

Place Medjool dates, rolled oats and almonds in a high-speed

food processor

and process on high for about a minute.

Add the rest of the ingredients and process for another 1 to 2 minutes until your dough is formed.

Check texture by pinching the dough between your fingers. It should be sticky and able to keep its shape. If the mixture is too dry, add more water in which you have soaked the dates.

Using a tablespoon, scoop out dough and roll between your palms to form your balls. Sprinkle with some sea salt.
Notes
Store in an airtight container in the refrigerator until serving. Keep the energy balls frozen up to 3 months in the freezer. As a measure, I used a US cup (240ml).
* For GLUTEN-FREE version, use certified gluten-free oats. 
Nutrition
Calories:
99
kcal
|
Carbohydrates:
14
g
|
Protein:
2
g
|
Fat:
4
g
|
Sodium:
32
mg
|
Potassium:
171
mg
|
Fiber:
2
g
|
Sugar:
9
g
|
Vitamin A:
20
IU
|
Calcium:
23
mg
|
Iron:
0.5
mg
Tried this recipe?
Don't forget to rate it and leave the comment. I would love to hear what you think.
Disclaimer
The nutritional information provided is approximate and is calculated using online tools. Information can vary depending on various factors, but I have endeavored to be as accurate as possible.
Check these peanut butter recipes too: