These Chocolate Peanut Butter Banana Roll-Ups are the perfect healthy breakfast or a snack. Crepe is filled with smooth peanut butter, rolled over the banana, and drizzled with melted dark chocolate. Such a delicious treat! It's made with wholesome ingredients and without unhealthy refined sugars.
If you are a peanut butter fanatic like me, these Chocolate Peanut Butter Banana Roll-Ups are going to be your next favorite treat. I probably don't have to blab you much about how delicious, and perfect peanut butter and chocolate and banana combo is.... and that this combo is real energy boosting blast. BUT I can assure you that having a spoon of peanut butter a day is not only good for keeping you sane but also good for your overall health.
Yup, you can go and indulge yourself with these rolls... and Peanut Butter Overnight Oats .... and Chocolate Peanut Butter Banana Bars. Just GO ahead.
Peanut butter is packed with nutrients - proteins, monounsaturated fatty acids (healthy fats), fibers, vitamins A and E, folate, calcium, magnesium, zinc, iron, potassium, and many other amazing nutrients. It's OMG, overwhelming! Peanut butter is really a versatile spread and although is high in fat and calories the good news is, you get a lot of nutrition from having these calories.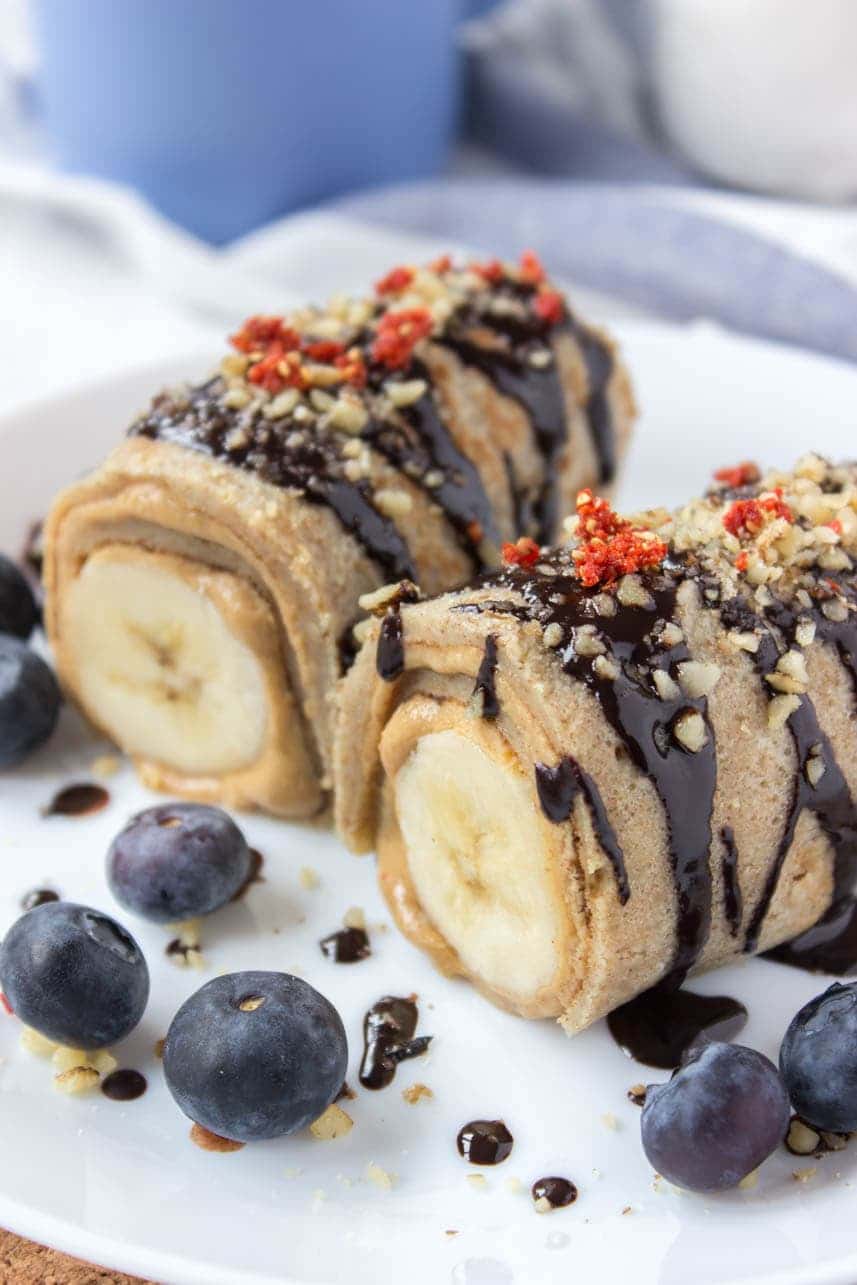 Peanut butter contains no saturated fats and can be consumed on a regular (daily) basis. It only contains unsaturated fats - good fat - energy boosting fats. This is another great news, this time for people who fear to gain weight by consuming peanut butter. Peanuts actually help you to lose weight! Aha, that's right! ... because they are so nutritious - makes you feel full quicker and keeps you full longer.
The best peanut butter is homemade one. Homemade peanut butter is ridiculously easy to make. But who has time, right? So if you're reaching out in stores to get one, I have ONE IMPORTANT ADVICE. Make sure you buy only 100% pure peanut butter, without added refined sugars or palm oil. It will save you from unnecessary, unhealthy fats and sugar calories. Don't destroy your healthy eating resolutions - just read the labels and ingredient lists.
Quick fun fact about peanuts: Did you know that peanuts are not even NUTS?! Peanuts, along with beans and peas, belong to the single plant family - legumes. Whoa... I know!! I was quite surprised when I found that out couple years ago.
While banana roll-ups are a quite popular kids snack, it really doesn't have to be treat meant only for kids and school lunches. It's perfect wholesome breakfast for the whole family. Or after-workout snack - it's packed with proteins and fats - just one bite of these will boost you with amazing energy. You can even serve these Chocolate Peanut Butter Banana Roll-Ups as a romantic breakfast in bed for Valentine's Day. I mean just look at these cute little bites. Would you like THESE to be served to you in bed?! I know you'd like that.
Banana roll-ups are usually made with tortillas, but these Chocolate Peanut Butter Banana Roll-Ups are a bit different. To make it more nutritious (and healthier) I rolled the banana in a crepe made of whole grain flour. Sweet and delicate, melt in your mouth crepe hugged the sweet ripe banana so perfectly. This snack is not only healthy - made with ALL NATURAL, nutritious ingredients - but also out-of-this-world delicious.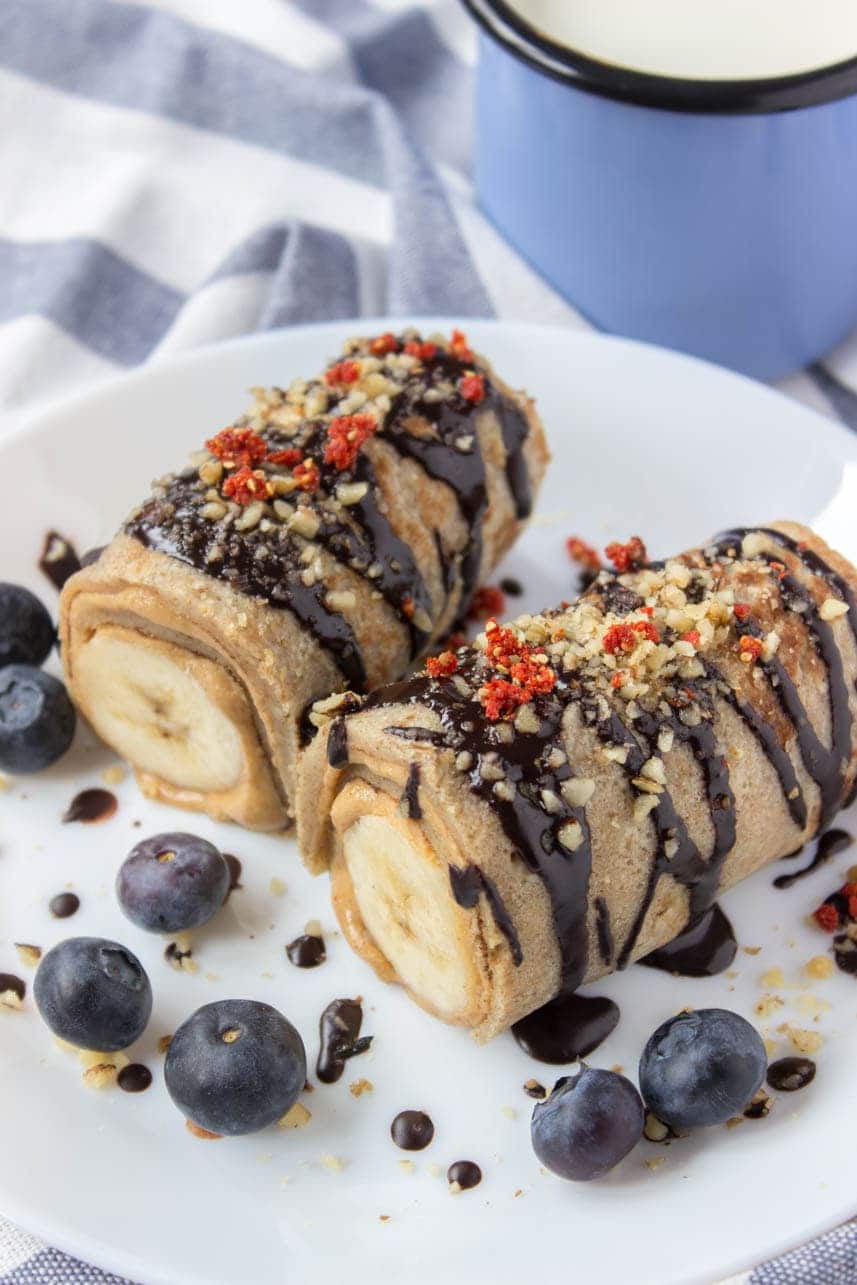 Making crepes at home is soooo easy. Crepes are like pancakes but only thinner. And you only need a few simple ingredients + non-sticking pan. I usually bake a bunch and have them stored in my fridge - for quick sweet snack or breakfast. You can fill crepes with anything - from homemade Blackberry Chia Jam to just cheese spread and fruits.
These crepes are made with whole grain flour - meaning more nutritious and of course healthier. I used spelt flour (dinkel wheat), but you can use any whole wheat flour you prefer. To sweeten crepes I used pure maple syrup, but not too much. The ripe banana gives enough sweetness so you don't need to overdue with added sugars.
To fill these Chocolate Peanut Butter Banana Roll-Ups, I used smooth peanut butter - not the crunchy one. I also enhanced a peanut butter a little with vanilla extract and with some maple syrup... but you can totally skip syrup if you want. Both vanilla and syrup transformed this peanut butter into a silky smooth spread. A perfect fit for delicate crepe base.
Chocolate Peanut Butter Banana Roll-Ups are loaded with healthy stuff – dietary fibers, healthy fats, and plant-based proteins. It's everything your body needs to start a day. Without excess, empathy or unhealthy calories. Without refined sugars. It will satisfy your hunger very quickly, and boost you with needed energy.
Here's why I love these Chocolate Peanut Butter Banana Roll-Ups sweeties so much. They are:
Very filling and healthy meal – loaded with fibers, healthy fats, and proteins.
Ridiculously easy to make.
Full of chocolate + peanut butter + banana flavor.
Loaded with antioxidants from raw cacao dark chocolate.
Perfect make-ahead breakfast whole family likes.
You can prepare the roll-ups the night before or make a couple at a time so you have them just to grab and go. These roll-ups definitely taste like dessert. I just love the idea of having such a tasty dessert for breakfast. You?!
Enjoy!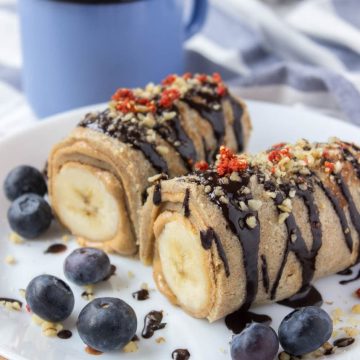 Chocolate Peanut Butter Banana Roll-Ups
These Chocolate Peanut Butter Banana Roll Ups are perfect HEALTHY breakfast, school snack or gulit-free sweet treat. Whole grain, refined sugar-free & yummy!
Ingredients
Instructions
In a blender, combine all ingredients. Cover and process until smooth. Add more water if batter is too thick.

Heat a lightly greased nonstick 6-inch skillet (I used coconut oil for greasing). Add ¼ cup of batter. Lift and tilt pan to evenly coat bottom. Cook on each side until golden. Repeat with remaining batter.

Make peanut butter spread: Place all ingredients in a bowl. Mix well until smooth.

Make raw chocolate: Place all ingredients in a bowl. Mix well until smooth.

Place crepes, browned-sides down, on work surface. Spread peanut butter down centers. Place banana along the edge of the crepe. Fold the crepe up tightly over the banana and roll.

Drizzle with raw chocolate, and sprinkle with chopped nuts and crushed goji berries (optional).
Notes
As a measure I used UScup (240ml). 
One roll-up serves 2 people. 
Nutrition
Serving:
1
roll-up
|
Calories:
354
kcal
|
Carbohydrates:
40
g
|
Protein:
8
g
|
Fat:
19
g
|
Saturated Fat:
9
g
|
Cholesterol:
20
mg
|
Sodium:
217
mg
|
Potassium:
481
mg
|
Fiber:
3
g
|
Sugar:
22
g
|
Vitamin A:
95
IU
|
Vitamin C:
5.1
mg
|
Calcium:
82
mg
|
Iron:
1.2
mg
Tried this recipe?
Don't forget to rate it and leave the comment. I would love to hear what you think.
Disclaimer
The nutritional information provided is approximate and is calculated using online tools. Information can vary depending on various factors, but I have endeavored to be as accurate as possible.