Protein-rich and delicious, No Bake Chocolate Peanut Butter Banana Oatmeal Bars are made with all HEALTHY natural stuff. These bars are vegan, refined sugar-free and gluten-free, packed with healthy dietary fibers and heart-healthy fats. A perfect midday bite, or post workout snack.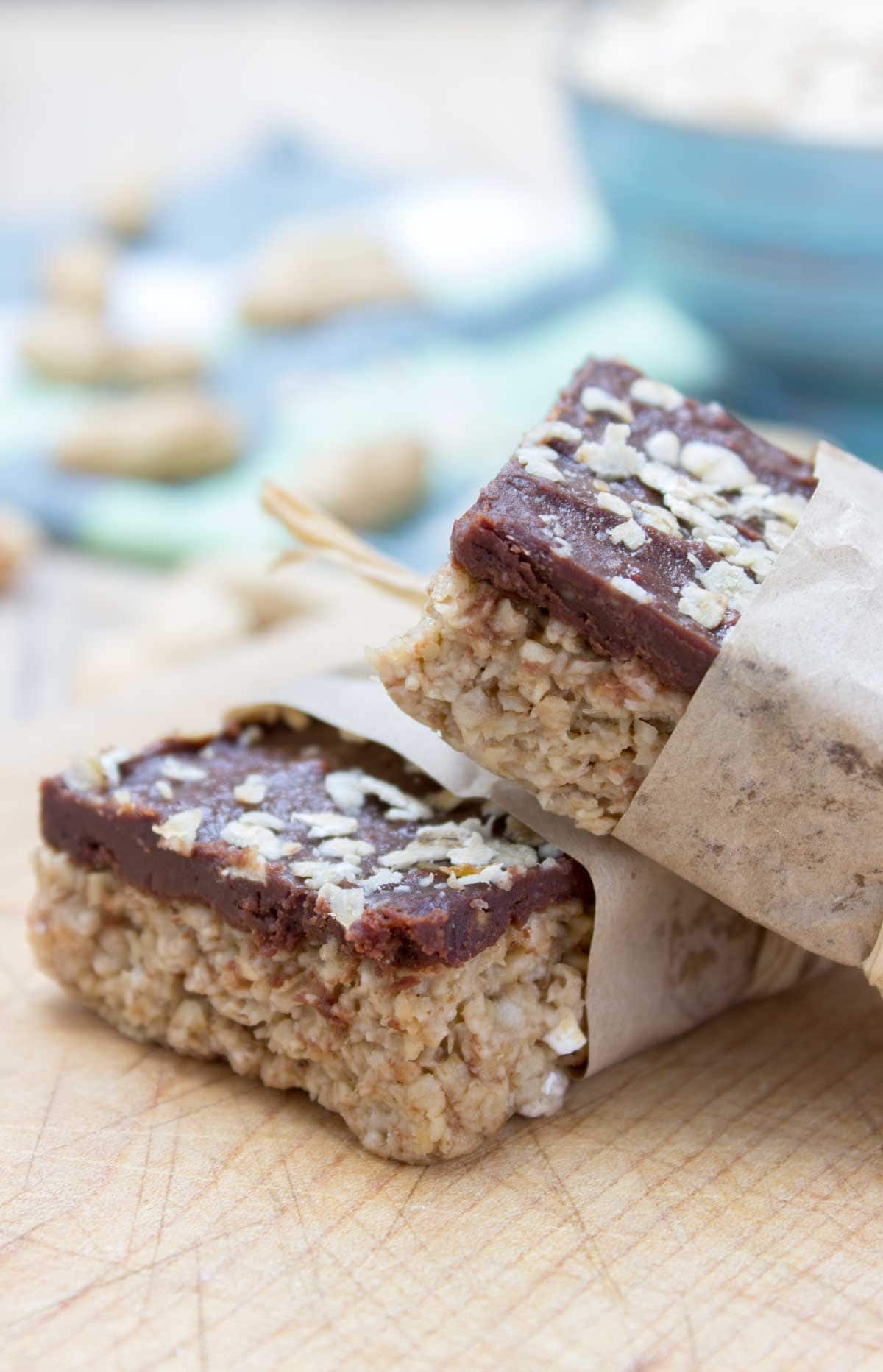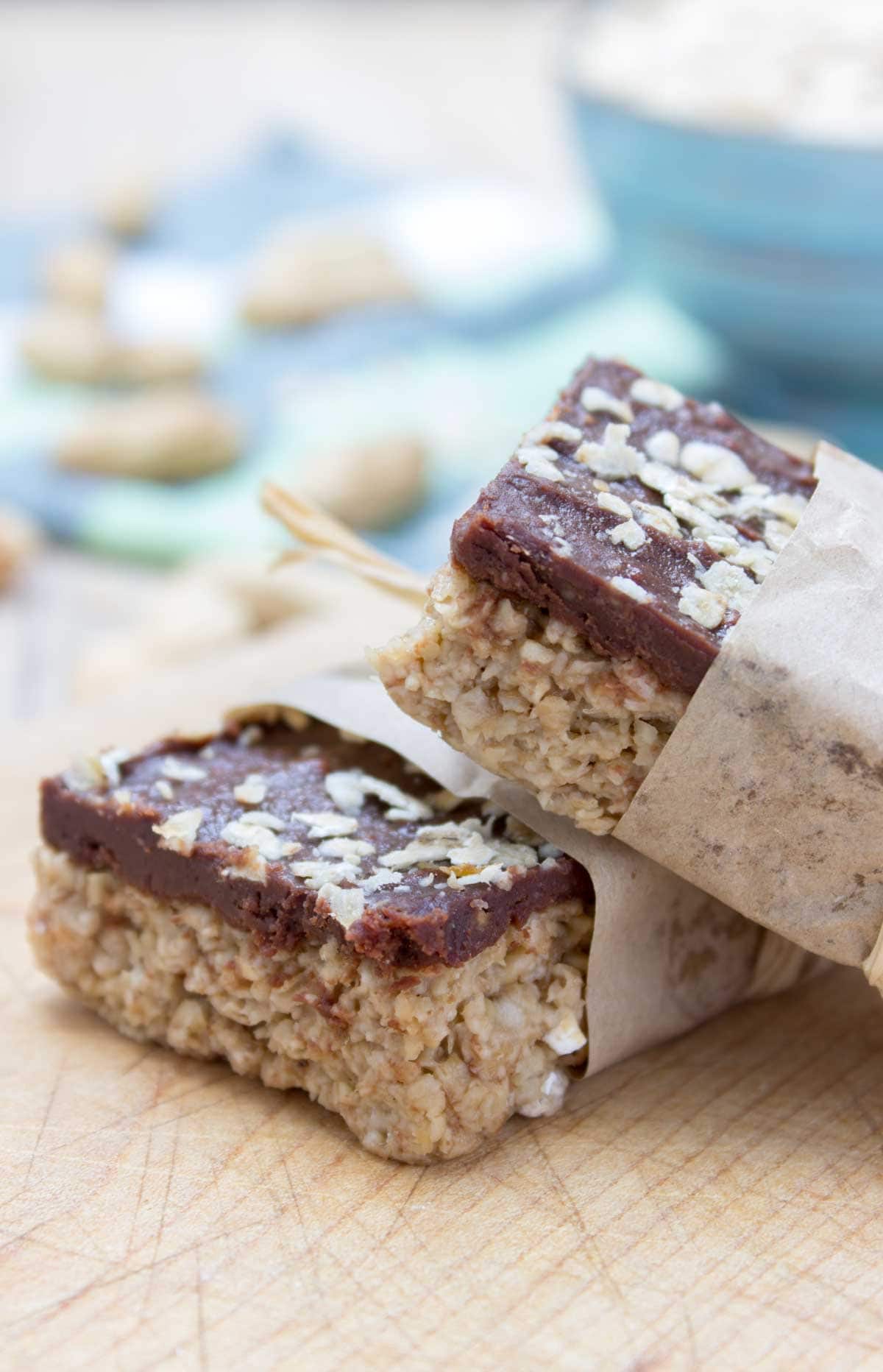 Man, it's HOT outside. Summer is not joking guys. Daily temperatures reach high 36C (98F). Even here in a countryside where I live, it's almost unbearable. But actually, it's not that these temperatures are so much the issue BUT humidity... omg... humidity is killing me. It feels like you can't breathe. That there's no air. And it's not an even the peak of the summer season.
So, on Wednesday evening, my friend Petra and I went running. The air was SO hot like we were breathing the air from the hair dryer. Not pleasant at all. Anyway, I was bragging to Petra how early that day I went shopping, and I've found this amazing tasting, creamy peanut butter that is made without added sugar or oils. I usually make my own peanut butter, but my husband refused to peel off the peanuts this time so I just had to go to the store and bought one. I told her how I scooped one tablespoon just before the run. And I'm glad I did it. Without peanut butter superpowers, I think I wouldn't last not even one lap.
Next day, I've decided to make this Chocolate Peanut Butter Banana Oatmeal Bars as my before/post workout snack.... so I don't have to eat peanut butter from the jar.
These bars are super easy to make. You only need few simple ingredients and THE BEST thing is - it doesn't require turning the oven. Yey!!! Who needs more heat when it's so hot already, right?! Ok, for some things still it's worth standing some heat. Like for juicy crumbly Berry Banana Breakfast Oat Bars... or for sweet gingerish Carrot Cake Oatmeal Cookies.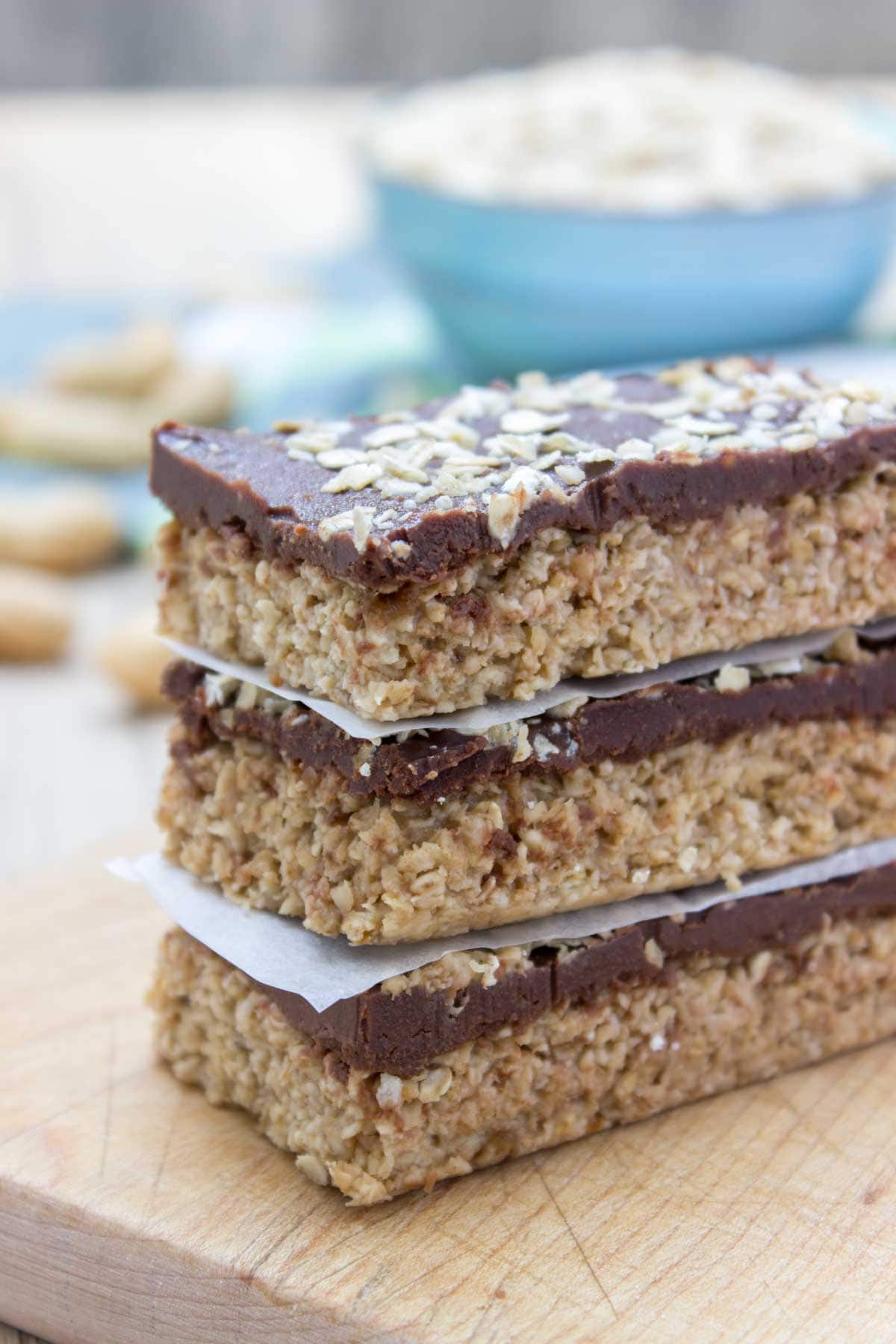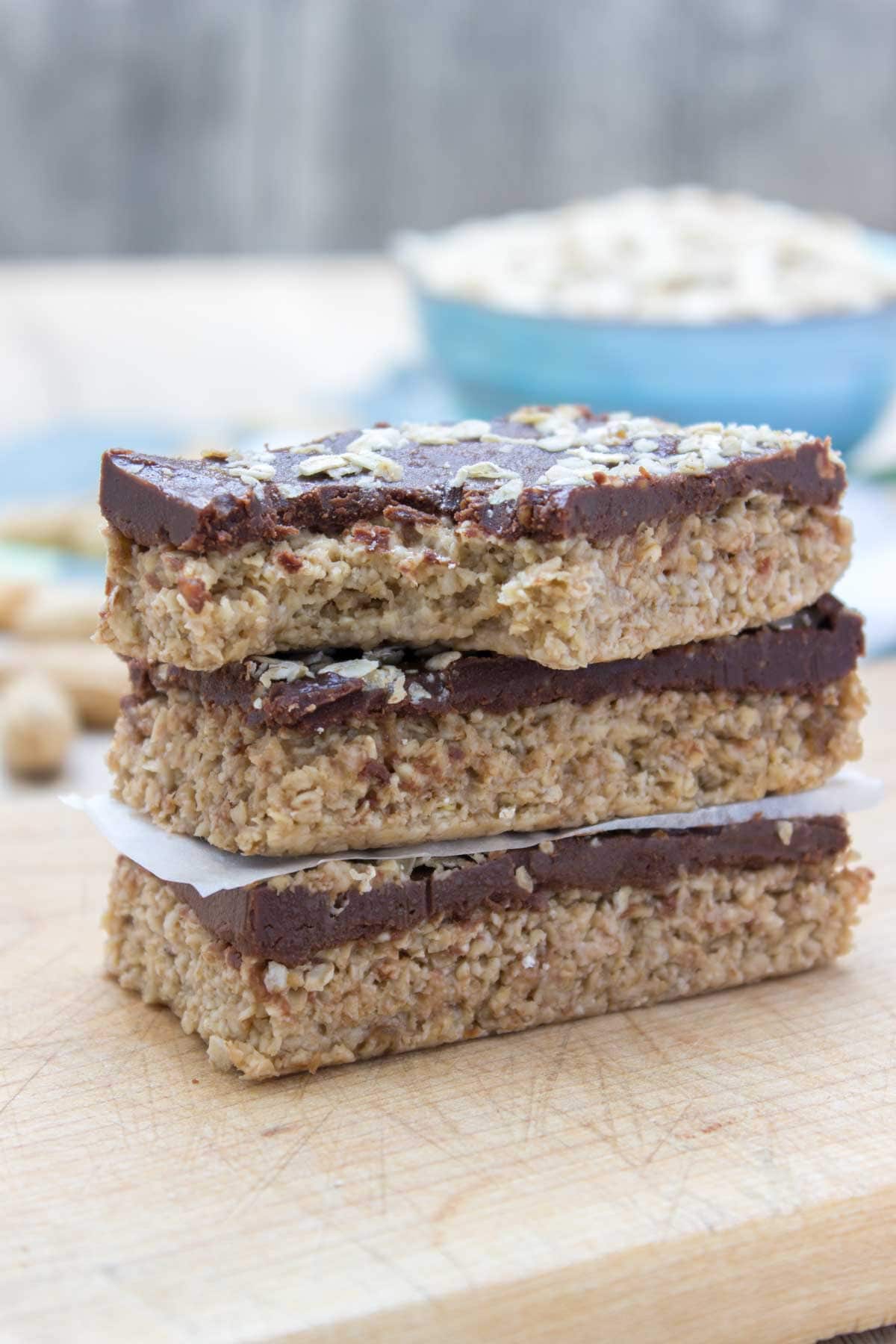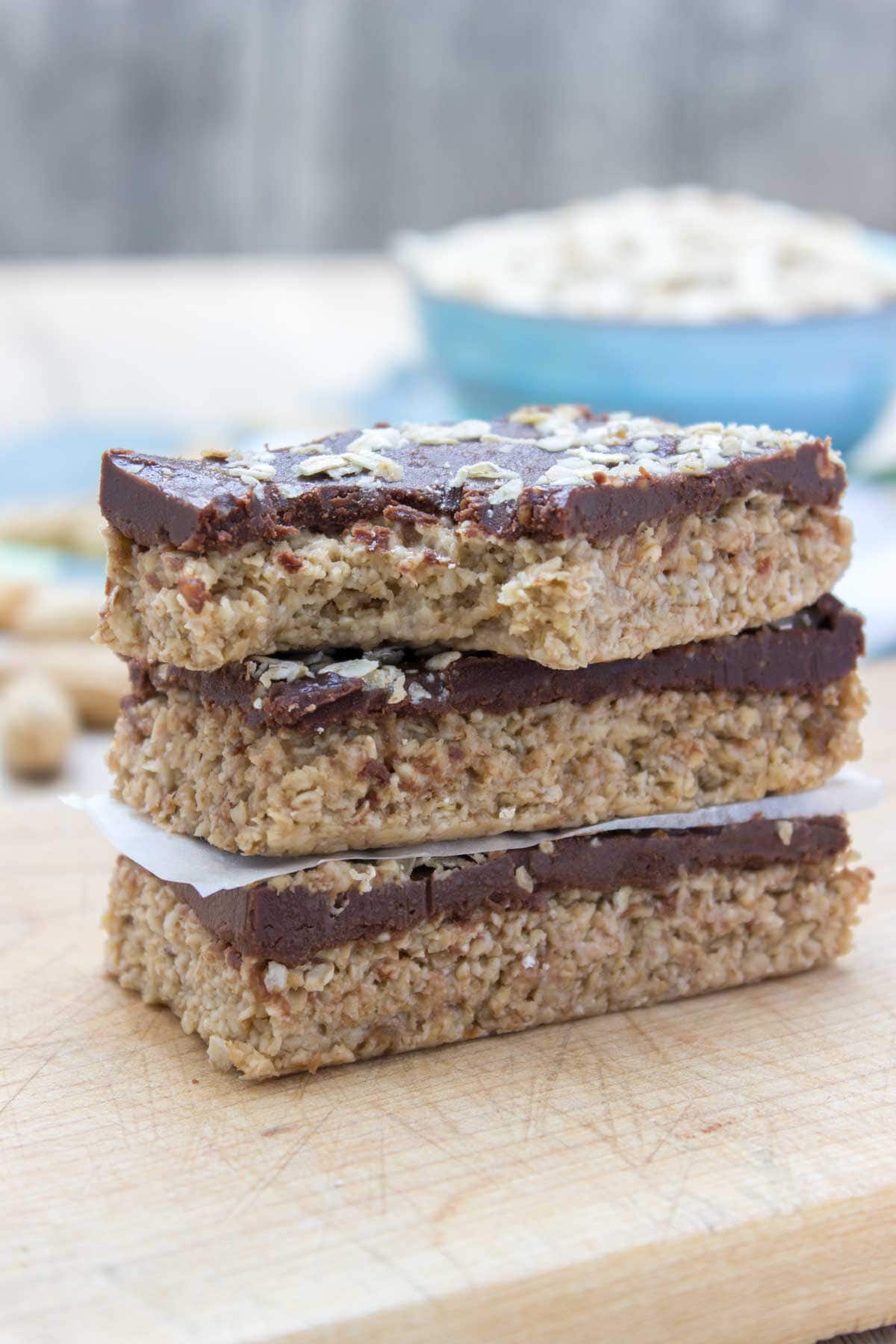 I don't hide my love for oats. Oats are part of many my meals. I'm using oats wherever and whenever I can. Lemon Turmeric Energy Balls, Peach Blackberry Crisp, even the Coffee Breakfast Smoothie are all filled with this amazing heart HEALTHY grain.
Oats are super rich in high-quality fibers that are sooo good for our digestion, but also with many other essential nutrients - like plant-based proteins, vitamins and minerals. I love oats because you can eat them raw - with milk for breakfast or in raw treats and smoothies, or you can cook and bake them. And they turn out equally delicious, in any of mentioned ways.
In addition to the super-healthy oats, which makes the base for these Chocolate Peanut Butter Banana Oatmeal Bars, the real star of this recipe is, of course, the peanut butter... that I crazily insanely unbelievably LOVE. Peanut butter is packed with so many nutrients that are good for our health - like plant-based proteins and fibers. + It's packed with powerful antioxidant vitamin E, and bone-building magnesium, and muscle-friendly potassium, and immunity-boosting vitamin B6. + It's great for weight loss because it fills you up and keeps you feeling full longer.
Peanut butter also has anti-inflammatory properties, which helps with muscle recovery after exercise. That's why fit people dig peanut butter. Sticky, thick and full of taste... How just not to love it.
Chocolate Peanut Butter Banana Oatmeal Bars are so soft, pleasantly sweet but made without refined sugars. I used the ripe banana to naturally sweeten these bars with the little addition of mild tasting rice syrup. You can sub rice syrup with maple syrup or honey.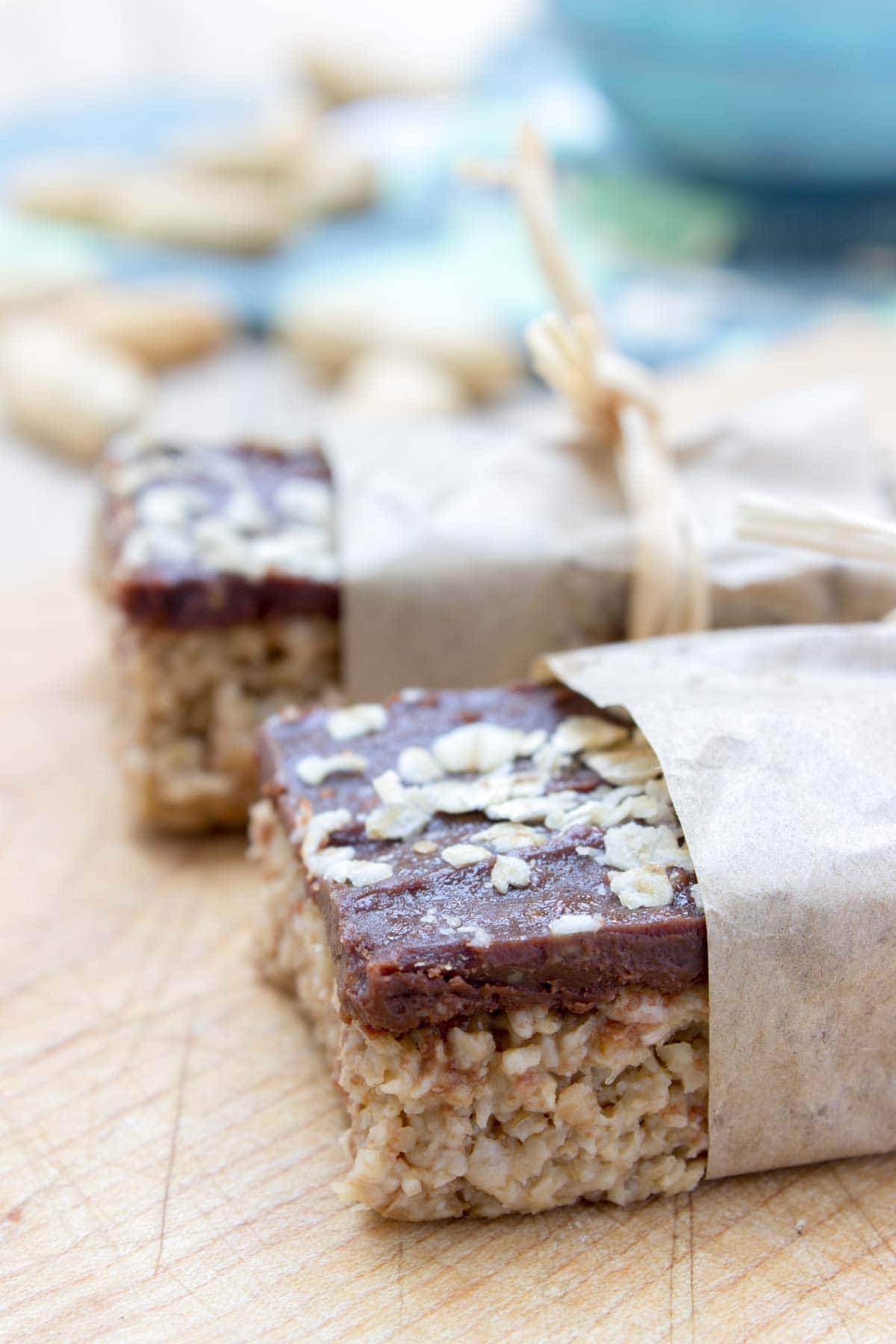 I rounded up this delicious story with some dark chocolate... because I just couldn't resist to put it on top. Peanut butter + banana + chocolate is the BEST combo ever. + Dark chocolate is powerful antioxidant and a great mood booster. It stimulates the production of endorphins, chemicals in the brain that bring on feelings of pleasure.... And I'm always in the mood for some good-mood food. ;)
These Chocolate Peanut Butter Banana Oatmeal Bars are great for midday healthy snacking. You can pack these in school lunch box for your kids, or you can bring it to work. These bars are powerful energy booster and thus PERFECT before/after workout meal. MUCH better than ANY store-bought, sugar-loaded, artificial protein bars... not to mention 1000 milion times better than calorie-bomb Snickers.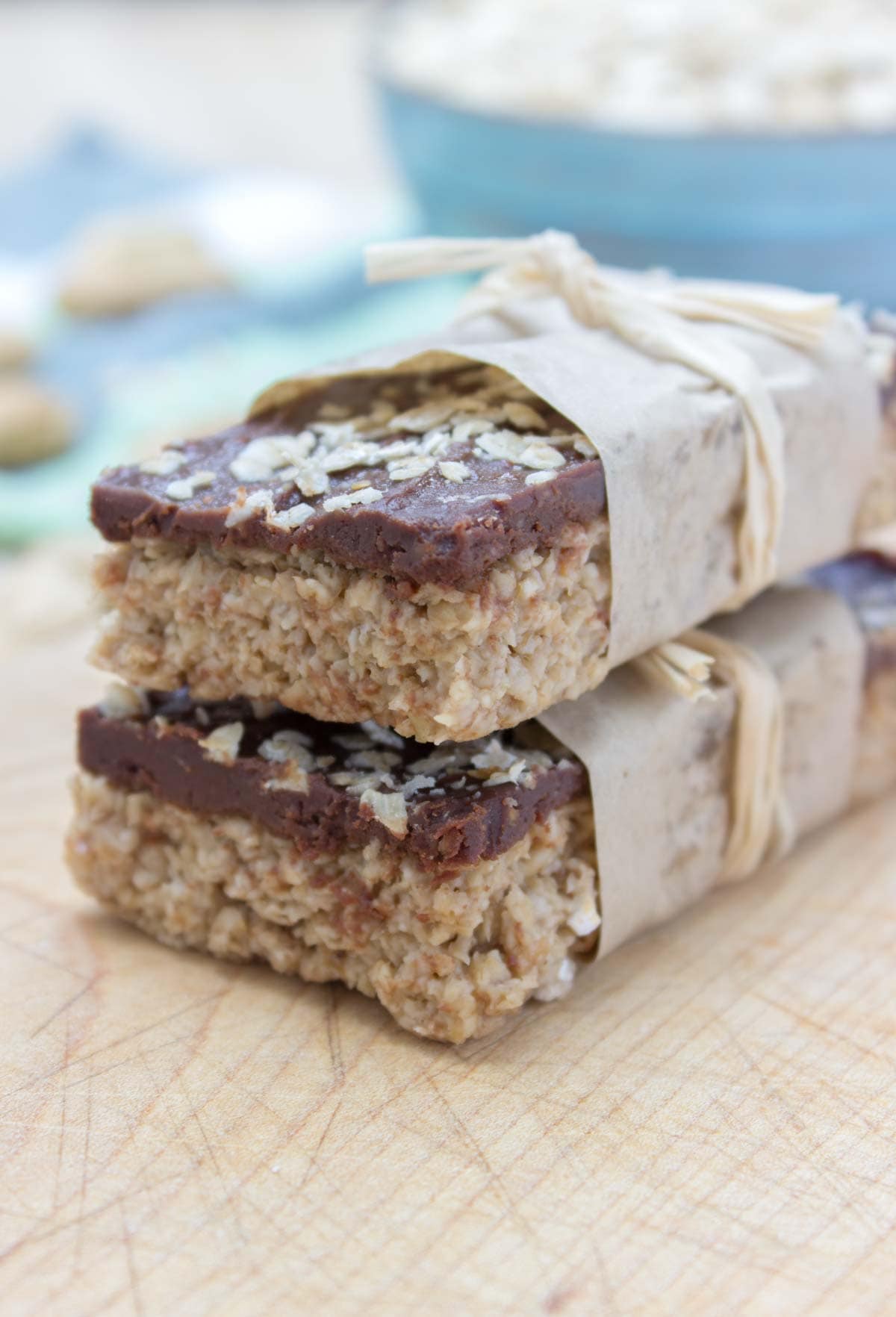 Chocolate Peanut Butter Banana Oatmeal Bars are ...
made with all HEALTHY wholesome ingredients good for our health,
full of high-quality dietary fibers that promote good digestion and weight loss,
easy to prepare and needs only a few simple ingredients,
refined sugar-free,
rich in plaint-based proteins,
vegan, gluten-free and dairy-free
contain dark chocolate – powerful antioxidant that elevates good mood, reduces stress and depression,
great grab-and-go snack,
perfect before or after workout meal.
Decadent and rich in dark chocolate-peanut flavor, these Chocolate Peanut Butter Banana Oatmeal Bars are one amazing treat. Make sure you prepare few batches at once and store in ziplock bags in the freezer. That way you'll have them ready whenever you need a healthy boost of energy.
And now I'll leave you with  the recipe.... Enjoy!
Print
Chocolate Peanut Butter Banana Oatmeal Bars
Protein-rich No Bake Chocolate Peanut Butter Banana Oatmeal Bars made with all HEALTHY ingredients, refined sugar-free. A perfect midday bite, or post workout snack.
Ingredients
3

cups

rolled oats*

2

medium sized ripe banana

3

tablespoon

rice syrup

, or maple syrup or honey

4

tablespoon

creamy peanut butter

, added sugar-free, added oil-free

2

teaspoon

vanilla extract

1

cup

dark chocolate chunks or chocolate chips

, 70% or more cocoa with unrefined sugar**
Instructions
Line the bottom of a 9x9 inch (22x22cm) square pan with parchment paper. Set aside.

Put 1/2 oats into the food processor and pulse for 2 second to cut up oats in smaller pieces. Combine with the rest of oats in one larger mixing bowl.

In the separate bowl, mash banana with the fork. Add syrup or honey and vanilla extract and softened peanut butter and mix well until you get a smooth mixture.

Add peanut butter banana mixture into oats and stir until evenly combined.

Transfer mixture to the prepared pan. Press down using the second sheet of parchment to press it evenly into the bottom of the pan. Place in freezer for 15 minutes.

In meanwhile melt dark chocolate chunks or chocolate chips in microwave or using the stove. Let it cool for few minutes then spread the melted chocolate on top of the oats.

Freeze until firm enough to cut into bars.
Notes
* For gluten-free version make sure you use certified gluten-free products. ** For VEGAN version use vegan dark chocolate chips. Keep in an airtight container refrigerated for up to 1 week. Place in ziplock bags and freeze up to 3 months. As a measure, I used UScup (240ml).
Nutrition
Calories:
424
kcal
|
Carbohydrates:
64
g
|
Protein:
13
g
|
Fat:
15
g
|
Saturated Fat:
7
g
|
Polyunsaturated Fat:
1
g
|
Monounsaturated Fat:
2
g
|
Sodium:
5
mg
|
Potassium:
357
mg
|
Fiber:
10
g
|
Sugar:
9
g
|
Vitamin C:
3.3
mg
|
Calcium:
40
mg
|
Iron:
2.9
mg
These are my picks for this recipe:
[amazon_link asins='B0000ULZXG,B01HTYH8YA,B01BW1VNQ0,B071V6PXCV' template='MyPicks' store='natalieshealt-20' marketplace='US' link_id='01560340-666a-11e7-ab0d-5bca58b05d98']
Xoxo, Natalie