Rich, chocolaty and just amazing, MACA infused Chocolate Peanut Butter Chia Seed Pudding is one HEALTHY superfood-filled breakfast. This easy to make chia pudding is filled with powerful antioxidants and wonderful flavors, very nutritious and so good. Refined sugar-free and vegan, it's the PERFECT treat!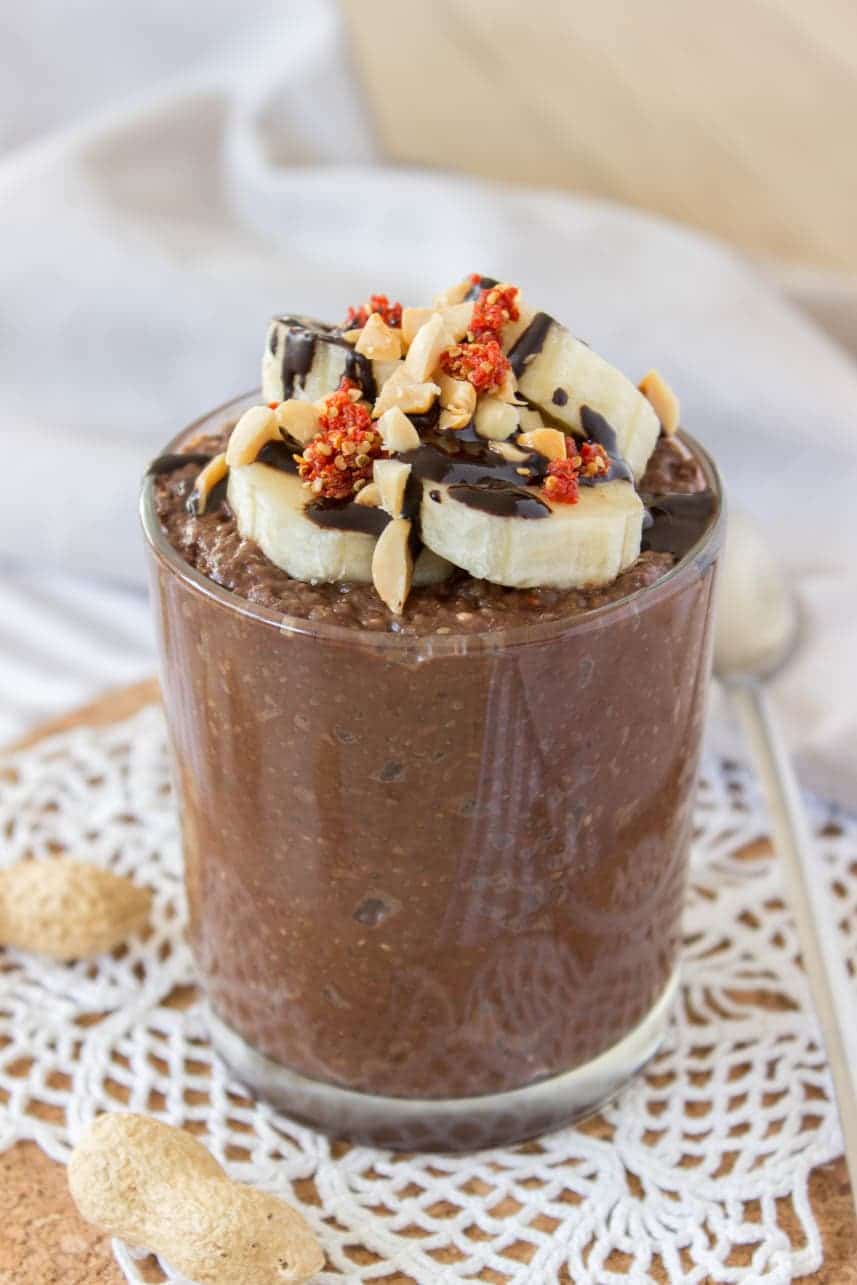 When it comes to chia seeds, I'm the biggest fan.... and the vigorous advocate of eating this nutritious wonder. How not to be the fan of such an incredible little plant? I mean, these tiny little black seeds are among the most nutritious foods on the planet. They are loaded with fibers, proteins, and healthy omega-3 fatty acids. Also, they are high in antioxidants and have sooo many benefits for our health.
Chia seeds were the first healthy superfood that I integrated into my healthy eating diet when I started with new lifestyle years ago. I never regret the day when I bought the first bag of chia seeds - they were so expensive back then. Chia seed was, and still are the stable in my kitchen, and they are almost daily on my menu.
I fancy boosting my Blueberry Banana Smoothie with chia superpowers, or having a warm toast with Blackberry Chia Seed Jam and cup of black tea in the morning. Sometimes I just sprinkle my salads with chia seeds, but above all, I loveeee a wondrous chia seed pudding. Like in this chocolaty, maca infused Chocolate Peanut Butter Chia Seed Pudding. It's my fav breakfast at the moment -  beside Peanut Butter Maca Overnight Oats.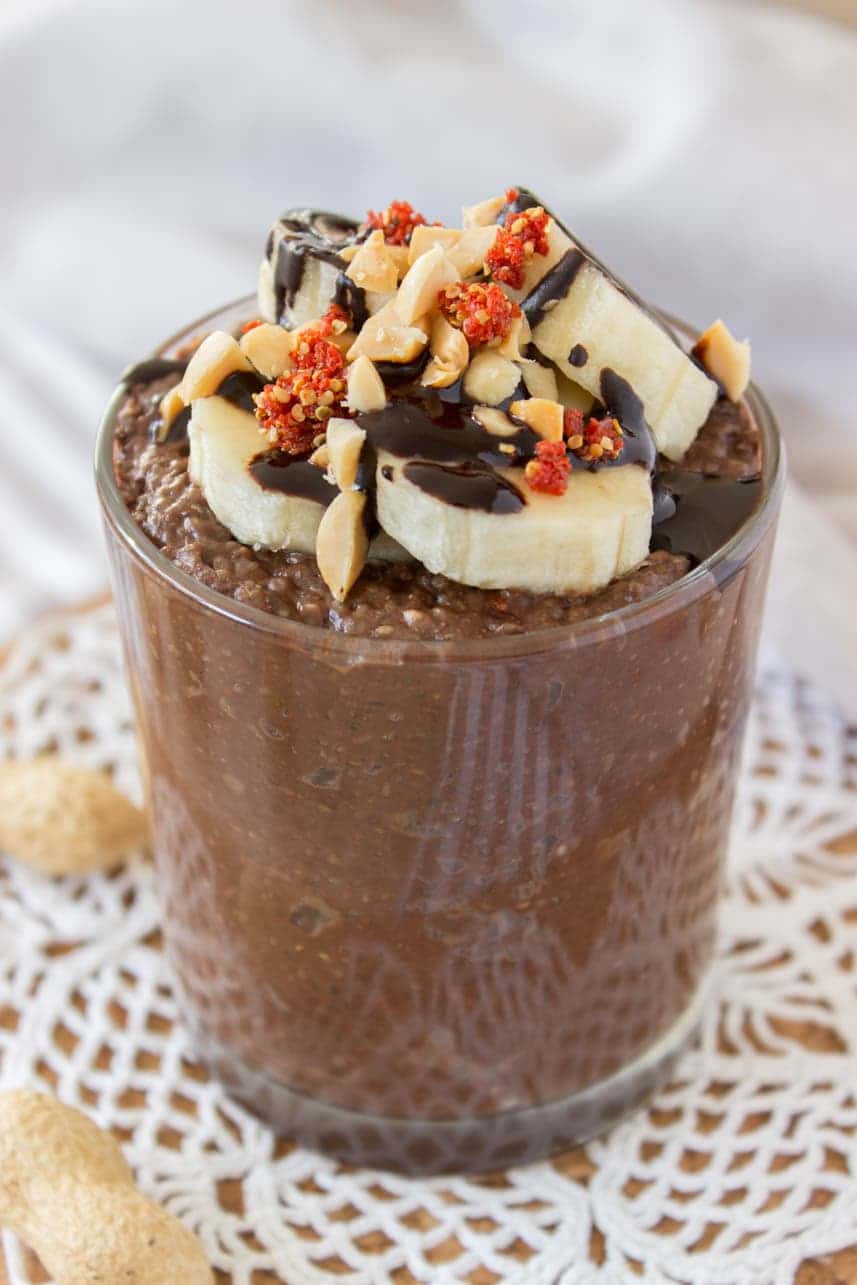 This chia seed pudding has ALL the best flavors mixed in one bowl - peanut butter, banana, and chocolate. Just one BIG YUM!
To make this chia seed pudding totally incredible, I boosted it with amazing superfoods. Beside wonderful chia seeds - rich in fibers, proteins and omega-3 fatty acids (aka HEALTHY fats) - I used natural creamy peanut butter (the one without added sugars and oils) bursting with fatty energy, and antioxidant-rich raw cacao powder. Also, I enhance this Chocolate Peanut Butter Chia Seed Pudding furthermore with maca powder. It's like one big antioxidant, mood boosting, super blasting, power bowl. Yeah, all that!
The taste is beyond amazing. Its sweet, incredibly creamy, earthy and rich in that deep dark chocolate flavor that we all looove.
The great thing about this Chocolate Peanut Butter Chia Seed Pudding is that you can whip up this beauty in no time. Of course, you can make this pudding ahead and leave it refrigerated overnight - even up to five days. But I find it best when it's served right away. It's more fresh and creamy that way. If you let it sit in the fridge for too long, it will set more firmly until it's quite solid. I don't quite like it, but many people actually do. Either way, it's HEALTHY, nutritious, and completely guilt-free.
Topped with sliced banana and melted raw chocolate, it feels like you're having some luxurious chocolate dessert for breakfast. I kinda fancy that!
I love Chocolate Peanut Butter Chia Seed Pudding so much because...
It's loaded with nutrients that promote good health.
It's powered with superfoods - chia seeds, raw cacao, maca powder.
It's refined sugar-free, dairy free, vegan and gluten-free.
It's packed with immune-boosting antioxidants.
It helps with balancing hormones naturally, boost energy levels and uplifts mood.
It's 100% weight loss friendly and soooo GOOD!
I just KNOW you're going to love this healthy treat. Enjoy it as a snack, dessert or breakfast.
Recipe
Chocolate Peanut Butter Chia Seed Pudding
Maca infused Chocolate Peanut Butter Chia Seed Pudding
Ingredients
Toppings:
1

banana

Chopped nuts and goji berries for topping

optional
Instructions
In a blender, mix milk, maca powder, peanut butter, cacao, chia seeds maple syrup and vanilla until you get smooth mixture without lumps. You can adjust sweetness and add more syrup to taste.

Pour mixture into a bowl or glass mason jar.

Let it rest covered in the fridge for 30 minutes, stirring occasionally, until it reaches a pudding-like consistency.

Serve chilled with desired toppings - sliced banana, raw chocolate, crushed nuts and goji berries.

Refrigerate leftovers up to 5 days.
Nutrition
Serving:
1
g
|
Calories:
386
kcal
|
Carbohydrates:
43
g
|
Protein:
11
g
|
Fat:
21
g
|
Saturated Fat:
6
g
|
Sodium:
243
mg
|
Potassium:
591
mg
|
Fiber:
14
g
|
Sugar:
18
g
|
Vitamin A:
40
IU
|
Vitamin C:
6.4
mg
|
Calcium:
346
mg
|
Iron:
3.5
mg
Tried this recipe?
Don't forget to rate it and leave the comment. I would love to hear what you think.
Disclaimer
The nutritional information provided is approximate and is calculated using online tools. Information can vary depending on various factors, but I have endeavored to be as accurate as possible.
These are my recommendation for this recipe:
[amazon_link asins='B00F7SU64K,B00KN6MLO4,B00AQFGL3O' template='MyPicks' store='natalieshealt-20' marketplace='US' link_id='701986e8-1700-11e8-b805-c79975ce3d27']