These mini Peanut Butter Banana Muffins are not only adorable but so delicious. Sweet, flavorful, and loaded with chocolate chips. Also, made with wholesome ingredients, and without unhealthy sugars. Perfect healthy breakfast for kids.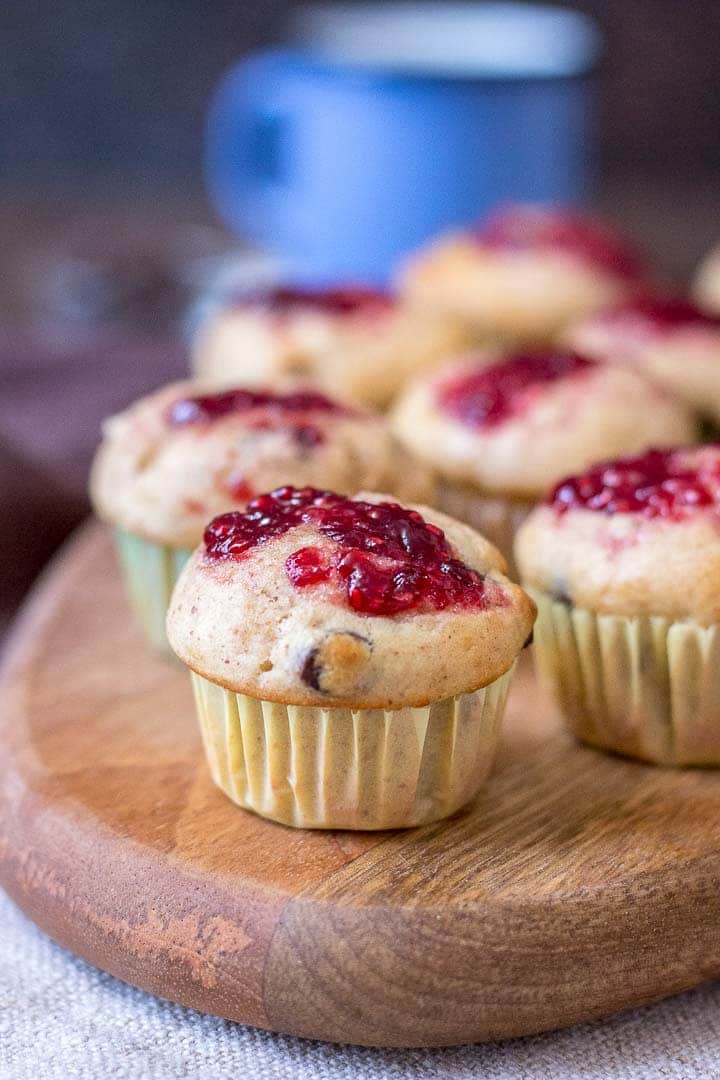 I was just about to make and share with the world yet another chocolate recipe and thus continue chocolate extravaganza that's been going on in my life and the blog lately. But then I looked at my food calendar... yes, I actually have one pinned on my office wall to inspire me... and I saw that with 1th of March (which is today!) the National Peanut Butter Month begins. Oh, joy!
I quickly switched my mind from chocolate to this creamy nutty splendor that I love SO MUCH and start brainstorming what to make for my boys and me to mark this special occasion.
And while my mind was full of ideas, I remembered that a few weeks back I bought this cute little mini muffin tin to make cute little muffins, but never got a chance to bake them. Because of the No Bake Brownie Bites and Fudgy Cacao Walnut Brownies. OBVIOUSLY! So now with that chocolate craziness behind me (or at least I think is behind me...), it was time to test that muffin tin and bake something peanut-buttery.
Honestly, I never made mini muffins or baked anything that tiny before. Regular muffins are kinda my thing. I am well known to make the best moist and tender Strawberry Banana Muffins, and Double Chocolate Banana Muffins are sooo darn good. You just can't resist them. But with these tiny muffins, I was kinda worried. How they will turn out?! I mean, they are soooo tiny!!!!
Well, my worries were all for nothing. It turned out that mini muffins are super simple to make, just like regular ones.
When I got these mini Peanut Butter Banana Muffins out from the oven and made that first bite... well these muffins are bite-size, so I literally put the whole muffin in my mouth, I just mumbled with pleasure. They turned out absolutely perfect.
These bite-sized little sweethearts are soft textured, like little marshmallows, sweet and so beautifully flavored with peanut butter and banana. Soooo SO good! Oh, and did I mention that I even manage to squeeze chocolate chips inside. Oh yes, I did! I DID!!!
Are these Peanut Butter Banana Muffins healthy?
You bet they are!!! These mini Peanut Butter Banana Muffins are not just adorable, sweet tasting and absolutely delicious, they are also super HEALTHY and made with only good-for-you stuff.
To make them I used oat flour which is basically oats blended into a flour. Oats are loaded with nutrients and many health benefits. They are rich in fibers good for our digestion, and a good source of proteins too which is a great bonus when you're on a healthy diet.
But did you know that oats are like super healthy for our heart too? YES. Oats reduce the risk of coronary diseases, lower cholesterol levels, and decrease blood pressure. Dunno about you, but I like to take care of my heart. I mean, it's super important, right?! That's why I eat heart-healthy foods every day. + I love using oat flour in baking because it lends soft and fluffy texture to baked goods, adding a mildly sweet flavor to it.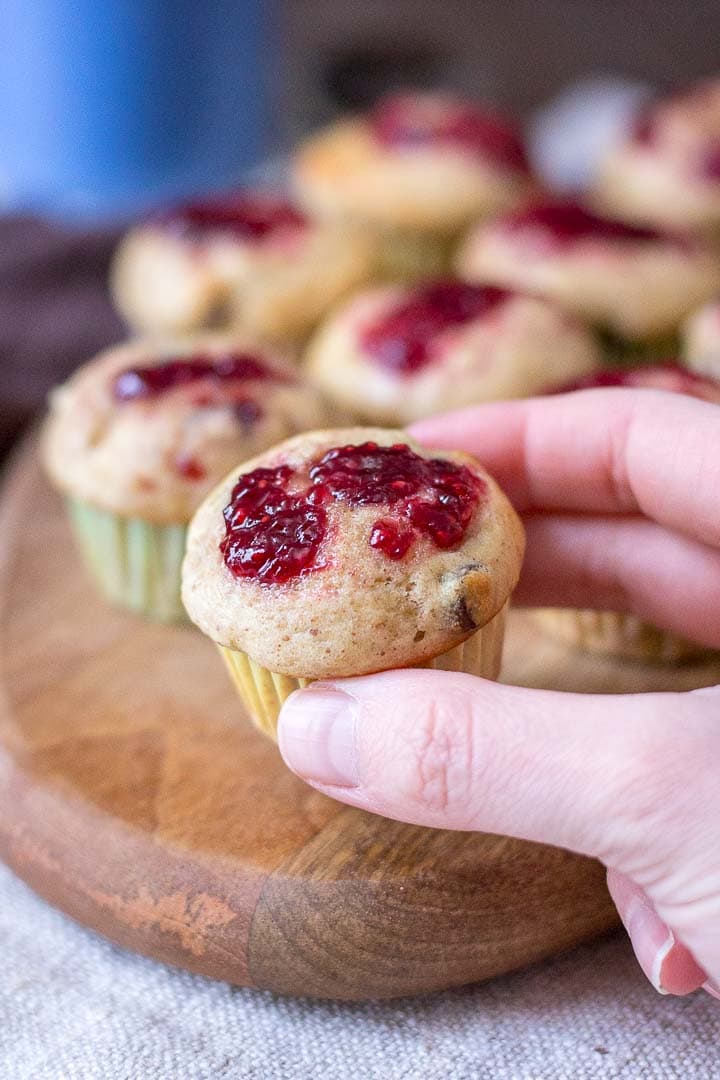 To sweeten these little cuties I used ripe banana and added just a hint of maple syrup so these banana peanut butter muffins are completely REFINED SUGAR-FREE, meaning healthier and guilt-free.
The thing that gave the muffins the real distinctive taste is, of course, peanut butter. It has this strong nutty flavor that paired so well with mildly sweet oat flour and banana. Peanut butter turned these tiny bites into a rich and delicious treat. But peanut butter is not just flavorful and tasty. It's also very healthy and added so many nutrients, like proteins and healthy fats making these little bites super NUTRITIOUS too.
To make them even more delicious (and nutritious) I also tossed in some dark chocolate chips and topped them fruity chia jam. I used raspberry chia jam, like the one I used in Raspberry Chia Pudding. You can use any fruit jam here.
Check these homemade chia jams for inspiration: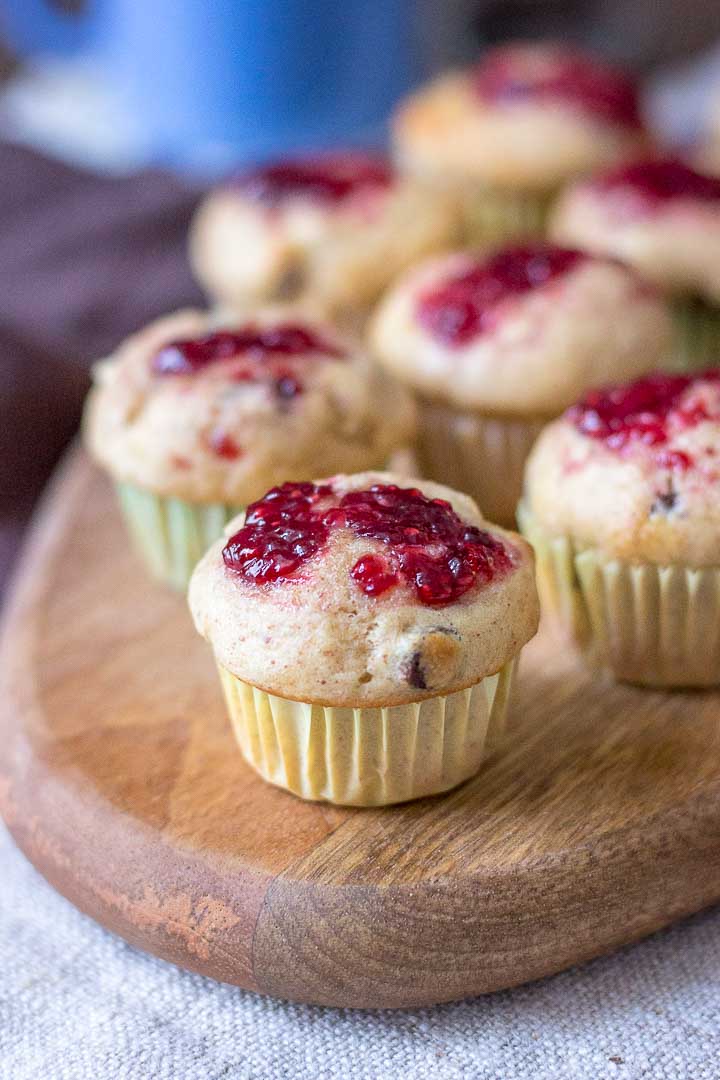 In the end, with all these healthy nutritious ingredients inside, these mini Peanut Butter Banana Muffins can be considered to be more than just a sweet afternoon enjoyment. They are a well-balanced WHOLESOME snack that is perfect for mornings as quick breakfast, but also when you need something to pack to your or kids lunchbox.
It's more than a cute look in these banana and peanut butter muffins. That's for sure!
What to say. These tiny little beauties totally thrilled us, with its taste, texture, healthiness and look. I mean, just look at them. They are soooo cute! And don't get me started blabbing about peanut butter-banana- chocolate+jelly combo! YUM!
My boys were delighted. I was delighted. The only problem was we ate them too quickly. Next time I need to do a double bunch.
Enjoy!
Recipe
Mini Peanut Butter Banana Muffins
Mini Peanut Butter Banana Muffins are not only adorable but absolutely delicious. Soft textured, beautifully flavored and loaded with chocolate chips, these tiny beauties are the perfect snack. They are easy to make, HEALTHY and totally guilt-free, made WITHOUT REFINED SUGARS.
Ingredients
1

cup

oat flour

2 ½

teaspoon

baking powder

Pinch of salt

1

cup

mashed ripe banana

about 1 large banana or 2 small ones

¼

cup

creamy peanut butter

unsalted and without added sugars

3

tablespoons

pure maple syrup

2

tablespoons

extra virgin coconut oil

melted and cooled to room temperature

1

teaspoon

vanilla extract

1

large egg

¼

cup

mini dark chocolate chips

with 70% or more cacao without refined sugars

½

cup

homemade chia jam

optional
Instructions
In a bowl mix dry ingredients - oat flour, salt, and baking powder. Set aside.

In a separate bowl mash banana with the fork. Mix in peanut butter, maple syrup and add coconut oil and vanilla. Gently mix everything with the whisk.

Add egg and slowly whisk few more times until egg is incorporated.

Slowly whisk in the flour mixture. Add chocolate chips and mix well but don't overmix the batter.

Using a small teaspoon, fill muffin tins ¾ full. Top muffins with jam (if using).

Bake or 8-10 minutes or until golden brown.

Cool in the pans for several minutes before removing to a

wire rack

to cool completely.
Notes
As a measure, I used UScup (240ml).
For GLUTEN-FREE version use certified gluten-free oats.
To make oat flour, pulse the oats in a food processor until the oats have a powdery consistency. Keeping in mind that 1 ¼ cups of rolled oats makes 1 cup of oat flour.
Nutrition Facts showing calories without jam.  
Nutrition
Serving:
2
mini muffins
|
Calories:
141
kcal
|
Carbohydrates:
15
g
|
Protein:
3
g
|
Fat:
7
g
|
Saturated Fat:
3
g
|
Cholesterol:
13
mg
|
Sodium:
37
mg
|
Potassium:
231
mg
|
Fiber:
1
g
|
Sugar:
6
g
|
Vitamin A:
25
IU
|
Vitamin C:
0.8
mg
|
Calcium:
63
mg
|
Iron:
0.7
mg
Tried this recipe?
Don't forget to rate it and leave the comment. I would love to hear what you think.
Disclaimer
The nutritional information provided is approximate and is calculated using online tools. Information can vary depending on various factors, but I have endeavored to be as accurate as possible.
Check these muffin recipes too: