Fudgy and full of dark chocolate flavor, these Chocolate Maca Tahini Brownies are beyond delicious. Packed with powerful superfoods - cacao and maca - these tahini brownies are anything but ordinary! No dairy, no flour, no refined sugars. So good and totally guilt-free!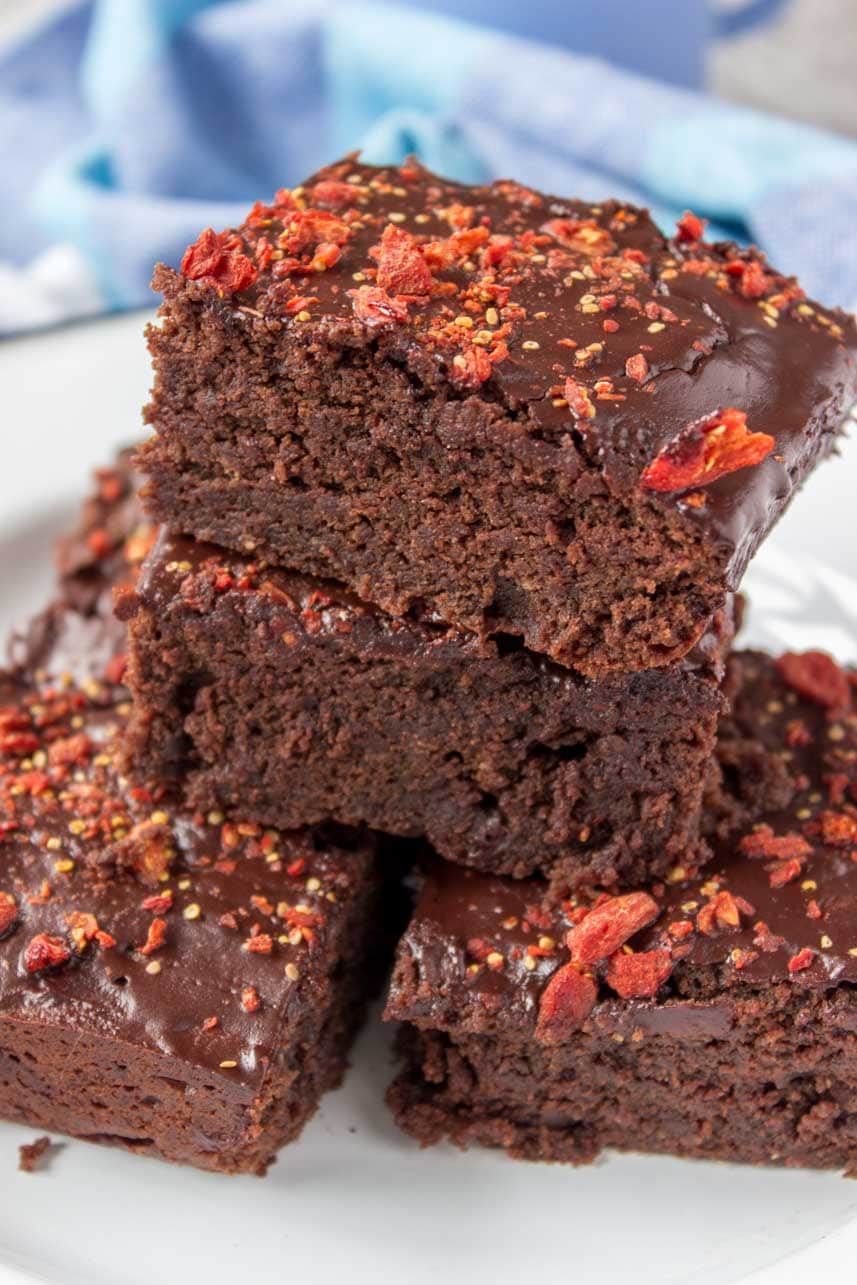 [cmtoc_table_of_contents]
I can't believe March is already here. Beautiful, fun, and exciting March! I'm excited to see nature waking up and blooming, to hear birds singing. Even though we don't have anything close to spring-like temperatures around here, I'm pretty sure that March will soon show its face.
As we are still in cold and flu season, citrus fruits and berries are our number one choice for satisfying our sweet tooth. But a man can't live solely on fruits. Sometimes cravings for chocolate take you all over, and you make dark and chocolaty desserts - like Dark Chocolate Cherry Brownies or Pomegranate Brownies.
Last week, I longed for something satisfying, indulging. Yet, completely guilt-free that will boost not only my mood but also my immunity. Since I'm completely obsessed with maca powder lately, and God knows I love brownies, I decided to mix those two and see where it leads me.
And so these Chocolate Maca Tahini Brownies were created and born. These tahini brownies turned out to be beyond delicious. Chocolaty, deep flavored, fudgy, and just delightful.
Ingredients for tahini brownies
Altho these brownies may sound "complex", trust me, they are super simple to make with just a few pantry ingredients. Here's what you need to make these dark chocolate beauties:
TAHINI: Tahini is made from ground sesame seeds, which are packed with nutrients - especially healthy omega-3s that lowers our cholesterol and fights inflammation. I love tahini because it has similar immune-boosting, heart-protective abilities like olive oil, walnuts, and flaxseeds. Also, it's 20% complete protein, making it a higher protein source than most nuts / nut butters. Plus, it's good for balancing our hormones and keeping our skin healthy. Yummy and healthy - my kinda food! You can buy tahini in any food stores.
CACAO POWDER: I used raw cacao powder here in this recipe. Cacao is bitter, deep-flavored and incredibly healthy. It's one of the richest sources of polyphenols – an powerful antioxidant that has been linked to many health benefits, like reducing inflammation, giving us better circulation, lowering our blood pressure, and improving cholesterol and blood sugar levels. (1) Cacao gave a gorgeous chocolaty flavor and made these tahini brownies absolutely irresistible.
COCONUT OIL: I used extra virgin coconut oil here. Coconut oil is great substitution for any oil that is typically used in making brownies. It's a powerful superfood that boost energy and brain functions, and keeps our heart healthy! It contains medium-chain triglycerides (MCTs) that goes straight to the liver where the body uses them as a quick source of energy. (2) Also, coconut oil contains natural saturated fats that increase HDL (good) cholesterol in the body turning turn LDL (bad) cholesterol into a less harmful form
COCONUT FLOUR: Coconut flour is made from dried and ground coconut flesh. It's rich in many nutrients including fats and fibers. Plus, it's naturally gluten-free. Great substitution for regular flour in classic brownie recipe.
COCONUT SUGAR: To sweeten tahini brownies, I used coconut sugar. Coconut sugar is a natural sugar made from coconut palm sap. Regular table sugar doesn't contain any vital nutrients and therefore is just empty calories while coconut sugar because of its minimal processing during production does hold some minerals – like iron, zinc, calcium, and potassium. Also, coconut sugar has a lower glycemic index than regular table sugar (

3

), which makes him a healthier sugar alternative.

MAPLE SYRUP: I also added a bit of maple syrup. For texture and to balance bitterness from cacao.
To make these brownies more interesting, I also added superfood MACA POWDER. Maca is really amazing! If you have it in your cabinet great, if don't you can totally skip it, altho I strongly suggest you to get it and start using.
Some dislike it's earthy nutty taste but I love it. It's a SUPERFOOD known to boost mood, sex drive, energy and stamina. Maca powder enhanced these Chocolate Tahini Brownies with amazing flavor but also gave many health benefits too.
Other pantry ingredients you'll need:
Eggs - I used free-range, pasture-raised.

Salt - I like to use Himalayan salt.

Baking soda.
Vanilla extract - I used pure vanilla extract.
Dark chocolate - for the glaze.
Goji berries - for topping (optional).
These Chocolate Maca Tahini Brownies are made completely dairy free and grain free. Also, I sweetened these brownies with natural unrefined sugars, so these brownies are sweet, rich tasting and completely guilt-free. Perfect!
I topped brownies with melted dark chocolate - I used raw one made with 100% cacao, but you can use the one with 80% or more cacao, just make sure it's made with unrefined sugar. I sprinkled some crushed goji berries on top. Goji berries are packed full of many nutrients also - mostly vitamins and minerals, and, of course, a pure wealth of powerful antioxidants.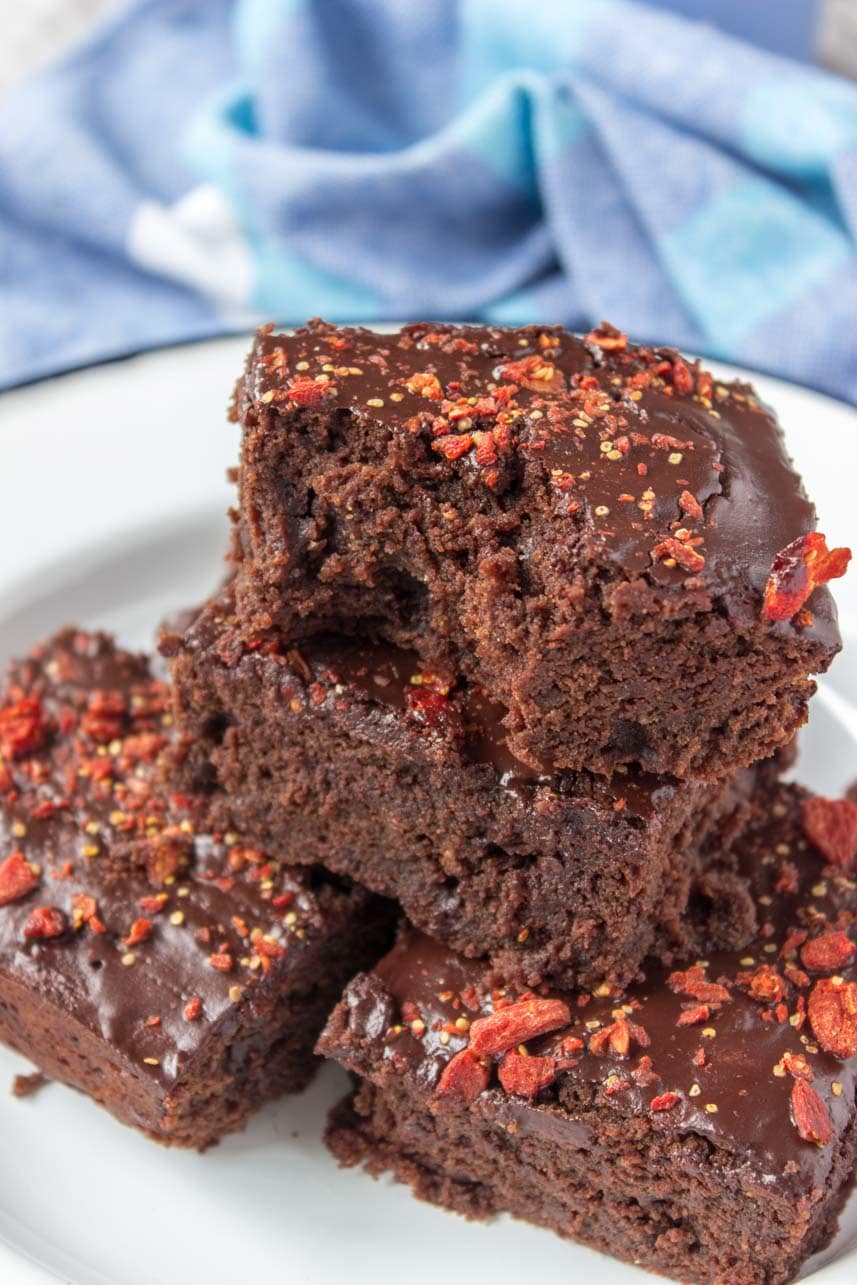 Chocolate Maca Tahini Brownies are…
made with all WHOLESOME ingredients
full of heart-healthy, anti-inflammatory Omega-3 fats,
one bowl wonder, quick and easy to make,
sweet but made without refined sugars,
low-calorie and rich in nutrients – quality fibers, plant-based proteins, and minerals,
enriched with powerful superfoods - raw cacao powder and maca powder,
great for balancing hormones, uplifting mood and boosting immunity,
grain-free, dairy-free,
fudgy, decadent and incredibly delicious!
The texture of these brownies is just beyond amazing. Fudgy, moist and gooey. Maca deepened the delicate tahini flavor and gave that deep earthy, roothy touch which complemented nicely bitter raw cacao taste. In one word - decadent!
So if you're looking something to uplift your mood, satisfy your sweet-tooth without leaving you feeling guilty for eating one too many, Chocolate Maca Tahini Brownies is a way to go.
Enjoy!
Recipe
Chocolate Maca Tahini Brownies recipe
These Chocolate Tahini Brownies are beyond delicious. Fudgy, full of dark chocolate flavor, so irresistible. No dairy, flour, or refined sugar. Perfect guilt-free dessert.
Instructions
Preheat oven to 350F. Grease a 9x9 inch baking pan with nonstick cooking spray.

In a large bowl, combine the tahini, coconut sugar, maple syrup, coconut oil, vanilla extract and eggs until smooth and well combined.

Gently fold in cacoa powder, maca powder, coconut flour, salt and baking soda until batter is smooth.

Spread batter evenly in prepared baking pan.

Bake for 22-25 minutes or until tooth stick inserted into the middle comes out clean. Don't overbake!

Remove from oven and let brownies cool for few minutes.

Melt dark chocolate and spread over the brownies. Sprinkle with crushed goji berries.
Nutrition
Serving:
1
slice
|
Calories:
231
kcal
|
Carbohydrates:
20
g
|
Protein:
4
g
|
Fat:
16
g
|
Saturated Fat:
7
g
|
Cholesterol:
27
mg
|
Sodium:
133
mg
|
Potassium:
191
mg
|
Fiber:
2
g
|
Sugar:
11
g
|
Vitamin A:
50
IU
|
Vitamin C:
0.8
mg
|
Calcium:
62
mg
|
Iron:
1.3
mg
Tried this recipe?
Don't forget to rate it and leave the comment. I would love to hear what you think.
Disclaimer
The nutritional information provided is approximate and is calculated using online tools. Information can vary depending on various factors, but I have endeavored to be as accurate as possible.
More chocolate recipes to try
*** PIN for later ***