Bright and creamy, this Lemon Smoothie is a great way to kick start your day. It's refreshing, easy to make and loaded with superfoods that will boost your mood and your immunity. It's a perfect energizing morning drink that is totally delicious!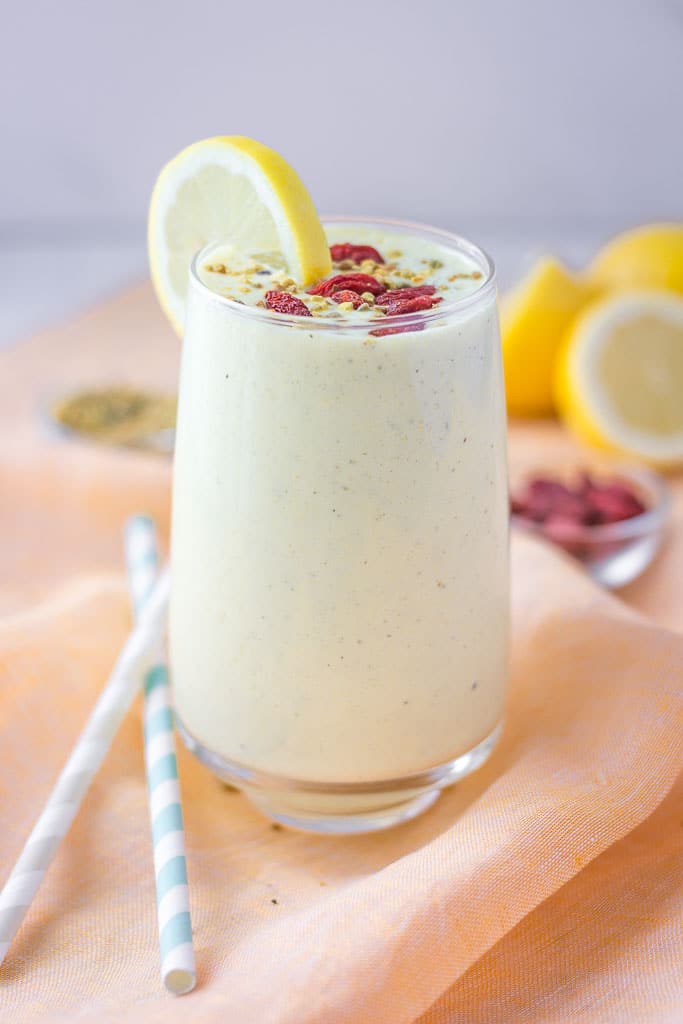 If you're following my blog, then you may ask yourself right now... What's with her and this obsession with smoothies lately?!
First, there was this gorgeous Ginger Banana Smoothie loaded with superfoods. Then there was this green mega-healthy Strawberry Spirulina Smoothie. And just early this week another one ... this beautiful probiotic-rich Strawberry Kefir Smoothie goddess.
Well, it's obvious that I'm on SUPERFOODS spree trying to boost my health BUT also smoothies are the quickest way to get all the nutrients your body needs in the morning... especially if you're super busy, like me lately. Also let's not forget, smoothies ARE super delicious and refreshing morning drink, perfect to kickstart your day!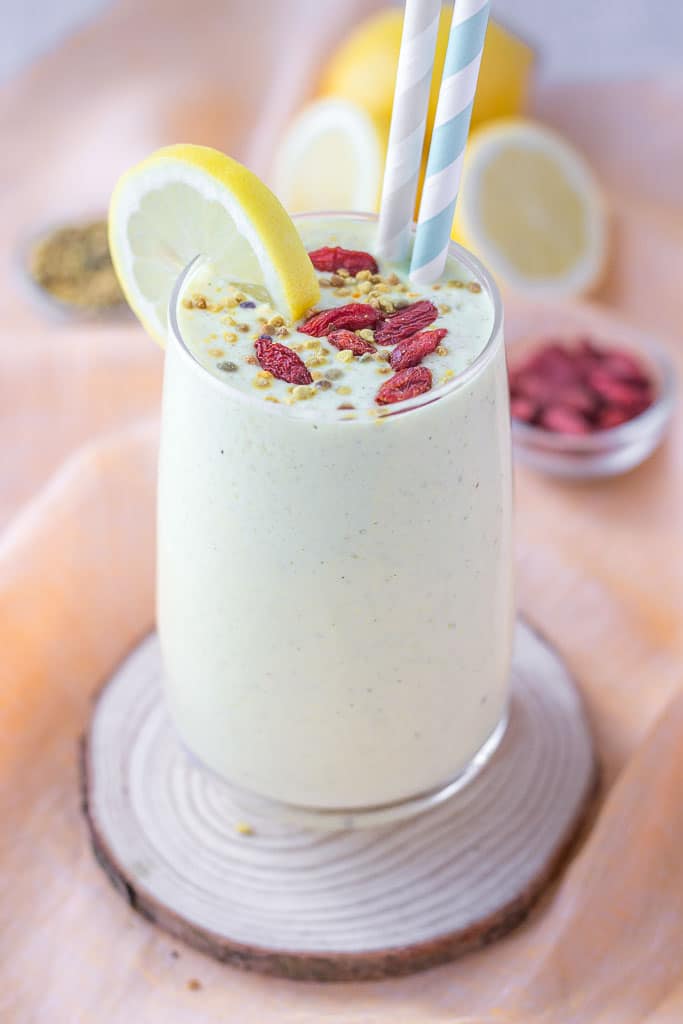 This particular Lemon Smoothie recipe I wanted to share with you ages ago but never got a chance. It's one of my favorite "fix-me-up" smoothies. Bright and citrusy, this smoothie will quickly boost you up when you're filling sluggish and bloated and just, you know... like blah!
With beautiful fresh lemons that are popping from everywhere ('cause they are in season) and after Easter binging you probably need this refreshing Lemon Smoothie as much as I do.
This smoothie is a great helper when it comes to boosting your metabolism and immunity, healing your overburdened gut, and making your day so much brighter. 
It's so HEALTHY, sweet but made without refined sugars, ALL NATURAL and super low-calorie. Totally delicious…. creamy and refreshing. + It's loaded with SUPERFOODS - immune boosting vitamins, healthy omega-3s, proteins and fibers.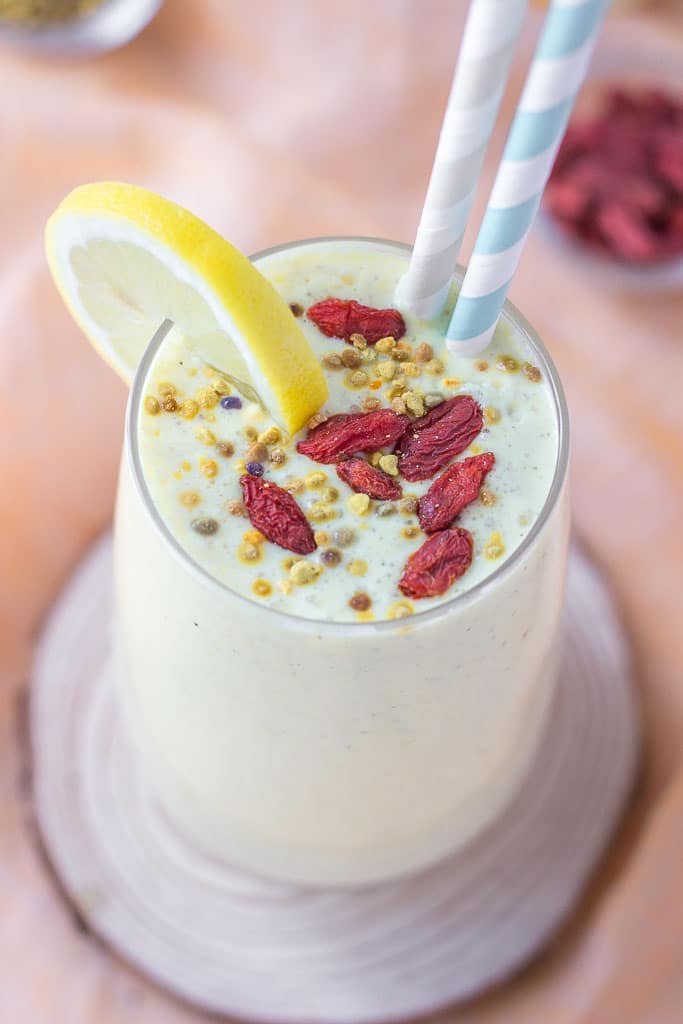 WHAT YOU NEED TO MAKE THIS SMOOTHIE
To make this delicious healthy smoothie, you will only need only a few simple ingredients. You probably have them in your house already.
Yogurt: I used Greek Yogurt here because it's thick and creamy but also because it's packed with probiotics that are beneficial to our digestive and overall health. Also, Greek yogurt is very nutritious, loaded with proteins, as well with essential minerals like calcium and magnesium, and vitamins like vitamin B12 and vitamin D. 
Milk: Almond or organic soy milk are the best choices for making this lemon yogurt smoothie. Both are mildly sweet and pairs well with citrusy lemon flavor.
I like to boost my meals with SUPERFOODS whenever I can so this smoothie is packed with:
Turmeric contains a yellow-colored chemical called curcumin that has powerful anti-inflammatory effects and is a very strong antioxidant (1). Turmeric added some flavor to this smoothie but it also helps with boosting digestion. Curcumin is activated with black pepper and it's fat soluble. That's why I used high-fat coconut yogurt and added a bit of black pepper.
Hemp seeds are loaded with two essential fatty acids, omega-6 and omega-3, aka healthy fat, but also a great source of high-quality proteins (2). You can definitely swap hemp seeds for chia seeds or flax seeds here. Use one you have at home, and the one you prefer.
Baobab powder boosted this lemon smoothie with healthy fibers that are great for digestion but also added a whole lot of vitamin C – a powerful antioxidant and immune booster (3).
Of course, the main stars here in this beautiful smoothie story are LEMONS. Bright, refreshing, loaded with citrus flavor and powerful antioxidants - vitamin C. Lemons not only taste delicious but also work wonder for your health, skin, and hair.
I used both lemon juice and lemon zest. When using lemons zest just make sure you buy unwaxed organic lemons and to wash lemons thoroughly before zesting the peel.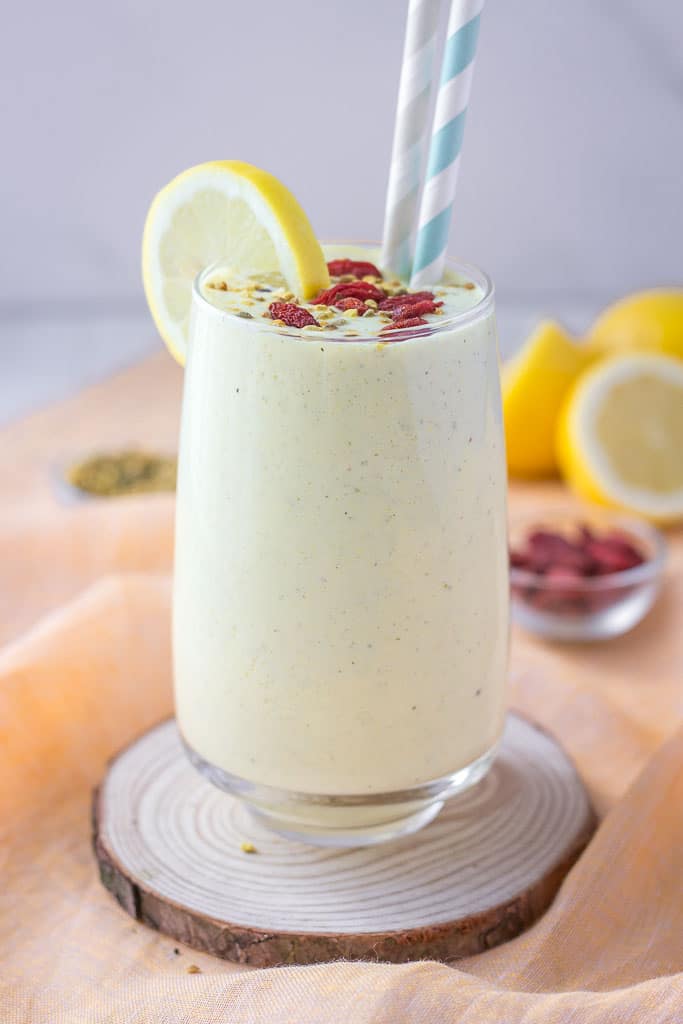 How to make lemon smoothie
Simply throw all the ingredients in your blender and blend until smooth.
If you like cooling smoothies with extra refreshing feel, add few ice cubes in the mixture. That will give a nice kick.
This smoothie is banana-free, so you probably will need to add some sweetener. I like to use maple syrup or honey.
You can swap Greek yogurt with kefir or natural yogurt. In that case, since this smoothie doesn't include banana, you may find the end texture a bit too thin. Just use less milk.
Pour the smoothie in a glass and top it with bee pollen and Goji berries for chewy punch.
Enjoy freshly made or save it in a glass bottle with good lid for later. You can keep leftovers refrigerated up to 2 days.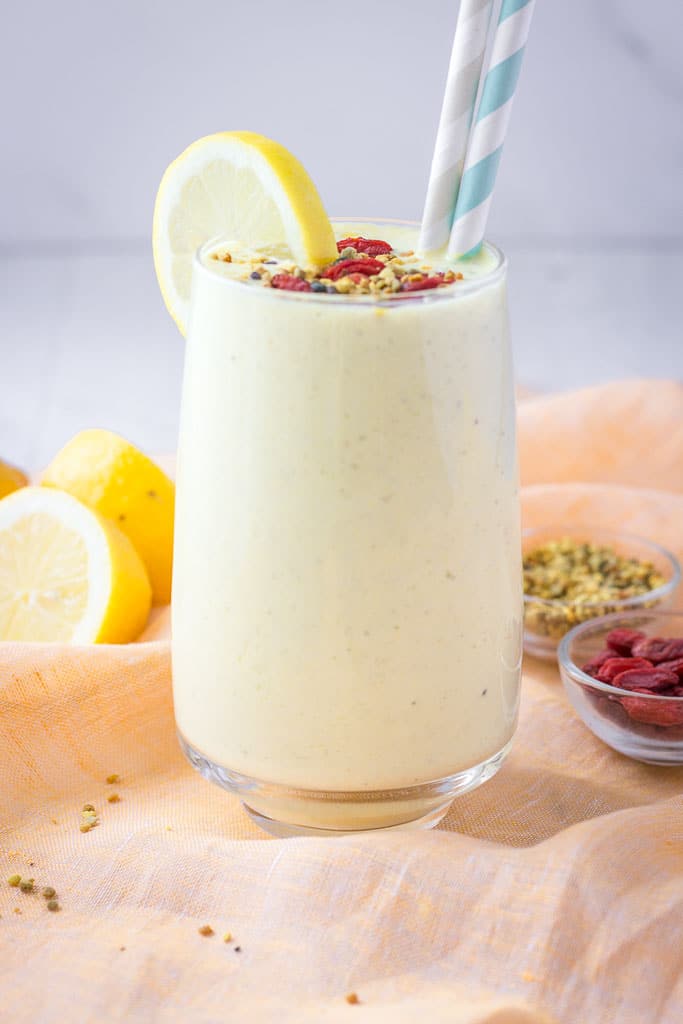 Packed with beautiful citrus flavor, creamy and just incredibly bright, this Lemon Yogurt Smoothie is destined to lighten your day. + It's probiotic-rich, packed with nutrients that will boost you with needed energy, and SUPERFOODS with super-powers. It's great for kids, too! Guaranteed to be a winner.
If you're looking for more gut healing, metabolism boosting SMOOTHIE RECIPES, check these out:
Enjoy!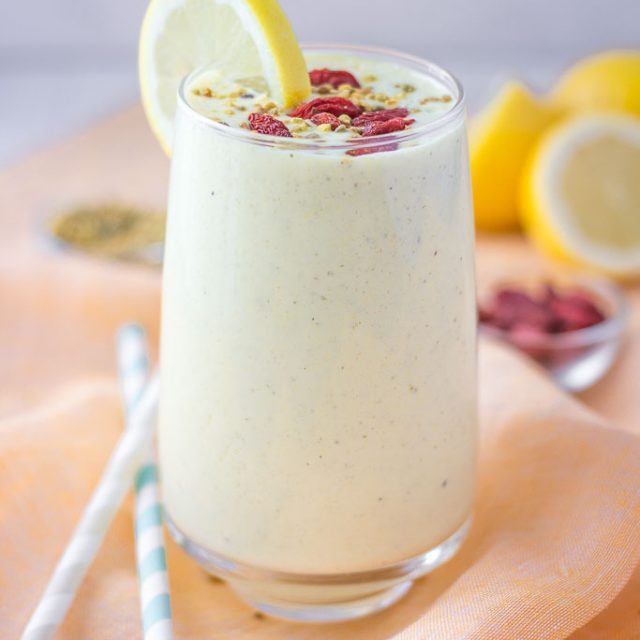 Lemon Smoothie
Lemon Smoothie with yogurt and superfoods, loaded with freshness and beautiful flavors. Perfect immune boosting drink that is totally delicious!
Instructions
Add all the ingredients into your blender and process until smooth. Add ice cubes if you like more refreshing smoothie.

Pour in a glass and add toppings: bee pollen, Goji berries.

Drink immediately or save in glass bottle and refrigerate up to two days.
Notes
As a measure, I used UScup(240ml).
Disclaimer: The nutritional information provided is approximate and is calculated using online tools. Information can vary depending on various factors, but I have endeavored to be as accurate as possible.
Nutrition
Calories:
341
kcal
|
Carbohydrates:
25
g
|
Protein:
22
g
|
Fat:
17
g
|
Saturated Fat:
1
g
|
Cholesterol:
5
mg
|
Sodium:
363
mg
|
Potassium:
242
mg
|
Fiber:
3
g
|
Sugar:
17
g
|
Vitamin A:
155
IU
|
Vitamin C:
16.9
mg
|
Calcium:
485
mg
|
Iron:
4.4
mg
Tried this recipe?
Don't forget to rate it and leave the comment. I would love to hear what you think.
Disclaimer
The nutritional information provided is approximate and is calculated using online tools. Information can vary depending on various factors, but I have endeavored to be as accurate as possible.
If you've tried this Lemon Smoothie or any other recipe on Natalie's Health, please take a minute to rate the recipe and leave a comment letting me know how you liked it. I love hearing from you!
You can also FOLLOW ME on Facebook | Instagram | Pinterest | Twitter