These Walnut Brownies are ultra-rich, chewy, chocolaty, and loaded with crunchy walnuts. It's an instant mood-booster and the perfect treat to satisfy a sweet tooth! Best walnut brownie recipe EVER!
Table of contents
Nothing says I love you like some delicious, bitter-sweet tasting chocolate treat. I know that many will agree with me on that one. Well, my hubby is a HUGE chocolate fan and romantic at heart. And he firmly believes in that theory. That's why I made him something very special - chocolaty, decadent and super delicious for this Valentine's Day.
Well, he deserved extra attention and dedication from me that day. Oh, you should see him on Valentine's morning, getting up early to make me a breakfast. He made Raspberry Chia Pudding and my favorite Matcha Green Tea Latte following instructions from my blog. Soooo super cute! And serving me this incredible feast IN BED was just the TOP feeling!
He also got me this cute little card with 'I love you to universe and back' note. 'We are the perfect pair. Like bacon and egg.' - he said. He instantly melted my heart. I love him so much! We are true soulmates.
Anyway, he made me feel so beautiful and so special that morning, so that's why later that day, I decided to prepare him something special too - his favorite dessert brownies. 
Perhaps he expected Fudgy Cocoa Pomegranate Brownies or Chocolate Maca Tahini Brownies. But I was on a mission to surprise him with something NEW! I made him these decadent, rich tasting, Fudgy Cacao Walnut Brownies.They were a WINNER! These walnut brownies are delightful, delicious and beyond amazing. 
He ate a whole plate mumbling in satisfaction. Even our kiddo joined the feast later on. They both agreed I should make these walnut brownies more often in the future. Honestly, I have no problem with that whatsoever. These brownies are one yummy treat!
To make these Fudgy Cacao Walnut Brownies I used ALL NATURAL and super healthy stuff - cacao powder, coconut oil, walnuts. I even tossed in some superfood maca powder. Not just for uplifting the overall brownie taste but for boosting Valentine's mood. Besides its powerful health benefits and antioxidant properties, maca is a powerful aphrodisiac too.
As for the preparation method, this time I used a bit different approach. I experimented with the process because I wanted to achieve special fudginess and chewiness, like in no other brownies I made before.
This new method turned out to be an absolute winner. Brownies came out soft, chewy, with a crusty top, and soft and chewy middle. In one word PERFECTION!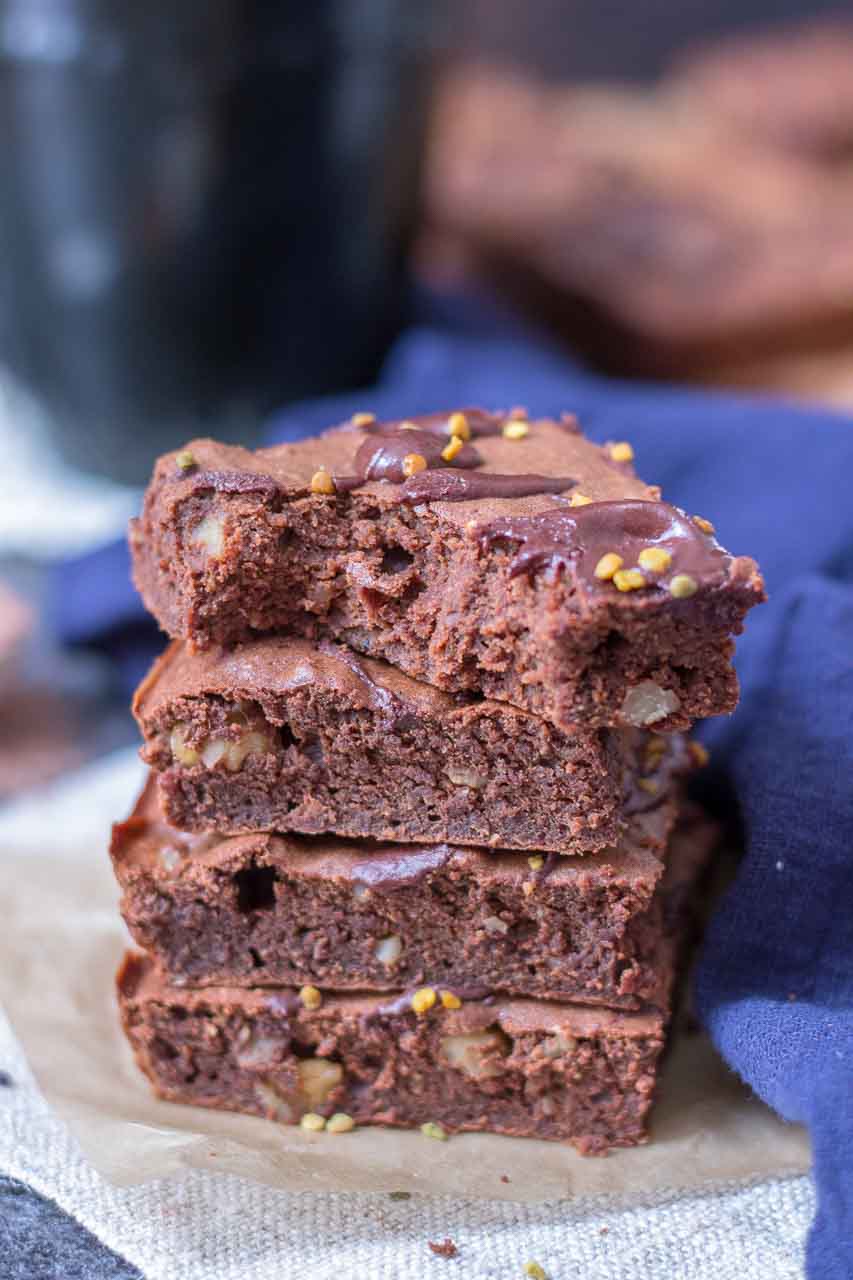 These brownies are loaded with superfoods and so healthy. I used raw cacao powder to make these brownies - not dark chocolate like it is usual in other brownie recipes. Raw cacao is loaded with minerals and powerful antioxidants. It also has this distinctive bitter-sweet deep chocolaty flavor that store-bought dark chocolate simply doesn't have. Making brownies with raw cacao gives this PURE unbeatable chocolate taste.
Also, raw cacao paired so nicely with earthy maca flavor. This combo is truly amazing. Add to that nutty flavor from walnuts and you got a true winner here.
Fudgy Cacao Walnut Brownies are ultra-rich, moist, chewy, chocolaty and loaded with crunchy walnuts. Delicious and so addictive. Best walnut brownie recipe EVER!
Enjoy!
📖 Recipe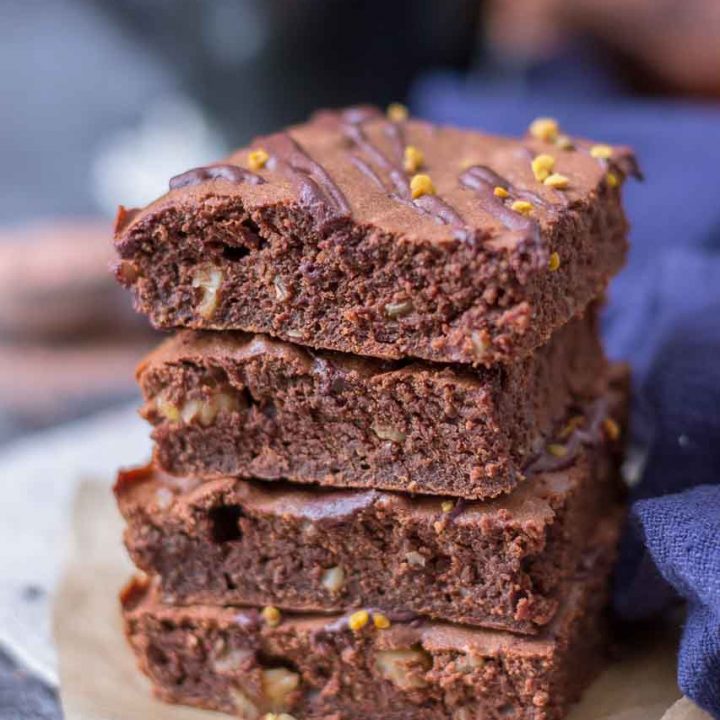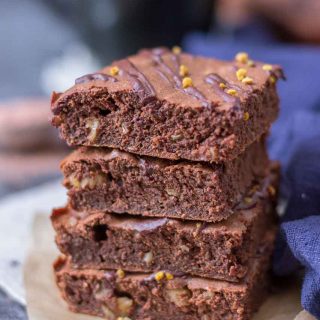 Fudgy Cacao Walnut Brownies
Fudgy Cacao Walnut Brownies are a perfect chocolaty treat loaded with SUPERFOODS. These walnut brownies are super HEALTHY and completely guilt-free. Best walnut brownie recipe EVER!
Instructions
Position an oven rack in the lower third of the oven and heat to 350F.

Melt coconut oil and leave it to cool to room temperature.

In a medium-sized bowl combine cooled coconut oil, coconut sugar, sifted cacoa powder and maca powder. Add salt and stir well. Don't worry if it looks crumbly; it will become smooth once you add the eggs and flour.

Stir in the vanilla with a

spatula

. Then, add eggs, one at a time, stirring vigorously after each one.

When the batter looks thick and well blended, add the flour and stir until fully combined.

Stir in chopped walnuts and spread the batter evenly in lined baking pan.

Bake 20 to 23 minutes (or until a toothpick inserted into the center come out almost clean). Note: Keep an eye on the brownies - don't overbake it.

Remove from the oven and cool completely.

Sprinkle with melted dark chocolate and bee pollen, if desired.
Notes
As a measure, I used UScup (240ml).
Keep in airtight container in fridge up to one week.
Freeze for up to three months.  
Nutrition
Serving:
1
slice
|
Calories:
142
kcal
|
Carbohydrates:
12
g
|
Protein:
2
g
|
Fat:
10
g
|
Saturated Fat:
6
g
|
Cholesterol:
30
mg
|
Sodium:
99
mg
|
Potassium:
102
mg
|
Fiber:
1
g
|
Sugar:
5
g
|
Vitamin A:
45
IU
|
Vitamin C:
0.3
mg
|
Calcium:
18
mg
|
Iron:
0.8
mg
Tried this recipe?
Don't forget to rate it and leave the comment. I would love to hear what you think.
Disclaimer
The nutritional information provided is approximate and is calculated using online tools. Information can vary depending on various factors, but I have endeavored to be as accurate as possible.
If you're a fan of CACAO POWDER, check these recipes:
Chocolate Peanut Butter Chia Seed Pudding
Dark Chocolate Cherry Brownies
Chocolate Avocado Smoothie