Creamy, sweet and absolutely delicious, this immune-boosting Mango Turmeric Smoothie Bowl makes the perfect quick breakfast. It's full of wonderful flavors, and made without added sugars. This bowl will surely brighten your day!
Oh man, this winter is LONG. Does it seems long to you? January just ended... spring is not even near! It's kinda depressing thought. And I'm far from easley depressed person. Don't get me wrong - I love winter, the snow, and everything. But lately, I find it more pleasing just to watch winter and the snow from the inside of my warm apartment .... while nibbling on Apple Cinnamon Oatmeal Cookies and having warming cup of Cacao Turmeric Maca Hot Chocolate. <-- So YES to that last part!
As I'm getting older, I somehow start to appreciate warmer weather more. I'm seriously thinking of moving to sunny Florida or California. Yeah, that was just my wishful thinking!
Well, we had spring-like temperatures here just a few weeks back. I wished for the weather to stay that mild all winter long. But temperatures started to fall... until freezing. We woke up today covered with snow. SNOW?!? I'm not thrilled. Not thrilled at all. Yup, snow just made me one grumpy mama. (Those with kids and those who have to drive through the city for work will understand my grumpiness.)
I felt a bit down about cold weather, gloominess, the fact spring's not coming... the usual February slump, I guess, so I decided to go on tropical vacation.
At least in my mind. I wished for some exotic flavors and bright colors to brighten up my morning. So I whipped up this amazingness. This sweet and creamy Mango Turmeric Smoothie Bowl really made my day. So if you are looking for something to cheer you up on a chilly winter day - this is it, guys! This smoothie is packed with beautiful tropical flavors but also with so many nutrients. Perfect!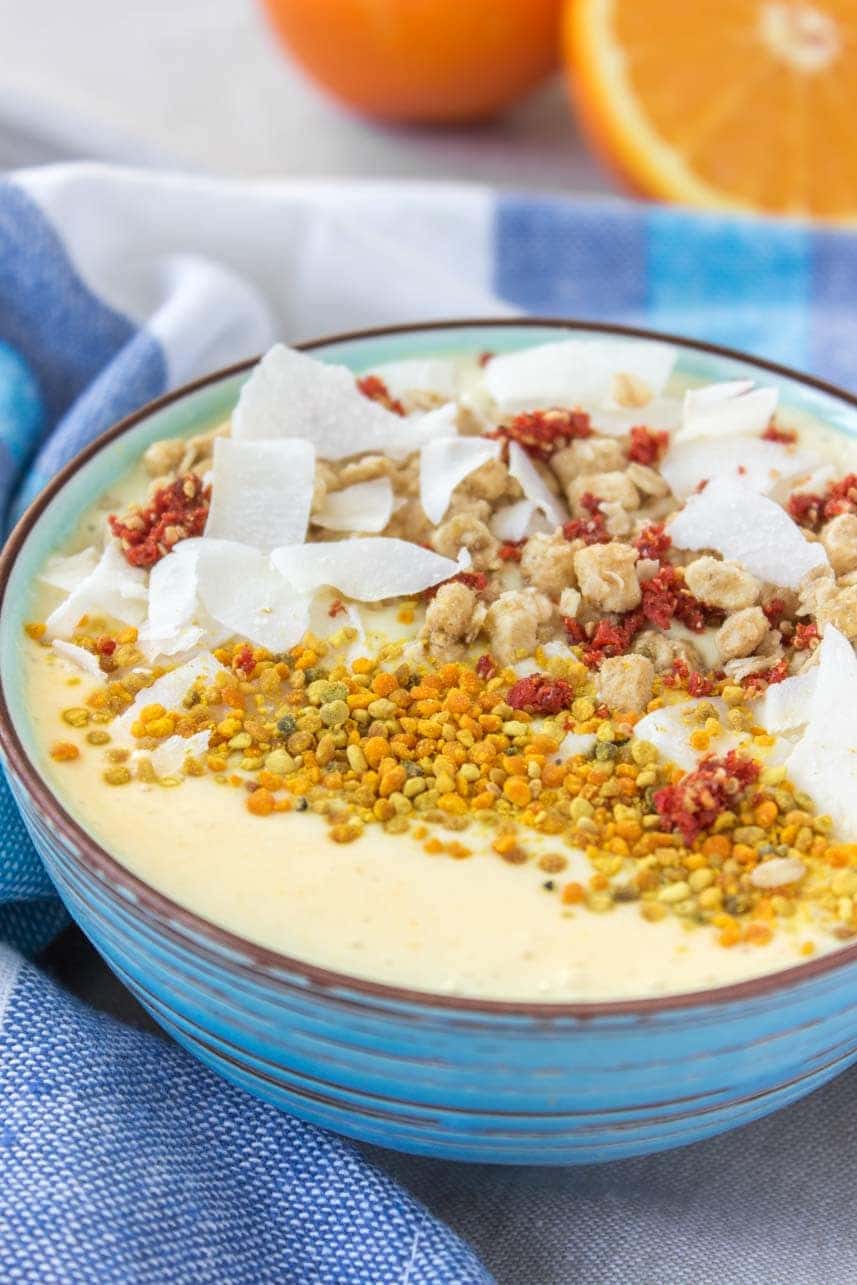 This smoothie bowl is loaded with dietary fibers, plant-based proteins, as well as with healthy energy-boosting fats. It's an easy and well-balanced meal packed in one bowl. Just what you need when you're in a hurry!
To make this bowl of deliciousness, I used all natural ingredients - beautiful fresh fruits - mango, orange, and banana - filled with fibers, vitamins and essential minerals like potassium. I enhanced the taste with a hint of vanilla and power-boosted the whole bowl with amazing super spice - TURMERIC. Mango, banana, and orange juice combined gave that beautiful summery, sweet taste, while TURMERIC deepened the flavor and made this smoothie bowl so exotic tasting.
Oh, did I mention that this smoothie bowl is added sugar-free?! YES! Just pure fruity flavors. It's a real weight loss friendly sweet-tooth pleaser!
I've expressed my profound love for turmeric trough many of my recipes. Turmeric contains curcumin, a substance with powerful anti-inflammatory and antioxidant properties thus giving every meal not only flavor but boosting it with many health benefits. It's one amazing spice, and you can use it in so many ways. Actually, you can use it DAILY in almost every meal you eat.
Just imagine having this Tomato Apple Soup for lunch. Or this Turmeric Maca Powder Cacao Energy Balls for the snack. Yummy! All these are enhanced with turmeric. And it takes so little of that spice daily to keep your body healthy and happy.
This Orange Mango Turmeric Smoothie Bowl is not only packed full of nutrients and enhanced with powerful anti-inflammatory turmeric but also incredibly creamy and so good for gut health. To achieve silky smooth texture I used probiotic yogurt. Probiotic yogurt promotes good digestion and a healthy digestive tract. It helps the maintenance of balanced gut microflora. So important, guys!
You know when you feel bloated or sluggish? Well, that's your gut telling you it needs a bit of probiotic aid. This Orange Mango Turmeric Smoothie Bowl will give your digestion good boost and heal it needs.
Orange Mango Turmeric Smoothie Bowl is so AMAZING because ...
it's made with all natural, HEALTHY ingredients,
it's creamy and tropical flavored,
it's refined and added sugar-free,
it's a wholesome meal,
it's rich in nutrients – dietary fibers and plant-based proteins,
it's rich in powerful antioxidants, and vitamin C good for immunity,
it's rich in potassium, calcium, and iron,
it's enriched with anti-inflammatory healing super spice – TURMERIC,
+ it's deliciously creamy, sweet and amazing!
So, if you're looking for midwinter treat without any extra sweeteners, then this refreshing immune boosting, probiotic-rich, gut healing creamy deliciousness is the right thing for you. It will fill you with good HEALTHY nutrients, and make your body burst with energy. Perfect cheer me up breakfast.
Enjoy!
Mango Turmeric Smoothie Bowl
Creamy, sweet and absolutely delicious, this nutrient-packed, immune-boosting Mango Turmeric Smoothie Bowl makes perfect quick breakfast. It's full of wonderful flavors, all natural, refined and added sugar-free and so HEALTHY. This bowl will surely brighten your day!
Ingredients
Toppings:
1

tablespoon

granola

**

1

teaspoon

bee pollen

1

teaspoon

goji berries

crushed

Coconut chips
Instructions
Place mango, banana, yogurt, and orange juice in a blender. Mix well until you get a smooth mixture. Add vanilla and turmeric and mix again. Add a tablespoon or more water if the mixture is too thick.

Pour the mixture into the bowl. Decorate with toppings.

Serve immediately.
Notes
As a measure, I used UScup (240ml).
*For vegan, non-dairy version use coconut probiotic yogurt or kefir.
** Make sure you use certified organic, sugar-free, gluten-free granola.
Nutrition
Serving:
1
bowl
|
Calories:
401
kcal
|
Carbohydrates:
71
g
|
Protein:
11
g
|
Fat:
9
g
|
Saturated Fat:
5
g
|
Cholesterol:
7
mg
|
Sodium:
97
mg
|
Potassium:
1184
mg
|
Fiber:
5
g
|
Sugar:
49
g
|
Vitamin A:
1280
IU
|
Vitamin C:
103.3
mg
|
Calcium:
238
mg
|
Iron:
1.8
mg
Tried this recipe?
Don't forget to rate it and leave the comment. I would love to hear what you think.
Disclaimer
The nutritional information provided is approximate and is calculated using online tools. Information can vary depending on various factors, but I have endeavored to be as accurate as possible.