These Strawberry Overnight Oats are creamy and absolutely delicious. They are packed with healthy oats, probiotics, and wonderful fruity flavors. A perfect healthy breakfast for busy mornings.
Table of contents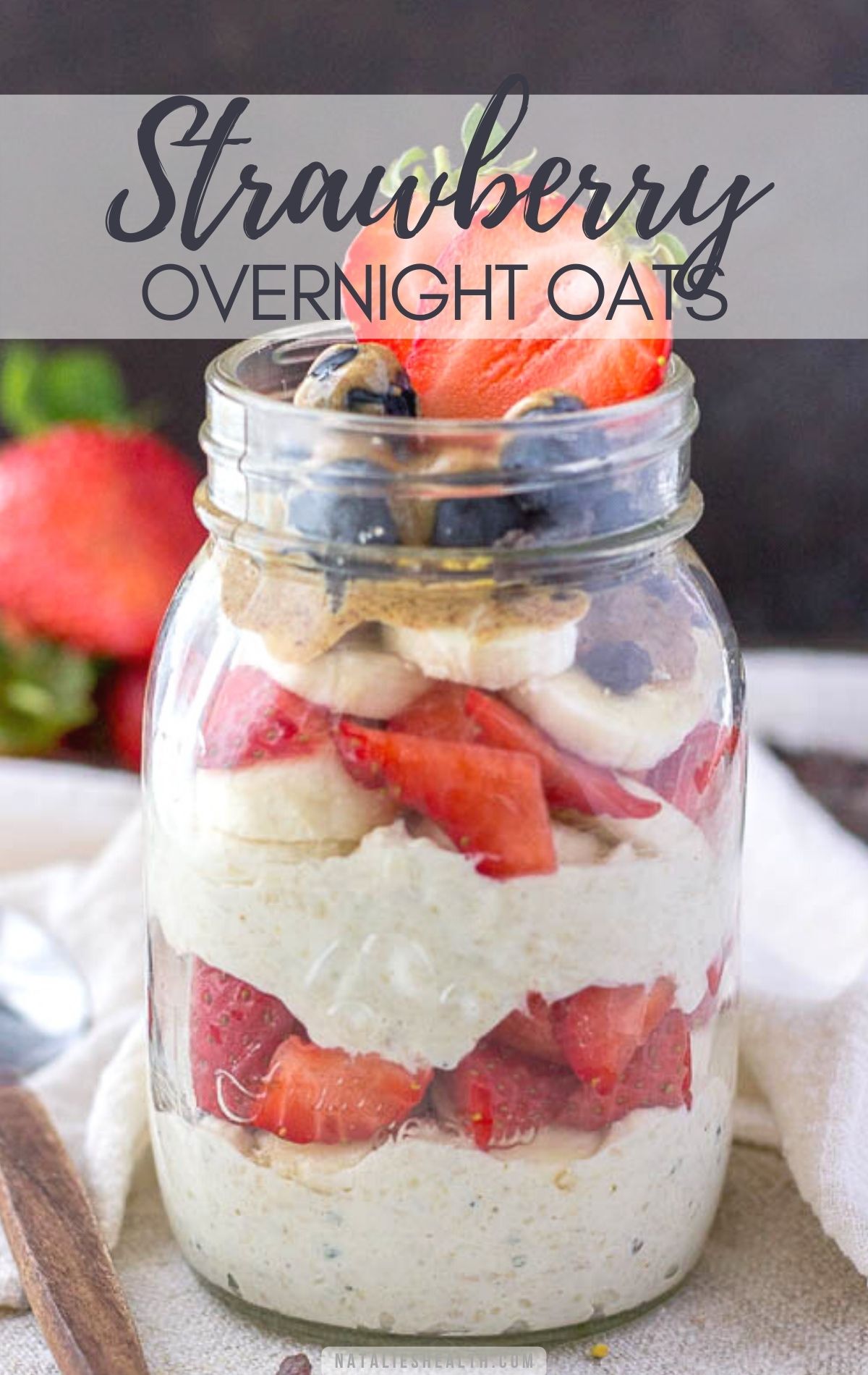 There is something in overnight oats. They are such a simple meal yet so incredible. I'm not quite sure, is it because of their natural creaminess or mild nuttiness that pairs so well with fresh fruits, or is it because of endless flavor combinations and possibilities to create a truly wonderful breakfast?
Overnight oats open your creativity and imagination when it comes to creating a perfect morning meal. 
I absolutely love overnight oats. They are my no.1 healthy breakfast choice that is nutritious, always delicious, and just beautiful.
Depending on my mood, some of these overnight oats creations turn out so pretty, almost too pretty to eat. ALMOST!
Since strawberries are now in season and bursting with freshness and sweet flavor, these Strawberry Overnight Oats were just a logical thing to make after Strawberry Chia Pudding and Strawberry Kefir Smoothie.
This overnight oats recipe is the perfect healthy make-ahead breakfast that is just unbelievably delicious. Fruity, creamy, sweet. + It's packed with natural proteins and fibers that will keep you well-fed all the way until lunch... and beyond.
It is one of those breakfast recipes you must learn to make. It's a low-calorie meal filled with WHOLESOME goodness and some magnificent flavors.
Ingredients used
To make this overnight oats recipe you'll need just a few simple pantry ingredients:
Oats: Oats are just incredible grain. They are a very good source of fiber, especially beta-glucan that is known for its power to lower cholesterol and therefore keep your heart healthy (1). Also, oats are high in vitamins, minerals, and powerful antioxidants. Overnight oats are normally made with old-fashioned rolled oats or quick oats. Rolled oats absorb more liquid and give nice dense texture while quick oats give much creamier mushy texture. I love them both and use what I have at stock.
Yogurt: I used Greek Yogurt here because it's thick and creamy but also because it's packed with probiotics that are beneficial to our digestive and overall health. Also, Greek yogurt is very nutritious, loaded with proteins. You can use plain natural yogurt here or coconut yogurt if you follow a vegan diet.
Milk: When making overnight oats, I love to use organic soy milk because it's naturally sweet and creamier than other dairy-free milk. But any milk is ok really. Use the one you prefer and like.
Banana: You can add banana on top of overnight oats when you're ready to eat OR you can mash the banana and add into oats mixture. Since the mixture is already well creamed with Greek Yogurt, I sliced banana on top of the oats. Banana gave overnight oats natural sweetness so you won't need to add extra sweetener meaning you'll eat less unnecessary sugars and calories.
This is the base ingredients for any overnight oats. I like to add some vanilla flavoring too, and if you feel like oats are not sweet enough, you can add some maple syrup or honey. 
To make this bright and delightful strawberry oatmeal extra special, I also tossed in some SUPERFOODS:
Hemp seeds are loaded with two essential fatty acids, omega-6 and omega-3, aka healthy fat, but also a great source of high-quality proteins (2). You can definitely swap hemp seeds for chia seeds here. Use one you have at home, and the one you prefer.
Almond butter gave special nuttiness, but also added many nutrients - proteins and healthy fats for energy. 
Cacao nibs are here for the extra crunchiness and added mood-boosting kick from raw cacao. 
I like to think that STRAWBERRIES are the main thing that gave this beautiful creamy story such an amazing finish. And actually, they are responsible for an overwhelming deliciousness. Strawberries brought so much freshness into this lovely overnight oatmeal. But also, they loaded this beautiful breakfast with vitamin C – powerful immune boosting and healthy skin antioxidant (3). + They help to keep our heart-healthy and help to reduce inflammation too. Not to mention they are low-calorie fruit great for weight-loss.
I also tossed in some LEMON JUICE and flavorous LEMON ZEST. Lemons not only taste delicious but also work wonder for your health, skin, and hair. Just quick note, when using lemons zest just make sure you buy unwaxed organic lemons and to wash lemons thoroughly before zesting the peel.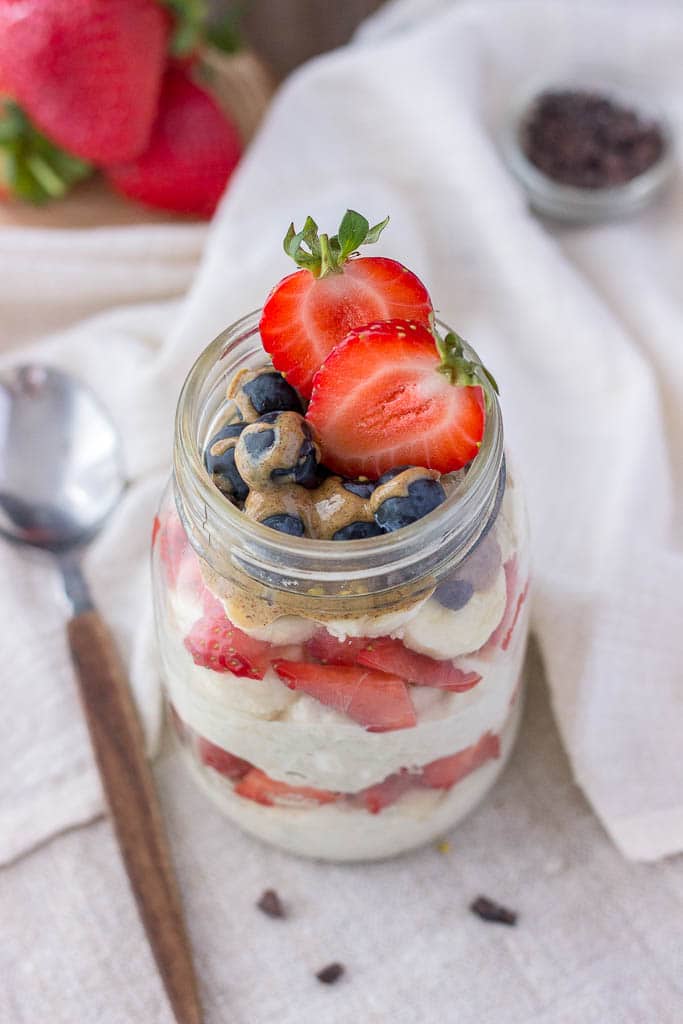 How to Strawberry Overnight Oats
Just add oats, yogurt, milk and hemp seeds into a mason jar. Stir in flavorings - vanilla, lemon juice, and lemon zest. You can use a resealable container or simply mix everything in a bowl. Seal and chill in the fridge for at least 4 hours or overnight.
If you're using plain natural yogurt, oats may turn out a bit sour. In that case, just add some maple syrup or honey. Add sweetener to your taste.
Next day, oats will get soft, creamy and ready to eat. If they are too thick, just add a bit of milk.
Top overnight oats with fresh strawberries and sliced banana. Pour creamy almond butter on top of everything. You can add some extra fruits. I like blueberries and kiwi. Sprinkle with bee pollen and cacao nibs for extra crunchy chocolaty kick.
Enjoy freshly made and keep leftovers refrigerated up to 2 days.
Strawberry Overnight Oats are one of those breakfasts that is just perfect. It's a well-balanced meal that is delightful but yet simple enough that anyone can make it. It's a HEALTHY breakfast loaded with gut-healing probiotics, SUPERFOODS, and nutrients – dietary fibers and proteins.
It's basically everything your body needs in the morning. And more! It's super delicious, sweet but low on calories, made WITHOUT REFINED SUGARS. Total win!
If you're looking for more oats overnight recipes, check these out:
📖 Recipe
Strawberry Overnight Oats
This Strawberry Overnight Oats recipe is perfect make-ahead breakfast. These overnight oats with yogurt are creamy, packed with nutrients and superfoods.
Ingredients
1

cup

rolled oats or quick oats

½

cup

Greek yogurt

or plain yogurt

½

cup

organic soy milk

or almond milk or your favorite milk

1

tablespoon

hemp seeds

1

tablespoon

lemon juice

½

teaspoon

lemon zest

½

teaspoon

vanilla extract
pure maple syrup

or honey (optional and to taste)

Pinch

of salt

½

banana

½

cup

strawberries

1

teaspoon

almond butter

Optional: fresh blueberries, kiwi

For the topping: bee pollen, cacao nibs

(to taste)
Instructions
Add oats, yogurt, milk, hemp seeds, lemon juice, and lemon zest, vanilla and salt to a mason jar. Shake jar or mix with a spoon until combined. Stir in maple syrup or honey if using.

Seal and chill in the fridge for at least 4 hours or overnight.

Serve with fresh strawberries and banana. Top with almond butter.

Sprinkle with bee pollen and cacao nibs.
Notes
As a measure, I used US cup (240ml).
Nutrition information exclude blueberries, bee pollen, cacao nibs and additional sweetener. Disclaimer: The nutritional information provided is approximate and is calculated using online tools. Information can vary depending on various factors, but I have endeavored to be as accurate as possible.
Nutrition
Calories:
602
kcal
|
Carbohydrates:
82
g
|
Protein:
32
g
|
Fat:
17
g
|
Saturated Fat:
2
g
|
Cholesterol:
5
mg
|
Sodium:
87
mg
|
Potassium:
938
mg
|
Fiber:
12
g
|
Sugar:
15
g
|
Vitamin A:
330
IU
|
Vitamin C:
53.3
mg
|
Calcium:
353
mg
|
Iron:
6.4
mg
Tried this recipe?
Don't forget to rate it and leave the comment. I would love to hear what you think.
Disclaimer
The nutritional information provided is approximate and is calculated using online tools. Information can vary depending on various factors, but I have endeavored to be as accurate as possible.