This Kale Pineapple Smoothie is absolutely delicious. Thick, creamy, sweet, and loaded with flavor. It's also is packed with superfoods and super healthy. Perfect quick breakfast and a great way to get more greens in your daily eating routine.
Jump to:
After Christmas festivities, it's time to reset our diet and get back on track with healthy eating. That's why I made a January detox plan, which includes lots of super light meals, warming soups, and refreshing salads. And, of course, detox drinks - herbal teas, juices, and smoothies.
So the first thing I did in the new year, I pack my fridge with all sorts of green veggies - kale, spinach, celery, broccoli. Also, I restock my pantry with healing superspecies - cinnamon, turmeric, ginger. I'll be using these to make some of my favorite recipes.
And first on the list is this Kale Pineapple Smoothie. There's no better way to kickstart a detox plan (and your morning), rather than with something sweet, creamy, and utterly green. This superfood kale smoothie is just that - indulging and healthy.
Ingredients used
For this kale smoothie recipe, you will need only a few simple pantry ingredients.
Kale. It's called a superfood for a reason. It is one of the healthiest nutrient-dense foods on the planet. Kale is packed with essential vitamins and minerals, as well as with fibers and water, both great for detox and healthy digestion. Kale is also packed with antioxidants - beta-carotene and vitamin C, as well as various flavonoids and polyphenols that have powerful heart-protective, blood pressure-lowering, anti-inflammatory effects in our body. (1) Kale has a mild taste and is a great forgreen smoothies. I used fresh raw kale. 
Pineapple. Pineapple is known to boost metabolisam. It's a fruit packed with flavor but also with many other nutrients, antioxidants, and helpful compounds, such as enzymes that promote digestion. (2) 
Banana. Bananas are sweet, creamy and extremely healthy. By using a ripe banana to sweeten kale smoothie, I skipped adding unnecessary added sugars. But banana enriched this smoothie with extra nutrients too. Bananas are rich in fiber, antioxidants, and many vitamins and minerals, especially potassium and magnesium — two nutrients that are essential for heart health. (3, 4, 5) Also, fibers in bananas are beneficial to our digestion and aid a weight loss.
Milk: I used cashew milk here mainly because of its creaminess and mild nutty taste that pairs so well with tropical pineapple.
To give this smoothie extra flavor and more boost, I also tossed in:
Hemps seeds. They are loaded with essential fatty acids, omega-6 and omega-3, but also a great source of high-quality proteins. (6)
Ginger. It's one of the healthiest spices on the planet. It is high in gingerol, a substance with potent anti-inflammatory and antioxidant properties. (7) Ginger is also amazing for speeding up digestion. I used fresh ginger here.
How to make Kale Pineapple Smoothie
Making this kale banana pineapple smoothie is super easy. It will take you 5 minutes and all you need is a high-speed good blender.
Step by step instructions
Start with preparing and measuring all the ingredients. I like to use measuring cups.
Take the blender and add all ingredients. Note:

add wet ingredients first

for easier blending.
Mix everything at high speed until you get a smooth silky texture.
If the smoothie is too thick, add a little more liquid – milk or water. Blend again until everything is well combined.

Taste the smoothie

and add additional sweetener if the smoothie is not sweet enough to your taste. (See "Recipe tips" section for sweetener recommendation)
Transfer the smoothie into a smoothie glass. 
ADD TOPPINGS: I used hemp seeds and goji berries. Be creative here and add toppings you like. 
Serve and enjoy!
Makes 1 serving that serves 1 person as a full meal, or 2 servings as a light meal.
Substitutions
You can use any plant-based milk. Coconut milk is amazing here.
Cow's milk won't work here in terms of the flavor.   
You can substitute kale with any dark leafy green like spinach, or Swiss chard.
You can substitute pineapple with mango.
Substitute hemp seeds with ground flax seeds or chia seeds (it will add more proteins and Omega-3's). 
Don't substitute fresh ginger with ground ginger powder. It won't work!
Smoothie variations
Make it without banana: Substitute banana with ½ avocado. It will make smoothie creamy. Note: in this case, you will need to add extra sweetener.
Make it protein-packed: Add a scoop of protein powder. This will transfer smoothie into a great protein-packed shake. I recommend vanilla flavored.  
Make it more energizing and nutritious: Add in a tablespoon of nut butter, like cashew butter or almond butter.
Make it vegan: Use plant-based milk.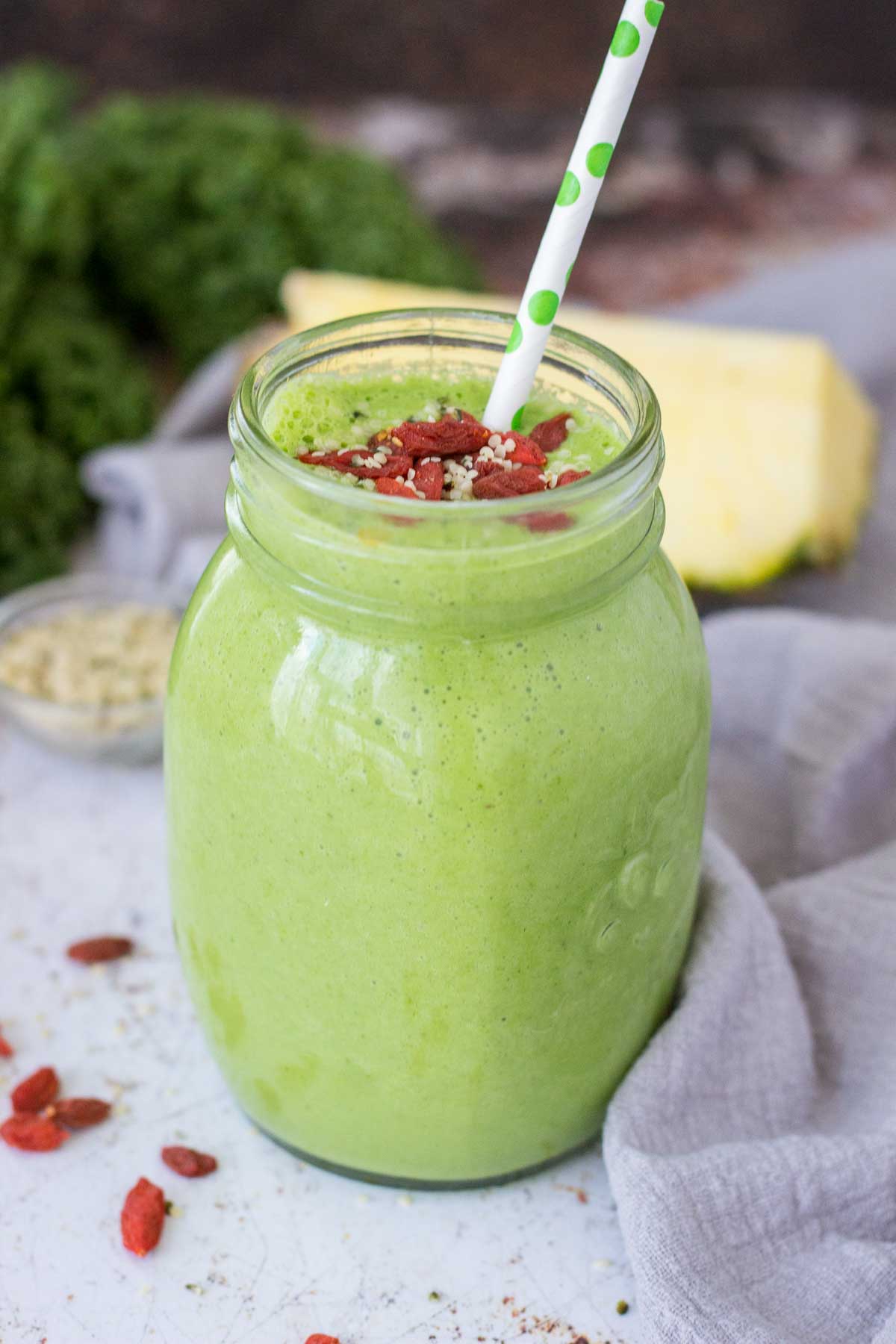 Tips for storing
Store in a glass jar with a lid or shaker and keep refrigerated for up to one day.
If you left the smoothie standing too long it will set. Don't forget to shake or stir before drinking!
Remember, all smoothies oxidate when left standing. That's not bad. But to reap all benefits from ingredients, it's best to have the smoothie freshly made.
Recipe tips
When adding ingredients to a blender, always add the liquids first. Doing this will help your blender run easily and this will prevent making lumps.
Use a high-power blender to ensure everything blends well and the smoothie is silky smooth. 
Frozen banana is the best for making this kale smoothie. It blends into a thick very refreshing drink that gives you a cold punch.
If you don't have a frozen banana at hand, just slice the banana and pop it in the freezer for at least 1 hour. Or just add in some ice cubes, for that cool kick.
Frozen pineapple is also great here. But don't use both frozen bana and frozen pineapple. It will be imposible to blend. Use one or the other.
Kale pineapple smoothie can be very thick. Add more liquids, water (recommended) or milk, until you achieve desired consistency. It should be runny but not to watery.
If you're using flax seeds, make sure you grind them first. Grinding flax seeds is the best way to make the most of their health benefits. 
Sweetener recommendations
This smoothie uses banana as a natural sweetener. I don't recommend adding extra sugar. But if you find smoothie not sweet enough, you can add some. Be mindful thou.
Add 1-2 dates, date syrup, liquid honey, or maple syrup.
If you are using dates, make sure you soak them in warm water for at least 10 minutes. Drain them before using them.
Stevia or any low-carb sweetener is a good option too.
Coconut sugar or any other cristal sugar won't work well here. It will not dissolve well in a cold smoothie mixture.
📖 Recipe
This post is originally published in January 2020. It's updated with new information and republished in January 2022. The recipe stayed the same.
More recipes to try