Thick, creamy, and incredibly delicious, this Matcha Smoothie is such a treat. It's packed with antioxidants from matcha and many other nutrients. It's filling, healthy, and made without added unhealthy sugar. Perfect breakfast smoothie!
Table of contents
O-M-G! Are you excited about the new Grinch movie 2018? I'm SO excited. So sooo excited. I absolutely love Dr. Seuss - all his books, all his stories. But "How the Grinch Stole Christmas!", oh man... seriously, that story is THE BEST. It puts me in the Christmas mood like instantly. It warms my heart. Makes me jolly. It's definitely one my favorite Christmas story. And Mr. Grinch - he's my favorite Christmas characters. Ok, ok... right after dearest Santa.
I still haven't seen the new movie. The premiere was just yesterday. But we are planning on going this weekend. My kiddo is a huge fan of Grinch and Dr. Seuss too. He loves the story and all the movies about Grinch - even that old cartoon from the 60's. He's excited as much as I am about the new Grinch 2018 movie. You can see that he's my child - quirky and playful! And can you believe it, Benedict Cumberbatch is the voice behind Grinch? He was a great Smaug. I'm eager to see how he interpreted Grinch.
Being such a huge fan of Grinch, and even bigger fan of all mighty Matcha Green Tea - I'm still totally hooked on that amazing Iced Coconut Matcha Latte btw - I decided to give a tribute to the new movie with this delightful super HEALTHY Matcha Smoothie. It's nutrient-packed, sweet but has NO ADDED SUGAR, all natural and one flavorful smoothie that you'll be enjoying all year round. Not just for movie premiere and Holidays.
How to make Matcha Smoothie
To make this incredible, super-powerful, vividly GREEN drink you'll only need a few simple ingredients. 6 to be exact!
As a base I used almond milk, that is naturally sweet and mild tasting - I didn't want milk taste to interfere with beautiful matcha aroma. What gives this Matcha Smoothie incredible SUPERPOWERS (and color) is off course matcha green tea. But also FRESH spinach and avocado have a lot to do with adding up to this beautiful, interesting color and superpowers.
Matcha green tea contains a powerful arsenal of vitamins and minerals but also a unique, strong antioxidant which isn't found in any other foods. That's why matcha is known to be one of the worlds powerful superfoods. Whoa right!
When it comes to spinach in smoothies, I like to use baby spinach. It's so mild and so delicate. Not intrusive at all - like mature spinach leaves are. It's great for sneaking in extra veggies in smoothies. But it's super healthy too. Spinach is an extremely nutrient-rich veggie that contains high amounts of vitamin C, vitamin K, folic acid, iron, and calcium - that are ALL super important for our health. Also, spinach is especially high in insoluble fiber - the type of fiber that benefits our good digestion and weight loss.
The one thing this energizing matcha smoothie doesn't have, it's added sugars. Yaaay for that! The smoothie is naturally sweetened with ripe banana. Also both banana and avocado gave this smoothie incredibly smooth and thick texture. You can almost eat it with the spoon. To make this delightful smoothie even more flavorful, I added a hint of vanilla too. It made the smoothie so perfectly yummy!
This matcha green tea smoothie is packed with fruit and veggies, incredibly thick, smooth and so creamy. Unbelievably delicious. It's a great on-to-go breakfast. It's easy to whip up together and it will satisfy your ALL your body needs for nutrients. + It will give you some nice L-theanine brain boost from matcha green tea powder.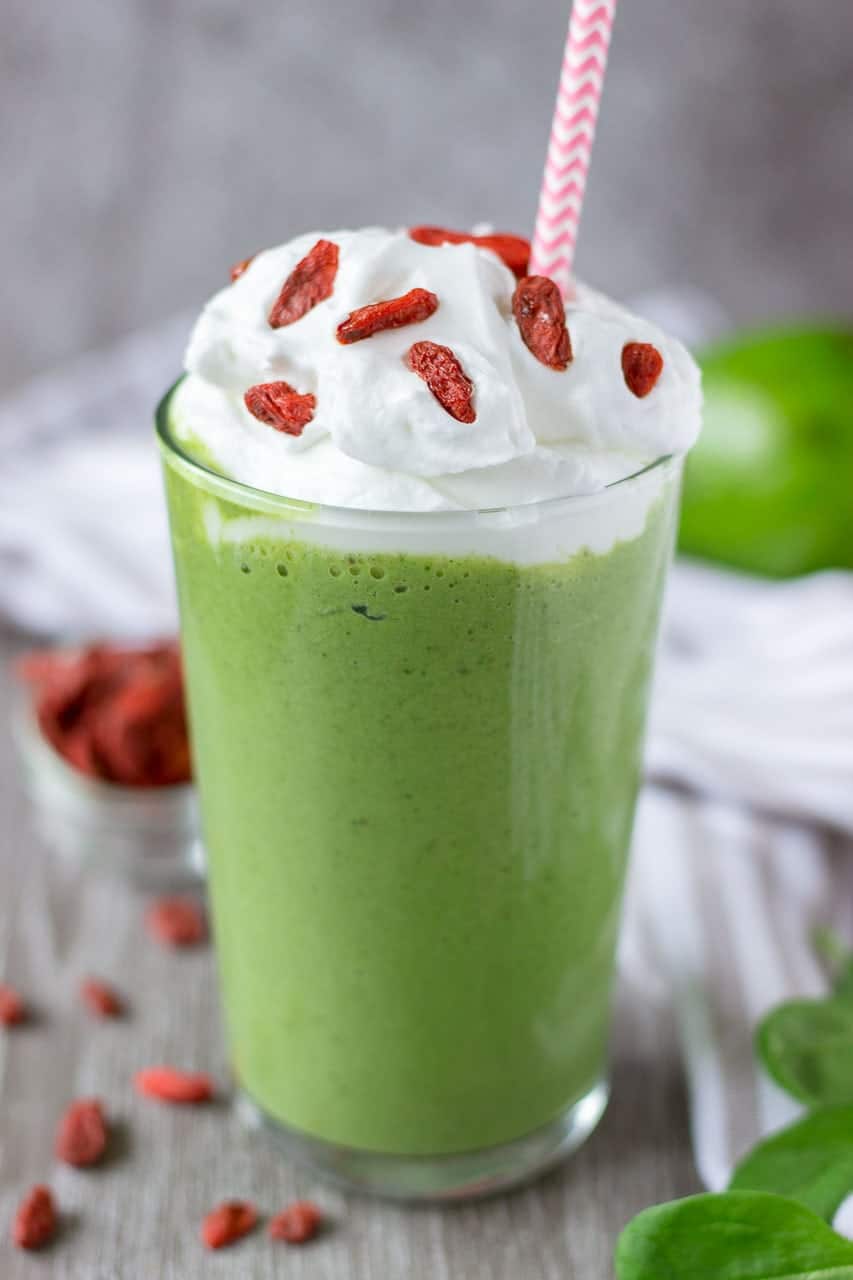 How to make this smoothie kid-friendly
This smoothie may be green but it's also super sweet, perfect for kids or if you're trying to add more greens into your diet but you're not quite used to the taste of greens. Of course, if you're making this smoothie for kids just skip the matcha green tea powder. Simple.
And to make it really festive and Grinch-like, I topped the smoothie with whipped coconut cream. I also tossed on top some immune boosting, super powerful GOJI BERRIES. It made the Matcha Smoothie look really soooo good - even Mr. Grinch would enjoy THIS one, I'm sure!
Matcha Smoothie is tasteful and so yummy but also it's:
Loaded with powerful ANTIOXIDANTS that promote good health.
Made with ALL NATURAL healthy real ingredients.
Has NO ADDED SUGARS - it's naturally sweetened with fruits and veggies.
Packed with heart-healthy fats and calcium.
Full of wonderful flavor.
Perfect NUTRITIOUS breakfast, or festive holiday treat.
Vegan, gluten-free, dairy-free and soooo unbelievably GOOD!
+ It's something that even grumpy Grinch would love to have for breakfast!
So it seems this energizing Matcha Smoothie has it ALL - the taste, the look, and the POWER! It's loaded with fibers good for digestion and weight-loss, with ANTIOXIDANTS, as well as with heart-healthy fats from avocado. I also tossed in some hemp seeds, to add in some natural PROTEINS.
Matcha Smoothie is the real deal nutritious HEALTHY meal. + Fun and festive too. No kidding!
Enjoy!
📖 Recipe
Matcha Smoothie
Thick and creamy, this Matcha Smoothie is packed with powerful antioxidants and well as with incredible flavor. It has NO ADDED SUGAR but it has everything you need to start your day right!
Ingredients
1

cup

almond milk

1

ripe banana

¼

ripe avocado

1

cup

baby spinach

1

tablespoon

hemp seeds

1

teaspoon

matcha green tea powder

1

teaspoon

vanilla extract

Ice cubes to taste
For topping:
Whipped coconut cream

A handful of dried Goji berries
Instructions
Put all ingredients into a blender and blend on high speed until smooth and desired consistency is reached.

If the smoothie is too thick, add a little more liquid - milk or ice cubes and blend again.

Pour in glass and top it with whipped coconut cream. Sprinkle with Goji berries for some jolly mood.
Notes
As a measure, I used UScup (240ml).
If you're making this for kids - SKIP adding matcha green tea.
Nutrition facts are calculated without toppings. 
Nutrition
Calories:
314
kcal
|
Carbohydrates:
34
g
|
Protein:
9
g
|
Fat:
17
g
|
Saturated Fat:
1
g
|
Sodium:
353
mg
|
Potassium:
833
mg
|
Fiber:
8
g
|
Sugar:
15
g
|
Vitamin A:
3040
IU
|
Vitamin C:
23.8
mg
|
Calcium:
351
mg
|
Iron:
3.5
mg
Tried this recipe?
Don't forget to rate it and leave the comment. I would love to hear what you think.
Disclaimer
The nutritional information provided is approximate and is calculated using online tools. Information can vary depending on various factors, but I have endeavored to be as accurate as possible.
Try these healthy smoothie recipes too:
Coffee Breakfast Smoothie
Chocolate Peanut Butter Smoothie
Pear Ginger Smoothie
Cherry Chocolate Smoothie