Creamy and delicious, detoxifying Pear Ginger Smoothie made with FRESH WHOLE ingredients, refined and added sugar-free is highly nutritious meal rich in fibers and proteins. Perfect breakfast or snack between meals.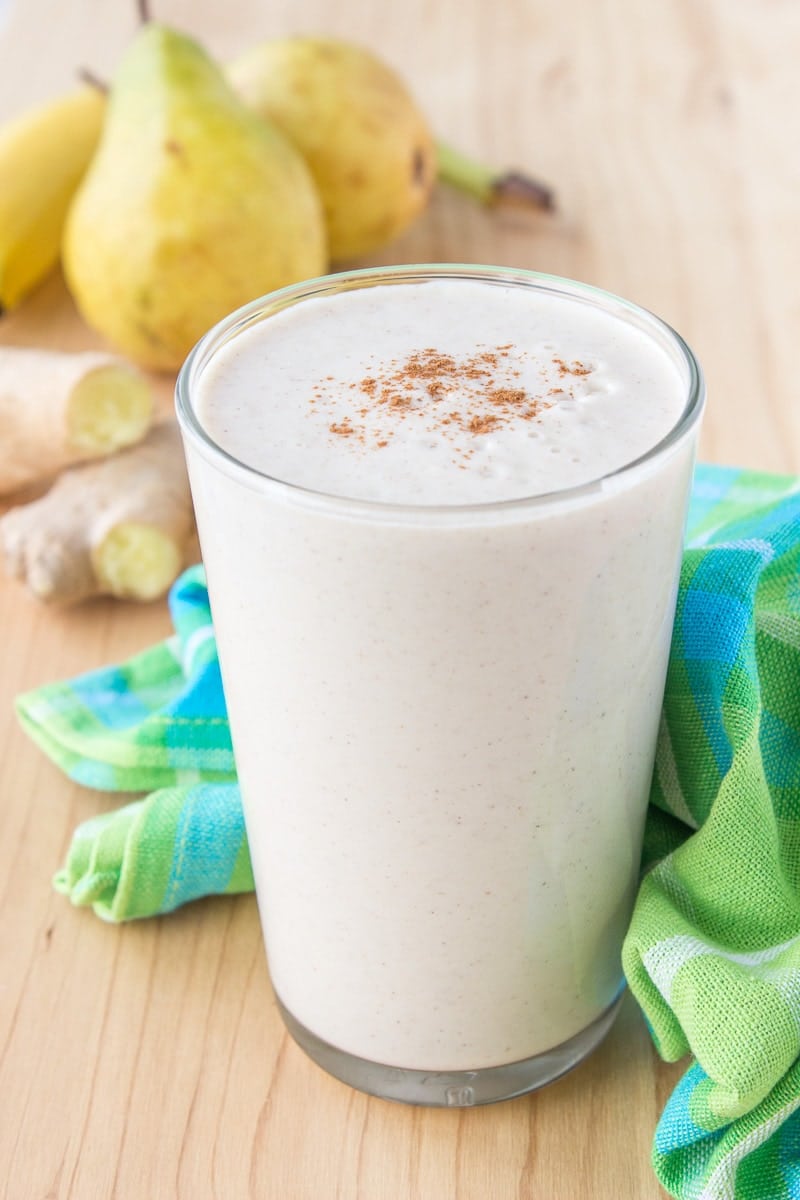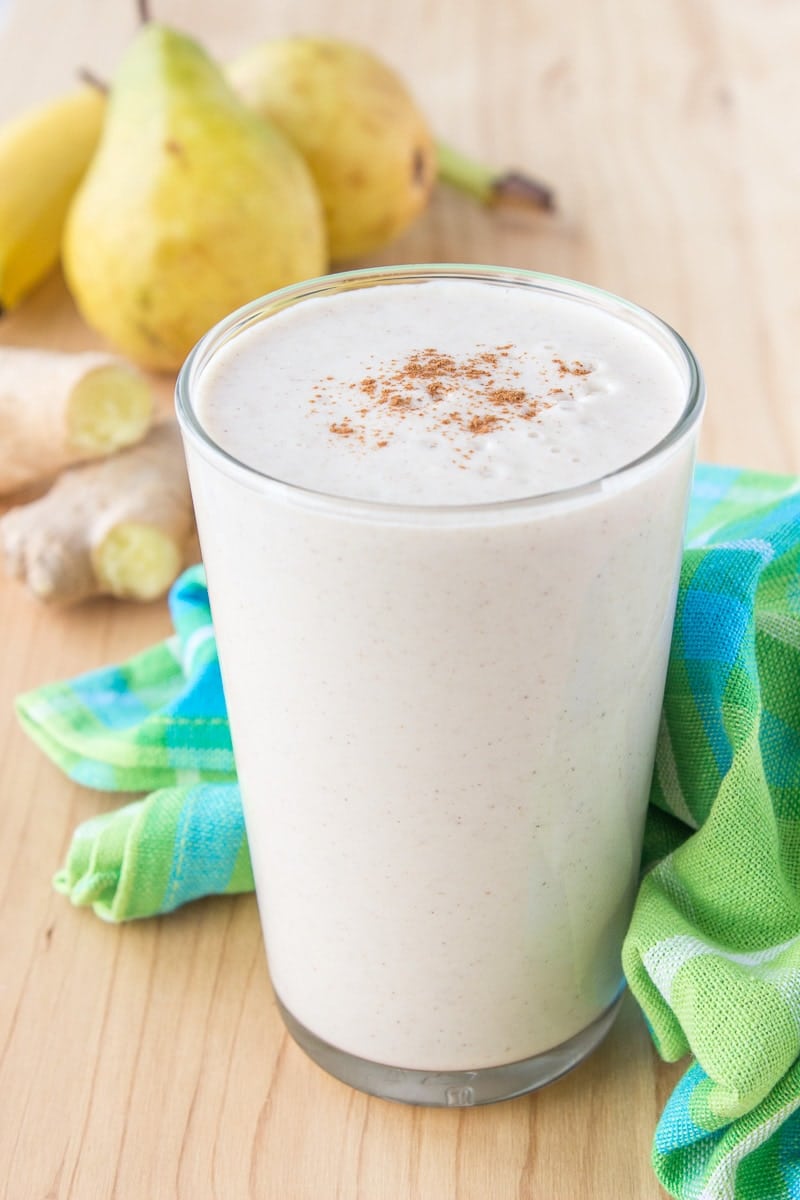 As you might have noticed, pears are now in season, and you should eat, eat and eat this sweet, soft textured fruit as much as you can. But know that pears are more than a just sweet fruity afternoon snack. Pears are like mini vitamin C bomblets. I'm saying this because flu season has started - dripping noses and coughing. Yack!
It's sooo important to load our bodies with that vitamin C to help fighting nasty germs. And fresh juicy pears are our best allies in that fight. That's why I decided to share this pear ginger smoothie with you today. It's already on my favorite smoothie list this fall. Of course, I enriched this smoothie with healing spices and other nutrients, and I made it absolutely sugar-free. So it's not only super healthy, flu fighting smoothie, but also super nutritious. A real deal meal.
For making this smoothie, as a base, I used unsweetened almond milk. You've probably noticed I use almond milk a lot in my smoothie recipes. I just love its creamy, and nutty flavor. But also almond milk is loaded with nutrients, like plant-based proteins and fibers. And it contains no lactose. Besides, almond milk is an excellent source of calcium, iron and magnesium, and super healthy omega fatty acids. That's a lot of reasons to use this super healthy nut milk. Don't you agree? The rich, creamy texture and nutty flavor of almond milk blended beautifully with fresh sweet pear and creamy ripe banana. So this smoothie turned into a real creamy heaven! Yummy!
Sweet and juicy pear and soft ripe banana naturally sweeten the smoothie, but also enriched the smoothie with healthy benefits and nutrients. Quick note... When you choose pears for making this smoothie choose softer, a bit ripe pears that taste sweeter. You don't have to peel the pear. Just give the pears a good wash.
I upgrade this smoothie even more by adding oats, full of fibers, proteins, and minerals. Also, I added and Greek yogurt, which enriched this pear ginger smoothie with more proteins. Warm healing spices - cinnamon and allspice gave the smoothie irresistible fragrance, while fresh ginger gave the distinctive spicy taste but also made this smoothie a real buddy in fighting the seasonal flu.
So, apart from being a heavenly creamy and aromatic, this pear ginger smoothie is packed with nutrients. It has everything the body needs - natural sugars, a bunch of high-quality fibers and proteins. Perfect quick and healthy breakfast or snack between meals. In addition, it's rich in potassium, vitamin C, calcium, and iron.
Pear Ginger Smoothie is ...
made with fresh fruits and rich in nutrients,
full of high-quality dietary fibers that promote good digestion, weight loss, and healthy digestive system,
rich in proteins,
naturally sweetened with pear and banana,
contains no added sugars,
enriched with healing spices – fresh ginger and cinnamon,
rich in calcium, vitamin C, calcium, and iron,
good for heart health,
perfect breakfast or a healthy snack between meals..
Pears will be available to us until the beginning of February, so hurry up and grab them and make the most of this beautiful, healthy fruit while they are still in season. Make smoothies, desserts, eat them fresh and enjoy!
Pear Ginger Smoothie
Fragrant and perfectly creamy, Pear Ginger Smoothie made without added sugars, highly nutritious and rich in fibers and proteins. Serve this perfect fall smoothie for breakfast or have as a snack between meals.
Ingredients
1

large pear

washed and diced

½

large

ripe banana

½

cup

unsweetened almond milk

4

tablespoon

rolled oats

½

cup

Greek yogurt

½

teaspoon

cinnamon

⅓

teaspoon

allspice

0.4

inch

fresh ginger, peeled
Instructions
Put all the ingredients in the blender and mix until well combined. If necessary, add more milk to get a smoothie desired consistency.
Notes
Add honey or syrup, if desired and to taste.
Nutrition
Calories:
287
kcal
|
Carbohydrates:
51
g
|
Protein:
15
g
|
Fat:
3
g
|
Cholesterol:
5
mg
|
Sodium:
202
mg
|
Potassium:
434
mg
|
Fiber:
8
g
|
Sugar:
21
g
|
Vitamin C:
7.7
mg
|
Calcium:
289
mg
|
Iron:
1.4
mg
Tried this recipe?
Don't forget to rate it and leave the comment. I would love to hear what you think.
Disclaimer
The nutritional information provided is approximate and is calculated using online tools. Information can vary depending on various factors, but I have endeavored to be as accurate as possible.
These are my picks for this recipe:
[amazon_link asins='B00CYF7E8K,B075WSVZVF,B00K8NKYQ4' template='MyPicks' store='natalieshealt-20' marketplace='US' link_id='85a7a3bc-f077-11e7-842d-9356d79afc1c']
*** PIN the RECIPE for later ***