This Avocado Smoothie will totally delight you. It's sweet, creamy, and absolutely beautiful. Full of nutrients, luxurious and so vibrant. It's packed with superfoods and made without added sugars. Fantastic breakfast!
Table of contents
I've been meaning to share this avocado smoothie recipe for quite some time. It's been on my breakfast list for ages but I never shared the recipe online.
Recently my days became hectic again, and I find this smoothie to be a perfect solution to all my morning needs. It's a very popular breakfast option at the moment - because it's very easy to make, quite nutritious, and full of greens and avocado goodness. Fantastic breakfast when you are in a hurry.
And if you wonder about the taste of avocado or greens in this smoothie, don't worry. The taste is perfectly camouflaged with sweet banana and vanilla. It's a truly wonderful smoothie to have any time of day really.
Ingredients used
For this avocado smoothie recipe, you will need just a few simple ingredients.
Milk: I used unsweetened almond milk, but you can use any milk you like in this recipe, dairy or plant-based.
Banana: It's full of essential nutrients, especially gut-friendly fibers, very filling, and great for energy. I used an overripe frozen banana.
Spinach: It's a superfood, loaded with tons of nutrients in a low-calorie package. He's important for skin, hair, and bone health. He also provides protein, iron, vitamins, and minerals. (1) I used mild and delicate baby spinach.
Avocado: He's my favorite fatty friend and a great addition to smoothies. He makes smoothies extra creamy, but importantly, he's packed with essential heart-healthy and anti-inflammatory Omega-3's. Avocado is also rich in magnesium, potassium, and fiber. Quite a superfood with many health benefits. (2)
Walnuts: They are a very good source of Omega-3, and quite nutritious. And since they are calorie-dense, they are great for weight loss too. (3)
Vanilla:

For extra flavor.
How to make Avocado Smoothie
Making this healthy avocado smoothie is totally easy. It will take you no more than 5 minutes. All you need is a good blender.
Step by step instructions
Start with measuring all the ingredients. I like to use measuring cups.
Take the blender and add all ingredients. Note:

add wet ingredients first

for easier blending.
Turn on the blender and mix at high speed until you get a smooth texture.
If the smoothie is too thick, add a little more liquid – milk or water. Blend again until smoothie is smooth.

Taste the smoothie

and add additional sweetener if you like. (See "Sweetener recommendation" section for my suggestions)
Transfer the smoothie into a smoothie cup.
Add toppings (optional): I used chopped walnuts and bee pollen. Be creative here and add toppings you like.
Serve and enjoy!
Makes 1 cup that serves 1 person as a full meal, or 2 people as a light meal.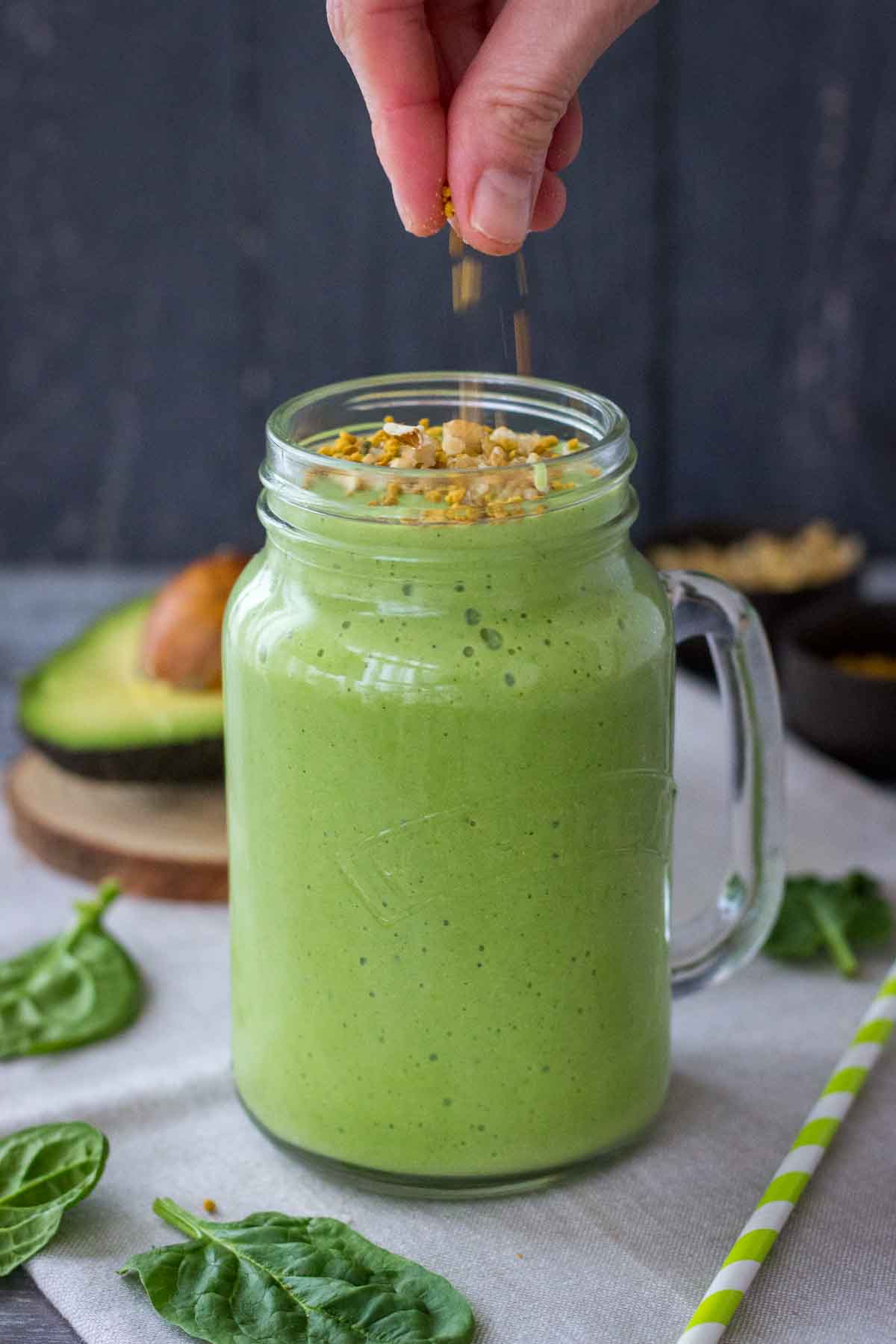 Substitutions
You can use any dairy or plant-based milk here.
You can substitute walnuts with any other nuts, or seeds (ground flax seeds, hemp seeds or chia seeds).
You can substitute spinach with fresh kale.
Substitute vanilla with cinnamon.
Smoothie variations
Make it without banana: Banana is added for natural sweetness so if you omit banana you have to add some extra sweetener. See the "Sweetener recommendation" section for my suggestions.
Make it weight-loss friendly: Use only half a banana to cut calories.
Make it vegan: Use plant-based milk. Omit bee pollen as a topping.
Make it keto: Omit banana. Use the whole avocado. Add in 1 teaspoon MCT oil or collagen (optional). Alternatively use ½ cup almond milk and ½ cup coconut cream. You'll need to add sweetener. I recommend liquid stevia or any other liquid low-carb sweetener. Cristal low-carb sugars won't work here. Omit bee pollen as a topping.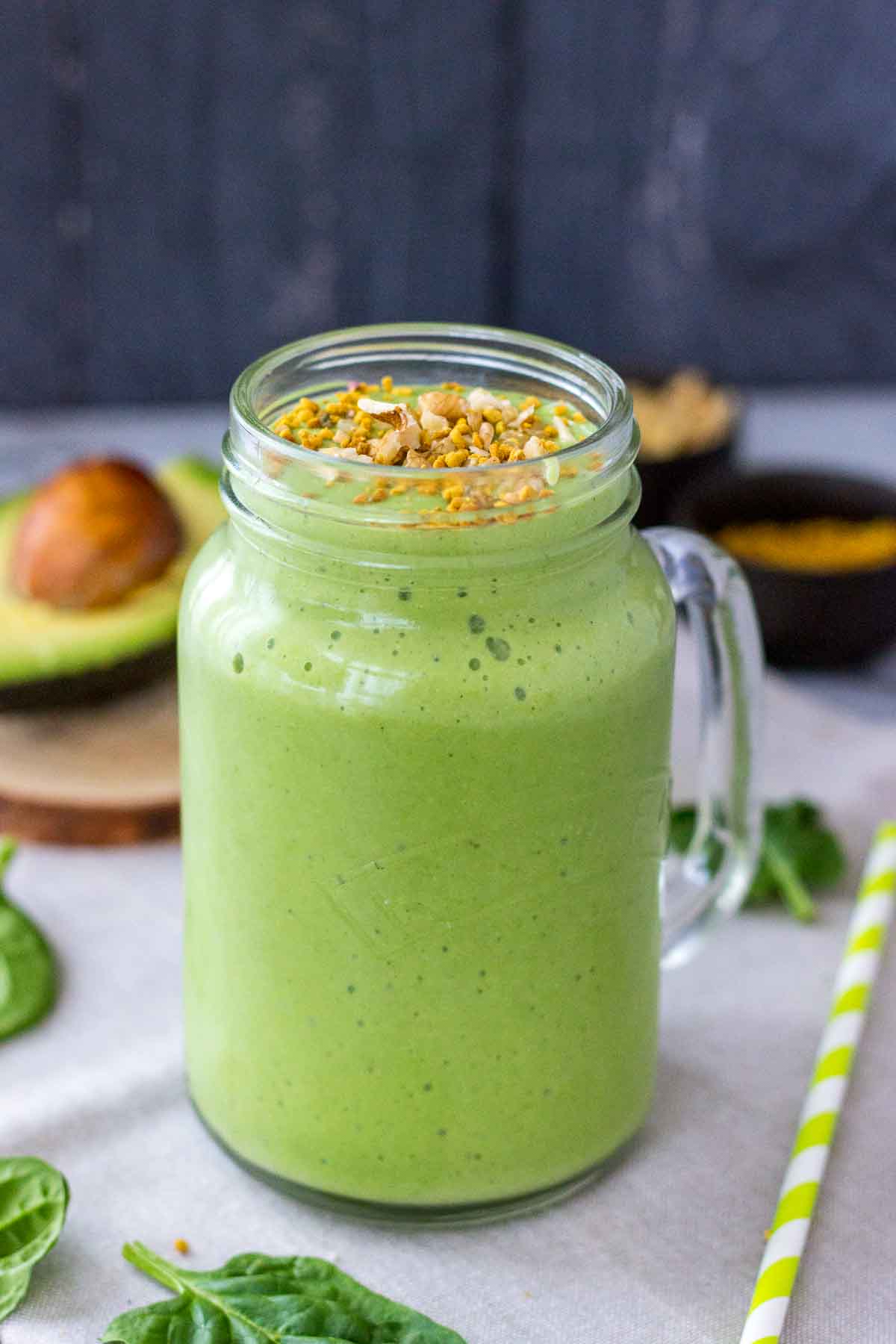 Tips for storing
Store in a smoothie cup with a lid and keep refrigerated for up to one day.
If you left the smoothie standing long it will set. Don't forget to shake or stir it before drinking!
Remember, all smoothies oxidate when left standing. That's not bad. But it's best to have the smoothie fresh.
Recipe tips
When you're adding ingredients to a blender, always add the liquids first. Doing this will help your blender run easily and it will prevent lumps.
Use a high-power blender to ensure everything blends well and the smoothie is silky smooth.
Frozen banana is the best for making this avocado smoothie. It blends into a thick very refreshing drink with a cold punch.
If you don't have a frozen banana at hand, just slice the banana and pop it in the freezer for at least 1 hour. Or just use ice cubes.
If the smoothie is too thick, add more liquids, water (recommended) or milk, until you achieve desired consistency. It should be creamy, but not too dense.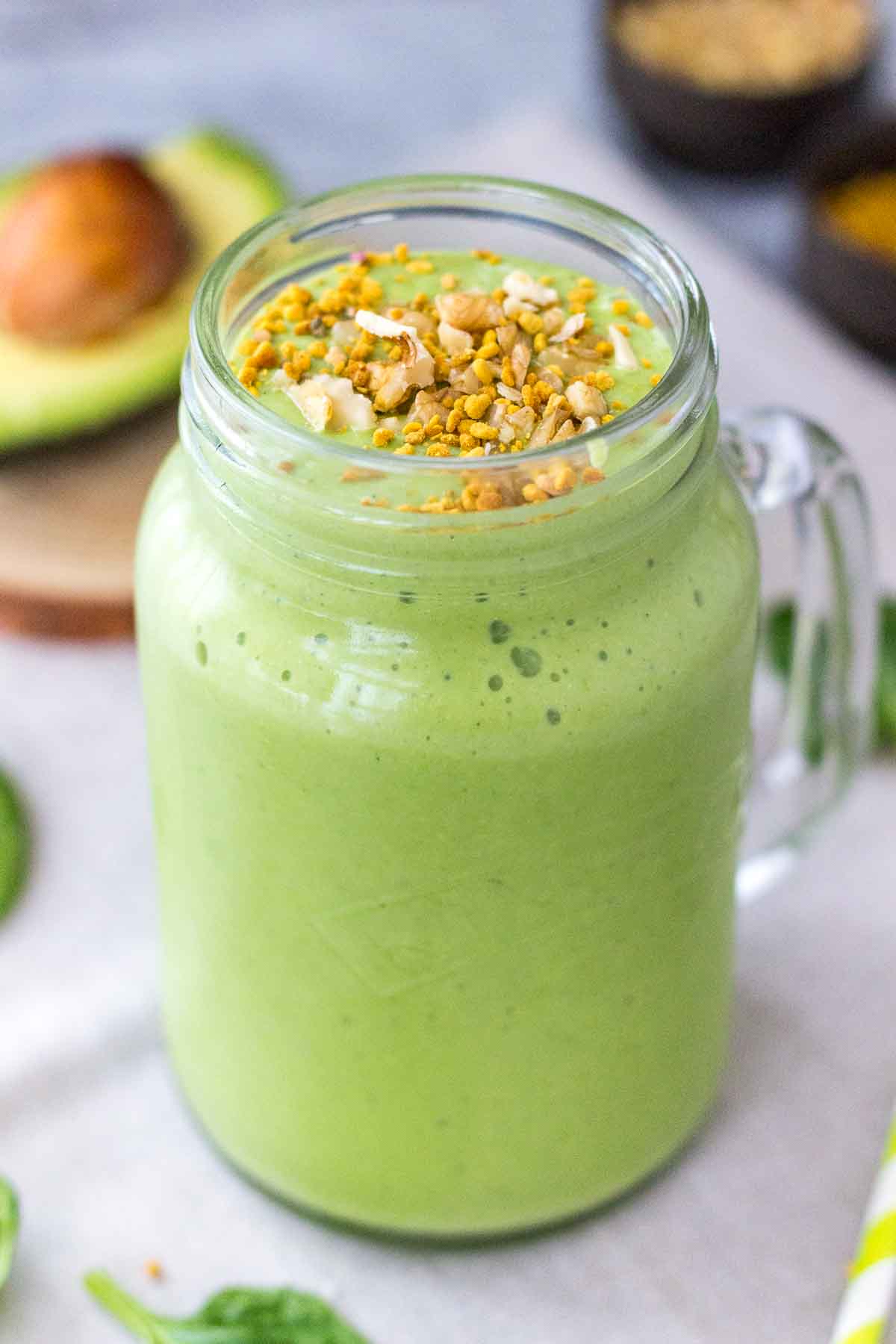 Sweetener recommendation
This smoothie uses banana as a natural sweetener. I don't recommend adding any extra sugar. But if you find smoothie not sweet enough, you can add some. Be mindful thou.
Add 1-2 dates, date syrup, liquid honey, or maple syrup.
If you are using dates, make sure you soak them in warm water for at least 10 minutes. Drain them before using them.
Use liquid stevia or any liquid low-carb sweetener for the keto / low-carb option.
Coconut sugar or any other cristal sugar won't work well here. It will not dissolve well in a cold smoothie mixture.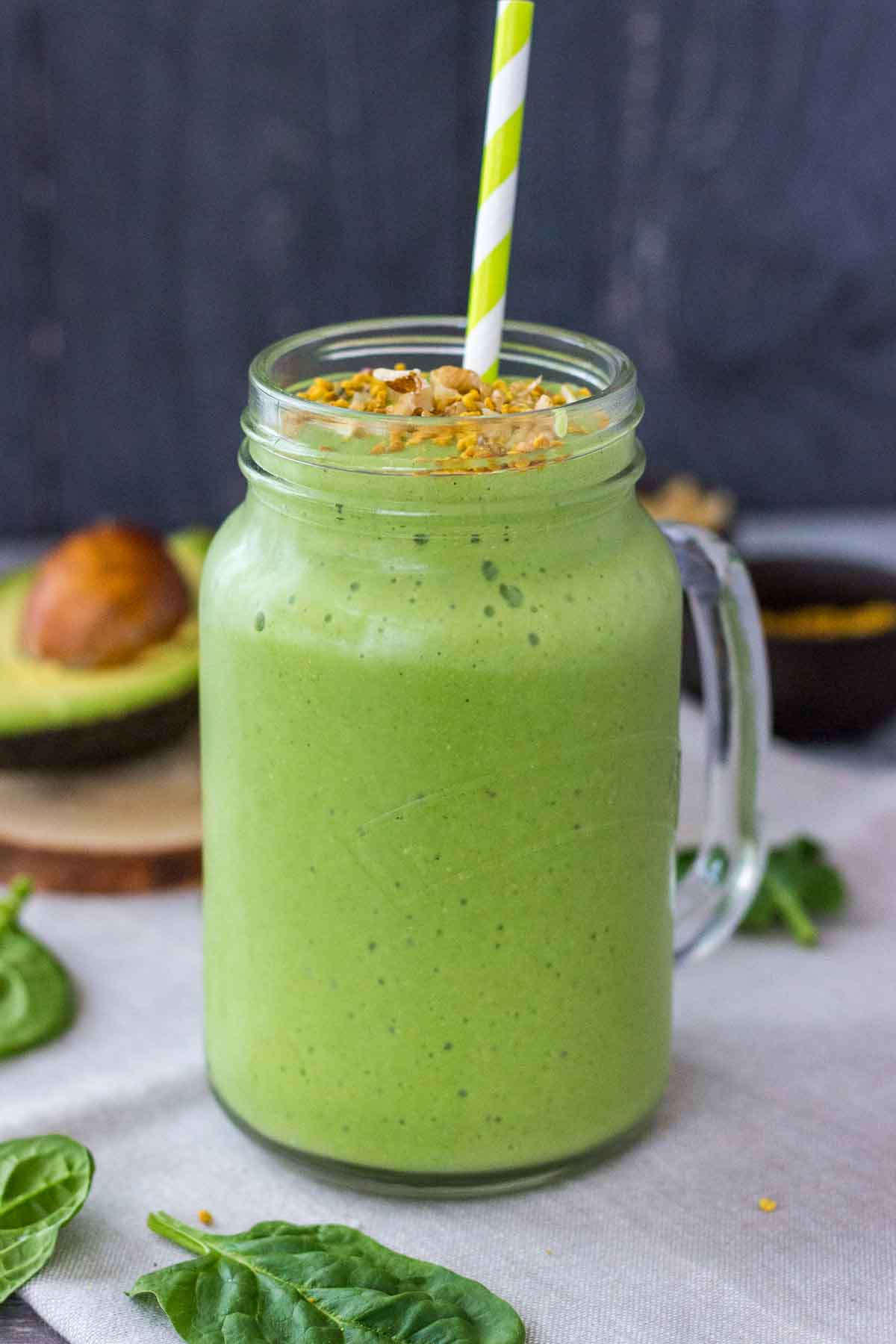 📖 Recipe
More recipes to try