Pungent and sweet, Honey Mustard Ginger Salad Dressing, enriched with healthy extra virgin olive oil and freshly grated ginger will make your salad not only delicious but very nutritious.
I haven't written blog for a while. The reason for my absence was simple February - the most horrible month of the year. At least for me. It was a rough month for me and just crappy time. But with first days of March, I have returned :) Today I've prepared for you a very simple recipe. A recipe for something that is a "must have" in my fridge - salad dressing, with the main ingredient - my favorite spice - mustard.
Salads are a delicious and healthy addition to any dish. But salads can also be a very healthy meal for itself. Salad dressings make salad tastier, but also, it can enrich salad nutritionally. For example, by using extra virgin olive oil you enhance the salad with healthy fats. And if you use spices like mustard, honey or fresh ginger, you add other healthy benefits to your salad too.
The star of today's salad dressing is mustard. For those who don't know anything about this delicious and very healthy spice, here are some facts. Mustard seeds have been highly prized culinary oil-seeds since earlier times. The seeds are actually fruit pods obtained from the mustard plant. Some of the close members of mustards in this family include cabbage, broccoli, brussels-sprouts, etc. Mustard seeds is an excellent source of selenium, omega-3 fatty acids, and manganese as well as a good source of phosphorus and copper. Also, mustard seeds are an excellent source of essential B-complex vitamins, especially niacin, a co-enzyme that help lower blood cholesterol and triglyceride levels. As seeds, mustards are very high in calories. But, the seeds are made of quality proteins, essential oils, vitamins, minerals, and dietary fiber. Only good stuff, so no need to worry ;)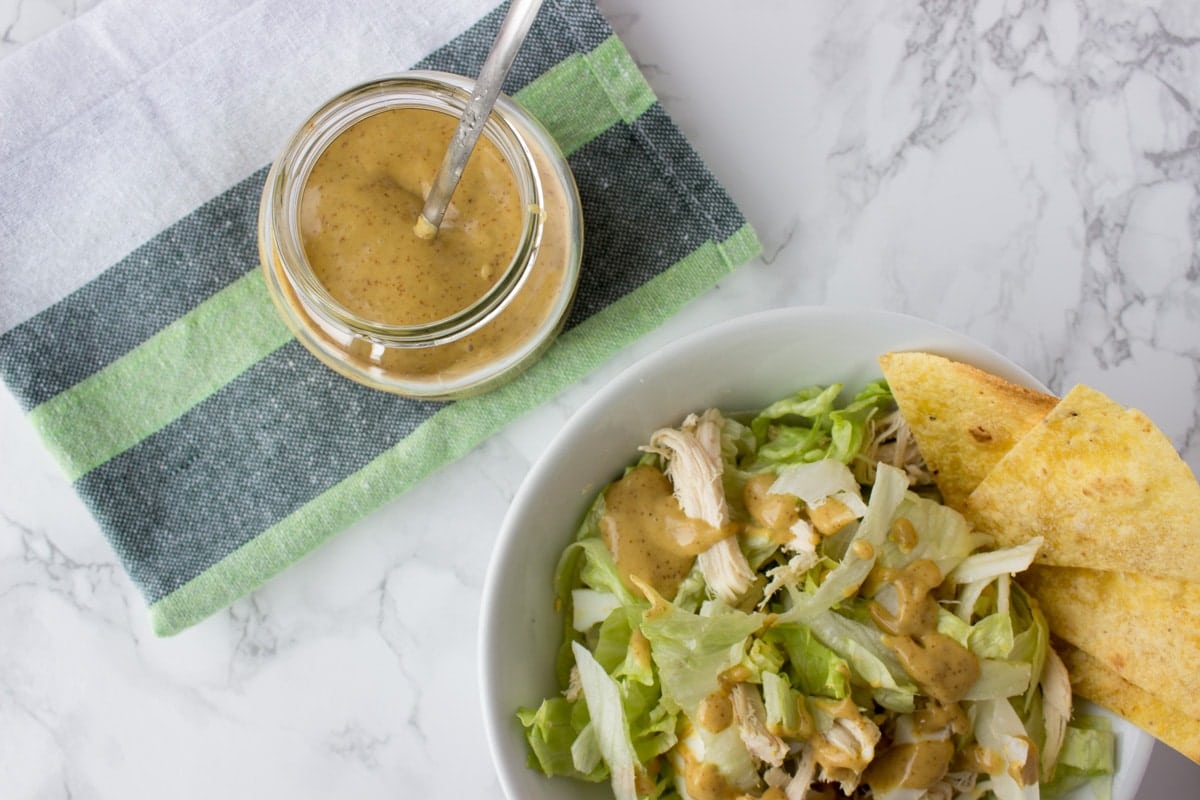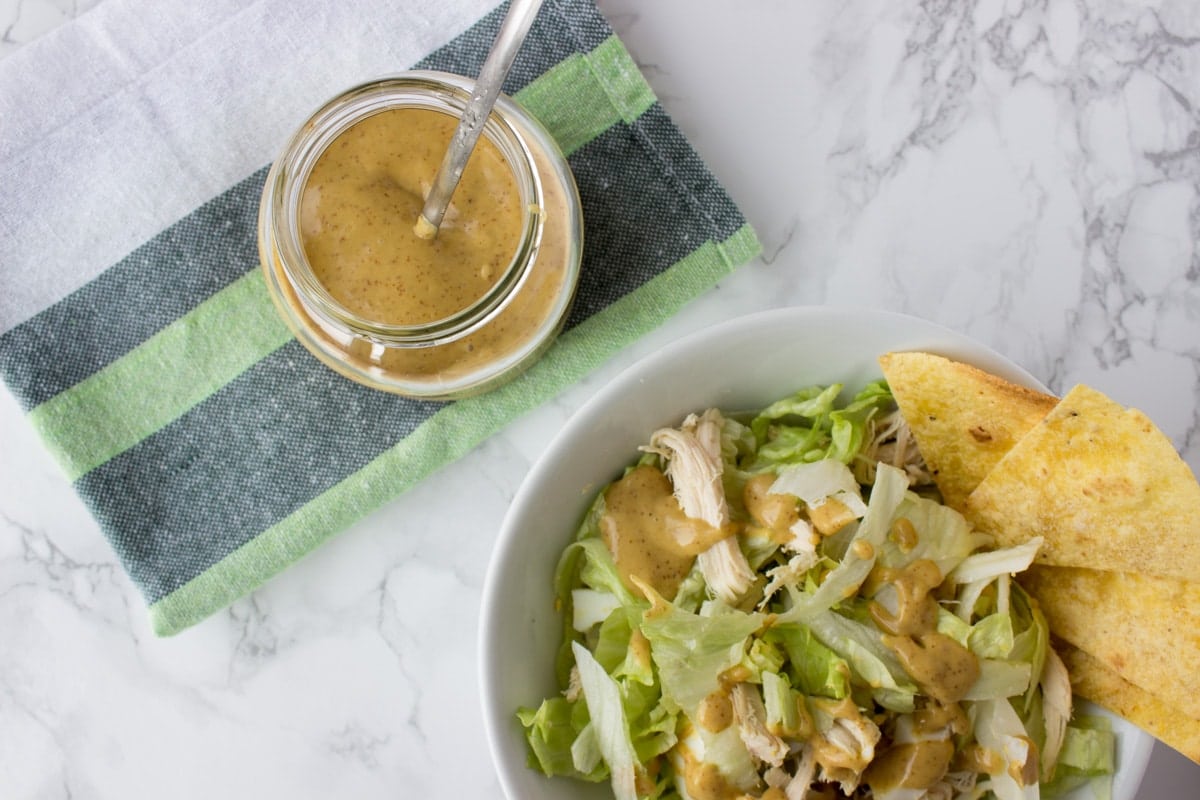 [Tweet "Salad dressing that will make your salad delicious and nutritious #recipe #healthy "]
For making this wonderful salad dressing I used dijon mustard, but you can use any mustard paste that you already have in your fridge. To ease dominant pungent taste of mustard I used honey. I also added an apple cider vinegar and some freshly grated ginger, which gave the dressing a unique flavor and made it even healthier. I enriched dressing with healthy fats - extra virgin olive oil. Olive oil also dilute dressing to desired consistency. Keep dressing refrigerated in a glass container. You can serve this Honey Mustard Ginger Salad Dressing with all meat dishes. Or you can use it for making sandwiches, as a healthy alternative to mayonnaise or ketchup. Great, isn't it?! ;)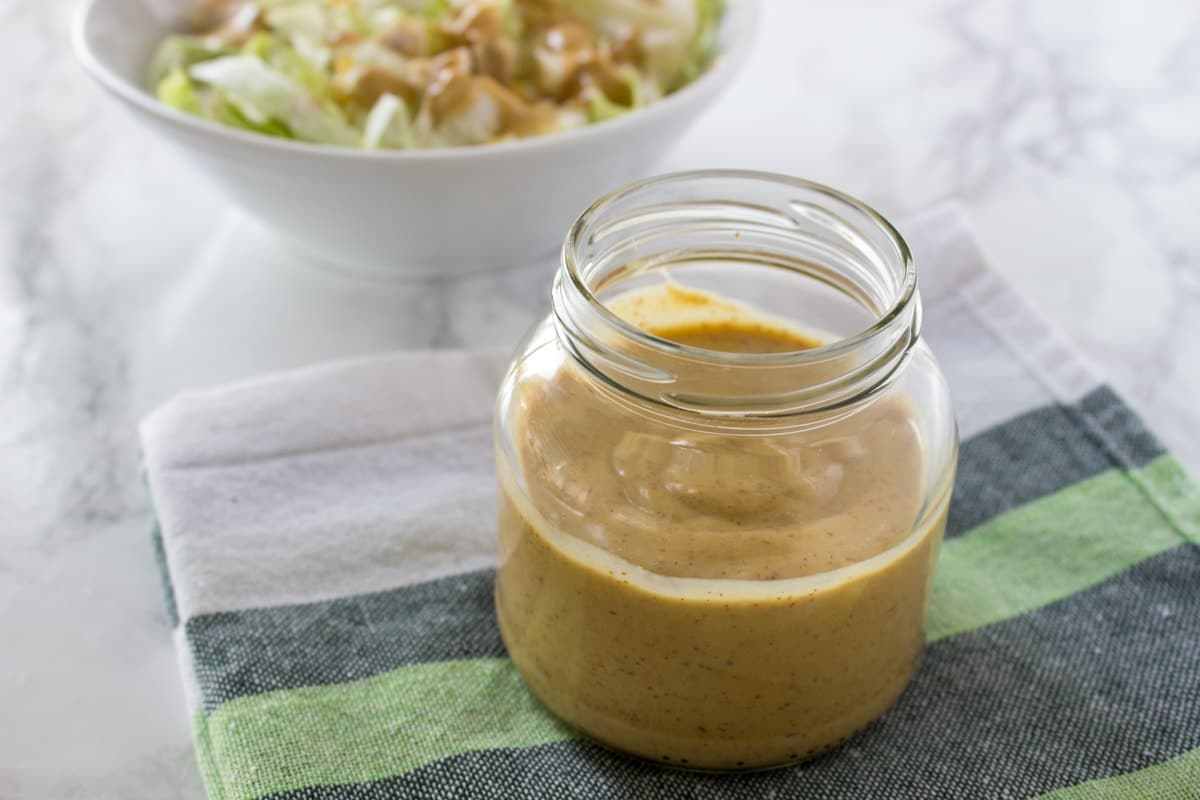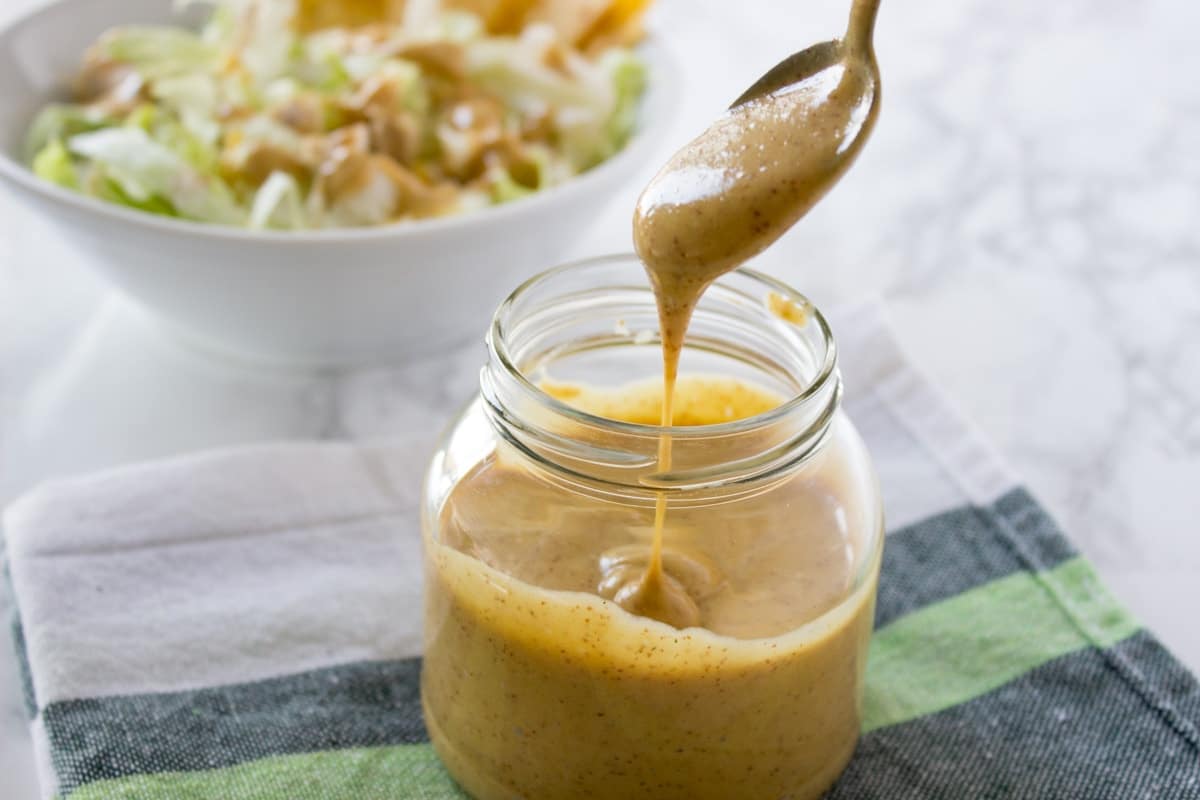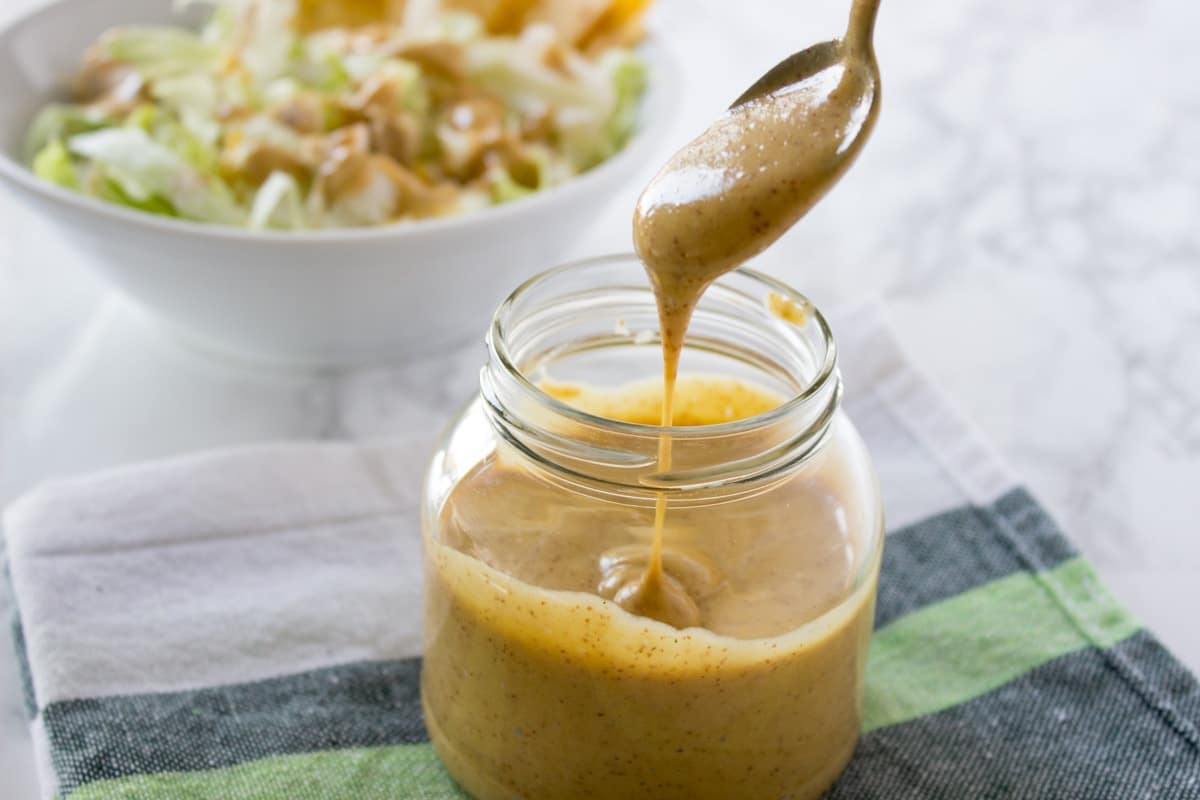 I love to eat fresh salads, that's why I always keep one or two homemade salad dressings in my fridge ready. That way I can prepare my salad in no time. Homemade salad dressings makes my salads taste perfect and just the way I like it. Also, it makes my meal healthier because there's no added unhealthy sugars, colors or other additives in them. It may seems complicated making dressings at home, but I promise you, once you start mixing your own dressings, you'll never buy another dressing in the store ever again ;)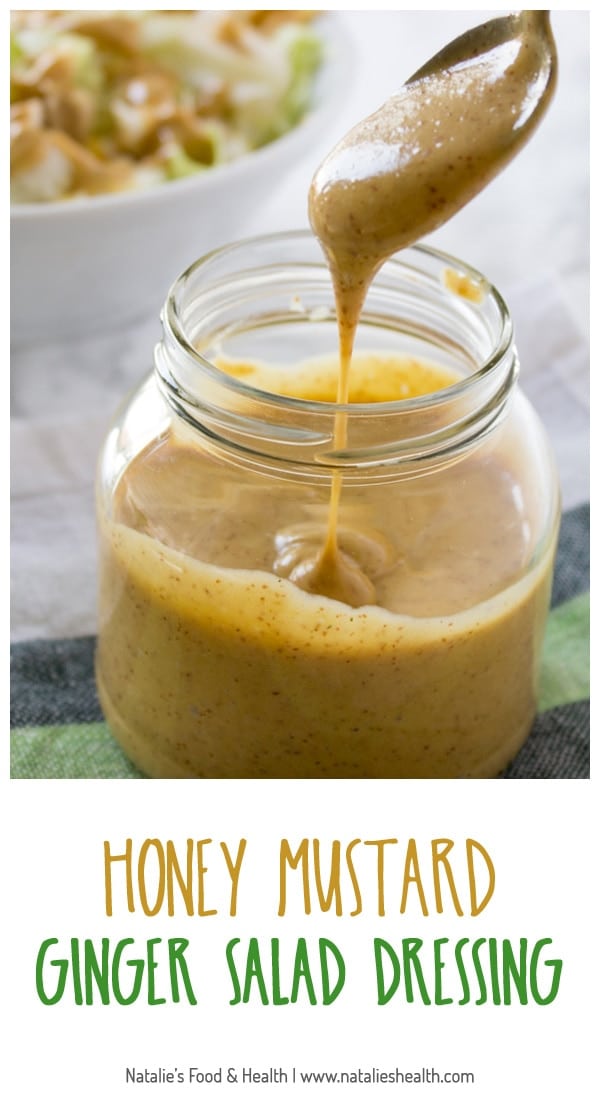 Honey mustard and ginger salad dressing
Ingredients
4

tablespoons

Dijon mustard

2

tablespoons

apple cider vinegar

3

tablespoons

extra-virgin olive oil

1

tablespoon

minced ginger

about 1,5 inch

2

tablespoon

honey

pinch

of salt

water for thinning
Instructions
Put all ingredients into a blender and blend until smooth and creamy. Add water you want a thinner dressing.

Store in a glass container.
Tried this recipe?
Don't forget to rate it and leave the comment. I would love to hear what you think.
Disclaimer
The nutritional information provided is approximate and is calculated using online tools. Information can vary depending on various factors, but I have endeavored to be as accurate as possible.
Do you make you own dressings? I'd love to hear what you think so leave a comment.
Love,
[box]Do you like this recipe? Are you interested in a healthy lifestyle? Then subscribe to my VIP list and get new blog posts delivered straight to your inbox. More healthy recipes and tips on how to live healthier are coming.
[mc4wp_form id="1036"][/box]