Full of sweet corn flavor this easy homemade cottage cheese cornbread is perfect addition to any meal. It's made with all healthy ingredients and moderate in calories. It may be plain but it is just beautiful!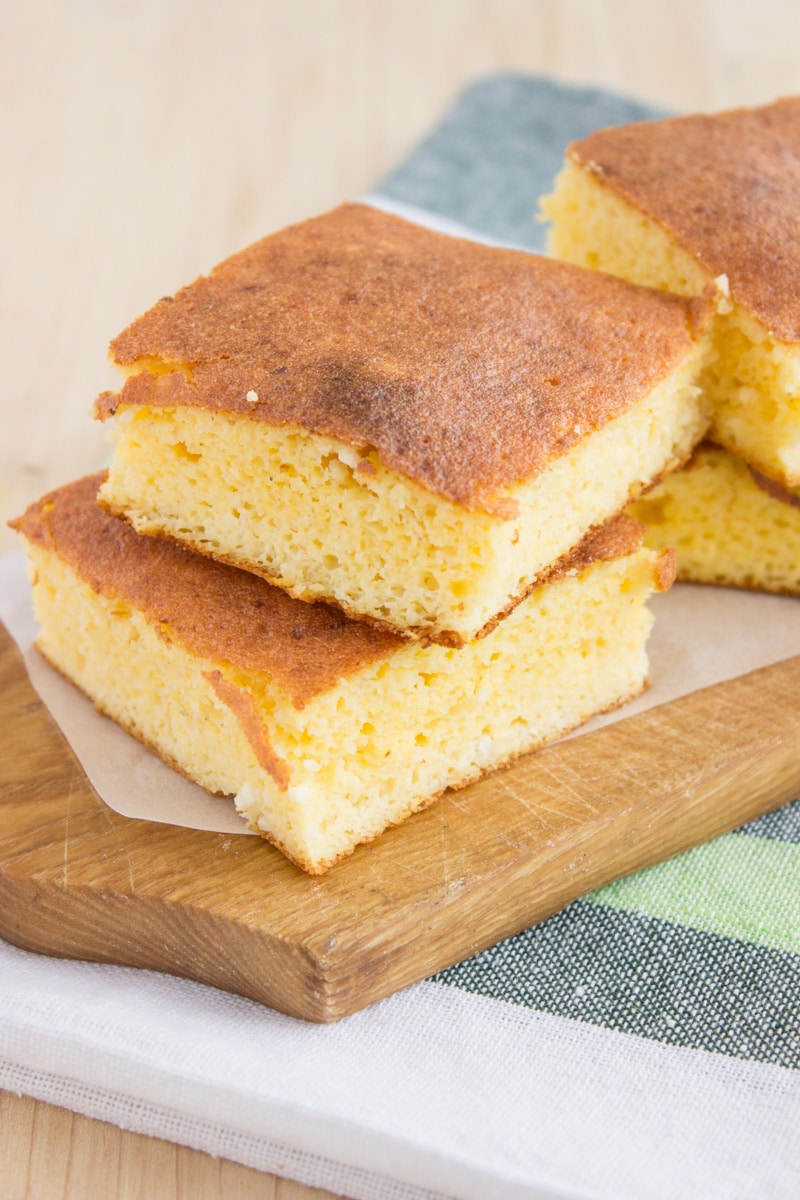 Last week I got the idea to do a recipe makeover on my blog. I've never done it before, so I thought, it could be fun! For the makeover, I decided to go with an old Croatian recipe that my grandma use to make. A recipe is called "Zagorska Zlevka". This dish is well known in the region where I was originally from - a northwest Zagorje county in Croatia. But it's probably familiar to all of you as well. So I took the old recipe and adapted it to be more HEALTHY, flavored and nutritious.

In Croatia, it's called "Zagorska Zlevka" or "Zagorska Zlevanka" (literal translation would be "poured cake"), but you may know it by the name - CORNBREAD. When I was researching for this recipe I've found out that cornbread is a native American dish and that European explorers learned the original recipes from Indians and transformed it to cornbread we know and make today. So this recipe is like hundreds of years old. Whoa right?! :)
In my country, "Zagorska Zlevka" aka cornbread was considered a pauper's food, food for hard workers and it was made from ingredients that were available to simple peasant family those days - eggs, corn, and cows milk. Originally Croatian Zlevka is made of full-fat homemade cow cheese and sour cream, and off course corn meal/flour. It's known for its sweet taste and simple, plain look. It's almost forgotten meal in my country, so with this recipe, I try to revive it and bring it to modern family tables.
As I said, my grandma and my late grand grandma use to make this cornbread, so it's quite special to me. It reminds me of two of them, the old grandma's house and my lovely Zagorje.

This cornbread is made with all HEALTHY ingredients. The traditional recipe calls for full-fat cheese and sour cream. Instead, I used low-fat cottage cheese and Greek yogurt. Those ingredients are rich in protein and low in fat, which makes this cornbread protein-packed, wholesome but moderate in calories. Also, instead of using regular granulated sugar, I used healthier option - raw honey. It provided enough sweetness to the cornbread, but being neutral in taste, it did not distract sweet corn flavor.
The main ingredients in this easy homemade cottage cheese cornbread are eggs, cornmeal, and corn flour. I also used healthy coconut oil, and I added a bit of vanilla extract which gave the cornbread wonderful warm aroma.
Perhaps your first impression may be that this cornbread surely has a rough texture, because of grits and cornmeal, but believe me, the texture of this cornbread is irresistibly soft and fragrant. It may seem as a plain cornbread, but it's just beautiful fragrant cake!
This easy homemade cottage cheese cornbread is light but very fulfilling. Is best served warm, so don't hesitate to have a slice straight from the oven for the unforgettable rustic experience. Serve it with homemade jam or yogurt for a super healthy wholesome breakfast. Easy homemade cottage cheese cornbread is an ideal after-workout meal too - it's rich in protein, carbohydrates, and healthy fats. It gives lots and lots of energy and it's low in calories.
I'm not sure, is it because of the sweet corn aroma, or sourness of cottage cheese in every bite, or the irresistible vanilla flavor, but this cornbread is just amazing. My husband liked it too. He noticed that even I used different ingredients, the cornbread flavor remained quite old fashioned. I really hope you going to like this cornbread too.
Let me know what you think when you try this recipe.
Enjoy!
Easy Homemade Cottage Cheese Cornbread
Full of sweet corn flavor this easy homemade cottage cheese cornbread is perfect addition to any meal. It's made with all HEALTHY ingredients and moderate in calories. It may be plain but it is just beautiful!
Ingredients
1

cup

corn flour

(maize flour)

½

cup

corn meal

polenta

1

teaspoon

baking powder

½

teaspoon

baking soda

¼

teaspoon

Himalayan salt

4

large eggs

⅓

cup

honey

or maple syrup

1

teaspoons

vanilla extract

2

tablespoons

coconut oil

or melted butter

1

cup

Greek yogurt

or sour cream

2

cups

cottage cheese
Instructions
Preheat the oven to 392F (200C). Grease 13 x 9'' (33x23cm) baking pan with oil.

In a bowl, mix the dry ingredients, corn flour, corn meal, baking powder, baking soda and salt.

In a separate bowl beat the eggs. Add honey or syrup, vanilla extract and coconut oil.

Add in Greek yogurt and cottage cheese.

Stir the dry ingredients into the wet.

Pour the mixture into baking pan.

Bake 35-40 minutes, or until the cake is nicely browned (do the toothpick test).

Remove from the oven and let it cool completely before serving.
Notes
As a measure I used UScup (240ml).
Nutrition
Serving:
1
slice
|
Calories:
175
kcal
|
Carbohydrates:
21
g
|
Protein:
9
g
|
Fat:
6
g
|
Saturated Fat:
3
g
|
Cholesterol:
75
mg
|
Sodium:
304
mg
|
Potassium:
140
mg
|
Fiber:
1
g
|
Sugar:
6
g
|
Vitamin A:
148
IU
|
Calcium:
72
mg
|
Iron:
1
mg
Tried this recipe?
Don't forget to rate it and leave the comment. I would love to hear what you think.
Disclaimer
The nutritional information provided is approximate and is calculated using online tools. Information can vary depending on various factors, but I have endeavored to be as accurate as possible.
More healthy desserts to try