Print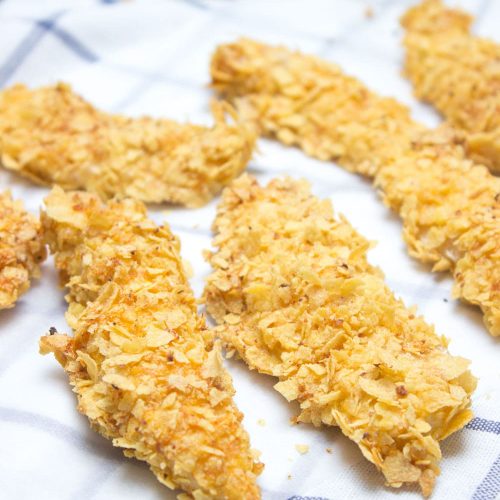 Crispy Baked Cornflake Chicken Tenders
Crispy Baked Cornflake Chicken Tenders made without added fat are the perfect low-calorie, quick and HEALTHY family meal. Served with homemade Honey Dijon Sauce, these tenders are delicious gameday finger food too.
For the Honey Dijon Sauce
Cut chicken fillet into thin strips. Sprinkle with salt.

Dip chicken strips into flour, then into eggs; roll in crumb cornflake mixture to coat.

Preheat the oven to 400°F (200°C). Put baking paper into baking pan.

Arrange chicken strips onto baking pan. Bake for 20 minutes or until nicely golden.

Serve immediately with sauce and side dish of your choice.

For the Honey Dijon Sauce: Mix all ingredients in a deep bowl until well combined.
Cayenne pepper is very spicy, so omit if you're serving chicken tenders to children or people with sensitive stomach.