Chewy Strawberry Oatmeal Cookies are one delicious treat filled with fresh strawberries and beautiful flavors. These tasteful cookies are made with all HEALTHY ingredients and packed with nutrients. Refined SUGAR-FREE, whole grain, and super low-calorie these cookies are perfect breakfast, kids school snack or afternoon dessert.
You know what's my obsession lately? STRAWBERRIES! Fruity, juicy, sweet and flavorful, strawberries. Why I feel you're not surprised? Maybe cause it's Spring and strawberries are now in season.
Well my fridge is chock-full of this amazing Spring fruit. I binge on strawberries since they appeared first on market and it seems I'm not done with them yet. Fresh, in Strawberry Ginger Smoothie Bowl or baked in delicious Strawberry Banana Muffins or a handful straight from the fridge - that's what makes my day instantly better. I know you'll all agree with me on this one - strawberries are the BEST!
And while I was in the car the other day, waiting for my kiddo to jump in from the school, the scent of fresh strawberries I just bought that spread throughout the car inspired me to make some delightful strawberry dessert for my family that afternoon. In my head, I saw some pancakes filled with Strawberry Chia Seed Jam. But then it hit me. I hadn't made family favorite oatmeal cookies for a while.
The thought of sweet, chewy cookies filled with fruity fresh strawberries literally made my head explode.
Immediately as we returned home, I mixed up these Strawberry Oatmeal Cookies and guess what?! Everyone LOVED it. They disappeared quickly, and we all agreed that these are the BEST cookies ever. Beside Orange Oatmeal Cookies... and Carrot Cake Oatmeal Cookies... and Apple Cinnamon Oatmeal Cookies... OFF COURSE!
To make these wonderful Strawberry Oatmeal Cookies I used only real food HEALTHY ingredients – oats full of high-quality dietary fibers good for our digestion and our heart + whole grain flour rich in nutrients. I also tossed in some walnuts packed vitamins and minerals, as well with some powerful antioxidants and anti-inflammatory omega-3 fats good for our heart health. If you are interested to know what foods keep our heart healthy, you can find it in my post here. Walnuts gave the cookies nice nutty flavor but also crunchiness I just looove in cookies.
What makes these cookies so good and so irresistible are the sweet, delightful STRAWBERRIES, of course. I used fresh ones, of course, that are now totally in season + absolutely amazing, bursting with flavors.
I boosted up the overall cookie taste with some spices, but not just any spices - with SUPER spices. I used warm aromatic Ceylon cinnamon and fragrant cardamom that gave cookies a unique taste twist. Both spices are very aromatic but also with many benefits great for our health.
Also, I used healthy coconut oil and pure maple syrup to sweeten up these beauties. These Strawberry Oatmeal Cookies turned out to be a real deliciousness packed in a low-calorie, guilt-free cookie snack.
Strawberry Oatmeal Cookies are super easy to prepare and you only need one bowl, a whisk and a pan + they only need to stay in the oven for 15 minutes. Yey for quick sweet-tooth snack ready in no time.
But these cookies go beyond snack or simple afternoon dessert that go so well with coffee or tea. Since they are highly nutritious - filled with dietary fibers, healthy energy-boosting fats and proteins, they are PERFECT on-to-go breakfast. Also, these are perfect for kids school lunch-box or for after-school's pick-me-up. Oh, yes... kids love oatmeal cookies ... of any kind! Just fill their glasses with milk and let them dip their way to happiness with these strawberry infused beauties.
Strawberry Oatmeal Cookies are …
Made with all natural, WHOLESOME and fresh ingredients.
Soft and chewy, full of beautiful flavors.
One bowl wonder made in just 20 minutes.
Needs only a few simple ingredients.
Sweet but REFINED sugar-free.
Low-calorie and rich in nutrients – quality fibers, plant-based proteins, and minerals.
Enriched with healing super-spice - CEYLON CINNAMON and CARDAMOM,
Packed with heart-healthy fats.
Perfect quick breakfast or kids school snack.
Unbelievably delicious and highly addictive!
The most lovable thing about Strawberry Oatmeal Cookies is that they are soooo chewy, but with the right amount of crunchiness from walnuts, sweet but have a touch of strawberry freshness in them, aromatic and just beautiful tasting. Highly addictive, I may add.
You will love these cookies, I'm sure.
Make a bunch… and enjoy!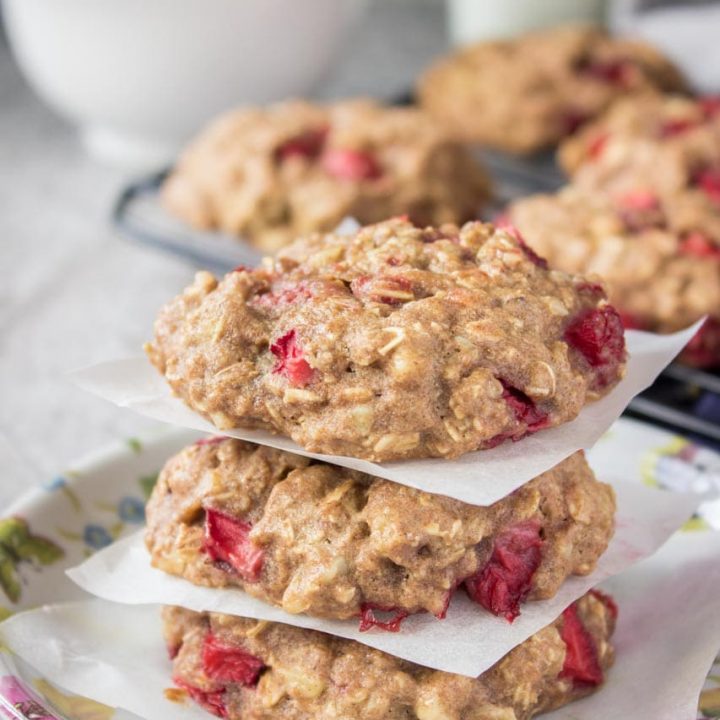 Strawberry Oatmeal Cookies
Soft and chewy Strawberry Oatmeal Cookies are one delicious treat filled with fresh strawberries and wonderful flavors. These tasteful cookies are very nutritious, refined sugar-free and super easy to make. A tasty breakfast or snack anytime!
Instructions
In a bowl, mix the dry ingredients - flour, oats, baking powder, and salt. Add spices and walnuts. Mix all together until combined.

In a separate bowl whisk the egg, coconut oil, vanilla, and maple syrup. Mix well with a whisk until well combined.

Add the dry ingredients to the wet mixture and mix. Finally, stir in the diced strawberries. Mix gently with a spoon. Let the mixture sit for few minutes.

Preheat oven to 356F (180C). Line a large baking sheet with parchment paper.

With a scoop or spoon, scoop the dough, and place it on the baking sheet. Arrange the cookies 2-inches apart. Slightly flatten the dough with the spoon.

Bake 12-15 minutes until the edges of the cookies begin to brown.

Remove cookies from the oven, and let them cool for few minutes on a baking sheet. Then transfer cookies to a wire rack to cool completely.
Notes
As a measure, I used UScup (240ml).
Keep cookies in the cookie jar. 
You can replace cardamom powder with fresh ginger.
Nutrition
Serving:
1
cookie
|
Calories:
150
kcal
|
Carbohydrates:
20
g
|
Protein:
3
g
|
Fat:
6
g
|
Saturated Fat:
2
g
|
Cholesterol:
13
mg
|
Sodium:
55
mg
|
Potassium:
160
mg
|
Fiber:
2
g
|
Sugar:
8
g
|
Vitamin A:
20
IU
|
Vitamin C:
7.1
mg
|
Calcium:
44
mg
|
Iron:
0.8
mg
Tried this recipe?
Pease take a moment and leave a comment letting me know how you liked it. I love hearing from you!
Disclaimer
The nutritional information provided is approximate and is calculated using online tools. Information can vary depending on various factors, but I have endeavored to be as accurate as possible.
These are my recommendation for this recipe:
[amazon_link asins='B015CQZKLU,B00555EN58,B019O3RWO0,B075RS6H8X,B071Z925LH' template='MyPicks' store='natalieshealt-20' marketplace='US' link_id='6e084158-4ed7-11e8-a6c6-0d5ab6e28e24']