Sweet and crunchy, Spicy Cinnamon Roasted Almonds are perfect tasty GUILT-FREE snack. With a touch of cayenne pepper, these spiced almonds are just irresistible. Made without refined sugars and enhanced with fragrant spices, this easy to make snack is just a must try!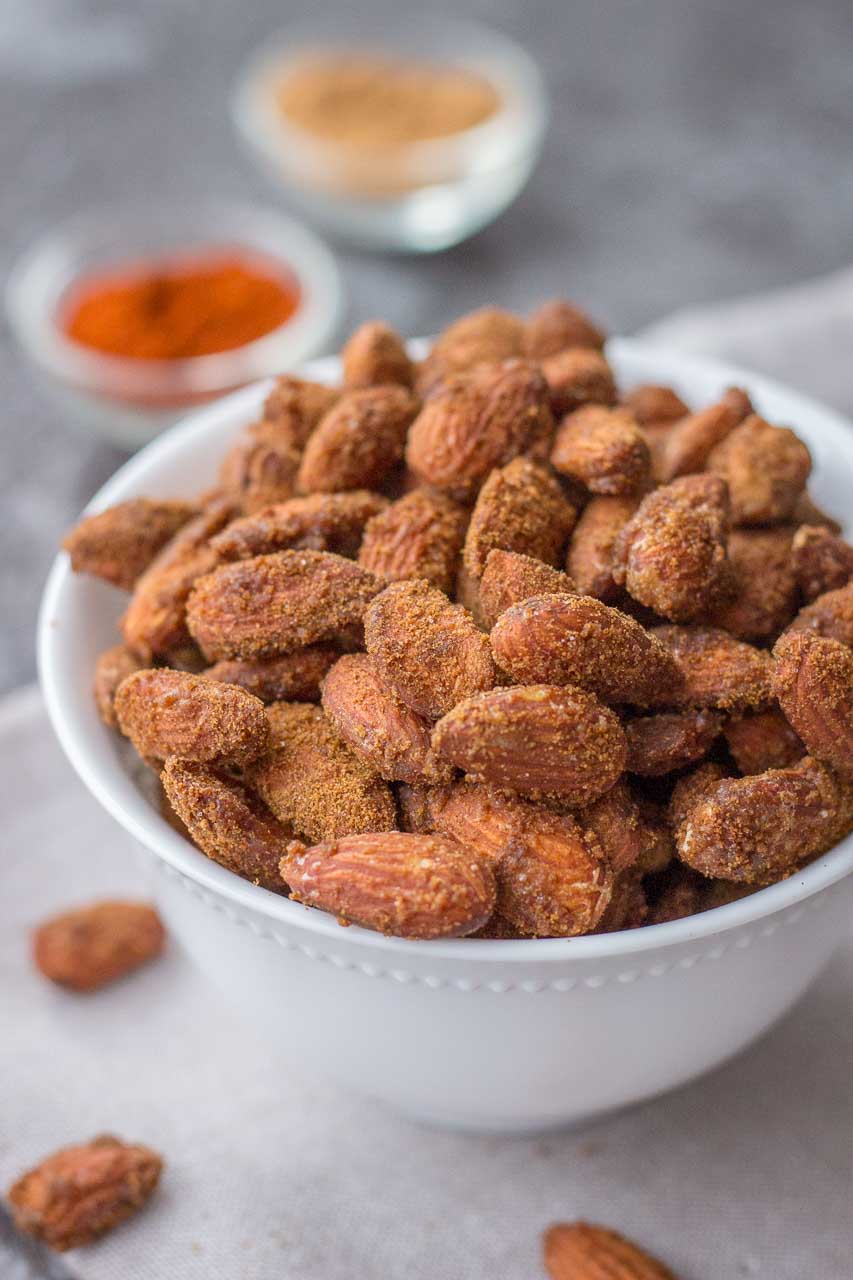 Last October my husband and I visited London. It was our first-time visit, not just London, but England in general. As soon as we landed there, we completely fell in love. Not just in the city, the history and vibe,... but also we loved the food, people, everything.
It was our trip to London, where we also fell in love with spiced almonds. Never some roasted nuts impressed me more, like that candied nuts we had back there.
We were going down the stairs on London Bridge, heading toward the Tower of London where we first scented the sweet smell of roasted candied nuts. Some lady on the corner with street food cart was roasting almonds, making the whole street and the surrounding area smell absolutely amazing. These almonds were irresistible. Delicious. And so good.
As soon as we got home from our trip I just had to recreate that taste and make my own Spicy Cinnamon Roasted Almonds.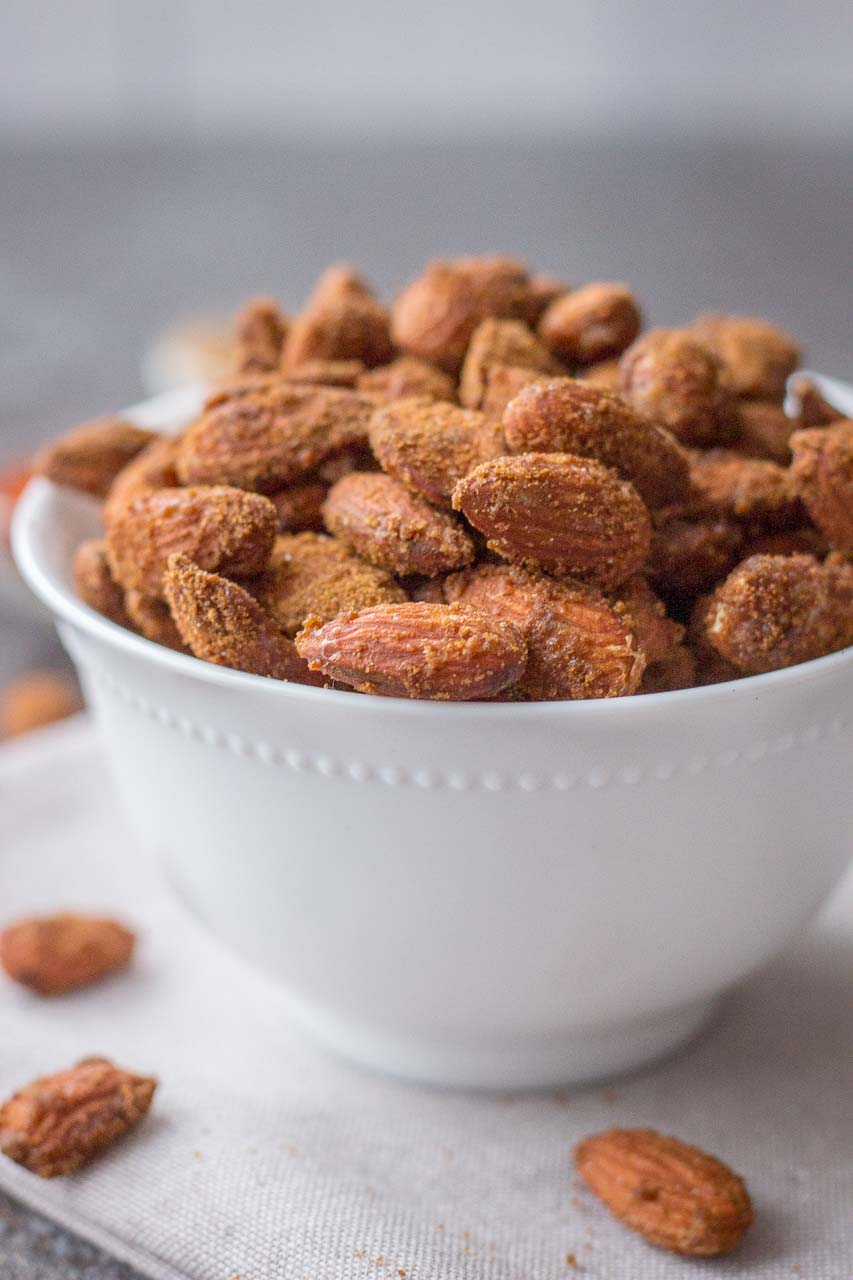 I am a huge snacker, so having these Cacao Energy Balls or these delicious Peanut Butter Energy Balls somewhere in my kitchen is very important. Healthy snacks keep me on the right track after my weight-loss. And when happens that I don't have absolutely any snacks prepared, I turn on nibbling the raw nuts.
Don't get me wrong - snacking raw almonds is the BEST! Raw almonds are flavorful and super healthy. But when you roast them, high temperatures bring out their natural flavor, making them even more irresistible for snacking. I just love when my kitchen starts to fill with beautiful almond fragrance while they slowly roasting in the oven.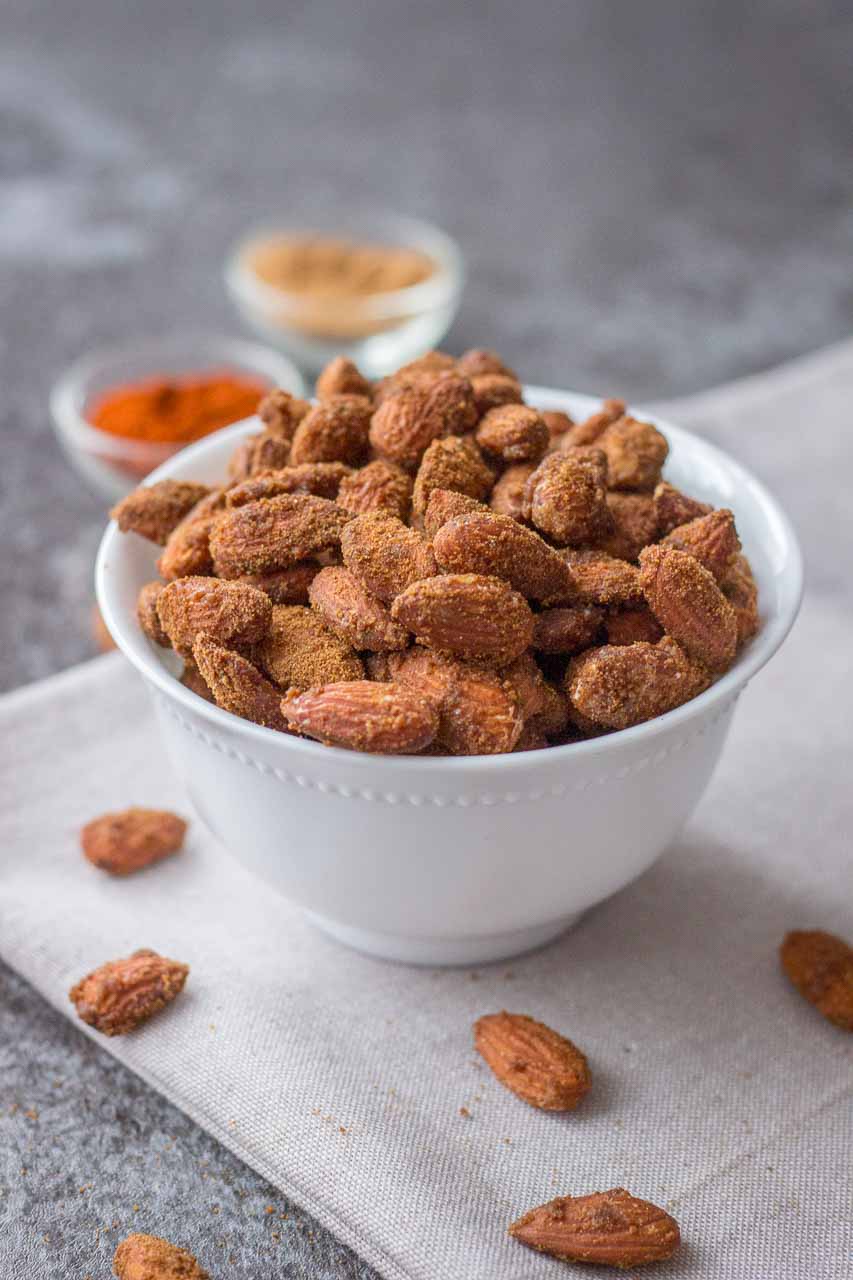 Roasted almonds are delicious on his own but if you further coat them with some sugar and spices, they turn into snack experience that's beyond amazing.
The taste, the crunchiness, the overall deliciousness is so addictive. You just can't stop nibbling these candied beauties once you start.
And why should you?! These Spicy Cinnamon Roasted Almonds are completely guilt-free, made without refined sugars and enhanced with SUPERSPICES. Good for our health, and delicious? That's what I'm talking about!
How to make Spicy Cinnamon Roasted ALmonds
To make this lovely sweet treat, you'll only need a few simple HEALTHY ingredients. You probably have all these ingredients in your home already. Meaning: you can make this Spicy Cinnamon Roasted Almonds as soon as you finish reading this post. Yeey!
The main stars of this recipe are of course ALMONDS. Beautiful, flavorful, sooooo super HEALTHY almonds.
I love all nuts, but raw almonds, I dare to say, are my favorite.
Almonds are super tasty, nutty and full of nutrients - a true nutritional powerhouse. They are loaded with proteins, and fiber, as well with HEALTHY monounsaturated fats - omega 3's good for our heart health. Almonds are a fantastic source of powerful antioxidants, especially vitamin E and super important magnesium - a mineral that many people don't get enough of trough daily food intake.
To make roasted almonds sweet I used coconut sugar. Coconut sugar is subtly sweet, and it has this slight hint of caramel flavor that I love so much.
I've coated roasted almonds in coconut sugar mixed with sweet-tasting SUPERSPICE Ceylon cinnamon. Cinnamon enhanced the taste of roasted almonds with a gorgeous aroma. I also added a bit of cayenne pepper that gave that special spicy kick.
The most impressive thing about these Spicy Cinnamon Roasted Almonds is that this snack is super easy to make. Apart from the simple ingredients you already have in your kitchen, it will take you about 20 minutes to make them.
The flavors in these spiced almonds are so beautifully blended. You feel as if you're nibbling some luxurious sweet treat. And then you realize, these are just almonds, coconut sugar, and spices. How simple yet so delicious!
These Spicy Cinnamon Roasted Almonds make a tasty snack, especially for parties. But also a great edible gift. Pack them nicely, and give away to your family, friends, neighbors, teachers for special occasions. They are going to love them! Same as you, I'm sure!
Enjoy!
Spicy Cinnamon Roasted Almonds
Sweet and crunchy, these Spicy Cinnamon Roasted Almonds are perfect GUILT-FREE snack. Coated with coconut sugar and cayenne pepper, these spiced almonds are just irresistible.
Instructions
Preheat the oven to 350F (176C). Line a baking sheet with parchment paper.

Spread the almonds evenly over a parchment paper. Put the baking sheet in the oven and bake almonds for 15 minutes until golden brown. Stir halfway through the baking time. (NOTE: Watch for almonds not to burn. When they become fragrant and smell roasted, they are done).

In meantime, in a small mixing bowl, mix coconut sugar, cinnamon, salt, and cayenne pepper. Set aside.

Take the almonds out off the oven. Let them cool for 5 minutes.

In a large mixing bowl, add melted and cooled coconut oil and maple syrup. Stir until mixture is smooth. Add in almonds and stir until almonds are thoroughly coated.

Add in coconut sugar mixture. Stir well, until the almonds are fully coated with mixture.

Pour almonds onto the prepared baking sheet.

Spread almonds over a parchment paper (you can reuse parchment paper from roasting). Let the coating on roasted almonds cool and harden before serving.
Notes
Store in an airtight container for up to 5 days.
Nutrition
Serving:
1
serving
|
Calories:
239
kcal
|
Carbohydrates:
14
g
|
Protein:
7
g
|
Fat:
18
g
|
Saturated Fat:
2
g
|
Sodium:
6
mg
|
Potassium:
263
mg
|
Fiber:
4
g
|
Sugar:
6
g
|
Vitamin A:
15
IU
|
Calcium:
105
mg
|
Iron:
1.4
mg
Tried this recipe?
Pease leave a comment letting me know how you liked it. I love hearing from you!
Disclaimer
The nutritional information provided is approximate and is calculated using online tools. Information can vary depending on various factors, but I have endeavored to be as accurate as possible.
If you're a fan of snacking, check these recipes:
Chocolate Oatmeal Cookies
Peanut Butter Oatmeal Cookies
Apple Pie Energy Bites
These are my recommendation for this recipe:
[amazon_link asins='B007U256DM,B000RMO41M,B07CWJFZ7T,B0742KV66Z,B00LCW4NYE' template='MyPicks' store='natalieshealt-20' marketplace='US' link_id='dc9380a5-3229-4721-aa40-fa084ad3fd8b']