Packed with amazing flavors from real pumpkin and powerful SUPER SPICES - Ceylon cinnamon and ginger, this HEALTHY Pumpkin Spiced Latte will bring warmth to your cold Autumn days. It's loaded with nutrients, made with all natural stuff and REFINED SUGAR-FREE. True Fall favorite hot drink.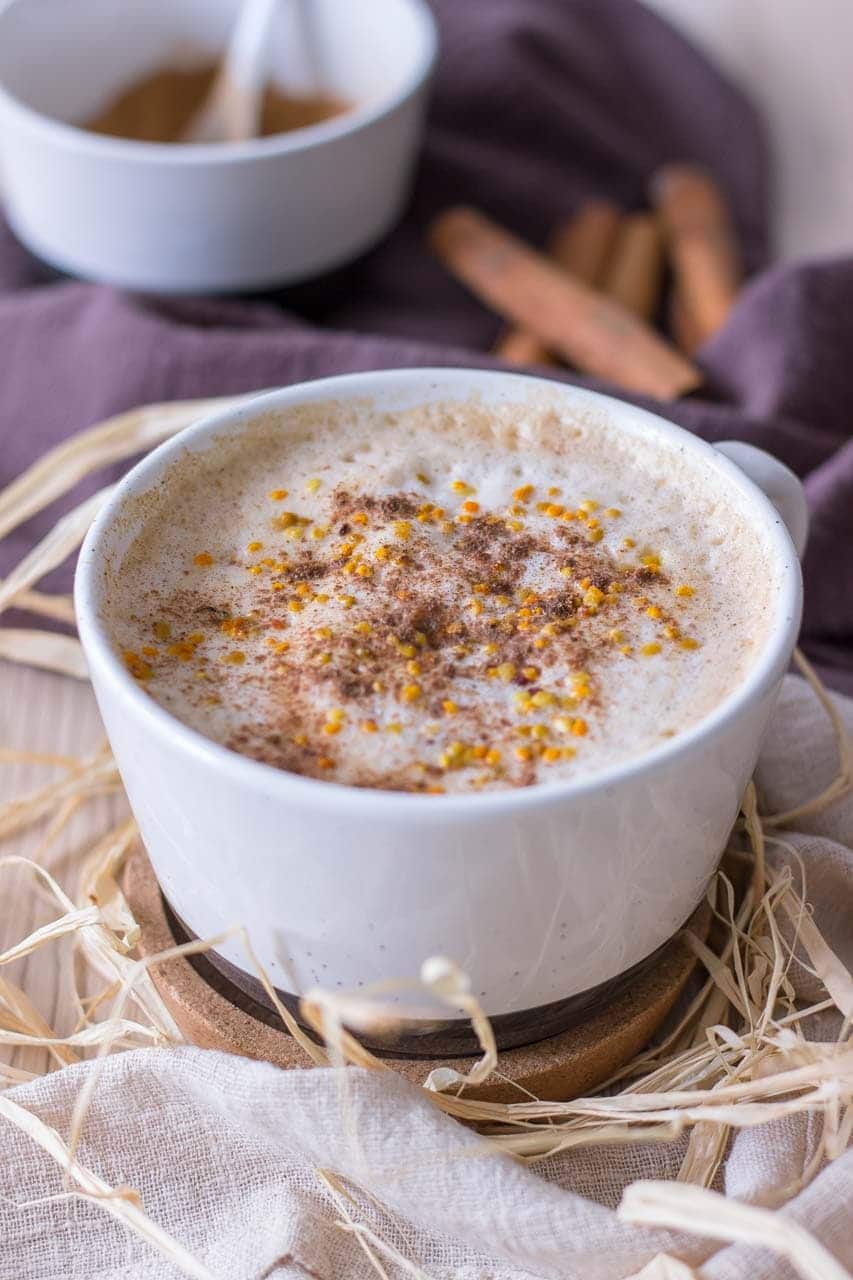 Autumn is the season of colder nights, beautiful natures colors and falling leaves. Also Autumn means the return of everyone's favorite hot drinks - teas, hot chocolates, and of course lattes.
We all love our iced coffee and iced matcha in the summer, but fall and winter belong to the hot, frothy lattes. I just love to sit inside my apartment on a chilly day with a hot beverage in my hands, siping sweet deliciousness and just relax. If you're into coffee drinks, you gonna love this recipe.
One of my favorite hot autumnal flavored drink is Pumpkin Spice Latte. But getting a good Pumpkin Spice Latte is usually limited to few coffee shops or Starbucks (if you're lucky to have one in your town).Since I'm not a fan of overpriced, sugar-loaded drinks - like Starbucks Pumpkin Spice Latte, I discovered the way to make a pretty decent copycat latte at home.
This homemade Pumpkin Spice Latte tastes SO GOOD, actually BETTER than any coffee shop stuff + it's so much healthier with less calories and much more nutrients. Not to mention it's a lot cheaper too.
How to make Pumpkin Spice Latte
To make this delightful warming and flavorful Pumpkin Spice Latte you don't need a fancy espresso machine, a milk frother, or other fancy toys. It doesn't require any special syrups or store bought stuff. You'll only need a few simple ingredients and just a few minutes of your time. It's a super easy recipe, a no-brainer actually.
As a base, I used soy milk. This plant-based milk alternative is an excellent source of PROTEIN, dietary fiber, and healthy fat. It's loaded with many vitamins and essential minerals too that promotes good health. + Soy milk is naturally much sweeter than other types of non-dairy milk. Meaning you will add less added sugars in your drinks. + It has higher fat content (similar to cow's 2% milk) so it gives a really nice FOAM.
Skim milk or other milk alternatives - like almond or coconut milk won't give you the same effect.
Flavorful spices + some vanilla extract and PUMPKIN PUREE are what makes this Pumpkin Spice Latte so delightful. I ALWAYS use homemade pumpkin puree to make all my pumpkin breakfast, treats, and smoothies. Not some canned stuff. But REAL DEAL pumpkin.
Homemade pumpkin puree is so rich and naturally sweet + it's LOADED with so many nutrients, like fibers and very potent antioxidants called beta-carotene. Yup! Super POWERFUL!
Pumpkin Pie Spice mix is so easy to make at home. It's a blend of warm fall spices you likely already have in your cupboard - like Ceylon cinnamon, ginger, allspice, nutmeg and a dash of cloves. You can use it in a multitude of recipes. It also makes the perfect gift for friends and family for Holidays.
Of course, what you'll also need to make this hot beverage is espresso or coffee. If you don't have an espresso machine - actually you don't even need to have one - just use strongly brewed coffee or coffee powders - like Nescafe espresso instant powder. I really LOVE its strong and flavorful taste. Sometimes I even use decaf. The rule is to use coffee brand you love because this latte is meant for enjoyment.
I topped this latte with foam made from soy milk. I dash it with some pumpkin spices for more flavor, and sprinkled with some honey bee pollen for immunity. Yummilicious and HEALTHY!
To make the foam, you just need a shaker or glass jar with the lid. Or microwave safe bowl if you're gonna use microwave to heat up the milk. Pour the heated soy milk into shaker or jar and shake, shake, shake. Very soon you'll get a wonderful thick foam that's just perfect for your pumpkin spiced drink. Easy!
Since soy milk and pumpkin puree are naturally very sweet, you don't need to add up a lot of added sugars in this latte. I did use a bit of organic honey to sweeten this beauty up. But you can use maple syrup or even date syrup if you want to make it completely vegan.
Pumpkin Spice Latte is more than just some average hot beverage. It's POWERFUL drink loaded with nutrients and healing spices - Ceylon cinnamon and ginger. It's sweet and so tasteful, bursting with amazing Fall flavors, and made completely REFINED SUGAR-FREE with all natural and real ingredients.
I promise once you taste this amazing latte, it will become your fall favorite.
Print
Pumpkin Spice Latte
Packed with amazing flavors from seasonal spices and real pumpkin, this healthy REFINED SUGAR-FREE Pumpkin Spice Latte is one delightful warming treat.
Instructions
Place milk in a large saucepan. Cook and stir over medium heat until heated through. Take 1/3 of the heated milk and pour it into a shaker (or jar with the lid), reserve it.

Remove the saucepan from the heat and whisk in the pumpkin puree, honey or syrup, pumpkin spice, vanilla, and the coffee into the heated milk. Whisk well until mixture is evenly combined.

Pour the mixture in a cup.

Take reserved heated milk that's in the shaker and shake as hard as you can until the milk is frothy around 30 seconds.

Spoon milk foam as you would like onto your latte.

Sprinkle with pumpkin pie spice and bee pollen, if desired.
Notes
As a measure, I used UScup (240ml)
Nutrition
Calories:
148
kcal
|
Carbohydrates:
20
g
|
Protein:
7
g
|
Fat:
4
g
|
Sodium:
96
mg
|
Potassium:
456
mg
|
Fiber:
2
g
|
Sugar:
14
g
|
Vitamin A:
5170
IU
|
Vitamin C:
1.2
mg
|
Calcium:
323
mg
|
Iron:
1.7
mg
Have this Pumpkin Spice Latte with:
Pumpkin Oatmeal Cookies
Pumpkin Roll Cake
Pumpkin Loaf Cake
Pumpkin Cheesecake Muffins 
These are my recommendation for this recipe:
[amazon_link asins='B01M1D7U9S,B01K7MX8FY,B01LXFEDOE,B075CYK1SH,B01BY9RTNQ,B06XCT7G2X' template='MyPicks' store='natalieshealt-20' marketplace='US' link_id='704f21bd-d392-11e8-bacc-85f0b56483b8']