Crispy Oven Baked Calamari Rings prepared without added fat. Easy, simple and healthy meal for the whole family.
Lately, I'm super crazy about frying food in the oven. Few months ago I didn't think that's possible, and I just found out you can actually fry fish in the oven. Well, imagine my surprise when I manage to fry calamari rings that tastes absolutely delicious - like real fried ones, but without excess grease. Heureka!! 
Well, my husband was even more surprised when I served him this healthy crispy calamari rings. While I love all kinds of seafood, that's not the case with my husband. He loves only a few types of fish - to be more precisely, he loves ONLY trout, hake and fried calamari. When we switched to eating healthy food, his favorite fried calamari was kinda forbidden food, due to high unhealthy fat content. I often caught him watching with melancholy in his eyes that big superstore freezer, looking at calamari and recalling in his mind the taste of that greasy rings. Now you can imagine his excitement when I told him that I have found the way to prepare him a healthy fried calamari rings. And I surprised him real good, yes I did. Pleasantly I must add. 
To be honest, I work for quite some time on this Oven Baked Calamari Rings. I tried out few baking combination and I experimented a lot with different spices in frying mixture. In the end, I drop all that and decide to publish this quite simple recipe because this is the point of fried calamari dish - it supposed to be quick and easy. Right? And today we are adding one more attribute - a HEALTHY too!
If you didn't know, calamari (Italian for squid) are an excellent source of easily digestible protein (32% of RDA per 100 g), and contain a significant amounts of vitamins and minerals: vitamin B12, riboflavin, niacin, selenium, phosphorus, zinc. Thanks to its low-fat content and a relatively high protein content, calamari is very nutritious food that will satisfy your hunger without excess calories. That is of course if you do not fry calamari in oil. Then it's turned into a fatty calorie bomb.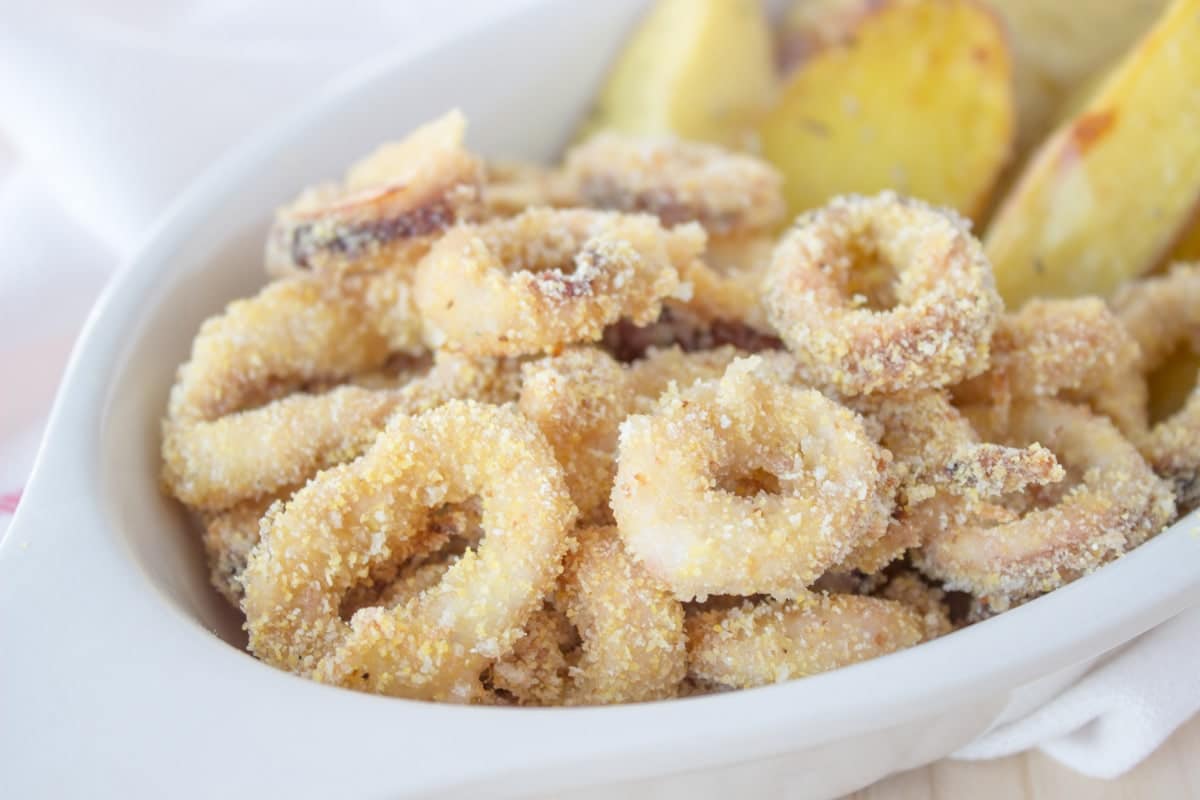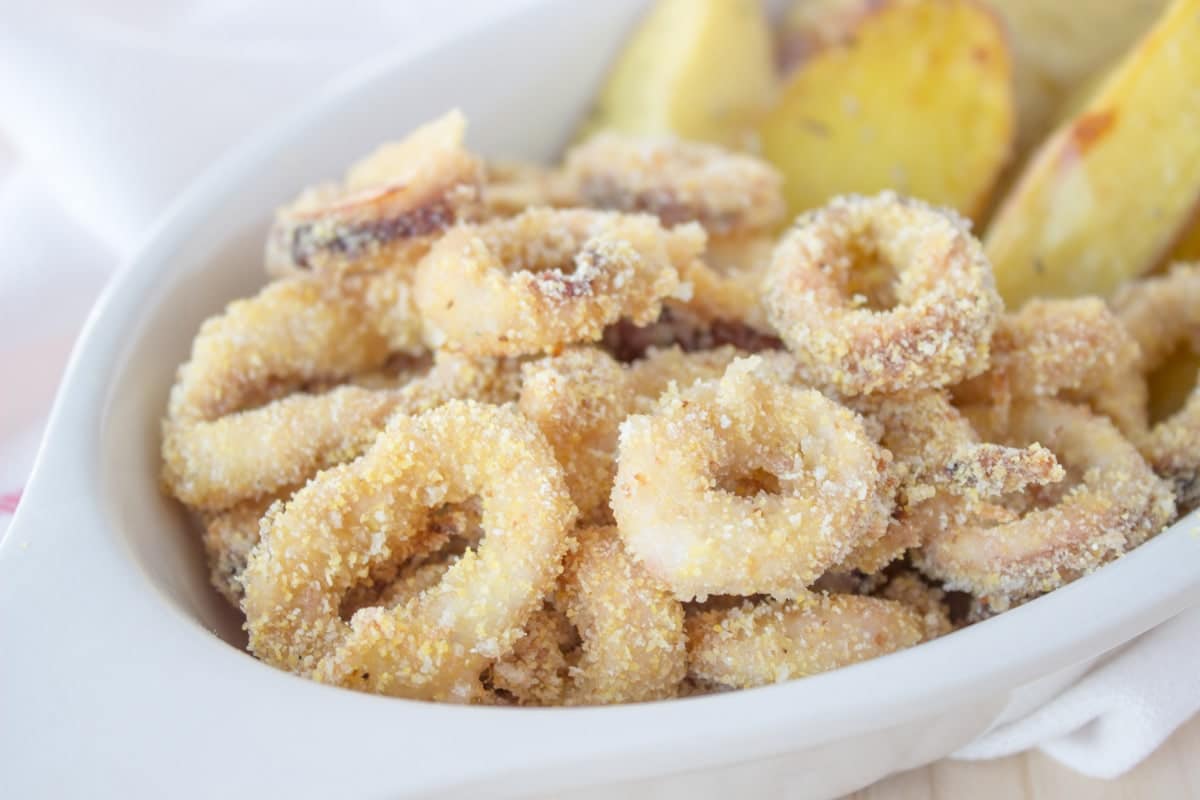 For the frying mixture - although today we are not going to fry anything, I used whole wheat breadcrumbs in which I added a bit of dry polenta (corn grits or stone-ground cornmeal). Polenta gave calamari a really special crispness, and mild sweet flavour. You can also add other spices like garlic powder, sweet paprika, onion powder if you desire. Before I threw cleaned and thoroughly washed calamari rings into a mixture, I sprinkled them with extra virgin olive oil. Then I placed coated calamari rings on a baking sheet and put in the oven. In less than a 20 minutes, perfectly crunchy and healthy Oven Baked Calamari Rings were ready for serving. There were no splashes of oil around the stove (I hated that!!!), no burned fingers, there was no unpleasant fishy smell all over the kitchen. While I prepared a salad and set the dining table, calamari rings were baked. Just perfect, isn't ?! 
I served Oven Baked Calamari Rings with potatoes, but honestly, I think calamari is best served only with some greens and a drop or two of fresh lemon juice. That's how we eat fish here in Mediterranean country - Croatia ;)
∗ PIN for later! ∗

Oven baked calamari rings
Crispy and delicious oven baked calamari rings prepared without added fat. Easy, simple and healthy meal for the whole family.
Ingredients
1

lbs

(400g) calamari rings

½

cup

whole wheat breadcrumbs

½

cup

polenta

(corn grits or stone-ground cornmeal)

2

tablespoon

extra virgin olive oil

pinch of salt

garlic powder

(to taste, if desired)
Instructions
Preheat oven to 400F (200C).

Wash calamari rings thoroughly and dry excess liquid. Transfer in a large bowl and add olive oil. Stir well.

In a separate bowl, mix breadcrumbs and polenta. Add garlic powder if desired.

Dip the calamari rings into the mix. Place on the baking tray covered with parchment paper.

Bake for 15-20 minutes, until nicely golden.

Serve straight away with few drops of lemon juice.
Tried this recipe?
Don't forget to rate it and leave the comment. I would love to hear what you think.
Disclaimer
The nutritional information provided is approximate and is calculated using online tools. Information can vary depending on various factors, but I have endeavored to be as accurate as possible.
So, how do you like the idea of healthy fried calamari?  Leave a comment and let me know what you think!
Love,
Did you like this recipe? Are you interested in a healthy lifestyle? Then subscribe to my list and get new blog posts delivered straight to your inbox. 
[mc4wp_form id="1036"]
Check OUT my other healthy recipes ;)