These 25 Easy Christmas Treats will add just the right amount of sweetness and cheerfulness to your Holidays and save your time during the busy holiday season. From sugar cookies to chocolate peppermint barks, all these Christmas treats recipes are super easy to make and without excess calories.
Yup, it's that time of year! Sweet tooth is in FULL force! With Christmas just around the corner, now's the time to make some delicious Christmas treats. And of course, enjoy delicious sweets.
All my senses screaming gimme all the cookies, all the sweet treats. It's time to indulge and time to be cheerful.
But still, there is a HEALTHIER way to enjoy Holiday season. Today I'm sharing my favorite easy Christmas treats recipes that are REFINED SUGAR-FREE, delicious and completely guilt-free.
Enjoy!

#1 Honey Cinnamon Cookies
Honey Cinnamon Cookies are perfect Holiday treat. Made with all healthy ingredients, whole grain and refined sugar-free, these cookies are festive as well as delicious.

#2 Vanilla Almond Crescent Cookies
Nutty and sweet with a touch of bitter cocoa, these Vanilla Almond Crescent Cookies are it's perfectly healthy Holiday treat. Cookies are made with only NATURAL healthy stuff – no refined sugars, no empty calories.

#3 Chocolate Gingerbread Cookies
Chewy and loaded with bittersweet chocolate flavor, these Chocolate Gingerbread Cookies are a must make cookies for Holidays. Made with only a few simple HEALTHY ingredients, loaded with chunks of dark chocolate and fresh ginger flavor, these little beauties are the real delicious sweet treat.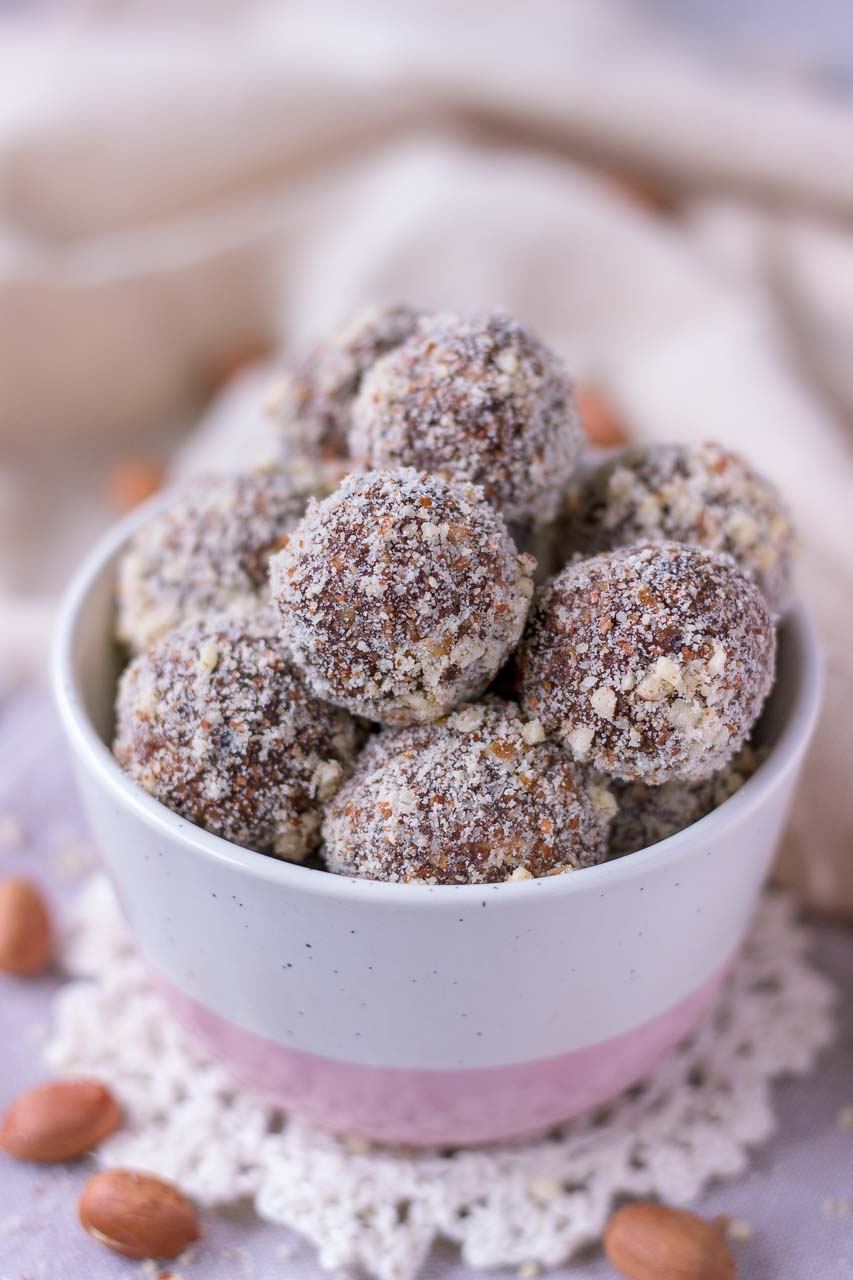 #4 Hazelnut Chocolate Balls
Hazelnut Chocolate Balls are delightful little treats. These soft and sweet bliss balls are delicious hazelnut goodness that are loaded with only natural HEALTHY stuff and nutrients, completely REFINED SUGAR-FREE and waistline friendly.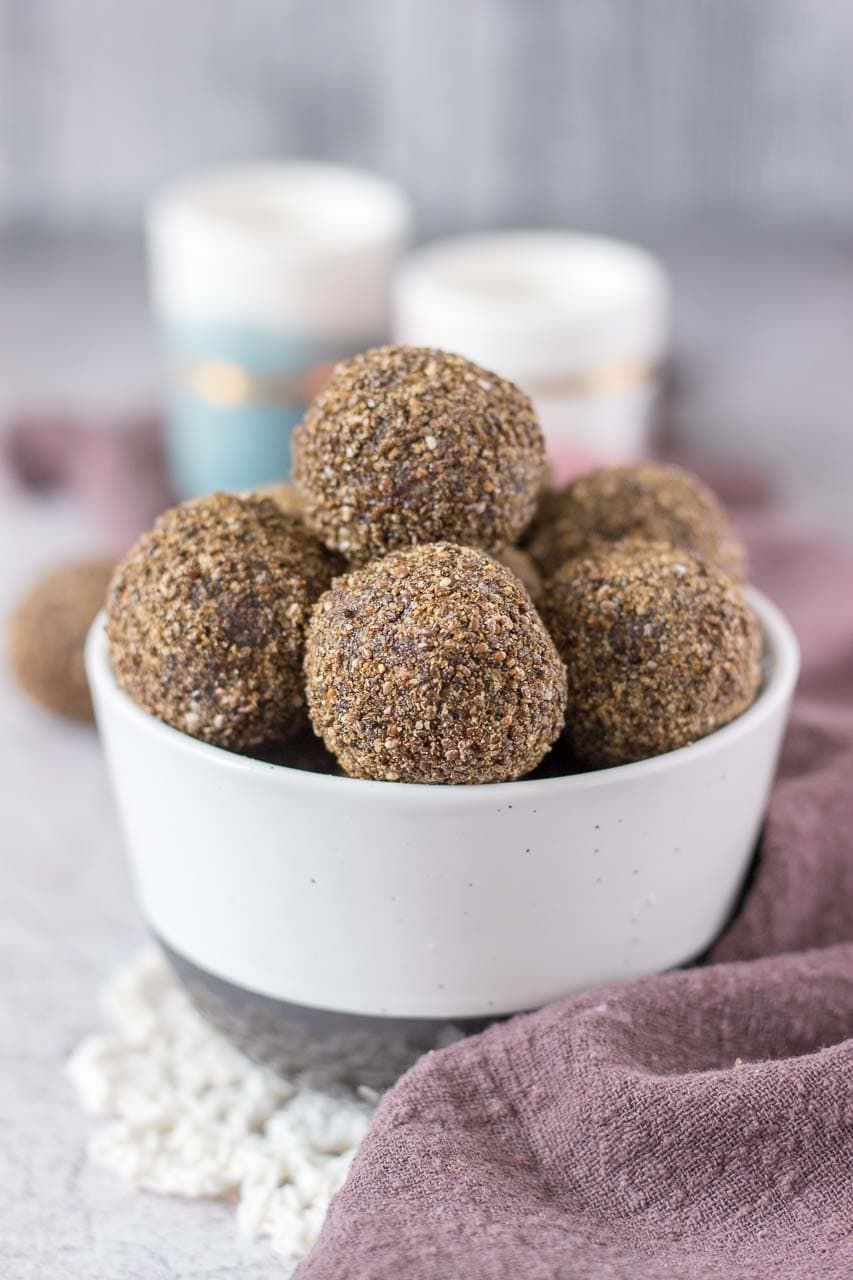 #5 Gingerbread Energy Balls
These Gingerbread Energy Balls are just delicious. Nutritious, sweet, flavorful and beyond amazing. They are loaded with NATURAL proteins from nuts and seeds, and with amazing SUPER SPICES.

#6 Almond Sugar Cookies
Crunchy, nutty with touch of caramel flavor, these HEALTHY refined sugar-free Almond Sugar Cookies are the perfect Holiday sweet treat. These whole grain cookies are full of nutrients and super low-calorie.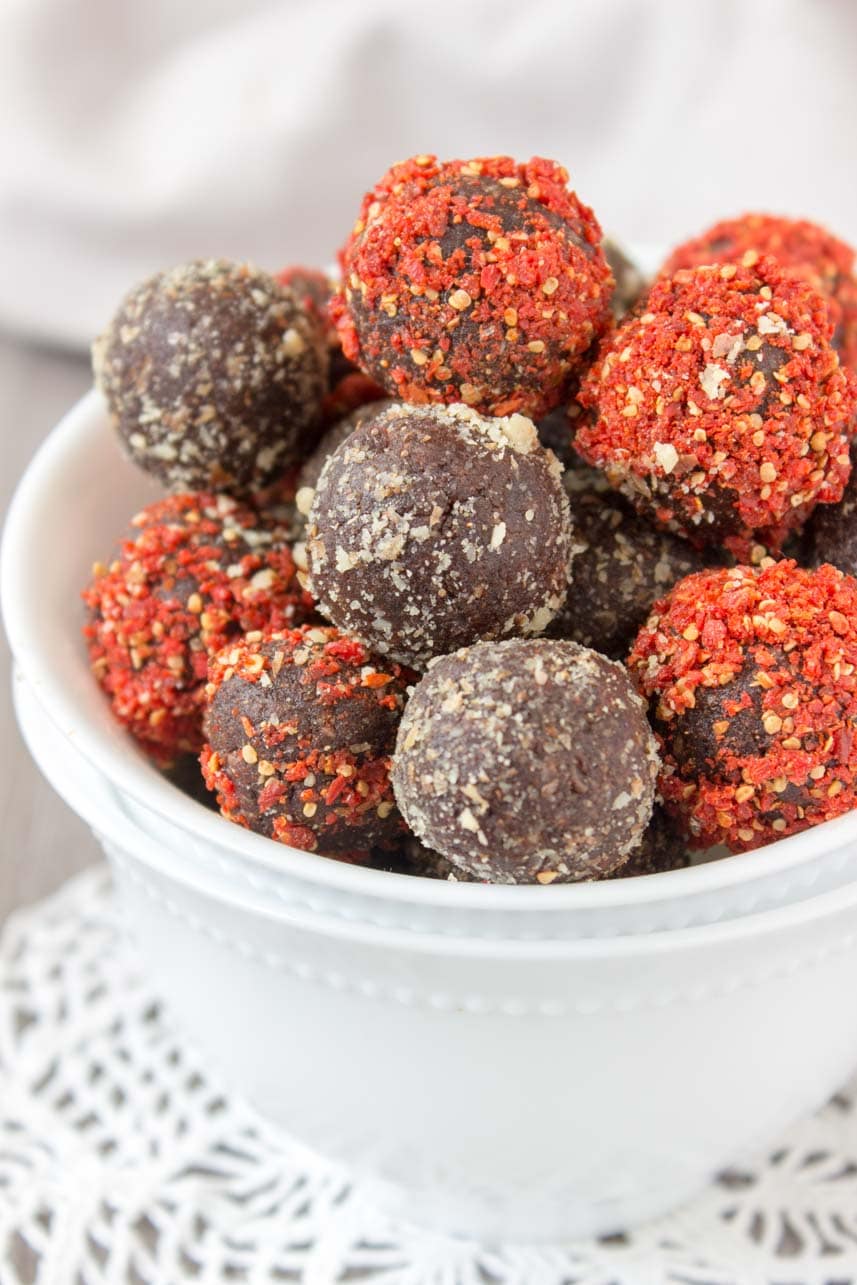 #7 Turmeric Cacao Energy Balls
Packed with amazing flavors, these Turmeric Cacao Energy Balls are simple yet so delicious treat that is both satisfying and good for your health. Nutty and sweet, these little power balls are ideal for Holiday snacking.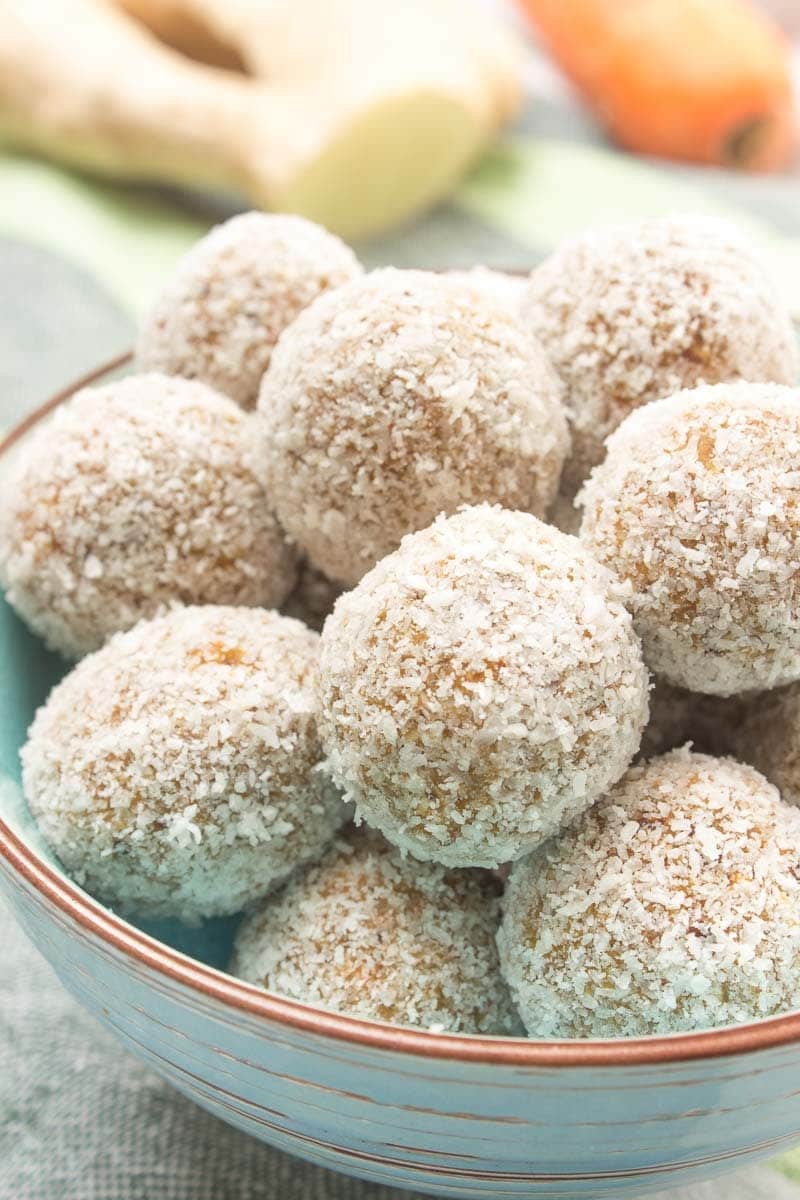 #8 Carrot Cake Energy Balls
Soft, sweet and just delicious, these Carrot Cake Energy Balls are perfect bite size dessert. These yummy bites are flavored with fresh ginger, refined sugar-free and sooo addictive!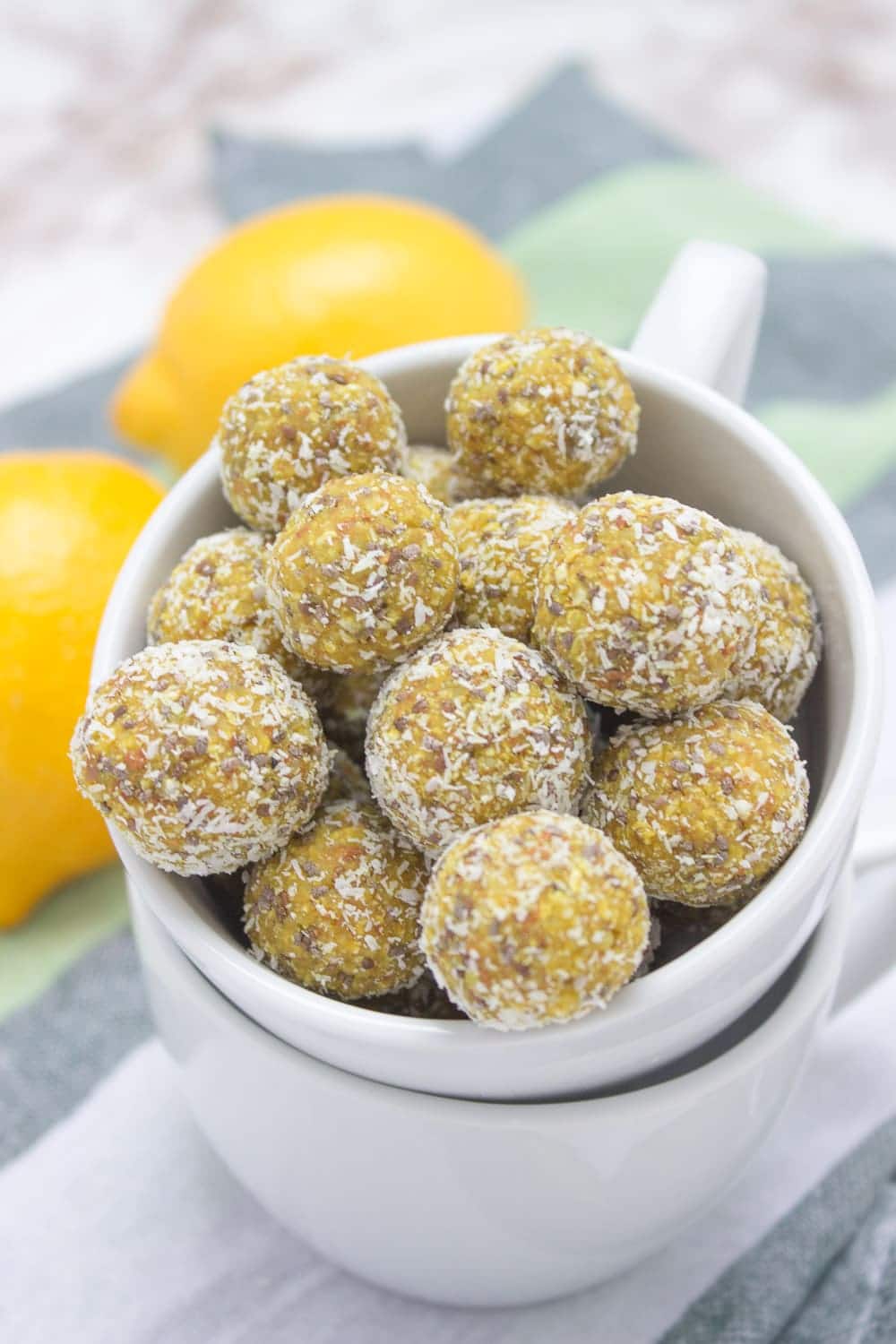 #9 Lemon Turmeric Balls 
Bursting with beautiful citrus flavor, these Lemon Turmeric Balls are perfect Holiday treat. Packed with powerful super-spice TURMERIC and chia seeds, these beauties are not only super HEALTHY but delicious too.

#10 Chocolate Cinnamon Balls
Decadent, soft and fragrant, these Chocolate Cinnamon Balls are perfect guilt-free Holiday treat. These little delights are loaded with bittersweet dark chocolate flavor, so delicious and yet so HEALTHY - made without added sugars.

#11 Easy Keto Fudge
This easy keto fudge recipe needs just 4 HEALTHY ingredients and 10 minutes prep. Isn't that perfect or what?!


#12 Dark Chocolate Rice Crispy Cakes
Crispy, loaded with chocolate flavor and super easy to make, these Rice Crispy treats are ideal for Holiday guilt-free snacking. They look super cute too.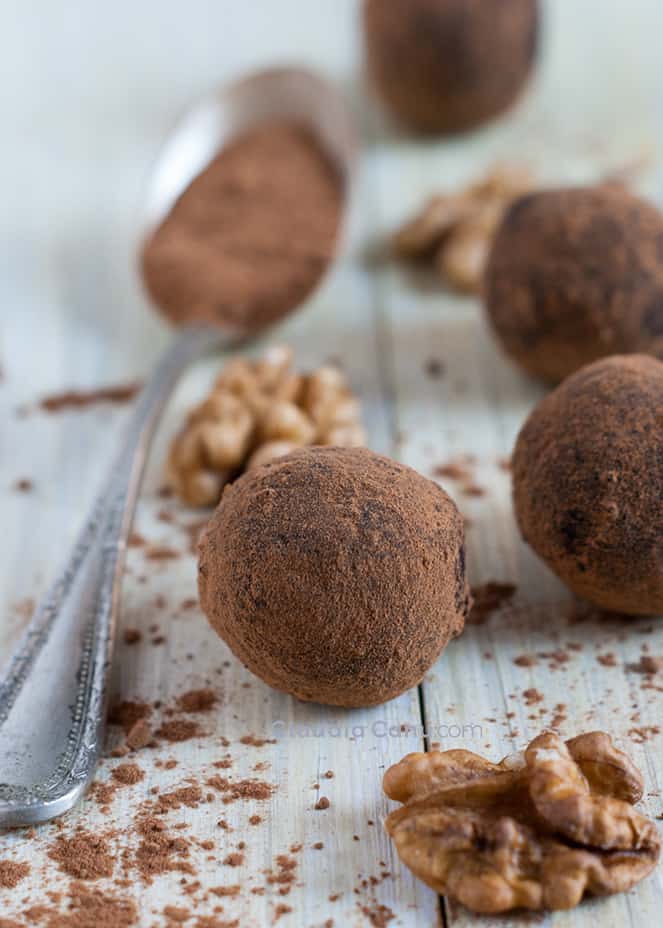 #13 Walnut No Bake Energy Balls
Nutty, sweet and loaded with flavor, these beauties have only 6 ingredients AND they are super easy to make.


#14 Flourless Peanut Butter Cookies
If you are a peanut butter lover, you will love these soft and chewy flourless cookies dipped in dark chocolate. They are loaded with peanut buttery flavor, contain no flour, and are naturally sweetened! SO easy to make and absolutely addicting. 


#15 Chocolate Peanut Butter Fudge
Loaded with peanut butter and chocolate this fudge makes a perfect Christmas gift for teachers, neighbors and friends.

#16 Dark Chocolate Peppermint Truffles
Easy and decadent, these grain and dairy-free Dark Chocolate Peppermint Truffles are the perfect holiday treat! 


#17 Almond Flour Sugar Cookies
These almond meal cookies are light and delicious! Easy to make and healthy to munch on. Perfect for the next Holiday party.


#18 Dark Chocolate Truffles
Simple, real food ingredients come together to make these bite-size balls of gluten and dairy-free dark chocolate lover's heaven!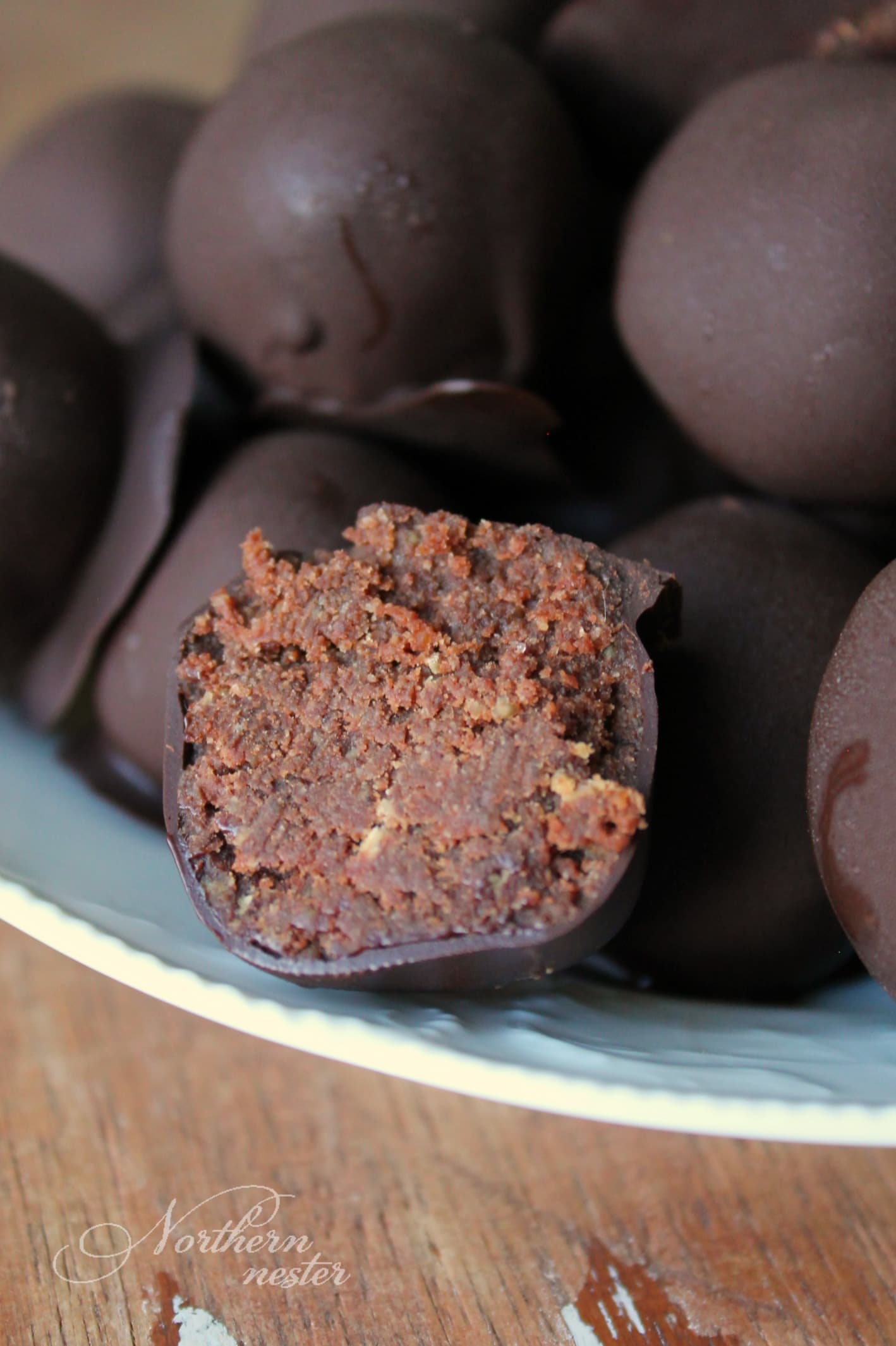 #19 Dark Chocolate Truffles
These Chocolate Peanut Butter Truffles are as easy to make as sticking everything in a blender and rolling the mixture into a ball! They are wonderful plan-ahead treats to store in the fridge or freezer.


#20 Matcha Truffles
These Matcha Truffles are the perfect holiday dessert recipe! They are healthy with NO refined sugar but no one would ever guess they're made with good-for-you ingredients!


#21 Flourless Peanut Butter Cookies with Dark Chocolate
These cookies are incredibly soft, full of rich peanut butter flavor, and they develop a wonderful chewiness the day after baking them. Yum!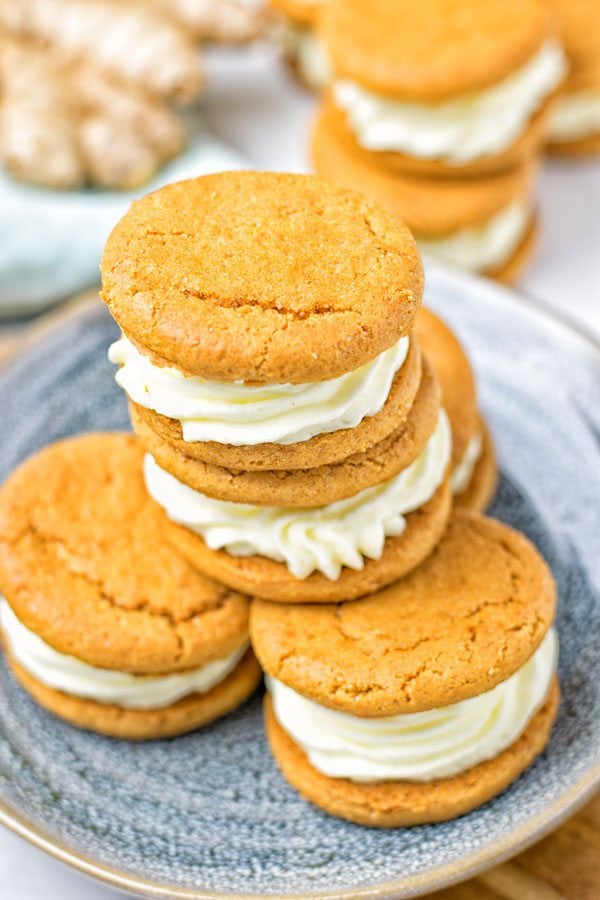 #22 Whoopie Pie Ginger Cookies
Rich and indulgent Whoopie Pie Ginger Cookies are full of holiday season flavors. Ginger flavored dough is combined with a coconut cream filling in a delicious cookie. So delicious!


#23 Dark Chocolate Peppermint Bark
This Peppermint Bark is easy to make and only requires 3 ingredients. Dark Chocolate melted and flavored with peppermint extract for minty taste. Then topped with crushed candy canes. Perfect to serve around the Holidays or even great as a homemade gift. 

#24 Cinnamon Sugar Cookies
Perfectly chewy, sweet, and packed with warm cinnamon these cookies are yummy. Only 6 ingredients and 15 minutes needed to make these quick and easy cookies! What are you waiting for?


#25 Chocolate Covered Dates
Peanut Butter Stuffed Chocolate Covered Dates make the perfect gift for your friends or loved ones. This delicious and healthy snack will look so pretty on your Holiday table. 

These are my picks for making THE BEST Easy Christmas Treats:
[amazon_link asins='B01J1PUNLA,B074C9N6TQ,B01E2HU4A2,B007U256CS,B00004OCNS,B075RS6H8X,B076BWG7ZJ' template='MyPicks' store='natalieshealt-20' marketplace='US' link_id='da490e69-ffbe-11e8-816a-09a6820f6c86']
Xoxo, Natalie
Let's connect! Find me on – Facebook | Instagram | Pinterest | Twitter